Slide 1 of 1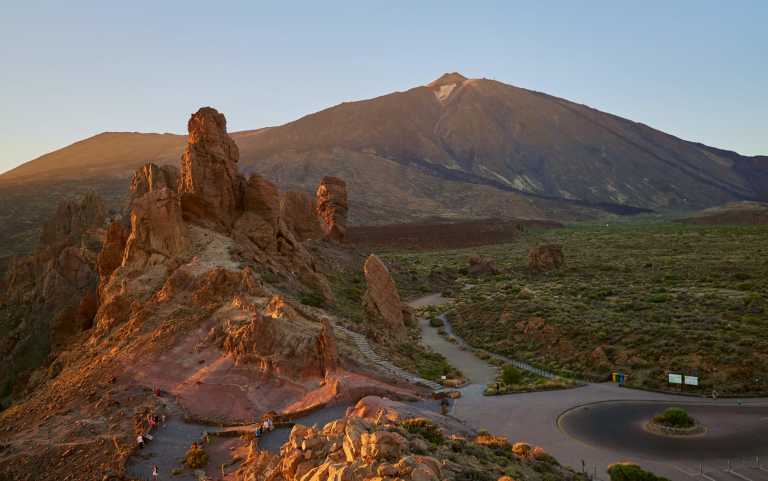 Under the Tenerife sky - hiking, volcanoes, stargazing, whale watching and more 🌟
Guided trip
6 days
6 stops
2 - 4 Mates
Spain
What's special?
Off-season
Diverse activities
After a long winter, it is time to wake up your senses in the largest of the Canary Islands - Tenerife! ☀️ Tenerife will give you that summer feeling again that you have missed for a long time. March is the perfect time to visit the island as temperatures are rising again, but it is not too hot and too crowded with tourists as in the summer. But Tenerife is more than sun and beaches. Join me on this trip to explore the magnificent and unique natural landscapes of Tenerife together!
About me: Just a girl trying to live her best life. I will likely say yes to a new idea or adventure, if you resonate with this, let's travel together. I am very open-minded, so come as you are and let's create a space with no judgements and lots of fun! Can't wait to meet you!
Accommodation: We will be staying at an apartment with a terrace overlooking the ocean. There is also Wi-fi and free parking. There are two bedrooms. 🛏️ 1st bedroom: 1 single bed, 1 double bed, 1 sofa bed. 🛏️ 2nd bedroom: 1 bunk bed. Driving situation: I don't have a driver license, so I'm looking for 2 of you that are willing to drive our car through the beautiful landscapes roads of Tenerife. It will be nice if you feel confident and have enough experience, especially when it comes to driving in a foreign country. Please let me know if you'd like to be one of the drivers :) Activities: Some activities can be subject to change depending on the weather conditions and we can swap activities in between the days. Please, be aware that we are dealing with weather-sensitive activities, especially the stargazing and whale watching. Feel free to ask me your questions in the QA section below 🥰
What's included?
Accommodation
Car Rental
Whale Watching
Stargazing on Mount Teide
Spanish-speaking TripLeader
Insurance for Austrians and Germans
24/7 TripLeader support
Your Booking includes free protection from Trip cancellations.
Learn More
Meet Your TripLeader
Phone Verified
Identity Verified
22 Countries
1 Trips Completed
Authentic, fun and clumsy (sometimes) /Made & Born in Bulgaria / 1997 generation :)
based on 4 reviews
One of the best trip I have ever had. Everything was perfectly planned and executed. Viktoria was well organized and considerate of everyone in the trip. We didn't had to worry about a thing. Each day kept getting better, from cave exploration to kayaking, an adventurous hike and a thrilling safari. Made some awesome friends along the way and had a great time. Would definitely go again on a trip with Viktoria.
Show All Reviews
You can chat with Viktoria once you reserve your spot.
Trip Itinerary
San Juan de la Rambla
Day 1-2
During our entire stay, we will sleep in a Canarian-style apartment with sea and mountain views. From here, we will be doing short trips to our activities each day. We will likely be arriving at different times on our first day, so we will take it easy with a stroll around the town and some welcome dinner.
Mount Teide
Day 2-3
Today will be a little unusual since our main activity will start at dusk. We will visit Mount Teide in perhaps the most extraordinary way. Our first stop is for sunset, where we can have some amazing photos taken. Afterwards, we are on the a mission to learn more about our Universe. Did you know that Tenerife sky is the 3rd best sky in the world for stargazing, after Hawaii and Chile? 🌠 I am very much looking forward to this, since I have never had the opportunity to watch through a telescope and let's be honest, most school education is not so profound in teaching us about the Universe either. At a 2000 meter above the sea level we will enjoy the following: 🕒 around 4,5 hours of stars, talks, laughs with a professional guide 🧑‍🤝‍🧑 it will be either a small group or a private one 🍷 wine, cava and beer 🥘 Canarian Tapas 🚙pick up and drop-off 🔭 professional Telescopes ⭐ learning about constellations During the day, we can stay flexible. Perhaps, swimming in some lava pools or visiting some traditional Canarian villages nestled between the coastline and the mountain range while treating ourselves to some delicious local food, the choice is ours.
Costa Adeje
Day 3-4
Today is a day I've been waiting for sooo long. I grew up in a family where marine life played a big part since my dad works under the water. So to have a huge possibility to see dolphins and whales in their natural habitat is something that excites me so much that I can't stop smiling. About the tour: 🕒 2 hours (flexible) ➡️does not disturb the life of the marine creatures (stated by the guide) ➡️ 99,9 % probability of seeing these creatures (that is a reference from the guide) ➡️ marine biologist guide who will give us insights about the life of the cetaceans 🛥️ inflatable boat used by most professional whale watching companies, it is great for people who struggle from sea-sickness (like me) as it is fast and safe. 🐳 hydrophone for listening the cetaceans 📷 free photos
Parque Rural de Anaga
Day 4-5
⚡ CALLING ALL HIKER LOVERS! ⚡ We will make an active start through the oldest and one of the most beautiful parts of the island - Anaga Rural Park. This park is filled with hiking options and it is a paradise for hiker lovers as the paths are a good combination of coastline views, green-covered mountain peak, small authentic villages along the way and breathtaking viewpoints. There are two trails in particular in my mind, so we can all take part in the choice. However, both are rated as moderate to medium difficulty and last between 4-7 hours. We can go on our own pace and have picnic breaks in between, of course. The Best? ➡️ We will get to spend a whole day in nature, enjoying the beautiful and peaceful surroundings ⛰️
Chinyero Volcano
Day 5-6
The volcano with the latest eruption on the island back in 1909 - Chinyero offers the opportunity for a unique hike through a landscape that was once left devastated. Nowadays, the combination of green trees and black rock soil reminds us of the great power of nature. *Just a heads-up, going to the top of the volcano is not allowed.
Tenerife Sur Reina Sofia
Day 6
Our last day has come! 😢 Depending on our departure times, we can do something in the morning, but you are also more than welcome to stay longer on the island. Other than that, see you soon around the world! 🥰
Trip Summary
6 days trip
San Juan de la Rambla, Mount Teide & 4 more
Hi Viktoria, I am Dela and I am 35 y old. I am Italia 🇮🇹 but currently living in Germany. I was th...

Read More
Hi Dela, That is a lovely idea, birthday trip sounds fun 🤩 Of course, you can ask me if you have any more specific questions about the trip. You can also find more info about me in my profile but ...

Read More
What's excluded?
Flights
Personal Expenses
Food
Fuel - we will divide by using Splitwise
Why JoinMyTrip?
Trusted platform used by 150K+ TripMates
Have A Question?
Live Chat with our experts 24x7
Unique Trips hosted by Experienced Travellers
Secure Payments to ensure your money is always safe
Looking for more trips?
Here's some similar trips that you might be interested in.