Slide 1 of 1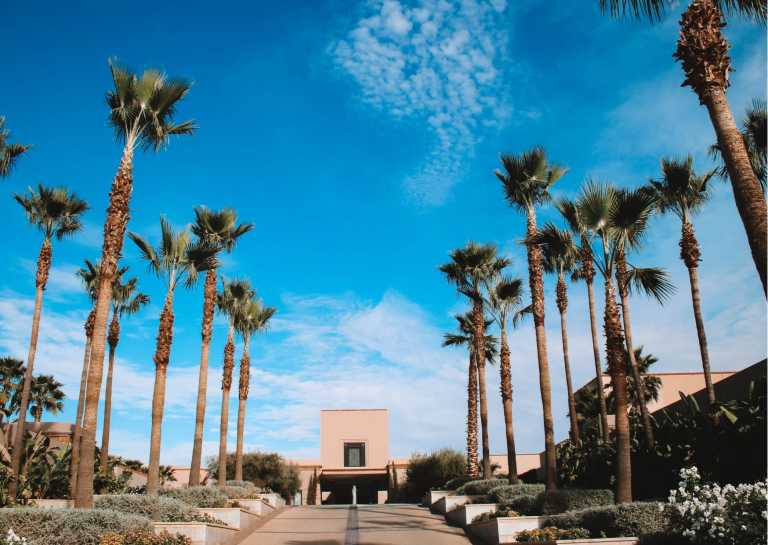 Ultimate Remote Work & Coliving Experience in Marrakech, Morocco | Luxury Villa Coworking Space (Shared Room)
7 Days30 Days!
Extra Cancellation Days
only for the first TripMate
Coworking trip
8 days
6 stops
4 - 7 Mates
Morocco
Escape the daily distractions and join me for an unforgettable Coliving & Remote Work Experience 👩‍💻 🧑‍💻 in Marrakech! 🌴 As a local familiar with the city's hidden gems 💎, I aim to provide a unique experience to my TripMates. I have planned this trip to take place during the ideal time to visit Marrakech, when the weather is at its finest 🌞, avoiding the harsh cold ❄️ of winter and the intense heat 🌡 of summer. I will form a mixed group of men and women (6 to 8 people, including myself). The number of people and the type of room (single or double occupancy) will determine the final group size. 🙋‍♂️ ABOUT ME: I'm Sami, a freelancer and passionate traveler from Morocco 🇲🇦 who has visited over 17 countries ✈️ 🌍, seeking unique experiences and immersing in new cultures. To know more about me, you can check my profile. 😁 🏡 ABOUT OUR ACCOMMODATION: Located in a prestigious neighborhood, this luxurious two-level villa with 320 square meters of living area features 4 bedrooms, 5 beds 🛌, 2 modern bathrooms 🛀, and 3 spacious living rooms. Three of the bedrooms have queen size double beds, while the fourth has two single beds. The master bedroom features a dressing room and a private bathroom. The bedding is very comfortable, and the furniture is of high quality. In addition, it includes a fully equipped kitchen and a dedicated private workspace with an ergonomic chair, ideal for those who need a functional and comfortable space to work. The villa boasts a swimming pool 🏊‍♂️, and a large sunny terrace ☀️, as well as a cozy living area that opens to the garden and pool. A minute's walk from the villa, there's a bus station 🚍 to the city center and a variety of shops, cafés, and restaurants within 100 meters. You can also use a local transportation app 📲 similar to Uber, which offers reasonable prices. 💸 WHAT IS INCLUDED? - Shared rooms at the villa - Free Wi-Fi access 🛜 (High Speed Fiber-optic Internet of 220 Mbps) - Rental car 🚘 and fuel cost ⛽️ inside Marrakech - JoinMyTrip service fee - Trip planning - Travel insurance for German and Austrian residents Meals, flights, excursions, etc. are not included, and our common activities will be fairly shared via Splitwise. If you need assistance with booking your flight to Marrakech, don't hesitate to reach out to me, I'll be more than happy to help you! P.S: If you prefer a private room, another offer is available for a higher rate. 🌞 WHAT WILL OUR EXPERIENCE LOOK LIKE? Take advantage of the flexible schedule and decide whether you want to work on-site 💻 or use this time for a 🏖 relaxing vacation. During our free time, let's go out to discover Marrakesh and its trendiest spots, from ☕️ chic cafés and 🍽 restaurants to 🍻 vibrant bars and 🍾 nightclubs. Whether we dine out, cook together, or try new things, we can enjoy ourselves and bond as a group. You can check my suggested activities in the trip stops for more inspiration. 📩 HOW TO JOIN THE TRIP? Do you want to join us on this unforgettable trip to Morocco? 🤩 Book now, and we'll schedule a video call 📞 so we can get to know each other before the trip. After the call, I'll let you know if you've been accepted. I carefully select open-minded and flexible people to create the best co-living group and ensure a great experience for everyone! 😀 Peace✌️ Sami.
Your Booking includes free protection from Trip cancellations.
Learn More
Meet Your TripLeader
Phone Verified
Identity Verified
17 Countries
You can chat with Sami once you reserve your spot.
Trip Itinerary
Marrakesh
Day 1-2
After your arrival, we'll gather at our place to stay, a Luxury Villa conveniently near Marrakech city center and all the necessary facilities. We can arrange your pickup from the airport or the train station. Let's break bread and get to know each other over dinner as we plan a week of unforgettable experiences. Later on, if you're up for it, let's go out to enjoy Marrakech's vibrant nightlife and parties!
Jemaa el-Fna
Day 2-3
The next day you will discover the old Medina of Marrakech with me. We'll start by visiting the famous Jemaa El Fna Square, wander the vibrant Souk filled with spices and textiles, and explore the old town with its famous monuments and palaces, such as the Koutoubia Mosque, El-Badi Palace, Bahia Palace, Saadian Tombs, etc. Get ready to negotiate prices, as bargaining is part of the Moroccan shopping experience!
Menara Gardens
Day 3-4
After work, come with me to explore the tranquil beauty of Menara Gardens in Marrakech. With lush greenery and serene pools, this garden is a peaceful escape from the bustling city. Come to see the historic olive grove and enjoy a stroll through the tranquil surroundings. A perfect spot for nature lovers!
Jardin Majorelle-Yves Saint Laurent Mansion
Day 4-6
The Jardin Majorelle is a stunning botanical garden in Marrakech, created by French painter Jacques Majorelle. It's considered one of the most important cultural landmarks in the city. This Garden is famous for its vibrant blue buildings, striking gardens & tranquil fountains. It's a cultural hub hosting exhibitions & workshops, showcasing Berber art & artifacts. We will explore its lush greenery, beauty & cultural significance. It is a must-visit for art lovers, nature enthusiasts & peace seekers. Later in the evening or the next day, we will discover the luxurious modern side of Marrakech's new city and its attractions. P.S: You must book your ticket online before your visit day on the official website: https://tickets.jardinmajorelle.com/visite
Essaouira
Day 6-7
Escape the hustle and bustle of Marrakech with a day trip to the charming coastal city of Essaouira. Stroll the sandy beaches, explore the ancient ramparts, and wander the bustling medina filled with artisans and street performers. Indulge in delicious seafood and soak in the relaxed vibe of this breathtaking seaside gem! P.S: This trip's cost is not included (35€ per person).
Agafay Desert
Day 7-8
If you are open to exploring exciting activities after work, let's discover Agafay Desert's beauty near Marrakech on an evening getaway for dinner under the stars. We can choose from various activities on-site such as a Camel Ride, Quad Ride, and Moroccan Dinner and Show. Let's make memories together!
Trip Summary
8 days trip
Marrakesh, Jemaa el-Fna & 4 more
Transportation
Trekking, Car
Why JoinMyTrip?
Trusted platform used by 150K+ TripMates
Have A Question?
Live Chat with our experts 24x7
Unique Trips hosted by Experienced Travellers
Secure Payments to ensure your money is always safe