Slide 1 of 1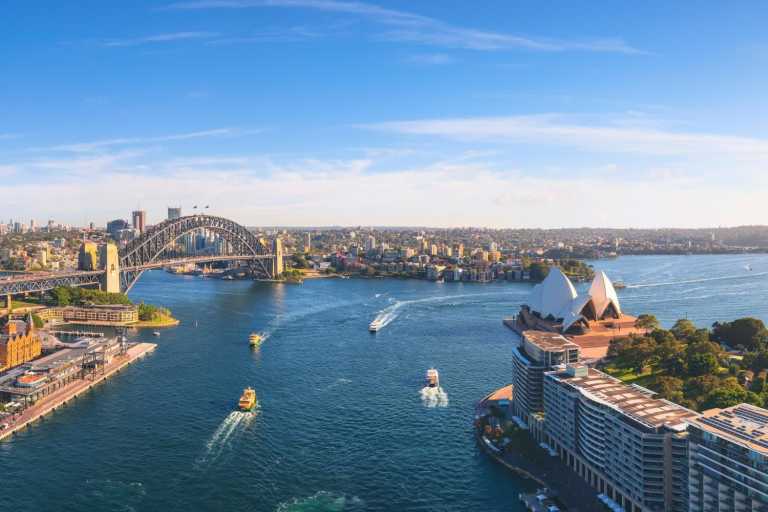 Ultimate 6-Day Sydney Adventure: Explore Iconic Sights, Boat Tours, Mountain Ranges, Beach Walks, and Culinary Delights in Australia
7 Days30 Days!
Extra Cancellation Days
only for the first TripMate
Guided trip
6 days
6 stops
4 - 6 Mates
Australia
What's special?
Dinner Cruises to Mountain Tours!
A Home to Stay in for the Whole Duration
A Great Community of New Friends
Hey gorgeous people! For the foodies, explorers, hikers, beach-nappers, or shoppers, this trip will suit your needs! I love to hike, eat good food, and try new things that make me smile, so this is a trip that includes a mix of outdoor activities, beaches, free time, tours, and dining. Many of the exercise-involved activities will be optional but come prepared to walk around! It's important to me that on this trip we have a good mini-community that fosters friendship, laughs, and excitement so you will be a good fit if you are: open-minded, kind, respectful, flexible, and willing to go off the beaten track a little and meet new people! I have a lot planned for us to do but there will still be some time put aside for you to explore any extra places you want to visit/relax after all that walking. I will have a list of places you can go visit if you're not sure how to use that time! I have included the cost of dinners and lunch that are included in our day trips and will have many options for places to go on your free nights, however as we will be staying in accommodation that has a kitchen, I have left this up to you for how much you want to go out and spend. If you would all like, we can have a big group cooking fest one night or a picnic one lunch :) Feel free to ask me any questions through the Q&A section, I'm happy to help! Here are some of the optional activities you can add to your trip: - Whale Watching Cruise - Paddle Board Yoga (my favorite) - Bondi Surfing Lesson - Sydney Harbour Helicopter Tour - Hidden Bars and Jazz Nights See below for the itinerary!
About me: My name is Niesha, an Aussie that originated in Adelaide, moved to Melbourne, and fell in love with Sydney. I keep going back because I love all the hidden experiences I find, be it great GREAT food, wholesome people, cliff diving spots, sunrise beach swims, rainforest treks, and more!
Details about the accommodation: In terms of accommodation, it is important to me that, especially in a city, the accommodation feels like a home we can return to, play cards in, relax, and cook together, so you will have your own bed however you may be sharing a room. We will all be staying in one home the whole duration of the trip so you won't need to cart your bags and all the extra shopping you did around with you! I have included some images of places we may call home on this trip. Which one we end up staying in will just depend on numbers and availability once confirmed! Feel free to ask me absolutely anything in the Q&A section, I look forward to meeting you all and making more memories in this gorgeous, crazy city.
What's included?
$50 Bus Pass for Transport
Sydney Opera House Guided Tour
Accommodation 5 Nights (Shared rooms)
6 Meals
Local SIM Card
Great Memories to Take Home With You
Sydney Harbour Sunset Dinner Cruise
Blue Mountain Group Tour
Planned Trip To The Iconic Spots
Your Booking includes free protection from Trip cancellations.
Learn More
Meet Your TripLeader
Phone Verified
Identity Verified
19 Countries
Big dreamer, explorer, plant mum, dog lover, deep-convo-starter, sunset-paddle-boarder, icebathian, campfire with smores & hot-choc vibes.
You can chat with Niesha once you reserve your spot.
Trip Itinerary
You will meet Niesha and the group in Sydney Harbour
Find the best flight details to and from Sydney Harbour ->
Sydney Harbour
Day 1-2
Kicking our stay off with a bang! You will arrive from the airport and bus to Millers Point where our accommodation will be for the week (you can see potential accommodation photos in this carousel) and then as a group, we will walk to King Street Wharf and hop on the 2hr, 3-course darling harbor cruise! From here, you will get an option of returning home for the night to settle in or heading out to some of the local bars like Stitch Bar, Old Mate's Place, or to live music at the rooftop bar Babylon (where I will likely be), or to Karaoke at Fridays at Goros!
Sydney Opera House
Day 2-3
Good morning! After a nice 20 minute walk along the harbour from our accommodation to the Sydney Botanic Gardens, we will walk around here for an hour or two, and then head to a guided tour of the Sydney Opera House, which will include our lunch! From here, this is an afternoon where you will get time to go to all the shops in Sydney or do optional extras such as: - Helicopter ride over Sydney - Whale watching boat tour Depending on how we bond, this will also be a great opportunity to head out for a fancy dinner together and go out in the town.
Bondi Beach
Day 3-4
Today is one of my favorite days. We will be waking up pretty early to head to Bondi Beach where we will do the absolutely stunning walk from Coogee to Bondi along the coast and then stop at the beach for lunch. Here you have the ocean, the Iceberg pool that sits against the ocean (be warned, the last time I went it was chilly), and an optional surfing lesson! I'll give you a few hours to shop, explore, and relax before we eat at a restaurant with beachfront views, and then head back to Sydney Central. ps. the photos do not do this walk justice, there are so many gorgeous alcoves and swim spots along here!
Blue Mountains
Day 4-5
Today is an awesome day. Picking us up nice and early in the morning from Sydney, we will get a full-day guided Blue Mountains tour which will include Sydney Zoo entry, a ferry on the Parramatta River, Skyway, Steepest Railway, Cableway and the rainforest walk at Scenic World! We will return to Sydney around 5pm.
Darling Harbour
Day 5-6
Starting the morning a little later today, we will head over to Darling Harbour where you will get a chance to check out any of: SEA LIFE Sydney Aquarium, National Maritime Museum, Madame Tussauds, or WILD LIFE Sydney Zoo. If you would rather go on a hike, near here is the Bradley's Head Trail! This morning is a great opportunity to climb the Sydney Harbour Bridge if you would like! Just a heads up, that this will be a tour you'll need to book. We will then make our way to a Waterfront Dinner as there are plenty of gorgeous restaurants here! Afterwards, there are trendy rooftop bars such as The Watershed Hotel if you would like to head out before returning home.
Sydney
Day 6
Today is your very last day! We will be checking out in the morning and then the rest is up to you! If you're staying on in Sydney, Wednesday nights = Swing Nights at The Palmer and Co. from 7pm that I highly recommend!
Trip Summary
6 days trip
Sydney Harbour, Sydney Opera House & 4 more
Transportation
Trekking, Car
Have A Question?
Ask the TripLeader questions about the Trip by clicking on the button below. Your question and the response will be visible on this page once it's answered.
What's excluded?
Flights
Breakfast
Why JoinMyTrip?
Trusted platform used by 150K+ TripMates
Have A Question?
Live Chat with our experts 24x7
Unique Trips hosted by Experienced Travellers
Secure Payments to ensure your money is always safe