Slide 1 of 1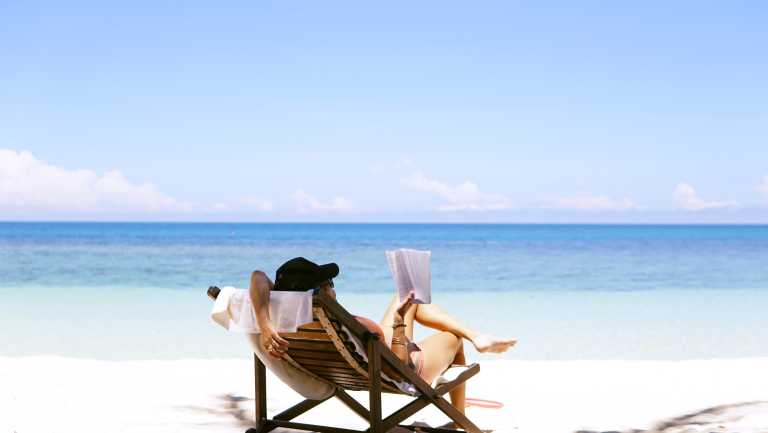 Tropical Workation Retreat in Chumphon, Thailand: Unwind and Work Amidst Paradise
Coworking trip
13 days
2 stops
1 - 6 Mates
Thailand
What's special?
Local TripLeader
Step into a hidden gem of Thailand, Chumphon, where an entirely different side of this enchanting country awaits. Escape the tourist crowds and immerse yourself in the genuine local life of Southern Thailand, all while maintaining your productivity on our Work & Play Retreat. Why Chumphon is interesting: ➕ Authentic Local Experience: Discover the heart and soul of Southern Thailand as you interact with warm and friendly locals, savoring the authentic flavors of Thai cuisine and experiencing genuine hospitality. ➕ Untouched Natural Beauty: Indulge in the unspoiled beauty of Chumphon's beaches, boasting soft sands and crystalline waters, without the hustle and bustle of mass tourism. ➕ Off-the-Beaten-Path Exploration: Venture into the lesser-known parts of Thailand, where serenity and tranquility reign, offering a truly immersive and unique travel experience. ➕ Cultural Richness: Delve into Chumphon's rich cultural heritage at the Chumphon National Museum, where intriguing exhibits share tales of the region's captivating past. ➕ Secluded Island Escapes: Embark on island-hopping adventures to Koh Ngam Noi and Koh Ngam Yai, secluded havens that promise picturesque landscapes and a chance to connect with nature. ➕ Connect with Fellow Adventurers: Forge lasting connections with like-minded individuals seeking a perfect blend of work and leisure, fostering a supportive community during your retreat. ➕ Remote Retreats for Focus: Retreat to our thoughtfully selected accommodations, tucked away in tranquil settings, offering an ideal environment for uninterrupted work sessions. Escape the ordinary and embrace the extraordinary with our Off-the-Beaten-Path Work & Play Retreat in Chumphon. Experience Thailand like never before, where the genuine essence of local life and pristine nature await you. Discover the captivating charm of Chumphon while striking the perfect balance between productivity and leisure on our exclusive retreat in 2023! ⚠️ Note: Limited spots available, book now to secure your authentic Chumphon experience! ⚠️
About me! I'm Sam (aka Sergey Zaytsev), and I'm thrilled to plan a 13-day trip to Chumphon, Thailand in August 2023 with a fantastic group of like-minded trip mates. This journey is all about combining work and leisure, creating unforgettable memories while staying productive during the day. What excites me the most about this trip is the opportunity to bring together a group of adventurous souls into the hidden gem of Chumphon, away from the typical tourist crowds, immersing ourselves in the genuine local life of Southern Thailand. I can't wait to see the excitement on our faces as we indulge in the untouched natural beauty of Chumphon's pristine beaches, while staying close to civilization. The prospect of island hopping to Koh Ngam Noi and Koh Ngam Yai with our close-knit group fills me with joy. These secluded escapes will offer us picturesque landscapes and moments of connection with nature, creating memories we'll cherish for a lifetime. Sharing this unique work and play experience with all of you means so much to me. I can already imagine the bonds we'll form and the support we'll provide each other as we navigate the perfect balance between productivity and relaxation. The thoughtfully selected accommodations will ensure we have a tranquil and focused environment for work sessions. Picture us, surrounded by the serene backdrop of the Gulf of Thailand, inspiring our creativity and productivity throughout the trip. Together, we'll embark on an extraordinary journey, unlocking the authentic charm of Chumphon and creating memories that will strengthen our friendships. I'm eager to make this Tropical Work & Play Escape to Chumphon, Thailand, an exceptional adventure, tailored specifically for our group.
Details about the accommodation: Nestled amidst the lush tropical surroundings of Chumphon, the Nana Buri Hotel exudes charm and tranquillity. This boutique hotel offers a perfect blend of comfort and convenience, providing guests with a haven of relaxation during their stay. The well-appointed rooms feature modern amenities and captivating views, ensuring a restful experience. With its warm hospitality and personalized service, Nana Buri Hotel promises an unforgettable retreat in the heart of Southern Thailand. Nana Beach, an idyllic beachfront escape in Chumphon. This luxurious resort boasts a seamless fusion of contemporary elegance and natural beauty, with direct access to the pristine sandy beach and has a beach-facing swimming pool. The spacious and stylishly decorated accommodations offer a tranquil retreat for guests seeking ultimate relaxation. Whether it's lounging by the infinity pool, indulging in delectable cuisine at the seaside restaurant, or rejuvenating at the spa, Nana Beach Resort guarantees an extraordinary and unforgettable stay in paradise. All the TripMates will stay in double or twin rooms. The room is not shared unless you travel as a couple. Ensuite bathroom and shower. Let me know in the Q&A section if you have any questions!
What's included?
Transportation between stops
Accommodation (Private room)
Daily breakfast
Transportation to/from Chumphon airport
1 day snorkeling trip
1 trip to the supermarket
Food and drinks on scheduled activities
Your Booking includes free protection from Trip cancellations.
Learn More
Meet Your TripLeader
Phone Verified
Identity Verified
30 Countries
🗺️ Adventurer, Entertainer, Optimist. Exploring with laughter & embracing diverse cultures. Let's create memories together! 🌈✨🎉
You can chat with Sergey once you reserve your spot.
Trip Itinerary
You will meet Sergey and the group in Chumphon
Find the best flight details to and from Chumphon ->
Chumphon
Day 1-6
Chumphon Town Delights: Indulge Robusta Coffee Tasting, Learn to roast coffee, Savor Street Food, Enjoy Shrimp BBQ buffet, Discover Local Supermarkets, Visit the Fascinating Sunset Mountain. Activities breakdown: All activities start at 3-5 pm, upon agreement with the other Travel Mates IN TOWN: Day 1: Coffee Roasting and Tasting at Villa Varich. Day 2: Walking Street Market - enjoying local delicacies. Day 3: Unlimited shrimps buffet - indulge in BBQ and savor local fresh plates Day 4: Sunset watching at fascinating Matsi Mountain Day 5: Grocery shopping//Getting ready for the next stop
Thung Wua Laen Beach
Day 6-13
Thung Wualaen Beach Bliss: Chill by the Shore, Embark on a Snorkeling Adventure, Immerse in Local Fishermen Village, Sip Delightful Drinks at Beach Bars & Coffeeshops. Unforgettable Coastal Experience! Chumphon Town Delights: Indulge Robusta Coffee Tasting, Learn to roast coffee, Savor Street Food, Enjoy Shrimp BBQ buffet, Discover Local Supermarkets, Visit the Fascinating Sunset Mountain. Activities breakdown: All activities (except snorkeling trip) start at 3-5 pm, upon agreement with the other Travel Mates BEACH//Fishermen village Day 6: Welcome pool party, stroll around the beach, water activities and dinner at the beach; Day 7: Durian Party: Savour fresh durians or durian produce (upon availability) at the famous among locals Flipper Bar Day 8: Day Snorkeling trip (STARTS AT 8 AM) Day 9: Hiking to Khao Dinsor - Bird watching mountain with fascinating views; Day 10: Off day//Motorbike adventure (at extra cost) Day 11: Kayaking evening Day 12: Farewell party
Trip Summary
13 days trip
Chumphon, Thung Wua Laen Beach
Have A Question?
Ask the TripLeader questions about the Trip by clicking on the button below. Your question and the response will be visible on this page once it's answered.
What's excluded?
International and domestic flights
Motorbike are available at 10EUR a day
Why JoinMyTrip?
Trusted platform used by 150K+ TripMates
Have A Question?
Live Chat with our experts 24x7
Unique Trips hosted by Experienced Travellers
Secure Payments to ensure your money is always safe
Looking for more trips?
Here's some similar trips that you might be interested in.