Slide 1 of 1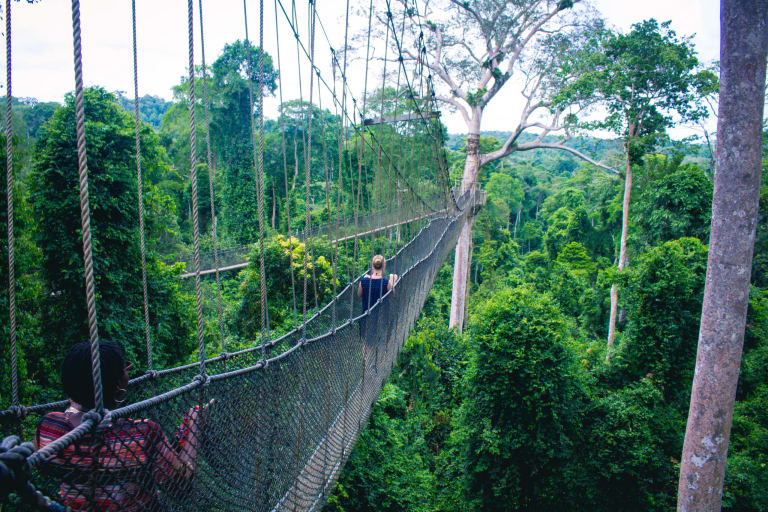 Travel to Kakum National Park, Ghana with a Local!
7 Days30 Days!
Extra Cancellation Days
only for the first TripMate
Guided trip
2 days
3 stops
2 - 4 Mates
Ghana
This is an amazing trip where it is unforgettable you will experience an amazing Kakum National Park (Ghana) and I can't wait to be your TripLeader and also to experience this together with you. I have had the opportunity to have visited this amazing destination before, and I look forward to sharing this amazing Ecosystem I will be very glad to have you join my trip and share this amazing experience together. Should you need any information, ask in the Q&A! :) What is included? - Bed and Breakfast (Shared rooms) - Transportation What is not included? - International flights, visa fees, laundry, drinks & tipping For other locations around the city, we will mostly walk, or you can let me know, so we can make sure to have it on our itinerary. About me: My name is Kingsley, and I am an ambitious and energetic gentleman, highly motivated, Friendly, humble, and love to travel and meet new people. Are you as excited as me? Send me a message and let me know 📬
Your Booking includes free protection from Trip cancellations.
Learn More
Meet Your TripLeader
Phone Verified
Identity Verified
4 Countries
8 Trips Completed
Hello travelers! Welcome to my trips
You can chat with Kingsley once you reserve your spot.
Trip Itinerary
You will meet Kingsley and the group in Fiesta Royale Hotel
Find the best flight details to and from Fiesta Royale Hotel ->
Fiesta Royale Hotel
Day 1
Our pickup location is in our hotel in Accra, Ghana. This designated location will be communicated respectively in a few days before the trip. Pickups can be arranged for a small fee if preferred.
Kakum National Park Entrance Gate Ghana
Day 1-2
The Kakum National Park, located in the Cape Coast hinterland, covers an area of ​​375 sq. Km and protects a large stretch of virgin rainforest in Ghana. Originally intended as a forest reserve, in 1931 the Kakum area was not open to the public and, a part of it was used for timber and deforestation, but was threatening to irreparably deface this stretch of coastal rainforest. Subsequently, the area of ​​Kakum was declared protected and was joined to the contiguous Assin Attandaso Reserve, to form the wide Kakum Conservation Area. The area of ​​Kakum, at a later time, with the intervention and support of local communities, was declared a national park in 1992. The deforestation of the '70s and' 80s, fortunately, has compromised, not irremediably, only partially the forest, that remains, even today, for the most part in pristine conditions; the predominant type of vegetation is the humid rainforest, both virgin and semi-deciduous, and characterized by high rainfall and high humidity, with an average of 90%. The diversity of Kakum flora is such that the number of registered plant species exceeds 200 units per 1 square hectare. The forest in the Kakum National Park is both primary and secondary, the difference being that the primary forest is pristine and virgin, while the secondary forest has been somehow "disturbed" by natural or human events and is recovering from these events. Usually, the primary forest has a covering, or canopy, complete that makes little light filter down to the ground, the secondary forest does not have complete coverage but is characterized by smaller trees, and the light filters through to the soil, allowing the growth of numerous pioneer species.
Fiesta Royale Hotel
Day 2
We will return to our pickup location in Accra, Ghana and end the trip. This designated location will be communicated respectively again a few days before the trip. Drop-offs will be offered for a small fee if preferred.
Trip Summary
2 days trip
Fiesta Royale Hotel, Kakum National Park Entrance Gate Ghana & 1 more
Have A Question?
Ask the TripLeader questions about the Trip by clicking on the button below. Your question and the response will be visible on this page once it's answered.
Why JoinMyTrip?
Trusted platform used by 150K+ TripMates
Have A Question?
Live Chat with our experts 24x7
Unique Trips hosted by Experienced Travellers
Secure Payments to ensure your money is always safe