Slide 1 of 1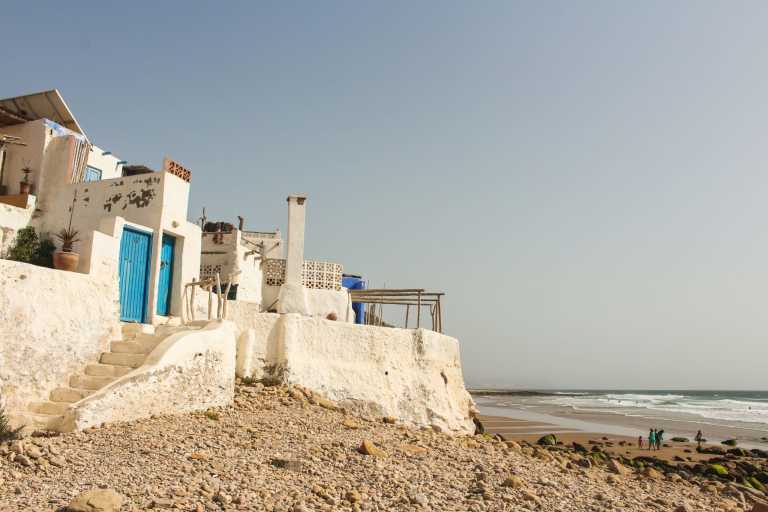 MOROCCO trip Agadir, Imsouane surfing, and Essaouira city
7 Days30 Days!
Extra Cancellation Days
only for the first TripMate
Guided trip
6 days
3 stops
2 - 6 Mates
Morocco
What's special?
Surfing
Nature
Beach and food
Experience the best of Imsouane, Morocco in this 6-day trip! What's the plan? Arrive and check into your accommodation, then explore the town and take a leisurely stroll along Imsouane Beach. Day 2 is dedicated to surfing at Imsouane Bay, known for its long, gentle waves suitable for all levels. On Day 3, venture out to the surrounding area, visit the fishing village, hike along the cliffs for stunning views, and immerse yourself in the local culture at the Sunday market. Day 4 is all about surfing at Cathedral Point, a popular spot with challenging waves. On Day 5, take a day trip to the charming coastal city of Essaouira, known for its UNESCO-listed medina and beautiful beach. Finally, on Day 6, depart from Imsouane after enjoying breakfast and some final moments in this beautiful location.
About me! My name is Abderrahim Oumaha, been working in tourism and hotels industry for more than 7 years now, I like traveling, surfing, and new adventures. That's why I'm taking it outside with my trips and want everyone to join me in exploring our beautiful and sunny country.
Details about the accommodation: Enjoy a delightful stay in Imsouane, Morocco, with comfortable shared rooms and the option to upgrade to a private room. Wake up to a delicious breakfast to fuel your day of exploration. Discover the breathtaking beaches of Imsouane, featuring pristine sands, crystal-clear waters, and picturesque coastal views. Relax, sunbathe, and take leisurely walks along the shores. Immerse yourself in the charm of this coastal town, where you can interact with friendly locals, experience the authentic Moroccan culture, and embrace the laid-back atmosphere. Enjoy the small-town ambiance that creates a warm and welcoming environment for your unforgettable getaway.
What's included?
Airport transfer
Breakfast
TripLeader Guidance
Accommodation (Shared rooms)
Your Booking includes free protection from Trip cancellations.
Learn More
Meet Your TripLeader
Phone Verified
Identity Verified
1 Trips Completed
my name is Abderrahim Oumaha, i live in Agadir Morocco. hotel and tourism work, meeting people, nature, beach, adventures.
You can chat with Abdou once you reserve your spot.
Trip Itinerary
Imsouane
Day 1-6
Morocco's Atlantic coastline retains an almost year-round vibrancy, thanks mainly to the comings and goings of water sports enthusiasts. Strolling through towns such as Imsouane or the neighbouring beaches of Taghazout or Tamri, you may find yourself wondering whether you are still in Morocco, because the atmosphere is more akin to the beaches of Australia or California. Any doubts rapidly evaporate however, as you glance back and see the low, brightly-coloured houses scattered along the coastline, the boats waiting to set sail for the day's fishing, and the beach bars that serve mint teas throughout the day. A trip along the Moroccan coast, following the N-1 road and visiting these types of towns, has much to recommend it. You will find Moroccan-style beach clubs, surfing camps everywhere, yoga centres, and scores of restaurants, each competing with their own versions of Moroccan-French fusion dishes. Whether you're a surfer or not, this stretch of the coastline has an authenticity that you will find seductive, and that will lure you back time and time again. Moreover, if you're travelling with your family, it is near cities such as Agadir where you can still enjoy every comfort, and find activities to suit your children's ages and interests.
Essaouira
Day 6
Take a day trip to Essaouira, a charming coastal city located about 90 kilometers north of Imsouane. Enjoy the scenic drive along the Atlantic coastline. Upon arrival in Essaouira, explore the UNESCO World Heritage-listed medina (old town), known for its well-preserved Portuguese and Moorish architecture. Visit the Skala de la Ville, a 18th-century fortress with panoramic views of the city and the ocean. Explore the bustling souks (markets) and browse for unique handicrafts, jewelry, and textiles. Take a stroll along the picturesque harbor and watch the fishermen bring in their daily catch. Enjoy a leisurely lunch at a local restaurant, savoring the city's famous fresh seafood. In the afternoon, you can relax on Essaouira's beautiful sandy beach, take a camel ride, or even try windsurfing or kiteboarding if you're feeling adventurous. Depart from Essaouira in the late afternoon and return to Imsouane.
Agadir
Day 6
Don't miss Agadir, the best beach resort in the country. Virtually destroyed by an earthquake in 1960, the southern city preserved its traditional heritage while undergoing a modern renovation. Come to Agadir to relax on golden-sand beaches, shop at maze-like souks and get pampered at a hammam.
Trip Summary
Accommodation
Hostel & Bed & Breakfast & Other
6 days trip
Imsouane, Essaouira & 1 more
What's excluded?
Flights
Surf lessons
Why JoinMyTrip?
Trusted platform used by 150K+ TripMates
Have A Question?
Live Chat with our experts 24x7
Unique Trips hosted by Experienced Travellers
Secure Payments to ensure your money is always safe