Slide 1 of 1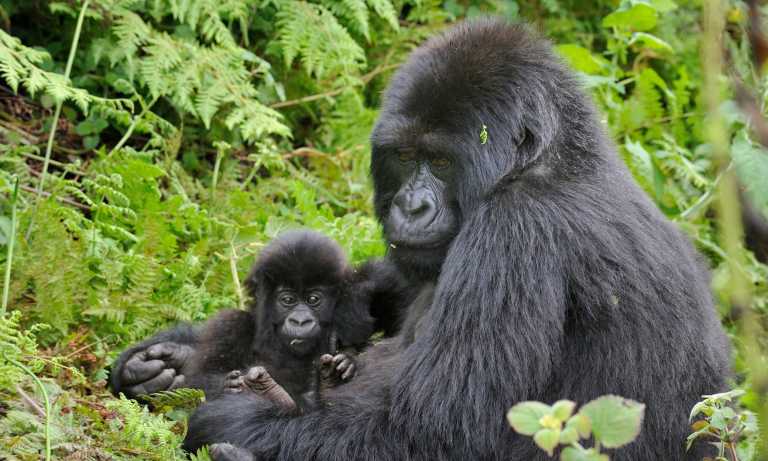 Uganda: 🦍 Hike to wild Mountain Gorillas, 🦏 Track Rhinos, 🌅 Lake Victoria cruise, White water rafting, Stand on the equator line & visit Entebbe, Kampala & Jinja towns
7 Days30 Days!
Extra Cancellation Days
only for the first TripMate
Guided trip
9 days
7 stops
8 Mates
Uganda
Uganda, the beautiful landlocked country of East Africa that Churchill aptly called the "Pearl of Africa" is truly one of the hidden gem destinations in the world that not many people know about. I am looking for fun & adventurous TripMates who enjoy good conversation & aren't afraid of the 'back to basics' environment. We will be heading over to my favorite continent of AFRICA and more specifically UGANDA for an EPIC trip into the Bwindi Impenetrable National Park tracking Mountain gorillas in the wild and stand on both sides of the equator at the same time. On top of this we will be heading off to see the absolute highlights of the country; tracking Rhinos, Canoe safari to see Shoebill storks, White water rafting on the Nile, Exploring cities Entebbe, Kampala & Jinja AND cruising on lake Victoria! 👋🏽 I am 31, British 🇬🇧 & have been traveling solo for over 15 years across 70 countries! I organized group & individual trips as a career for over 8 years around Asia, Africa, Oceania & Americas. Currently, I manage ultra-high-net-worth clients' travels as a personal manager for a luxury concierge company as well as run my own trips here on JMT. You can read more about me & my sustainability-focused travels on my profile 🥰 INCLUSIONS: ➡️ Logistics & booking responsibility removed from yourself & taken care of ➡️ F & B: Some breakfast may be included (TBC) & all meals whilst at the Lodge in Bwindi National park are included (2x breakfasts, 2x lunchs, 2x dinners & soft drinks) ➡️ Accommodation: Shared rooms (only within our group) - where I can I will keep genders separate & numbers to a minimum ➡️ Activities & tours mentioned in the itinerary ➡️ All transport between stops & for activities mentioned in the itinerary ➡️ Experienced, fun & knowledgeable trip leader! ➡️ Pre-departure guidance including help with flight timings, what time pack ➡️ Destination-specific WhatsApp group for general travel questions & to meet your team before arriving ➡️ Travel insurance if you are a resident of Germany or Austria ➡️ Bwindi & Ziwa National park fees & gorilla permits EXCLUSIONS: ➡️ F&B: All other Breakfast/Lunch/Dinner & drinks ➡️ Visas, passports & vaccinations ➡️ Spending money for souvenirs ➡️ Additional activities you would like to take part in during free time not mentioned in the itinerary ➡️ Additional transport during a free time is not mentioned in the itinerary ➡️ Any price increases to park fees or gorilla permits made by the Ugandan government at the time we travel 🗺 ITINERARY & GROUP SIZE: I will always try to stick to the itinerary provided as much as possible, however, please be aware it is subject to change depending on numerous factors that come with traveling abroad. There are often variables that can affect the itinerary plans such as weather, traffic delays, or local changes on the ground. Our group will consist of 8 of us (including myself). 📍 MEETING POINT: You will need to arrive at EBB, Entebbe International Airport & make your own way to the first night's accommodation. Make sure your flight lands before 12:00 & if you need help with setting up transfers from the airport please let me know. 📝 VISAS: All persons intending to travel to Uganda for holiday, tourism, business, study, visit, and/or medications are required to apply and obtain a visa online. Please check BEFORE booking that this information remains current & you have a valid passport – these essentials are down to you to check & ensure validity. You will also need to check if Uganda has any alternative entry requirement forms or documents you need on arrival to be able to enter the country. ❤️‍🩹 INSURANCE: Travel insurance is included if you are a resident of Germany or Austria. You can view all the inclusions & exclusions of this insurance here: www.joinmytrip.com/en/t/travel-insurance. For any other TripMates, you will need to purchase your own Travel Insurance which also covers you for Medical expenses should you need it whilst we are away. 📱WHATSAPP GROUP: I will be making an 'Uganda' specific group WhatsApp before we depart for us to start these conversations where I can answer any questions you may have about the trip.
Your Booking includes free protection from Trip cancellations.
Learn More
Meet Your TripLeader
Phone Verified
Identity Verified
64 Countries
3 Trips Completed
👋🏽 Energetic British girl & a self-confessed travel nerd!
based on 11 reviews
Show All Reviews
You can chat with Jemima once you reserve your spot.
Trip Itinerary
Entebbe
Day 1-2
DAY 1: ARRIVE INTO ENTEBBE, UGANDA On your first day in Uganda, you will be arriving into Entebbe International Airport located on the banks of Lake Victoria - one of the few African great lakes that shorelines with FIVE countries; Uganda, Rwanda, Burundi, Kenya, and Tanzania! You'll need to make your own way to the accommodation for tonight where we will be staying in 'glamping style' bell tents in a beaaaautiful, secure, tranquil oasis nestled in the heart of the city. If the idea of navigating Uganda straight away is a bit unsettling, feel free to let me assist you in pre-arranging a driver from the airport to bring you to the accommodation (please note - this will be at an additional cost). Make sure you time your flight to get to the accommodation by lunchtime.. we will be able to meet face to face for the first time, head out together for lunch & wonder around Entebbe town until our check in time. Entebbe is known for its extensive National Botanical Gardens teeming with birds & it practically guarantees close up views of black & white colobus monkeys. You will notice the air is clean for an African country & the greenery runs down to the lake making it a beautiful relaxed place to start our trip! Once back at the accommodation, get settled into your room and then head out on an idyllic sunset boat cruise on Lake Victoria. You'll be able to witness the sunset colors on the water as the sun goes down - Africa has the most magical orangey pink (almost like a watercolor painting) sunsets and straight away you'll feel at home. We get a complimentary cold beer or soda as well as an appetizer dish of food on the cruise BUT, I am thinking prior to the cruise we can grab some extra tinnies/bottles to take with us ;). To top it all off, start brushing up on your wildlife knowledge with the use of the binoculars on board as well as the 'Field Guide to the Birds of East Africa'. After the boat trip we will have dinner before getting a good nights sleep.
Bwindi Impenetrable Forest
Day 2-4
DAY 2: TRANSFER TO BWINDI FOREST The Bwindi Impenetrable National Park is a biodiverse, lusciously green, mountainous area in southwest Uganda. It's home to many of the world's remaining mountain gorillas, who feed on roots, leaves and fruits from the park's many tree and fern species. Restricted numbers of viewing permits help protect the endangered gorilla families & in the park, rough paths weave amid dense forests, which are home to many butterflies and birds. Today we will make the long journey over to the forest (around 9 hours) before arriving and enjoying our lodge. DAY 3: MOUNTAIN GORILLA TREKKING Set off full of excitement ready for this ONCE IN A LIFETIME adventure. We will be hiking through the rainforest in search for families of mountain gorillas!! (ANDDDD IT'S MY BIRTHDAY!). There is no saying how long it will take us to discover the family(ies) due to their wild nature, but hopefully we won't be searching for more than a few hours as the park rangers tend to monitor their location 24/7 so we at least set off in the (sort of) right direction. When we finally find them, everyone can calmly and quietly take pictures and observe them for as long as needed or until they show signs that they want us to leave. If we're REALLY lucky we could also spot Elephants or Chimpanzees, but sightings of these are rare in this rainforest. Afterwards trek back to the lodge for drinks to celebrate an awesome day!!! DAY 4: After breakfast, start on the long drive back to Kampala with the memory of the great rare mountain apes to hold on to forever. We will stop for lunch en route and also stopover at the equator line & Igongo cultural center
Kampala
Day 4-5
DAY 4: KAMPALA Today we will get back late AND no doubt be tired from all the excitement of yesterday so a chilled rest of the day is in order! If you feel up for it head out to the fun bars that line Kampala's streets, or if you're after more of a quiet evening, jump in the shower, watch some Netflix and kick back in the accommodation and relax!
Ziwa Rhino Sanctuary
Day 5-6
DAY 5: ZIWA RHINO SANCTUARY Aside from white rhinos, Ziwa are lucky enough to have a plethora of wildlife, including over 300 species of birds, warthogs and much more! Ziwa proudly harbors Uganda's wild endangered rhinos & is situated in Nakasongola District, near Nakitoma Village, in the north of Kampala. Transfer over to the park today and partake in a Rhino tracking session. Head back to the bar on the property for sundowners overlooking the African wilderness - there may even be a couple of Rhinos wondering past whilst you're sipping away. You'll stay overnight in the sanctuary lodges tonight. DAY 6: TREK & CANOE TO SEE THE SHOEBILL STALKS The shoebill stork is one of the most sought-after birds to be seen in Uganda. And Ziwa is one of the only places that you are almost always guaranteed to see them. The birds are fantastic prehistoric-looking birds nesting within the swamps in Ziwa. And of course, the rangers know exactly where to go to get the best chance of seeing them. This adventure is one for the early birds (pardon the pun) as we'll set off on the shoebill trek at 6am. The canoe ride through the swamp at this time gives you the best opportunity to see the shoebill. But not only that, it is a fantastic way to see the beautiful Ugandan sunrise over the Lugogo Swamp before transferring back to Kampala
Kampala
Day 6-7
DAY 6: KAMPALA We will get back to Kampala late so I think I probably will be heading straight for bed! But if you're brave and ready for a party then Kampala has an awesome nightlife scene you are more than welcome to head out to town to experience!
Jinja
Day 7-9
DAY 7: PRIVATE SHUTTLE TO JINJA (4 HOURS DRIVE) Jinja is commonly regarded as "the adventure capital of East Africa" due to the many activities in town that one could engage in (including bungee jumping if you're a 'dare devil'. After the travel there, grab a quick lunch before heading off on a bicycle tour around traditional villages, jungle & the sugar/tea estates. Arrive back into the Black Lantern lodge for Sunset drinks and dinner with a view over the lake. DAY 8: A DAY OF ADVENTURE Start your morning off by heading over to experience the rapids of the River Nile where we will be Grade 3 white water rafting for the morning - this activity is perfect for adrenaline junkies who need an excitement fix! The team provide drinking water, the most experienced & friendly river crew, all the best equipment and sodas/water/beer at the end! In the afternoon, take a walk along the historic 'Main Street' - this is the longest and oldest street in Jinja with some of the oldest buildings in the town that were built in the 1920s. Pop into some of the craft shops and art galleries, and marvel at the art pieces before buying some souvenirs. Visit Coronation park to stand where John Speke (a British explorer) stood to see the source of the Nile and take pictures next to the sign saying "Source of the Nile." Walk To The Mahatma Gandhi Shrine & Mahatma Gandhi Monument - the monument was built as a tribute to Gandhi for his great works in spreading the message of peace in Africa and because his ashes were scattered in the Nile River from Coronation Park as per his request in 1948. The bustling nightlife in Jinja will be the perfect place to end this stop before moving on to Kampala tomorrow.
Entebbe
Day 9
DAY 9: TRANSFER BACK TO ENTEBBE & SAY GOODBYE TO EVERYONE! After all the long drives, the interact with locals, the new foods, memories, friends and a whole load of stepping outside your comfort zone, it's time to say goodbye to the group and catch flights home! It will take around 4 hours to get back to Entebbe but this is Africa so I would delay booking your flight until late afternoon/early evening.
Trip Summary
Accommodation
Bed & Breakfast & Other
9 days trip
Entebbe, Bwindi Impenetrable Forest & 5 more
Why JoinMyTrip?
Trusted platform used by 150K+ TripMates
Have A Question?
Live Chat with our experts 24x7
Unique Trips hosted by Experienced Travellers
Secure Payments to ensure your money is always safe