Slide 1 of 1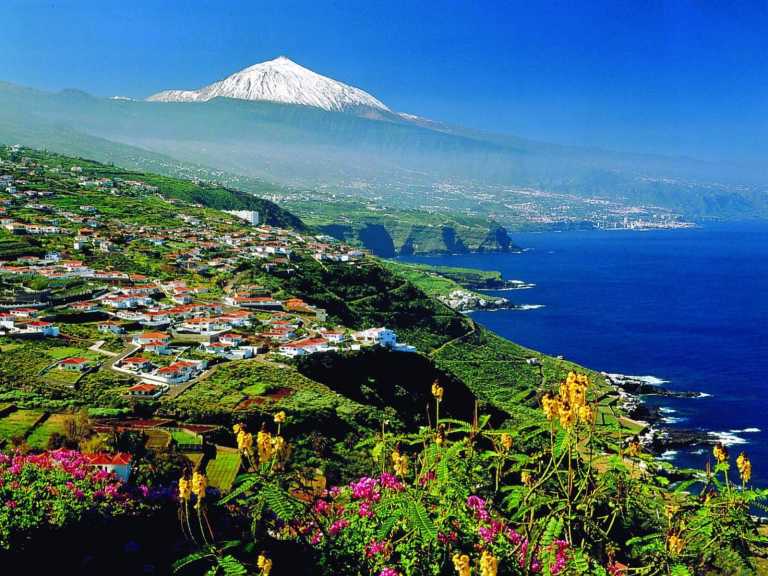 This trip is confirmed to go.
🌋TENERIFE PARADISE 🏝️ Come Explore the Best Spots of the Island!
7 Days30 Days!
Extra Cancellation Days
only for the first TripMate
Guided trip
6 days
6 stops
3 - 4 Mates
Spain
What's special?
Teide National Park ⛰️
Vulcanic natural pools 👙
Guide is a biologist 👩🏽‍🔬
Hey fellow travellers! 👋 Do you want to escape winter 🌅, immerse yourself in culture, breathtaking nature 🌳, hike the highest mountain of Spain 🏔️ and experience a unique Canarian way of life 🏝️? I have the perfect adventure for you! We'll have 6 days to delight ourselves on this paradise. The selection of activities include: 🏔️ A scenic hike to El teide on Teide National Park - UNESCO heritage site; 🌳 Get enchanted by Anaga Rural Park sea views & laurisilva Canaria forest; 👙 Exploring stunning black sand beaches and natural volcanic pools; 🐬 Whale and dolphin watching experience with a marine biologist; 🍳 Dine out at a Guachinche for local cuisine; 🏙️ Visit historical cities and villages; 🌇 Fascinating sunset views; 🍷 Canarian nightlife. 🚗 For a smooth journey we'll have a rented car. I'm a licensed driver, but other drivers are always warmly welcomed. I'm as flexible as Tenerife's weather can be unpredictable 😂 So I'll always have something under the sleeve in case we need to adjust our plans. 🤝 The activities are a mix of cultural and natural experiences that stimulate the use of all your senses. I'll go into more detail about each one in the day's description. 🫶 In case you have any suggestions you would like me to include, feel free to talk to me about it. 🫰 For expenses like groceries or other activities, we'll be using the app Sliptwise to help us sync with our responsibilities. 🥺 In the unfortunate case of not finding 4 TripMates, we'll have to share a higher price on accommodation and transportation. 🫶 Friends and couples are welcome! ❤️ Great memories are guaranteed!
About me! I'm a very open-minded and active human roaming the Earth on hers 25th trip around the sun ☀️. Being a biologist fascinated by life, travels and human potential Tenerife really is a fascinating spot, that I wanted to visit for too long now! Its microclimate generates such a wide-variety of biodiversity and landscapes. A truly magical place on Earth.
Details about the accommodation: We'll stay at Chalet Tegueste 🏡 A beautifully located and decorated 2-storey property with a private outdoor area, terraces and barbecue space. Has 4 bedrooms and 3 bathrooms. 🛏️ 2 of the bedrooms have 1 double bed each 🛏️ 1 bedroom has 2 single beds 🛏️ 1 bedroom has a trundle bed Let's escape the winter together! See you in Tenerife 🪸 Let me know in the Q&A section if you have questions about the trip!
What's included?
🏡 Accommodation
🚗 Rental car (gas included)
🏔️Mount Teide cable car ticket & permit
🐳 Whale & Dolphin watch experience
🍴 1 dinner at a Guachinche
🫶 Memorable experiences
Your Booking includes free protection from Trip cancellations.
Learn More
Meet Your TripLeader
Phone Verified
Identity Verified
8 Countries
3 Trips Completed
Human from Portugal, on her 25th trip around the sun 🔆.Dedicated to learn the wonders of the world and explore human potential.
based on 10 reviews
Show All Reviews
You can chat with Sara once you reserve your spot.
Trip Itinerary
Tegueste
Day 1-2
First day! ❗ Airport to travel to: TFN - Tenerife norte ✈️ 10 km from our stay 🏘️ This will be the day for arrivals and meetings, so we will mostly be at home, exploring the surroundings of our Chalet. We have the chance to do some things depending on the arrival time of everyone: 🛒 Groceries for the next days; 👙 Go to bajamar natural pools; or 🌇 Watch the sunset nearby.
Mount Teide
Day 2-3
⛰️ TEIDE NATIONAL PARK - UNESCO heritage site & La Orotava 🌺 The adventure starts in the phenomenal Teide National Park, where we'll go to EL TEIDE (the top)⛰️ , a vulcano with a summit of 3715 m, the highest point in Spain. It is regarded as the world's third-tallest volcanic structure and stands in a spectacular environment. We'll get a ride by cable car 🚠 so our hike to the peak will be simplified, this way we'll save energy for the other days. ***The ride by cable car is always susceptible to weather conditions. 🥾 HIKING TRAIL: Will be around 🕐 30-40 minutes only; Distance: 614m; Elevation: 163m. After creating great memories on a vulcanic landscape we'll explore 🌺 La Orotava, a beautiful historical town, where we can stop to eat some 🥘 traditional food, perhaps an arepa.
Parque Rural de Anaga
Day 3-4
🌴 PARQUE RURAL DE ANAGA 🪷 Our third day has more hikes 🥾! This time on the oldest part of the island, a magnificent place booming with fauna and flora, it has been classified as a Biosphere reserve and it's home to the higher amount of endemisms in Europe. An unchanted place to be on Earth with a wide-array of landscapes, we'll explore the laurisilva canaria forest and get stunned by breathtaking sea views. 🥾 HIKING TRAIL: I have several suggestions, so it will be up to the group to choose the best trail to do.
Los Cristianos
Day 4-5
🐳 CETACEANS WATCH BOAT TRIP 🐬 We'll travel to the southern part of the island! There we will get on a ship and sail on the atlantic ocean for 🕐 2 hours, where we'll have the chance to see whales and dolphins.
Chinyero Volcano
Day 5-6
🌋 CHINYERO VOLCANO & ALCANTILLADOS LOS GIGANTES! The hikes are back! We'll visit Chinyero volcano, the youngest volcano in Tenerife. The last eruption was 1909. So, we're able to travel back in time and see the remnants of the lava rivers that once scared the community. 🥾 HIKING TRAIL: We'll do a easy loop of 6,4 km with a elevation gain of 160m. After this, we'll visit the 🌊 coastline to see a remarcable vulcanic wall of more than 600m height with the name ''Alcantillados Los gigantes" , there we'll relax in some natural vulcanic pools. To close this day with a big smile, we'll dine out in a 🫕 Guachince 🍷.
Santa Cruz de Tenerife
Day 6
Capital of the island: SANTA CRUZ DE TENERIFE 🌴 For our last day 😢, plans will depend on people's departure times. Since the capital is 🕐 20 min away from our home, we can visit the infamous auditorium, plaza de España and one of the few white sand beaches of the vulcanic island. Disclaimer: You're always free to stay more time out of this program in the island!
Trip Summary
6 days trip
Tegueste, Mount Teide & 4 more
What's excluded?
Flight tickets
Groceries
Restaurants, bars, coffees
Other activities we might do
Why JoinMyTrip?
Trusted platform used by 150K+ TripMates
Have A Question?
Live Chat with our experts 24x7
Unique Trips hosted by Experienced Travellers
Secure Payments to ensure your money is always safe