Slide 1 of 1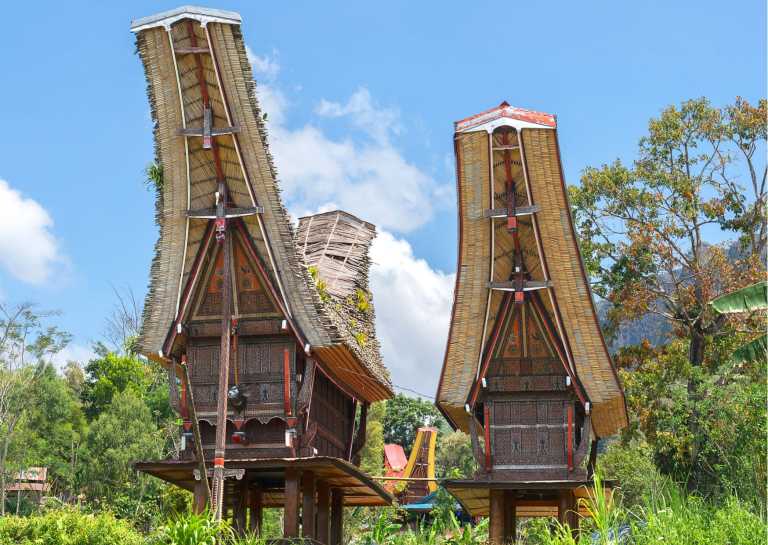 Tana Toraja, Indonesia: Discover the Enchanting Land of Unique Culture and Natural Beauty
7 Days30 Days!
Extra Cancellation Days
only for the first TripMate
Guided trip
6 days
3 stops
10 Mates
Indonesia
What's special?
Annual Rambu Solo Festival+Grand Harvest
Truly rare & unique opportunity
Diverse array of ceremonies
The nobility of Toraja is said to be descendants of celestial beings who descended to Earth through a heavenly staircase, choosing to reside in the enchanting landscapes of this region. The Toraja people firmly believe in maintaining the vitality of their land and its inhabitants, and they accomplish this through rituals that honor both life and death, intricately tied to the cycles of agriculture. Fellow travel companions who joined the excursion to Tana Toraja were incredibly fortunate as their visit coincided with the annual Rambu Solo festival. Over the course of six days and five nights, they had the privilege of immersing themselves in the culturally and naturally abundant wonders of Toraja. This was a truly rare and unique opportunity. Each day was filled with a diverse array of ceremonies, which are exclusive to this time of year and intricately intertwined with the main harvest celebration. There are similar events every week, but not as grand as the one we will be attending. This is a moment that many people have been eagerly waiting for. Prepare your cameras and capture this moment firsthand. Be a witness to history.
About me! I am Diana, 55 years old. I love travelling a lot and I know that every country has their own natural beauty and distinct cultures. I assure you that all trips I have conducted are a combination of nature, adventure and culture. All my packages have been designed to ensure your utmost fulfillment, excitement and memorable long after your trip. All my packages are inclusive of accommodations, transportation and meals with no other hidden expenses. Let's Rock!
About the accommodation: 3 stars hotel with a shared room, 2 tripmates in 1 room, including breakfast, lunch, dinner, snacking + water. Breakfast will be provided at the Hotel every morning. Lunch and Dinner will be provided at the Restaurants. Alcohol and spirits are excluded. Snacking will be provided every day. We provided breakfast, lunch, and dinner plus snacking to keep all food hygiene. Let me know in the Q&A section if you have any questions!
What's included?
All transporation, entrance fees, tip
Accommodation (Shared rooms)
Your Booking includes free protection from Trip cancellations.
Learn More
Meet Your TripLeader
Phone Verified
Identity Verified
9 Countries
Discover the diversity of Indonesian cultures, the mystiques, mysteries and natural wonders that are less known and not found anywhere else.
You can chat with Diana once you reserve your spot.
Trip Itinerary
You will meet Diana and the group in Makassar
Find the best flight details to and from Makassar ->
Makassar
Day 1-2
Free Program. Since the Tripmates are coming from all over the world with different time of arrivals. This Day 1 is allowed all the Tripmates to take some rest at the hotel. Meals will be provided at the hotel.
Rantepao
Day 2-6
On the way to Rantepao, we stop at Rammang Rammang. This karst landscape ranks as the third largest globally. Visitors can embark on a captivating boat journey and embark on a brief hike through the village, caves, and majestic limestone mountains. Continuing our journey, we head towards Tana Toraja, which is approximately an 8-9 hour drive away. Along the way, we pass through Bugisnese villages, where we can catch a glimpse of their distinctive houses, adding to the cultural richness of the region. In the afternoon, we make a stop at the breathtaking Buttu Valley Bambapuang to indulge in its awe-inspiring vistas. Arrive in Rantepao, North Toraja These are the ceremonies or activities in Rantepao, North Toraja: Rambu Solo, Londa, Lomo, Kambira, Suaya, Ke'te Kesu', Batutumonga, Loko Mata, Kalimbuang Mori, Bolu Market, Pallawa Traditional Village, Ma'tinggoro Tedong, Tedong Silaga, Sisemba and Ma'Nene. Tana Toraja is famous for its various historic megalithic sites recognized by Unesco and also various traditional funeral ceremonies which are carried out regularly or once a year. On this trip we will witness a ceremony which is held once a year along with the main harvest. Among them is the replacement of clothes on the bodies of those who have died for a long time. Why is this death tradition important for the Toraja people? This is because the Toraja people view death as a movement of people from the world to the spiritual realm for resting (Puya). So, to achieve that goal, the corpse must be treated properly by the family left behind. So on our way this time, we will witness various traditional ceremonies. As information material, Rantepao is the capital of North Toraja which is located on the island of Sulawesi and is included in the territory of South Sulawesi. So after landing at Makassar International Airport, we have to travel overland for approximately 7-8 hours to reach Rantepao. Then the distance between one traditional ceremony place and another is not too far away, still in the Rantepao area.
Makassar
Day 6
Return to Makassar, South Sulawesi. It takes about 7-8 hours. We will stop at the Traditional Markets and see the local market activities. We will have lunch and snacking during this return trip to Makassar. End of our trip!
Trip Summary
6 days trip
Makassar, Rantepao & 1 more
Transportation
Trekking, Train
Have A Question?
Ask the TripLeader questions about the Trip by clicking on the button below. Your question and the response will be visible on this page once it's answered.
What's excluded?
International Flight
Why JoinMyTrip?
Trusted platform used by 150K+ TripMates
Have A Question?
Live Chat with our experts 24x7
Unique Trips hosted by Experienced Travellers
Secure Payments to ensure your money is always safe
Looking for more trips?
Here's some similar trips that you might be interested in.