Slide 1 of 1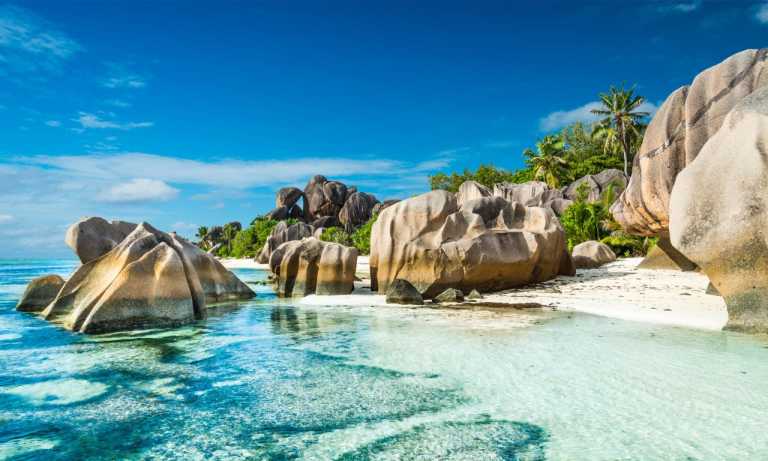 Seychelles: Island hopping! 🌴stunning beaches, 🐢 giant tortoises, 🌊 ocean wildlife, ⛰️ hikes with outrageous views, 🥥 largest coconuts in the world!
7 Days30 Days!
Extra Cancellation Days
only for the first TripMate
Coworking trip
9 days
4 stops
5 - 6 Mates
Seychelles
What's special?
remote working
beach
island life
Have you dreamed of picture postcard moments on a tropical island where the sea is warm, sand is powder white & the shore is lined with palm trees? Well.. this one is without no doubt the idyllic trip for you! I am looking for fun, chilled, open-minded yet professional ocean loving TripMates who enjoy good conversation & relaxing in paradise to join me on an EPIC 9 day trip experiencing the BEAUTIFUL paradise of the Seychelles 🤩🤗 Dotted throughout the Indian Ocean, The Seychelles are a collection of islands hosting clear waters, warm climates, coconuts you can drink straight from the tree & the most friendliest of people! Time is not a thing here, everyday just happens! What could be better than spending mornings by the beach before working in paradise or exploring the ocean and landscape during weekends and evenings? For anyone who wants to join but won't be remote working, that's OK too! Us remote workers will just be really jealous when we see you heading off to explore or chill on the beach during the days we're glued to our laptops 🤭🤩 I am a British female & notoriously travel passionate nomad based out of Dubai. I have organised various types of trips for various clients over the last 9 years - it's literally my full time career so I can assure you, that you're in good hands! Head over to my profile to read more about me! INCLUSIONS: ➡️ Logistics & booking responsibility removed from yourself & taken care of ➡️ Accommodation - Guesthouses & hotels (Twin rooms on 2 islands & triple room on 1 island) - Genders will be kept separate where possible depending on who signs up) ➡️ Activities & tours mentioned in the itinerary ➡️ All transport between stops & for activities mentioned in the itinerary ➡️ Experienced, fun & knowledgeable trip leader! ➡️ Pre-departure guidance including help with flight timings, what time pack ➡️ Destination specific WhatsApp group for general travel questions & to meet your team before arriving ➡️ Travel insurance if you are a resident of Germany or Austria ➡️ Some breakfasts EXCLUSIONS: ➡️ F&B: Some Breakfasts/Lunch/Dinner & drinks (We will cook together a lot in the accommodation to keep costs down) ➡️ Spending money for souvenirs ➡️ Airport transfers ➡️ Additional activities you would like to take part in during free time not mentioned in the itinerary ➡️ Additional transport during free time not mentioned in the itinerary 🗺 ITINERARY & GROUP SIZE: I will always try to stick to the itinerary provided as much as possible, however, please be aware it is subject to change depending on numerous factors that comes alongside traveling abroad. There are often variables that can affect the itinerary plans such as weather, traffic delays or local changes on ground. Our group will consist of 7 people (including myself) 📍 MEETING POINT: You will need to arrive into Seychelles International Airport (SEZ) & make your own way to the first night's accommodation. You can arrive anytime, but please be aware if you arrive before 14:00 (Seychelles local time) you may need to store your luggage until check in is available. The earlier in the day you arrive, the more time you have to explore the area and get settled before we all head for a welcome night dinner to finally meet each other face to face! 📝 VISAS: Most nationalities can enter Seychelles and obtain a visa on arrival. Please check BEFORE booking that you are eligible for a visa & you have a valid passport – these essentials are down to yourself to check & ensure validity. You will also need to check if Seychelles has any alternative entry requirement forms or documents you need on arrival to be able to enter the country. ❤️‍🩹 INSURANCE: Travel insurance is included if you are a resident of Germany or Austria. You can view all the inclusions & exclusions of this insurance here: www.joinmytrip.com/en/t/travel-insurance. For any other TripMates, you will need to purchase your own Travel Insurance, which also covers you for Medical expenses should you need it whilst we are away. 📱 WHATSAPP GROUP: I will be making a 'Seychelles' specific group WhatsApp before we depart for us to start these conversations where I can answer any questions you may have about the trip.
👋🏽 I am 31, British 🇬🇧 & have been traveling solo for over 15 years across 70 countries! I organized group & individual trips as a career for over 8 years around Asia, Africa, the Oceania & Americas. Currently, I manage ultra-high net worth clients travels as a personal manager for a luxury concierge company. You can read more about me & my sustainability focused travels on my profile 🥰
Villa/Apartment/Hotel TBC - This will be self catering, a short walk from the beach, if not on the beach, have a BBQ area, kitchen area, multiple bedrooms and bathrooms as well as high speed wifi internet. We will reside here most of the week apart from one night on Praslin island for our final weekend.
What's included?
As per above
Your Booking includes free protection from Trip cancellations.
Learn More
Meet Your TripLeader
Phone Verified
Identity Verified
64 Countries
3 Trips Completed
👋🏽 Energetic British girl & a self-confessed travel nerd!
based on 11 reviews
Show All Reviews
You can chat with Jemima once you reserve your spot.
Trip Itinerary
Mahé
Day 1
DAY 1: Travel from Mahe island to Praslin Island via ferry. Meet at the ferry dock yard by 10:00. The ferry will take around 60 minutes so you'll have plenty of time to take in the fresh sea breeze as you glide across pristine waters in the Indian ocean for the first time on the trip - keep your eyes peeled for wildlife playing around in the clear waters! PLEASE NOTE THE BELOW IMPORTANT AIRPORT SHUTTLE BUS & FERRY INFORMATION: 1) There is a shuttle bus you can take from the airport - Mahe airport is relatively small, so you should have no problems finding it. The shuttle bus leaves the airport no later than 1 hour before the scheduled ferry departure time. Journey time to the Victoria jetty is approximately 15-20 minutes. This shuttle costs EUR 10 (per person) 2) The ferry ticket cost is included in the price of this trip (but it's only valid for this day - so please don't miss the ferry time or you'll need to buy a new ticket depending on the availability for the next ferry. It will also mean you arrive onto the island a lot later & would need to make your own way to the accommodation at your own expense. 3) The ferry ticket includes a 25KG piece of luggage and a handheld bag so please pack within these means!
Praslin
Day 1-4
DAY 1: We arrive into Praslin island ferry port around 11:30 & head straight to our accommodation to drop our bags - which lies directly on a beautiful white sand beach! I would have thought the very first thing we will all be doing is running straight down to the ocean BUT if that doesn't take your fancy, it's not an issue as this afternoon is to simply enjoy the paradise island however you see fit! Choose to paddle in the water, lay in the sun, explore alternative beaches and the area or read a book in the shade. On the island is Praslin National Park (part of the UNESCO world heritage site 'Vallee de Mai') and you'll find rare species like the Black Parrot based here. Feel free to join me this evening on a hike to the top just in time for the sunset (or we can arrange to do this together for a sunrise on a different day, it really is a 'go with the flow island life' vibe on this trip!). We can take the less touristic 'Glacis Noire Trail' up the top of the mountain from where you can view all the surrounding islands as beautiful pinks & oranges flood the skies over the ocean. DAY 2: Today we will be taking a day trip to visit two islands laying offshore. The tour will start 9am & take us over to both Curieuse & St Pierre islands. Enjoy a BBQ lunch on the beach & spend the time exploring both of these perfect gems! Curieuse is the famous location to witness the beautiful giant Aldabra Tortoises in their Sanctuary. Take a walk down the boardwalks & over the mangroves, experience the world's biggest nut (Coco de Mer), enjoy more glorious beaches with a cocktail in hand or take a stroll around the little island and meet the locals! St. Pierre is a tiny granite islet with a handful of coconut palm trees. It's a picture-perfect miniature island in the middle of an atoll where we can hopefully spot giant crabs, turtles and all sorts of other beautiful species when snorkeling. DAY 3: For anyone choosing to work remotely - this is our first working day (BOOO!), BUT on a plus side - what a place to be working from eh!! Depending on how your daily routine tends to run, feel free to pop in the ocean for a swim in the morning before coming back for brekkie as you open up your laptop, maybe explore the island on your lunch break and get those steps in, or relax on the beach whilst answering emails on your phone ;). It's all down to you and the dependences of your role. For anyone not remote working, the day is yours to enjoy! Evenings in Praslin will be spent enjoying sundowners, listening to the ocean, watching sunsets and of course grabbing fresh fish dinners together! Close by the accommodation is a reggae bar and a few restaurants all within a close walk and as it's a hotel we don't have kitchen facilities so on this island we will mostly be eating out! There is also a small grocery shop where you can grab essentials and snacks.
La Digue
Day 4-6
DAY 4: Leave Praslin island on the 07:00 ferry which will get us into La Digue with more than enough time before the working day begins in the Middle East & Europe. La Digue is a very small island so you can savor the quiet surroundings to focus on work or maybe get those creative juices flowing for non-workers. There's a famous 'car free' policy here so environmentally it's preserved incredibly well - almost every citizen owns a bike here instead. Once settled into our accommodation, it'll be time to log onto WIFI and start work with the same added benefits to the working day as on the previous island.. beaching/exploring depending on your schedule! DAY 5: Hump day which means just one thing - we're halfway through the working week! Around work continue to enjoy the below activities as and when you can! - Snorkeling - Exploring beautiful beaches - Hiking: For the fitness addicts - close by is Veuve Special Nature Reserve, hike through the reserve to the peak offers wonderful panoramic views over forests, islands and the beautiful ocean! - Relaxing - Tanning - Swimming - Eating & drinking
Mahé
Day 6-9
DAYS 6, 7 & 8: Today we're heading back to the capital island of Mahe - the most highly populated in the Seychelles hence why we are arriving just in time for the weekend when we won't have to worry about our jobs! Explore the capital city Victoria & search for the most beautiful snorkeling spots! Some optional (additional cost) activities are below: - Learn how to dive - Visit the hilly Morne Seychellois (A conservation fee and hiking fee will apply) - Rum distillery that produces the local and famous Takamaka rum. - Craft village in historic creole cottages DAY 9: Say your farewells to the group and depart for the airport, we might not be able to stay in paradise forever, but at least we will have had a bloody great time!
Trip Summary
9 days trip
Mahé, Praslin & 2 more
What's excluded?
As per above
Why JoinMyTrip?
Trusted platform used by 150K+ TripMates
Have A Question?
Live Chat with our experts 24x7
Unique Trips hosted by Experienced Travellers
Secure Payments to ensure your money is always safe