Slide 1 of 1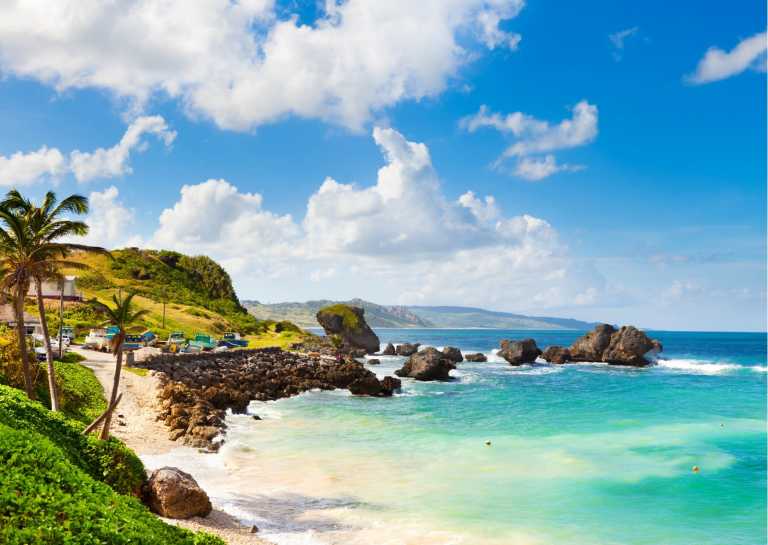 Sun, Sea, and Santa: Christmas Magic Awaits in Barbados!
Guided trip
10 days
9 stops
2 - 4 Mates
World
What's special?
Local experience
Escape the winter chill and embark on a sun-soaked adventure like never before! Join us from December 13th to December 22nd on an unforgettable journey to Barbados, departing directly from Manchester Airport with Aer Lingus. Picture yourself sipping cocktails on pristine white-sand beaches, exploring lush tropical landscapes, and immersing yourself in the vibrant local culture. Barbados is the ultimate holiday destination, offering a perfect blend of relaxation and adventure. From swimming with sea turtles to enjoying mouthwatering Caribbean cuisine, this trip promises 10 days of pure paradise. Don't miss your chance to make this festive season extra special – book now and unwrap the gift of a Barbados escape!
About me! Heyy ;) My name is Tiaa, and I'm 22 years of age!!!!!. My family and friends all originate from Barbados, and this is my little gem of an island I'm so proud and happy to bring others to experience and have an amazing time!
Details about the accommodation: Accommodation is not confirmed as of yet, but a few options are on the table depending on how many TripMates join the trip, but the idea will be an apartment with shared rooms close to the locations I added to the itinerary. The island is very small, so everywhere is in close proximity and is a matter of minutes away from each other. Once we have the car hire, we will be good to go! c: We will spend very little time in the Apartment, although all options are shared rooms basis, modern, cute, clean and have AC! Please reach out to me in the Q&A section in case you have questions about the trip!
What's included?
Car hire - We will be able to explore
Fun days out
Beach days
Amazing food
Accommodation (Shared rooms)
Your Booking includes free protection from Trip cancellations.
Learn More
Meet Your TripLeader
Phone Verified
Identity Verified
10 Countries
My name is Tiaa, and I'm 22 years of age
You can chat with Tia once you reserve your spot.
Trip Itinerary
Manchester Airport
Day 1
If you are also coming from Manchester on the 13th of December we can fly together, keep in mind the price of the flights is not included so you can arrive according to your timing! This will be a 9-hour direct flight straight to Barbados. We will meet the group and might get a little bite before we head onto the plane, take a few pictures and just get ourself ready for this amazing adventure.
Barbados
Day 1-3
On Day 1, we'll kickstart our adventure as you arrive at your destination. We'll smoothly handle the car hire collection, ensuring everything is in order. Upon arrival at your cozy accommodation, it's time to settle in and make yourself at home. The day will transition into relaxation mode as we head to the beach. Picture yourself unwinding on the sandy shores, taking in the soothing sounds of the waves and basking in the warm sun. To make you feel truly welcomed, we'll treat you to a delightful welcome dinner at a charming local restaurant or from a local vendor, offering you a taste of authentic flavors. Before calling it a night, we'll make a quick stop at a nearby supermarket. Here, you'll have the opportunity to stock your fridge with refreshing juices, water, and some tasty snacks to keep you fueled and hydrated throughout your adventure. Day 1 sets the stage for a journey filled with relaxation, culinary delights, and thoughtful preparations.
Bridgetown
Day 3-4
On this leg of our journey, we'll delve into the vibrant heart of Bridgetown, the charming capital city. Our exploration will lead us to historic gems like St. Nicholas Abbey and George Washington House, where we'll uncover the rich tapestry of Barbados' past. As we meander along the picturesque boardwalk, the serene beauty of the coastline will captivate our senses. This leisurely stroll will not only provide breathtaking views but also create the perfect backdrop for us to get to know one another better. Our time in Bridgetown promises a harmonious blend of cultural discovery and camaraderie, setting the stage for an enriching and fun-filled experience.
The Boatyard Club
Day 4-5
Prepare for a day of sun-soaked bliss as we head to one of Barbados' renowned beaches, such as the pristine Crane Beach or the lively Accra Beach. Here, the turquoise waters and powdery sands invite you to relax and soak in the island's beauty. For those seeking adventure, we've got you covered with thrilling water sports activities like snorkeling and paddleboarding. Dive into the crystal-clear ocean to explore its underwater wonders or paddle along the coast, taking in the scenic views. As the day transitions into evening, we'll set up a charming sunset beach picnic, providing the perfect backdrop for you to unwind, savor delicious bites, and toast to the magical Barbados sunset. To keep the good times rolling, we'll dedicate a couple of hours to The Boatyard, a fantastic beach club. Here, you can indulge in delectable food, refreshing drinks, and groovy music, creating unforgettable memories against the backdrop of this island paradise.
Book Island Tours Barbados
Day 5-6
Our island tour promises a day of discovery and delights as we embark on a scenic drive around this picturesque paradise. The journey will lead us to some of Barbados' most iconic attractions: Harrison's Cave: Our first stop will be Harrison's Cave, a natural wonder of underground caves and crystalline formations. Explore this subterranean marvel and be awed by its breathtaking beauty. Bathsheba: We'll pause at Bathsheba, where the rugged coastline offers stunning panoramic views. The dramatic beauty of the crashing waves against ancient rock formations creates a captivating scene. St. John's Parish Church: A visit to St. John's Parish Church will immerse us in the island's history and culture. This historic church boasts awe-inspiring architecture and offers a serene atmosphere for reflection. Beachside Breadfruit Roast: To add a delicious twist to our journey, we'll roast a breadfruit and savor this delightful treat on the beach. It's a culinary experience you won't want to miss. Our island tour promises a blend of natural wonders, cultural insights, and culinary delights, making it a day to remember on our Barbadian adventure.
Mount Gay
Day 6-7
Get ready for a flavorful and educational experience as we embark on a Rum Distillery and Plantation Tour. Our day will be filled with captivating insights and delectable tastings: Mount Gay Rum Distillery: Our first stop will be the renowned Mount Gay Rum Distillery, where we'll delve into the history and art of rum-making. Explore the distillery's secrets and savor the rich aromas that fill the air. Sugar Plantation Visit: Our journey continues with a visit to a historic sugar plantation, perhaps St. Nicholas Abbey. Here, we'll step back in time to learn about the island's sugarcane heritage and explore the lush surroundings. Rum Tasting Session: Get ready to awaken your taste buds during a delightful rum tasting session. Sample a variety of exquisite rum flavors and discover the nuances of this beloved Caribbean spirit. As the day unfolds, we'll take a break to savor some delicious food, and later in the evening, we'll find our way to the beach. It's the perfect opportunity to unwind, enjoy the scenic beauty, and relish the memories created during our rum-infused adventure.
Harrison's Cave Eco-Adventure Park
Day 7-8
Prepare for an exhilarating Adventure Day that will immerse us in the natural wonders of Barbados: Zip-lining Adventure: Our day kicks off with an adrenaline-pumping zip-lining experience through the lush tropical forest. Feel the rush as you soar above the canopy, taking in the breathtaking views of the island's vibrant greenery. Hunte's Gardens: We'll venture to Hunte's Gardens, a botanical paradise nestled in the heart of Barbados. Stroll through this enchanting garden, surrounded by exotic flora and soothing sounds of nature. Harrison's Cave Exploration: Our adventure continues underground as we explore Harrison's Cave. Hop aboard an underground train tour that not only showcases the cave's geological wonders but also reveals the history of Barbados and its fresh underground water source. As the day transitions into evening, we'll embark on a Sunset Dinner Cruise. Aboard our cruise, we'll enjoy a delectable meal against the backdrop of a mesmerizing Caribbean sunset, creating lasting memories of our adventurous day in Barbados.
Long Bay
Day 8-9
Indulge in a day of Beach and Relaxation, allowing yourself to unwind and recharge in the idyllic surroundings of Barbados: Beach Bliss: We'll return to the inviting embrace of the beach, where you can bask in the warm Caribbean sun, take refreshing dips in the crystal-clear waters, and build sandcastles or simply lounge and soak in the tranquil ambiance. Spa Day: Prepare for ultimate relaxation and rejuvenation with a well-deserved spa day. Pamper yourself with soothing treatments that will leave you feeling refreshed and revitalized, ready to embrace the rest of our adventure. Boardwalk Stroll: In the evening, we'll take a leisurely stroll along the picturesque boardwalk. It's the perfect opportunity for scenic views, ample photo opportunities, and connecting with fellow travelers. Nature Day Hike: For those seeking a touch of adventure, we'll embark on a little day hike surrounded by the lush beauty of nature. Explore the island's natural treasures, capturing the beauty of Barbados through your lens. As we savor the joys of relaxation and exploration, this day promises a perfect balance of tranquility and adventure, ensuring that every traveler finds their own blissful moments in Barbados.
Barbados BGI
Day 9-10
As our Barbados adventure comes to an end, our departure day is filled with fond farewells and cherished moments: Last-Minute Souvenir Hunt: Take your time for some last-minute souvenir shopping, where you can find unique mementos to remind you of the beautiful moments we've shared in Barbados. Culinary Delights: Savor the rich flavors of Barbadian cuisine, relishing in the delicious local dishes that have tantalized our taste buds throughout the trip. It's a chance to indulge in the island's culinary treasures one last time. Farewell Lunch: Our journey concludes with a heartfelt farewell lunch, where we can reflect on the incredible experiences we've had together and bid adieu to this captivating Caribbean paradise. Bag Drop: After our farewell lunch, we'll take care of logistics, including bag drop, ensuring a smooth transition as we prepare to depart. With our hearts full of wonderful memories and our bags packed with souvenirs, we'll bid farewell to Barbados, leaving with a treasure trove of experiences that will stay with us long after we've returned to the UK or to your next destination!
Trip Summary
10 days trip
Manchester Airport, Barbados & 7 more
Transportation
Plane, Car
What's excluded?
Extra spending money
Why JoinMyTrip?
Trusted platform used by 150K+ TripMates
Have A Question?
Live Chat with our experts 24x7
Unique Trips hosted by Experienced Travellers
Secure Payments to ensure your money is always safe