Slide 1 of 1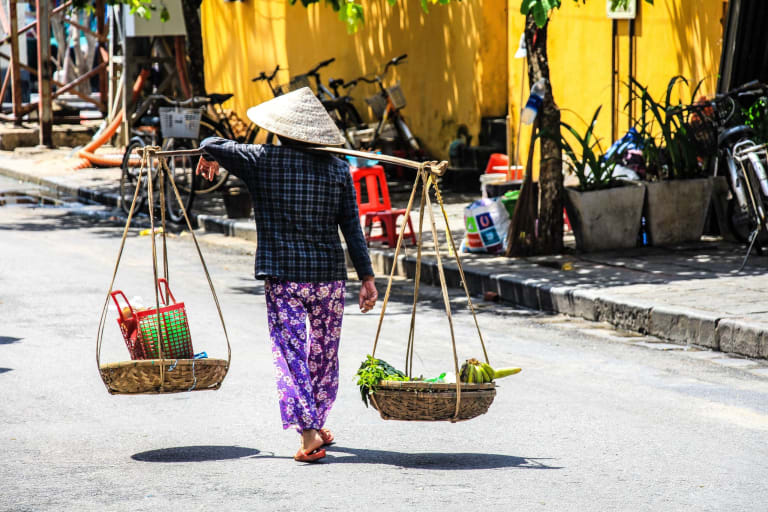 Soul-Soothing Adventures: Explore Diverse natural landscapes of Central Vietnam
7 Days30 Days!
Extra Cancellation Days
only for the first TripMate
Guided trip
8 days
5 stops
2 - 7 Mates
Vietnam
What's special?
Authentic local experiences
Active adventures
Diverse natural landscapes
Hi fellow traveler!! 😃 Are you ready for an unforgettable adventure to discover a region with a rich history and culture, Central Coast of Vietnam? We'll explore everything 🏞️🏛️🌴🍲🥾🚲🏊‍♂️🤿🚣‍♀️: 🏞️ From stunning beaches to dense rainforests, majestic mountains, and famous caves, this land offers diverse natural landscapes. 🏛️ Ancient temples and indulge in rich cultural heritage and delicious food, too! 🌴 You'll have plenty of time to relax and rejuvenate with activities like hiking, biking, swimming, diving, and kayaking. Come and join with me to explore the iconic places and hidden spaces of this captivating region! 🌅
I'm Tien, 26 years old, and I'm passionate about making travel more accessible, affordable, and sustainable. Are you in search of a travel buddy who's always game for an adventure, be it hiking up mountains, diving into the ocean, or exploring new cities? Well, look no further because I'm your gal! With a deep love for animals, nature, culture, and sustainability, I would be thrilled to join you on your next trip. Let's make some unforgettable memories together! 🤗
Accommodation while you're discovering the magical allure of Vietnam😍 🌅: 🏠 Stay in a cozy and comfortable Standard Double Rooms in Hoi An. It takes just a quick 5-minute stroll from the historic Ancient Town. 🏠 You'll love staying in a Superior Twin Room in Da Nang, which boasts a stunning view of the city skyline and is just a short 7-minute walk from the beach. 🏠 Get a taste of the village life in Hue while supporting a local orphanage during your stay in a Budget Double Room at a homestay. 🏠 And of course, you can't miss the breathtaking natural beauty of Phong Nha-Ke Bang, which you can enjoy from the comfort of your Private Bungalow at a country house with stunning river views. 🌳 All of the accommodations are designed for your authentic experiences, with ultimate comfort and convenience in mind, and offer facilities such as currency exchange, restaurants, and bars. ❤️ If you have questions, please ask in the Q&A - See you in Vietnam!
What's included?
Accommodations
Entrance fees for each stop
All transportation between stops
Breakfast
Boat trips
Cooking class
Your Booking includes free protection from Trip cancellations.
Learn More
Meet Your TripLeader
Phone Verified
Identity Verified
1 Countries
I might want to become a mermaid 🧜‍♀️🫧
You can chat with Tien once you reserve your spot.
Trip Itinerary
You will meet Tien and the group in Da Nang
Find the best flight details to Da Nang ->
Da Nang
Day 1-2
✨ Discover the vibrant city of Da Nang on your first day: There's so much to do and see in Da Nang, from beautiful beaches to majestic mountains. Here are some top picks to make the most of your day: 🌞 Get ready for a breathtaking hike up the Marble Mountains 🏞️, where you'll enjoy stunning views of the city. These limestone hills are named after natural elements and offer a unique and unforgettable experience. 🌞 If you're in the mood to relax and soak up some sun ☀️, head to My Khe Beach. This picturesque beach is perfect for swimming 🏊, sunbathing 🌞 or trying out some water sports 🏄. 🌞 And don't forget to try some of the mouthwatering street food 🍲! Da Nang is a foodie's paradise 🍴, with plenty of seaside restaurants and street food booths. You can't leave without trying Mi Quang – a delicious dish made with rice noodles, pork, shrimp, quail eggs, peanuts, and fresh herbs 🍜
Cham Islands
Day 2
✨ Reach Hoi An and depart from the pier to reach the Marine Protected Areas of Cham Island on your 2nd day: You'll love it! These stunning islands are just a short distance from Hoi An. The months from March to August are absolutely amazing with sunny weather that's perfect for activities like 🤿🐠, 🎣, or just ☀️🏖️. If you're eager to explore the underwater world, but you're new to diving, don't worry! There will have a certified PADI instructor walk you through the safety guidelines and basic skills before diving into the vibrant marine life of Cham Island. 🐠🐬 You'll be blown away by the incredible variety of marine life swimming all around you, from tropical fish to vibrant coral reefs and more.🤗🌊 🌞 And to top it off, we'll treat ourselves to an incredible Vietnamese lunch 🍲 on the beach. There are tons of 🦐🍖🥬 options to choose from, so there's something for everyone's taste buds.
Hội An
Day 2-4
✨Explore the ancient town of Hoi An: 🌅 This town is famous for its traditional architecture, narrow streets, and charming old-world atmosphere. We'll take a leisurely stroll through the Old Town area, which is filled with old shophouses that have been preserved to showcase the town's rich history. Additionally, we can visit the Hoi An Museum, which offers a fascinating insight into the town's past. 🏛️ To fully appreciate the town's beauty, we can take a boat ride along the Thu Bon River and enjoy the scenic views. 🚣 As we're going to stay in Hoi An for three days and two nights, there are several activities that you don't want to miss out: 🌞 Take part in a cooking class and learn how to prepare some of Vietnam's most famous dishes, such as pho, banh mi, and spring rolls 🍜 🌞 Another unique experiences that you can have is to go farming, enjoy a food massage 🧖 🌞 Take a relaxing basket boat tour 🛶 in Bay Mau Coconut Forest. 🌞 Shop to your heart's content and even have your own custom-tailored clothes 👕 in the local markets and shops 🌞 Enjoy a night out with bars, clubs, and restaurants that stay open late. 🍸 🍻 😍
Hue
Day 4-5
✨ Take an exhilarating train ride crossing the famous Hai Van pass from Da Nang to Hue, the former capital of Vietnam: This former imperial capital is home to a number of impressive palaces, temples, and gardens. Whether you prefer to explore the city on your own or simply marvel at the stunning architecture from the outside, there's something for everyone here: 🌞 Explore the Imperial Citadel, a UNESCO World Heritage Site, definitely a Hue top attraction. Built two hundred years ago during the Nguyen Dynasty, the fascinating Citadel is in the process of being carefully restored to its former glory 🏰 🌞 Cruise along the Perfume River 🚣‍♀️ and visit the tombs of the Nguyen dynasty emperors, the Perfume Pagoda, and the Thien Mu Pagoda. 🌞 Indulge in a homecooked meal while cruising the Perfume River during lunch or dinner. This experience is truly unforgettable🍴🌅 🌞 Sip Salted coffee with the locals 🌞 Stay in a village homestay
PHONG NHA KẺ BÀNG
Day 5-8
✨ Hop on the "sleeper bus" to Phong Nha-Ke Bang National Park: Phong Nha-Ke Bang National Park is located in central Vietnam, about 500 km south of the capital, Hanoi, within the Quang Binh Province. This UNESCO World Heritage Site boasts stunning natural wonders that will leave you in awe 😍. Imagine sitting on a boat along the Son River, surrounded by reed and green bamboo rows, as you listen to the wind whistle in a Cathedral-like cave 🕊️. As you venture further into the cave, the glittering stalactites and stalagmites will amaze you ✨. Most of the caves here have been shaped by those two rivers. Also, there are more than ten spectacular streams, springs and waterfalls in Phong Nha-Ke Bang area. Prepare yourself for some more thrilling adventures that will leave you breathless! With more than ten spectacular streams, springs, and waterfalls, Phong Nha-Ke Bang is the perfect destination for nature lovers and adventure seekers alike 🌿: 🌞 Explore the ancient stalactites and stalagmites that resemble huge teeth 👀, stretching throughout the cave like a beautiful silk full of colors 🌈 🌞 Explore Paradise Cave, which is the Asia's longest cave, with magical beauty of stalactites and stalagmites. 🌞 Take a trip to Dark Cave 🕷️. This thrilling experience includes zip lining over a turquoise river, swimming into the mouth of the cave, walking through the dark with only a mining helmet's head torch to illuminate the way 🔦, having a mud fight in the buoyant mud baths deep in the cave, swimming in the lake inside the cave 🤪 and kayaking across the river. 🤫 Each cave contains its own mysterious secrets, waiting to be discovered. 🌞 Botanical Garden is a great spot to explore primeval forests with diverse and precious flora, fauna, and beautiful natural landscapes. You can choose to visit all the sightseeing routes on an area of ​​40 hectares of natural forest with about 4 km of walking trails 🌳🦋
You will meet Tien and the group in PHONG NHA KẺ BÀNG
Find the best flight details home from PHONG NHA KẺ BÀNG ->
Trip Summary
Accommodation
Hotel & Bed & Breakfast & Camping
8 days trip
Da Nang, Cham Islands & 3 more
Transportation
Boat, Car, Train
Have A Question?
Ask the TripLeader questions about the Trip by clicking on the button below. Your question and the response will be visible on this page once it's answered.
What's excluded?
Personal expenses
Lunch, dinner
Visas and travel insurance
Airfare from your home city to Da Nang
Fuel/ Gasoline for rented scooter
Why JoinMyTrip?
Trusted platform used by 150K+ TripMates
Have A Question?
Live Chat with our experts 24x7
Unique Trips hosted by Experienced Travellers
Secure Payments to ensure your money is always safe