Slide 1 of 1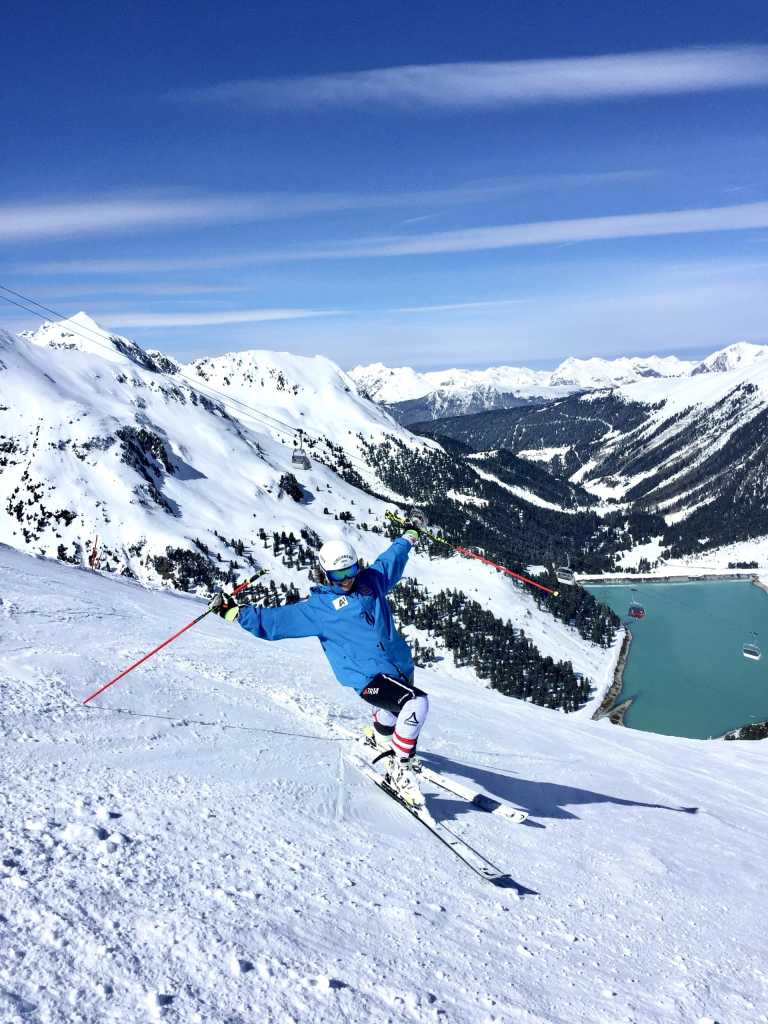 Ski Trip to the Alps 🎿 All Skipasses included! Visit the vibrant student city Innsbruck, and hit the slopes with a former pro-skier and local guide ❄️
7 Days30 Days!
Extra Cancellation Days
only for the first TripMate
Guided trip
6 days
6 stops
4 - 5 Mates
Austria
What's special?
Local Ski Experience
Aprés-ski in Innsbruck
Traditional "Kaiserschmarrn"
Get ready for breathtaking mountain views, a winter wonderland, extended days on the slopes, a snowshoeing adventure to a peak of Innsbruck, some après-ski, and loads of fun! We are in search of fellow winter and snow enthusiasts who share our passion for skiing or snowboarding. Ideally, you should have experience in skiing or snowboarding, so you are able to go down the slope without problems. ⛷️ This way, we can guarantee an enjoyable time for everyone, minimizing long waiting times. In addition to the two-days-skiing part, we'll explore the nearby Achensee, a stunning lake, located in a valley, surrounded by mountains. We'll also hop into snowshoes for a hike to the summit of Patschekofel, where we'll be rewarded with breathtaking views over Innsbruck 🏙️. Depending on snow conditions and weather, I'll carefully choose the ski areas we'll visit. We have plenty of options available, and I'll make sure we pick the right resort for the day. With our trusty VW Van all-wheel drive 🚐, reaching our destinations won't be a problem. Growing up nearby, I know Innsbruck and its surroundings quite well, and I'm incredibly excited to show you around.
About me: As you might have read in my profile, I have a background as a former professional ski racer 🏆, which means I've spent a significant portion of my life skiing down European mountains. I'm delighted to offer you valuable tips and tricks to enhance your skiing skills and, of course, ensure we have some enjoyable days in the snow ❄️. Plus, I'm a certified ski instructor, which is certainly a bonus! You will be able to enjoy "a real Austrian skiing day" with everything included (ski, hut visit, traditional cuisine, hot chocolate, après-ski).
Accommodation: Innsbruck is knows to be a very vivid and hip students city. You will find lots of bars, restaurants and cozy coffees ☕️ there. Your accommodation will be only 10 minutes (by foot) away from the very famous "Goldene Dachl" which is directly in the city center. There are two bedrooms which two double beds and one single bed as also sleeping couches- if you prefer sleeping alone. Enough space for everybody! With a fully equipped kitchen, we will be able to cook whenever we feel like it! The apartment is very spacious and very central. I will show you my favorite restaurants, rooftop bars and let's also check out the nightlife on Friday! 🍸
What's included?
Accommodation (shared)
Car & Fuel
2x Ski pass full day
1x Snowshoe Equipment
Extra Lift pass for Patscherkofel
Local Ski and Tour Guide
Tipps from a former Pro-Skier
"Kaiserschmarrn" cooking course by me
Welcome gift 🎁
Extra lift pass for Northern Chain
Your Booking includes free protection from Trip cancellations.
Learn More
Meet Your TripLeader
Phone Verified
Identity Verified
22 Countries
13 Trips Completed
Hellooo, my name is Carina. You will mostly find me outdoors, exploring, hiking or in the ocean! Excited to meet you all!
based on 39 reviews
Show All Reviews
You can chat with Carina once you reserve your spot.
Trip Itinerary
Innsbruck
Day 1-6
Welcome to Austria and beautiful Innsbruck. I am so excited to be able to show you this pearl of the Alps! You will have a great time in this city, it just never gets boring! Let us try to meet until midday, so that we still have time to check in comfortably as also rent our skiing gear for the next couple of days. I will book us one of my favorite restaurants for dinner, and we can talk about the upcoming week!
Axamer Lizum
Day 6
On our first full day, we'll waste no time, but hitting the slopes! With all our skiing gear collected yesterday, today we'll enjoy a quick breakfast, pack some snacks, and head directly to our first resort. As mentioned in the description earlier, the resort might vary depending on the ever-changing weather conditions. Can't wait to try a homemade "Kasspatzl" or other traditional food in one of the huts with you! 🥞 Let's hope for some favorable weather conditions to be in our favor!
Kühtai
Day 6
The second day will be dedicated to more skiing. Let's maximize the value of our ski pass by rising early. This will ensure excellent slopes, fewer crowds, and, consequently, more fun! After a few hours on the slopes, we can venture into our first après-ski hut of the week and enjoy some "mulled wine" or hot chocolate with rum ;).
Achen Lake
Day 6
After spending two full days on the slopes, we might find our legs in need of a well-deserved rest day. It's the ideal opportunity for an excursion to the nearby "Achensee". This lake isn't just a summer gem; it's equally enchanting in winter. We can stroll along the lakeshore, taking in the breathtaking valley and mountain peak views. Let's pack a picnic and discover a serene spot to relish it amidst nature. In the afternoon, we'll finally have some time to explore Innsbruck city for a while. We can stroll through some shops and fully immerse ourselves in the vibrant city vibe! Last but not least, let's cook and enjoy some real Austrian "Kaiserschmarrn" tonight.
Patscherkofel Bergbahnen
Day 6
Last but certainly not least, a day filled with highlights awaits us! Let's wake up early once again and make our way to the "Patscherkofel" gondola. We'll take the lift and step into our snowshoes. After approximately 1.5 hours, we'll conquer the peak, granting us a breathtaking view of Innsbruck and the encircling mountain panorama. This view will undoubtedly be etched in our memories! We can enjoy some snacks and a peak beer, before going back down again. Our next destination will be on the exact opposite side of the city. Nestled at the base of the northern range, we'll board another lift to an après-ski bar and revel in the Friday night festivities!
Innsbruck
Day 6
Time to say goodbye! Today is likely a day to sleep in a bit after a night out and focus on packing our bags. Let's treat ourselves to a well-deserved brunch before boarding our trains, airplanes, and so on for the journey back home. I hope you had a fantastic time, and I look forward to seeing you guys again!
Trip Summary
6 days trip
Innsbruck, Axamer Lizum & 4 more
What's excluded?
Food and Beverage
Winter ski clothing
Insurances
Why JoinMyTrip?
Trusted platform used by 150K+ TripMates
Have A Question?
Live Chat with our experts 24x7
Unique Trips hosted by Experienced Travellers
Secure Payments to ensure your money is always safe