Slide 1 of 1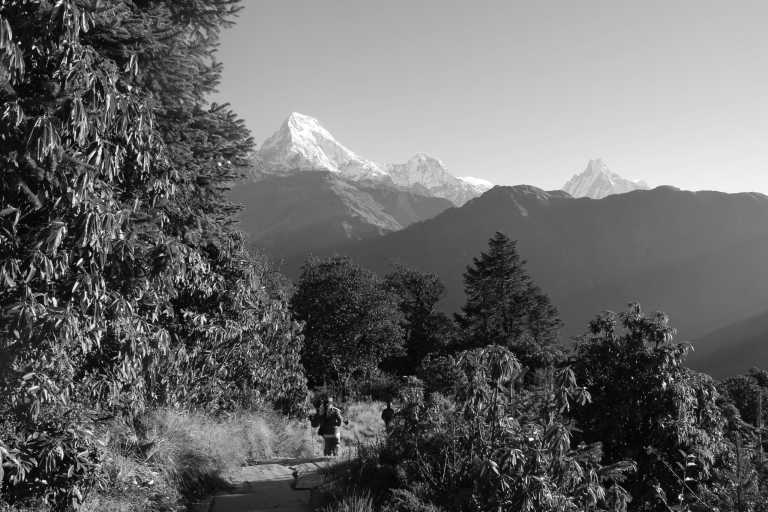 Short Trekking In Nepal - Poon Hill, Natural Beauty, Himalayas, Sunrise, Temples | Hiking with Locals
Guided trip
10 days
9 stops
2 - 3 Mates
Nepal
Hi Travelers, This is the perfect time to travel in Nepal From (August to November). Over here, the weather is so pleasant right now that you don't want to leave this country once you are here. Trust me, sunshine, cool breeze, natural beauty plus friendly people will melt your heart. Once in a lifetime opportunity. Don't miss this. Therefore, I am looking for a 2 to 3 like-minded TripMates to make this trip amazing. Poon Hill Trekking is a popular hiking route in the Annapurna region of Nepal. The trek usually takes around 4-5 days to complete and is considered to be a relatively easy hike, making it suitable for all levels of hikers. The trail passes through charming traditional Nepali villages, lush forests, and terraced rice fields. The highlight of the trek is the stunning sunrise view from Poon Hill, which offers panoramic views of the Annapurna and Dhaulagiri mountain ranges. What to expect on a Trip to Nepal? - Warm Nepalese Hospitality - Culture, People, Food, and Lifestyle-Travel like local with me - Road Trip by bus - Pokhara City, Adventures - Surprises - Historical City (UNESCO World Heritage sites) with amazing architecture from the 5th century to 15th Century - Last goodbye to the city - Farewell/Departure How do we start? - First of all we will meet in the same location (I will provide you with the location after the booking), and then we will have a short introduction. Then we will see Kathmandu at glance. We will see the historical temples, and the narrow alley, go around Thamel - which is a tourist street, eat street foods, go for local Nepali Dinner. Tomorrow morning we will go towards Pokhara. From Pokhara the trekking starts. Please see itinerary for more information. The cost of the Trip includes: - Airport/Any location inside Kathmandu, Pick-Up and Drop-UP service - Accommodation- Shared Room (Let me know if you would like separate/private room-will be charged a little extra) - Breakfast and Dinners (Alcohol not included) - Transportation only in Kathmandu - Surprises - Fee for arranging the tour The cost of the Trip to Nepal doesn't include: - Flight Ticket - Sim Cards - Transportation outside Kathmandu - Insurances (German and Austrian Citizens are provided free insurance with the bookings) - Entry Passes - All additional costs Additional Information: - Note: This is a local tour. So I have tried to keep minimum as possible. We will travel like a local people, and we will cut off all the luxury expenses such as luxury transportation, hotel, foods and so on. However, the sharing rooms, places to eat, and other activities will be the standard one. Don't worry, I will take care of you all. - Please wear comfortable clothes and shoes for short hiking and adventures. - After bookings, I will create a WhatsApp group and shall update you with further information. Please do contact me for more information. I will be happy to share with you. Do you want to experience the culture of Nepal? Hope to hear from you soon. I am excited to meet you. About me: Hi, my name is Yuwraj Rizal, and I am from Nepal. I am a former cabin crew and a graduate of the UK. I have been traveling many places in Asia. I am familiar with Asian culture and lifestyles. Also, I have lived in the UK for 5 years, and I have experience with European culture and lifestyle as well. In addition, I am a friendly, energetic, fun, and thrill lover. So, let's explore the world together. The reason I choose the Poon Hill Trekking is because it is one of the shortest and easiest trekking routes for the beginners. Once people get the experience with the Poon Hill trekking, people will feel more confident to trek higher altitude mountains and trekking in Nepal. Yuwraj Trip made with 🖤
Your Booking includes free protection from Trip cancellations.
Learn More
Meet Your TripLeader
Phone Verified
Identity Verified
9 Countries
10 Trips Completed
Helping you to find the right trip.
You can chat with Yuwraj once you reserve your spot.
Trip Itinerary
Kathmandu
Day 1-2
1st Day: First of all we will meet in the same location (I will provide you the location after the booking), Let me know if I have to pick you up from your location or the airport. Then, we will have a little introduction. Then we will see Kathmandu at glance. We will see the historical temples, the narrow alleys, go around the Thamel - which is a tourist street, eat street local foods, go for a local Nepali Welcome Dinner, then go for live music.
Pokhara
Day 2-3
2nd Day: We will take a bus in morning and go towards Pokhara. We will have a road trip by bus. So we get to see the natural beauty while on the road trip. At day/evening we will reach Pokhara. We will walk around the city, talk to locals, see souvenirs. It is one of the most beautiful city in Nepal.
Naya Pul
Day 3
3rd Day: The next day, after having breakfast, we will drive towards the Nayapul. It takes around 1 hr 30 min to reach there. We will start our hike from Nayapul towards Ulleri. We will pass through local villages, green lush mountains and tea houses.
Ulleri
Day 3-4
3rd Day: We will stay night here. 4th Day:The next morning we will trek towards Gorephani. This trail is one of the most beautiful trail, you will be able to see green mountains, Himalayas, and we will go through the jungles. Also on the way we may see the wild birds and animals.
Ghode Pani
Day 4-5
4th Day:After reaching Ghorepani, we will prepare for tomorrow as we are going to see the beautiful sunrise and the Himalaya ranges. 5th Day: We will wake up early morning to see the sunrise. We will breakfast later when we return. Put on some warm clothes and head towards the Poonhill. It will take around approx. 1-hour walk. Once we reach there, you will see the beautiful Himalaya ranges. Also, we will take some photos to make the memories.
Poon Hill
Day 5
5th Day: Once we reach there and have taken some photographs. We will come to our home stay and have breakfast and get ready to go towards Ghandruk. Ghandruk is one of the most beautiful village in Nepal. It has a history of Gurung tribal people. They also have their own museum, which is more than hundreds of years old.
Ghandruk
Day 5-6
5th Day: We will stay here overnight. 6th Day: The next morning we will have a breakfast while watching the beautiful Himalaya ranges. Then after we will go towards Syauli Bazar from Ghandruk. It will take around 2 hours to reach Syauli Bazar. Then we will move towards Pokhara by van or bus.
Pokhara
Day 6-8
6th Day: We will stay overnight in Pokhara 7th Day: We will stay here in Pokhara, see the town, visit some cool places around or do other adventurous activities. We can go for a massage and spa if anyone interested after the long journey of trekking. Then tomorrow morning we will take a bus towards the Kathmandu.
Kathmandu
Day 8-10
8th Day: Stay here overnight once we reach. 9th Day: The next morning we will see around the city, visit temples and shrines. Go for a pub in Nepal. Some of them are really unique. - After that we will have a small farewell program. Prepare for tomorrow. 10th Day: Farewell/Departure
Trip Summary
Accommodation
Bed & Breakfast & Other & Hostel
10 days trip
Kathmandu, Pokhara & 7 more
Transportation
Car, Trekking
Why JoinMyTrip?
Trusted platform used by 150K+ TripMates
Have A Question?
Live Chat with our experts 24x7
Unique Trips hosted by Experienced Travellers
Secure Payments to ensure your money is always safe