Slide 1 of 1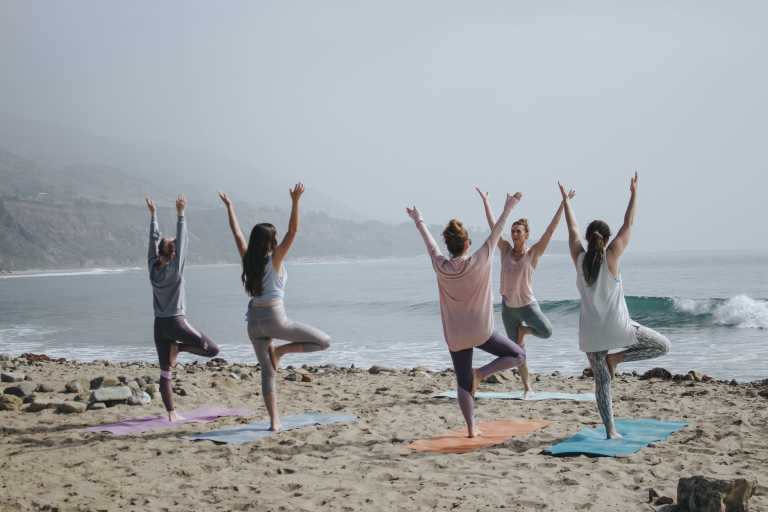 Serene Seaside Rereat in United Kingdom - Yoga, Meditation and Mindfulness
7 Days30 Days!
Extra Cancellation Days
only for the first TripMate
Guided trip
4 days
3 stops
6 - 13 Mates
United Kingdom
What's special?
Meet like-minded people
No need to go abroad to have a retreat
A yoga, ayurveda and meditation retreat is a getaway or program that allows participants to immerse themselves in yoga and meditation practices in a tranquil and supportive environment. The Serene Seaside Retreat will be held in Margate, Kent on the Spring Equinox, March 22nd-25th, 2024. Margate is a lovely coastal town, with lots of things to see and do and it's just over an hour's drive from SE London and easy access by train from Victoria, St Pancras and Bromley South. The main goals of this yoga, ayurveda and meditation retreat are to provide participants with a holistic experience focused on physical, mental, and spiritual well-being.
About me! My Yoga teaching style blends traditional Ashtanga Vinyasa Yoga and Hatha yoga with Iyengar alignment techniques. I also teach Yin Yoga Meditation and Mindfulness. I place a strong focus on physical adjustments to improve alignment through a precise yet dynamic practice. My training in India included Anatomy and Physiology, Ayurveda, Pranayama, Yoga Asana, Meditation, Adjustments, Alignment, Modifications, and Yoga philosophy. Yoga to me is an important tool to achieve physical and mental well-being. It's more than just exercise. It's about learning to meditate and concentrate in the present moment. It's about having healthy habits and being kind to ourselves and others. Yoga is about harmony, internally and in our environment.
Details about the accommodation: A beautiful self-contained house with a yoga studio in the heart of Margate, with a Yoga studio and all mats and props provided. The retreat house has a dedicated Yoga studio, modern rooms and it even has a hot tub! Accommodation can be shared or single, with a supplement. We'll start the day with Meditation and Yoga. If the weather is good, we'll go outside! The afternoon/evening sessions will be restorative and chilled. There will be one evening free for you to explore restaurants. Do you have a question? Let me know in the Q&A section!
What's included?
Food
Yoga classes
Meditation
Hiking Yoga
Costal foraging
Accommodation (Shared rooms)
Your Booking includes free protection from Trip cancellations.
Learn More
Meet Your TripLeader
Phone Verified
Identity Verified
I'm a yoga teacher and ayurveda practitioner, with extensive experience on leading retreats and yoga day experiences in the UK and abroad.
You can chat with Geny once you reserve your spot.
Trip Itinerary
Margate Beach
Day 1-2
Along the coastline. It is a popular destination for both locals and tourists, especially during the summer months. The beach offers a picturesque view of the North Sea, and visitors can enjoy the calming sound of waves and sea breeze. There are various activities available on the beach, including swimming, sunbathing, building sandcastles, and beach games. Additionally, during high tide, some sections of the beach may be suitable for water sports like windsurfing and kitesurfing. The beachfront is lined with cafes, restaurants, and shops, providing opportunities for visitors to enjoy refreshments and browse souvenirs.
Old Town
Day 2-3
Margate town itself has a rich history, dating back to the 18th century when it became a popular seaside resort for the Victorian era elite. The town's architecture reflects its historical significance, with many well-preserved Victorian and Georgian buildings, adding to the town's charm. The Old Town area is particularly notable, featuring narrow streets lined with quaint shops, art galleries, and vintage boutiques. It has a bohemian vibe and is a hub for creativity and artistic expression. Margate has a thriving cultural scene, with several museums and galleries, including the Turner Contemporary, an art museum named after the famous painter J.M.W. Turner, who spent time in Margate and found inspiration in its scenic beauty. The town has undergone some regeneration efforts in recent years, attracting new businesses, restaurants, and entertainment venues, making it a vibrant destination for locals and visitors alike. Apart from the beach and cultural attractions, Margate offers various events and festivals throughout the year, including music festivals, food events, and arts gatherings.
Sunken Gardens
Day 3-4
The Westbrook Sunken Garden is situated along the seafront in Westbrook, which is just west of the main town centre of Margate. Its location near the coast allows visitors to enjoy views of the sea while strolling through the garden. The garden features a sunken design, where the ground level of the garden is slightly below the surrounding area, creating a more intimate and secluded space. This design also provides protection from the coastal winds, making it a pleasant spot to visit even on breezy days. The garden is beautifully landscaped with various plants, flowers, and shrubs, creating a vibrant and colourful environment. You can expect to find a mix of seasonal flowers, lush greenery, and well-maintained lawns. The Westbrook Sunken Garden offers several benches and seating areas where visitors can relax and enjoy the tranquillity of the surroundings. It's an ideal place for reading a book, having a picnic, or simply unwinding amidst nature. It's also a great space to do yoga! The garden's location along the seafront means that it is conveniently close to other attractions in Margate. Visitors can easily access the beach, nearby restaurants, and the Margate Old Town area, known for its unique shops and art galleries.
Trip Summary
4 days trip
Margate Beach, Old Town & 1 more
Have A Question?
Ask the TripLeader questions about the Trip by clicking on the button below. Your question and the response will be visible on this page once it's answered.
What's excluded?
Transport to Margate
Entrance to turist atractions
Why JoinMyTrip?
Trusted platform used by 150K+ TripMates
Have A Question?
Live Chat with our experts 24x7
Unique Trips hosted by Experienced Travellers
Secure Payments to ensure your money is always safe