Slide 1 of 1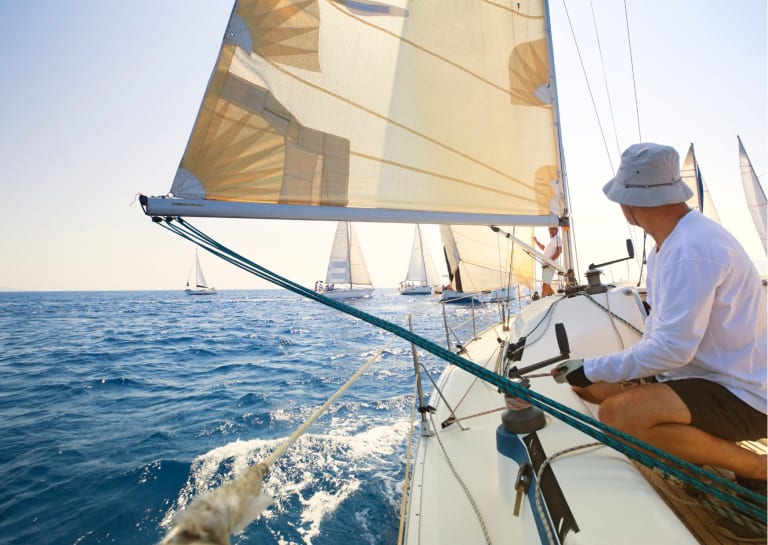 Sailing trip in the wonderful Thailand
7 Days30 Days!
Extra Cancellation Days
only for the first TripMate
Guided trip
8 days
9 stops
1 - 3 Mates
Thailand
800 kilometers north of the equator lies your sailing destination Phuket and the Andaman Sea in the south of the country. The sailing trip takes you to the most beautiful places, which you actually only know from James Bond movies. Now you are there: on Ko Phi Phi, the mega island for snorkelers and divers in the Andaman Sea. Here on the dreamlike Maya Bay, for example, the movie "The Beach" was filmed. So: Let your soul dangle on the white beach and go exploring on foot! You marvel at lush green mountainsides and use the time to get to know the country and its people. Because in your sailing vacation you have the complete package: Hospitality, a relaxed Buddhist tradition, gorgeous islands with green covered mountains and pearly white sandy beaches as far as the eye can see. In the region south of Phuket you will still discover lonely corners on your sailing trip. In the interior of the island, the rainforest offers you an impressive nature experience. At the international airport in Phuket you will immediately be greeted by tropical warm air. From the airport you will take a cab to the yacht harbor marina in the north of Phuket. There the crew will meet between 12 and 15 o'clock. You can adjust your arrival individually and you don't have to worry about a late arrival. Feel free to exchange information about your arrival with your fellow sailors on WhatsApp beforehand. We will create the group for you the week before your trip. You will also receive detailed port information from us a few days before. On Friday between 3 and 6 pm you will return to the marina in Phuket. You are welcome to stay on board for the last night and then leave the yacht together on Saturday at 9 am. What is included in the price? - 7 nights on board the sailboat - Experienced skipper and organization of the trip - During your sailing vacation you can relax because we take care of everything - One towel per person and bed linen - Navigation equipment - Final cleaning of the yacht - Nautical mileage confirmation on request What is not included? Contribution to the onboard cash for additional costs on-site - food, diesel, national parks, harbor fees etc. Skipper's meals (paid from the onboard cash box) Flights and transport to the marina Before the start, you will do the shopping together. The kitchen on the yacht is also well-equipped. Every sailing trip is well prepared. Spontaneous excursions and side trips are still possible at any time. The crew decides together what they feel like - depending on wind and weather. We encourage our fellow sailors to do a beach clean-up once on every trip so that we do our part to preserve the beautiful areas where we sail. Be there and experience your dream vacation without a guilty conscience. I am looking forward to your message! P.s. I also offer trips on other dates, so if you are interested, but this date does not suit you, just contact me! I also offer a trip over Christmas and New Year's Eve this year! :) Other dates: 04 November - 11 November 2023 11 November - 18 November 2023 18 November - 25 November 2023 November 25 - December 02, 2023 02 December - 09 December 2023 09 December - 16 December 2023 December 16 - December 23, 2023 December 23 - December 30, 2023 December 30 - January 06, 2024
Your Booking includes free protection from Trip cancellations.
Learn More
Meet Your TripLeader
Phone Verified
Identity Verified
43 Countries
234 Trips Completed
based on 13 reviews
Too many hours on the boat (up to 7-9h per day). Too few shore excursions. Promoted moorings left out. Trip I have canceled.
Machine Translated
•
Show All Reviews
You can chat with Carl once you reserve your spot.
Trip Itinerary
You will meet Carl and the group in Phuket
Find the best flight details to and from Phuket ->
Phuket
Day 1-2
Tropical air blows towards you. Your skipper is already on board. A short round of introductions. Then you go shopping and decide where you want to anchor during your sailing trip. You buy fresh fish from the fishermen. In the evening you get to know your fellow sailors. First common ground - Thumbs up! On your sailing vacation you usually have breakfast on the yacht. During the shore excursions you will enjoy the super delicious cuisine of the locals.
Phang Nga Bay
Day 2-3
Sailing briefing for all with the most important basic knowledge. A little shop talk with the skipper. As part of the crew you will use the handles while sailing along Thailand. You will start towards the northern Andaman Sea. The destination: the beautiful Phang Nga Bay with hundreds of small islands. You will buy fresh seafood while going ashore. Look, there are fishermen with fresh catch on their longtail boat!
Railay Beach
Day 3-4
The overgrown limestone cliffs around Phang Nga Bay have already served James Bond as a film set. A fantastic natural spectacle that you will explore today! Lagoons and mangrove forests characterize the landscape as well as hidden caves and dreamlike beaches and the turquoise water.
Ko Lanta District
Day 4-5
Another highlight is the coastal province of Krabi on the southern west coast of Thailand: gorgeous waterfalls and beaches that are part of a national park. Krabi is known for its tropical, colorful underwater world. You will be thrilled by the wonderful water temperature and snorkel in this ideal spot. Later you lie relaxed on the beach with the whole crew. This day is so wonderful, so beautiful - there should be music.
Ko Rok Noi
Day 5-6
A new adventure awaits you on your sailing vacation Thailand. The twin paradise islands of Koh Rok Nok are on the route. The two islands are separated by a narrow channel. Exactly between them is the best anchorage. Of course you will anchor right there! For a round of snorkeling and see colorful fish you jump into the water and then just drift on the crystal clear water until the sun goes down.
Phi Phi Islands
Day 6
Did you know that Leonardo DiCaprio jumped into the sea in front of the dreamlike natural scenery of Thailand in the movie "The Beach"? It was the Phi Phi Islands. Check them out: Discover breathtaking sites and take advantage of the ideal snorkeling conditions with wonderful water temperature! Before returning to the yacht, buy fresh fruit at the market.
Ko Racha Yai
Day 6-7
Your sailing trip through the tropical paradise Thailand continues. Next highlight: the Raya Islands. South of Phuket are Raya Yai and Raya Noi, which means "big" and "small" in the local language. Spending another dream vacation day, you're wondering whether to check out coconut plantations or take a diving trip? In any case, the fresh seafood available at the beach bar tastes great.
KohNakaYai center
Day 7
Today is a day full of sailing, swimming and snorkeling off the coast of Phuket. Together you set sail and enjoy the unbelievably great play of wind and waves to the fullest. And because the last day of your vacation together has dawned, you decide to have a super delicious Thai dinner ashore. Thailand's cuisine offers you everything it has to offer.
Phuket
Day 7-8
Sniff, sniff - it's time to say goodbye to your dream vacation Thailand, to your skipper, your crew, to new friends and your home for the last 10 days, the modern sailing yacht. You always felt safe. Simply: 👍! A fellow sailor doesn't want to fly back to Germany yet and escape the cold a bit more. So he pushes a few days, even a connection week after. Very, very good idea!
Trip Summary
8 days trip
Phuket, Phang Nga Bay & 7 more
Have A Question?
Ask the TripLeader questions about the Trip by clicking on the button below. Your question and the response will be visible on this page once it's answered.
Why JoinMyTrip?
Trusted platform used by 150K+ TripMates
Have A Question?
Live Chat with our experts 24x7
Unique Trips hosted by Experienced Travellers
Secure Payments to ensure your money is always safe
Looking for more trips?
Here's some similar trips that you might be interested in.