Slide 1 of 1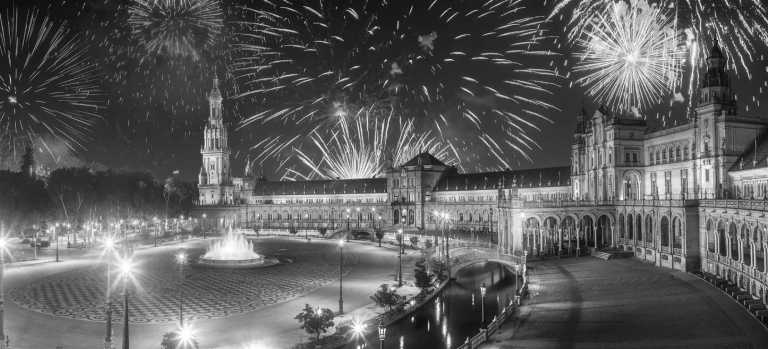 Road to Andalusia: the Ultimate Christmas and New Year's Roadtrip!
Guided trip
14 days
10 stops
2 - 6 Mates
Europe
What's special?
Roadtrip across 12 Cities in 6 Countries
Christmas on the Cote d'Azur 🎄
New Year's in Seville 🎆
Embark on a magical Christmas road trip that weaves through the heart of Europe in a festive adventure of enchanting landscapes and vibrant cityscapes. Our road trip adventure begins in the Bavarian city of Munich, unfolding like a holiday storybook, with stops in Venice, the Côte d'Azur, and Barcelona on your way to the warmth of Andalusia. Imagine floating through the charming canals of Venice, basking in the glitz of the Côte d'Azur on Christmas, and savouring the lively spirit of Barcelona's festive markets all while in anticipation of your week of magic in sunny Southern Spain and New Years' Celebrations in Seville! Where, when and how? Duration: 13 Nights, 23rd December to 5th January Origin and Destination: Starting in Munich, Germany and driving to Andalusia, Spain and back Stays: Venice, Italy x 1 night -> Nice, France x 1 night -> Barcelona, Spain x 2 nights -> Malaga, Spain x 6 nights -> Madrid, Spain x 1 night -> Bordeaux, France x 1 night -> Geneva, Switzerland x 1 night Mode of Transportation: By luxury car. One SUV or one SUV + one sedan (depending on number of tripmates) What's included? - Transportation: All car, fuel, tolls, parking expenses, etc. - Accommodation: Decent individual rooms in apartment or hotel, including a private villa in Malaga - Food: Coffee and rest stop snacks along route - Activities: Gondola Canal Ride in Venice, Sagrada Familia, Alhambra Palace, Real Alcazar and Cordoba Mezquita entrance, Flamenco Show, Tapas Experience What to bring? - clothing suitable for Munich weather to 10-18 °C - your favourite playlist - your driver's license if you'd like to drive (you absolutely don't have to) - relevant ID Picture yourself winding through picturesque villages, vineyard-draped hills, and the captivating history that unfolds with every kilometer. This road trip isn't just about the destination; it's a symphony of cultures, a tapestry of landscapes, and a promise of unforgettable moments. As you delve into the heart of Andalusia, immerse yourself in the rich tapestry of Spanish culture, where the aroma of chestnuts roasting on open fires mingles with the sounds of flamenco echoing through the cobbled streets. Life, as our trip, slows down here in Andalusia as we take a break from the road and settle into a relaxed enjoyment of all the magic this fascinating region has to offer. We take a few days to savour the coast and city of Malaga from our villa and then take day trips to Seville and Cordoba and Granada as comfortable for everyone. The way home then leads us through the vibrant streets of Madrid, the gentle rolling hills of Bordeaux, and the snow-kissed landscapes of Geneva all the way back to Munich. So, let the spirit of adventure be your guide, as we embark on this journey across borders, inviting you to savour the freedom of the open road and the allure of Andalusia's soul-stirring beauty. Get ready to trade the Bavarian chill for the warmth of flamenco rhythms and the enchanting echoes of ancient tales. Let the road lead you to moments of wonder and warmth, making this holiday season a journey to remember. PLEASE NOTE - given the distances, the first 4 and last 4 days will be relatively intense with over 6 hours in the car each day - every effort will be made to accommodate any personal requirements or requests - you're under no obligation to drive the way back with me as well, if you're more comfortable flying back you can do so ideally from Andalusia or Madrid or as per your convenience from elsewhere on the route - this is your trip as well, you can suggest additions or changes to anything as far as arrangements allow for flexibility - you can always feel free to ask or discuss anything before, during or after the trip
About me! I'm Abu Bakr, road trip aficionado and compulsive explorer and I can't wait for you to join me on this incredible overland adventure! I've long held that there's nothing quite like the joy of good company, beautiful scenery, and an exciting car on the open road. So pack a bag and your playlist and let's be on our way!
About the accommodation: We'll be staying at hotels and airbnbs along the way, where every effort will be made to ensure a private room. The idea will be to arrive by evening, take a casual stroll and/or grab dinner and get some rest. Then take the morning to explore the city and set off around noon. All stops will be one night except for Barcelona which will be for 2 nights and the destination Malaga where we'll stay for 6 nights. Here we'll have a villa to ourselves with a pool where we'll base ourselves as we explore the city, the coast and visit points of interest in Seville, Granada and Cordoba. Any questions? Let me know in the Q&A section below! I will reply back to you as soon as possible!
What's included?
Transportation (car, fuel, tolls etc.)🚗
Accommodation
Sagrada Familia + Alhambra Palace Entry
Flamenco Show 💃
Tapas Tasting
Cordoba Mezquita Entrance
Pickup and drop-off anywhere along route
Gondola Ride Venice
Real Alcazar Entrance
Coffee and snacks along the way ☕
Your Booking includes free protection from Trip cancellations.
Learn More
Meet Your TripLeader
Phone Verified
Identity Verified
20 Countries
2 Trips Completed
Figuring life out, one road-trip at a time 🛣
You can chat with Abu Bakr once you reserve your spot.
Trip Itinerary
Munich
Day 1
Munich will be our point of departure on the 23rd of December. While we'll also be flexible picking up tripmates from anywhere in the city, anyone wishing to join us from anywhere along the route of the trip, including at a later date, can also do so.
Hallstatt
Day 1
We'll stop at this picturesque lakeside town for a lunch break enroute to Italy. We can take a quick stroll through the picturesque streets, take postcard perfect pictures or enjoy a view from up high from the famous Hallstatt skywalk.
Venice
Day 1-2
We'll arrive in Venice on the evening of the 23rd. After some dinner, we can visit the Doge's Palace and St. Mark's Basilica, adorned with festive lights before turning in for the night. In the day, we will explore St. Mark's Square, indulge in rich Venetian hot chocolate, and embark on an enchanting gondola ride through misty canals before heading out towards our next stop.
French Riviera
Day 2-3
After setting off from Venice and driving past Lake Garda, we'll continue on towards the French Riviera with a stop for lunch as per everyone's preference. By evening we'll make it to Nice where we'll be staying overnight. As it will be Christmas Eve and Nice is home to the best Christmas Market in the Riviera, we'll take the opportunity to delight in the merriment and festivities with some outstanding local food and beverage. In the morning, once everyone's rested, we'll get some breakfast and set off along the Côte d'Azur to Barcelona.
Barcelona
Day 3-5
Christmas Day finds us approaching the great Catalan bastion that is Barcelona. Barcelona dazzles during Christmas with its vibrant festivities. We'll explore the enchanting Christmas markets like Fira de Santa Llúcia, sip hot chocolate at traditional cafés, and marvel at the city's illuminated landmarks. Staying in Barcelona for 2 nights, we'll have time to witness the magic of the Fira de Reis, a fair dedicated to the Three Kings and stroll down La Rambla adorned with festive lights and decorations. The iconic Sagrada Família, beautifully lit for the season, will of course be part of the itinerary and plenty of activities, such as ice skating at Plaça de Catalunya and delightful cuisine will allow us to make the most of the festive environment and Catalan holiday spirit.
Andalusia
Day 5-11
After leaving Barcelona the morning of 27th, we'll drive along the coast through the day to arrive in Malaga at night. Given the length of the drive, anyone with a medical (physical or psychological) inability or serious discomfort in enduring journeys over 8 hours by car will be booked on a flight from Barcelona to Malaga for free so that they get more time to relax and can fly over where they'll be received at the airport. However, for the complimentary flight please inform me at least 2 weeks in advance. Apart from this, anyone simply not wishing to make the drive is of course also free to take the flight at their own expense. This also applies to other parts of the trip given there is no significant disruption (over 1 hour) to the itinerary. Naturally, there is no obligation to complete the drive back so anyone wishing to fly back home at the end of our stay in Andalusia, or from Madrid is also free to do so. Nightfall will bring us to our destination for the next 6 nights, Malaga. As we delve into the heart of Andalusia, immerse yourself in the rich tapestry of Spanish culture, where the aroma of chestnuts roasting on open fires mingles with the sounds of flamenco echoing through the cobbled streets. Life, as our trip, slows down here in Andalusia as we take a break from the road and settle into a relaxed enjoyment of all the magic this fascinating region has to offer. We take a few days to savour the coast and city of Malaga from our villa and then take day trips to Seville and Cordoba and Granada as comfortable for everyone. The magnificent Alhambra in Granada, the Alcazar in Seville (home to several Game of Thrones scenes) and the Mezquita in Cordoba will be part of the itinerary and included as activities. The exact order and days for each will be decided together by consensus. Of course no holiday season is complete without an appropriate welcome for the New Year. One of the best places to experience New Year's Eve in Andalusia is Seville. The city comes alive with festive energy, and various events and celebrations take place across its vibrant streets. We'll join the celebrations at the iconic Puente de Isabel II (Triana Bridge) with a stunning view of the cityscape and fireworks. In Seville, locals and visitors gather in popular squares like Puerta Jerez, Plaza Nueva, and Plaza de España to celebrate the arrival of the new year. Many restaurants, bars, and clubs host special New Year's Eve events with live music, dancing, and traditional Spanish cuisine. Apart from these, we will explore together the highlights of each of these cities and further options of points of interest will be shared there and can also be suggested by you at any time.
Madrid
Day 11-12
Our journey back has begun and takes us first to bustling Madrid. From the iconic Prado Museum, to the vibrant Puerta del Sol, the grandeur of the Royal Palace against a backdrop of winter hues to the post-holiday sales on shopping at Gran Vía the grand capital has something for all tastes.
Bordeaux
Day 12-13
Bordeaux in January invites you to discover its charm amidst a quieter ambiance. Explore the historic Old Town, admiring the Gothic architecture and wandering through cobbled streets. Savor Bordeaux's renowned wines in cozy cellars, experiencing the depth of flavors. Visit the contemporary Cité du Vin for a modern wine experience. Stroll along the Garonne River, where the city's bridges and waterfront showcase a serene beauty. Embrace the local culinary scene, relishing rich French cuisine in atmospheric bistros. January in Bordeaux offers a cultural retreat, blending historical elegance with a laid-back atmosphere, making it an ideal time for intimate exploration.
Geneva
Day 13-14
Geneva in January is a winter wonderland set against the backdrop of the Alps and the serene Lake Geneva. Explore the charming Old Town with its cobbled streets and historic landmarks. Take a stroll along the lakeside promenade, enjoying breathtaking views of the snow-covered Jura Mountains. Visit the International Red Cross and Red Crescent Museum for a unique cultural experience. Embrace winter sports at nearby ski resorts or take a scenic cruise on Lake Geneva. Indulge in Swiss chocolate and cozy up in lakeside cafes. Geneva in January offers a mix of cultural richness and alpine beauty, making it a delightful winter escape.
Munich
Day 14
Our adventure concludes as we arrive in Munich the night of Friday the 5th. 14 nights, 12 cities, over 6000 kilometers and dozens of indelible memories later, it is time to say goodbye. While our European Odyssey winds to a close, we take comfort in the stories we crafted together and joy in the beginning of new friendships.
Trip Summary
Accommodation
Hotel & Other & Apartments
14 days trip
Munich, Hallstatt & 8 more
What's excluded?
Food
Other personal expenses
Why JoinMyTrip?
Trusted platform used by 150K+ TripMates
Have A Question?
Live Chat with our experts 24x7
Unique Trips hosted by Experienced Travellers
Secure Payments to ensure your money is always safe