Slide 1 of 1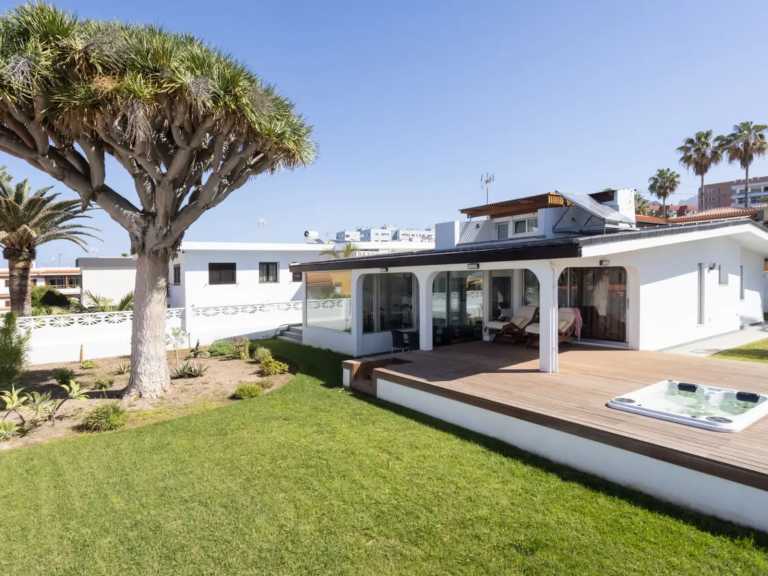 Remote Working Winter Escape in Paradise Tenerife + Luxury accomodation + Weekends excursions + Welcome dinner
7 Days30 Days!
Extra Cancellation Days
only for the first TripMate
Coworking trip
7 days
4 stops
3 - 8 Mates
Spain
🌡Are you tired of cold weather, yet? 🌏🌅If you are joining us from anywhere in Europe, chances it's quite cold there right now? There's nothing better than travelling to a warm place in the middle of winter. Whenever I've done this in the past, I felt so rejuvenated, re-charged and just overall happier for doing so. And it's not just any odd destination...we are going to TENERIFE! YESSSS 🏔🌞 Tenerife, the crown jewel of the Canary Islands, is a volcanic island that has built up from the ocean floor during the last 20 million years, and it is the largest and most populous island of the Canary Islands . If you, like myself, are Nature lover, enjoy taking photos and being the outdoors, you will love Tenerife's natural sea pools, hiking trails, Mount Teide and the magnificent Teide National Park which is a UNESCO World Heritage site. Rich in history, culture and biology, the island is a fascinating destination to explore, and I am inviting you to come discover it with me on this trip. I have planned this itinerary to take you on an unforgettable journey through Teide National Park's hiking trails, exhilarating whale watching tour, cultural visits to historical sites, and indulgent encounters with Tenerife's gastronomic delights. 👉🏼 Please note: the hike in Teide National Park : Because we are visiting in winter, the weather conditions can change, so we might have to take an alternative hike. Please , bear in mind, this is the highest Mountain in Spain, with the elevation of 3, 715 m. Your legs will ache 😂 Main attractions of the trip include: 🔸 Teide National Park ascend by cable car🌋 UNESCO World Heritage site 🔸 Whale watching tour 🐳 🔸 Sightseeing the island's most famous landmarks and leisure spots 🔸 Relaxing in Lago Martianez ( half day) 🔸 Lots of delicious local food 😋 Alternative excursions, should Mount Teide tour got cancelled: 🔸 Hiking Masca Gorge- Teno Rural Park (hiking shoes required for entry) 🔸 San Cristóbal de La Laguna- a city and municipality in the northern part of the island of Tenerife 📱 WHATSAPP GROUP: I will be making a 'Tenerife' specific group WhatsApp before we depart for us to start these conversations where I can answer any questions you may have about the trip.
Villa/Apartment/Hotel TBC - This will be self catering, a short walk from the beach, if not on the beach, have a BBQ area, kitchen area, multiple bedrooms and bathrooms as well as high speed wifi internet. We will reside here most of the week apart from one night on Praslin island for our final weekend.
Villa/Apartment/Hotel TBC - This will be self catering, a short walk from the beach, if not on the beach, have a BBQ area, kitchen area, multiple bedrooms and bathrooms as well as high speed wifi internet. We will reside here most of the week apart from one night on Praslin island for our final weekend.
What's included?
Luxury Accomodation
Weekends excursions
Essentials house services
Welcome Dinners
Your Booking includes free protection from Trip cancellations.
Learn More
Meet Your TripLeader
Phone Verified
Identity Verified
18 Countries
i am an italian business owner, i like to organize special travel and unic experience where i try my best for create a positive envairoment
You can chat with Giuseppe once you reserve your spot.
Trip Itinerary
Tenerife
Day 1-4
Day 1: Arrival in Tenerife • Our adventure begins as you land in Tenerife, where the temperature should be nice and warm. • After settling into our accommodation, we'll have time to relax, walk to the beach and spend time getting to know each other. • Let's grab a drink (of any kind, I drink tea), and watch the sunset together, ask questions and talk about our itinerary. The excitement is ON!
Santa Cruz de Tenerife
Day 4-5
Getting to know Santa Cruz de Tenerife • We're staying in Santa Cruz throughout our trip due to its abundant offerings, and it's central location. • Morning: Start the day with a local breakfast and a delightful cup of traditional Baraquito coffee mixed with vanilla liquor. • Today's plan includes relaxation at Teresita Beach, known as one of the most stunning beaches in the Canary Islands, featuring golden sand, numerous restaurants, bars, and plenty of sunshine. • Afternoon: For our lunch/dinner, we'll visit the Mercado Nuestra Señora de África, a vibrant market.
Puerto Los Cristianos
Day 5-6
Whale & Dolphin Watching Tour ⛵🐳 💚The tour is with an eco company, with a no chasing policy, and no disturbance to the eco system. • Morning: We'll embark on a thrilling whale watching tour from Los Cristianos. During the sail you will be able to see the breathtaking south coast of Tenerife, Mount Teide and also the chance of seeing many different species of whales and dolphins that are passing by on their migration route including Sperm Whales, Fin Whales, turtles, many different species of dolphins, Jelly Fish and marine Birds. • Dinner together, exchanging our impressions of the tour, strolling through town to get an ice-cream. Just enjoying life.
Mount Teide
Day 6-7
Hiking in Teide National Park- UNESCO World Heritage site. ✨ Please note: this tour is subject to weather conditions • Morning: We'll begin this amazing adventure with a thrilling cable car ride that ascends Teide, Spain's highest volcano, offering breath-taking panoramic views of the surrounding landscapes. • Once at the summit, we'll embark on a small hiking tour through the otherworldly terrain of Teide National Park, characterized by unique volcanic formations and vibrant flora. • This is the highest mountain peak in Spain, with stark contrasts between the rugged volcanic terrain and the clear blue skies, creating a surreal and photogenic setting for your hike. • Afternoon: Weather permitting, we'll take a moment to enjoy the views, take photos, and maybe have a sandwich break at the peak (can you tell I'm a big foodie? 😋😂) 👉🏼 Things to remember before the hike: ✔ This is a high peak at 3, 715 m so make sure you're okay with high altitudes ✔ Bring appropriate shoes/ clothing as the temperature is likely to be cold up there ✔ Make sure to have enough water, food or snacks to keep your energy levels even during the trip
Trip Summary
7 days trip
Tenerife, Santa Cruz de Tenerife & 2 more
What's excluded?
Food
airplane ticket
Trasportations
Why JoinMyTrip?
Trusted platform used by 150K+ TripMates
Have A Question?
Live Chat with our experts 24x7
Unique Trips hosted by Experienced Travellers
Secure Payments to ensure your money is always safe