Slide 1 of 1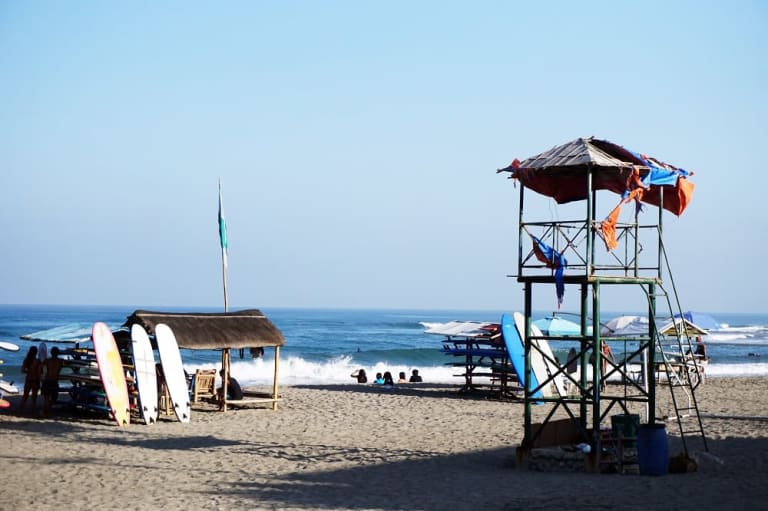 Philippines Roadtrip Adventure: Discover Northern Luzon's Surfing, Sightseeing, Hiking, Beaches, Instagrammable Spots, and Food
Guided trip
14 days
7 stops
2 - 5 Mates
Philippines
Discover the wonders of Northern Luzon in the Philippines with this expertly curated 14-day itinerary by me. Designed for those who seek a more relaxed pace, you'll have plenty of time to explore, get some work done and rest at each destination. It's a unique blend of co-working and a guided trip, which offers the opportunity to partially work remotely while also exploring the beautiful sights and activities of the Philippines. Transportation and accommodation are included, allowing you to fully immerse yourself in the local culture and scenery. While the itinerary is thoughtfully planned, there are opportunities to customize the trip as a group to suit everyone's interests. From the bustling metropolis of Metro Manila to the tranquil countryside of La Union, experience the diverse landscapes and rich cultures of this region, and create unforgettable memories that will last a lifetime. 6 CITIES/PROVINCES: ♥ Baguio City ♥ Sagada ♥ La Union ♥ Vigan City ♥ Ilocos Norte ♥ Metro Manila Accommodations: ♥ Sobel Hotel/Anywhere in Makati ♥ Tudor House ♥ The Dune's House ♥ The Shrine of Sagada ♥ Casa Consuelo ♥ Lubd Hotel ✦INFORMATION ABOUT THE ACCOMMODATION✦: During the trip, all accommodations provided will have essential amenities such as WiFi, a dedicated workstation, and a kitchen. Moreover, all the cities mentioned in the itinerary are conveniently located near a supermarket and within walking distance of various restaurants and convenience stores, including 7-Eleven. I also prefer better lodging and accommodation, but with a budget in mind. Usually, some of our accommodations will include free breakfast and their own restaurant. I will let you know ahead of time. ✦INCLUSION✦: - Sagada Hiking Tour - A one-day surfing instructor and rental - Accommodation - Gas, driver, and car However, food expenses are not included and will be divided among the group, as well as the souvenir budget and other activities expenses will be up to you and can be split as a group. Co-working spaces are also available in La Union and Manila. ✦WHAT KIND OF TRIPMATE I'M LOOKING FOR✦: Are you someone who wants to get some work done without sacrificing comfort and pleasure? Do you enjoy sharing a room with friends and seeking picturesque adventures? Are you looking for a relaxed and paced travel that allows you to savor every moment in each city? If so, then this trip is perfect for you. The top quality I am seeking in our travel companions is kindness and respect. Filipinos are known for being incredibly hospitable and joyful individuals, and we want to uphold these values throughout our trip. Racism and predatory behavior are completely unacceptable and will not be tolerated under any circumstances during the trip. Everyone deserves to feel safe, respected, and included, regardless of their race, gender, sexual orientation, or any other factor. Any behavior that goes against this principle will be dealt with immediately and appropriately. It's important for all trip participants to be aware of this and to treat each other with kindness and respect throughout the entire journey. Additionally, punctuality is crucial, so please be mindful of the time and avoid being late. We also want to ensure that everyone can enjoy the trip, so please do not burden your fellow travelers. Ultimately, the goal of this journey is to have a memorable and enjoyable experience, explore new places, immerse ourselves in our culture, and make lifelong friends. ✦ABOUT ME and WHY AM I THE PERFECT TRIPLEADER✦: Hi there, I'm Minrie, a proud Filipina who has a passion for travel, comfort, and leisure. I believe that exploring new places and experiencing different cultures is what makes life exciting and fulfilling. Plus, I have a bit of an obsession with taking photos and making sure they look amazing on Instagram! As your travel bestie, I'll be the one behind the camera, capturing those beautiful moments and memories that you'll want to share with everyone. And don't worry, I won't take too long trying to get that perfect shot - I know that time is precious, and there's so much to see and do in Northern Luzon. So come on, let's have an adventure together and make some unforgettable memories. With me as your TripLeader, you can relax and enjoy the journey, knowing that you'll have amazing photos to look back on for years to come.
Your Booking includes free protection from Trip cancellations.
Learn More
Meet Your TripLeader
Phone Verified
Identity Verified
7 Countries
Your travel bestie. 🤝 29-year-old Product Owner for a web3 start up with a passion for travel, One flight at a time. 🌍
You can chat with Minrie once you reserve your spot.
Trip Itinerary
You will meet Minrie and the group in Metro Manila
Find the best flight details to and from Metro Manila ->
Metro Manila
Day 1-2
Day 1-2: Metro Manila ✈️ Upon landing in Manila, take a leisurely stroll along the Manila Baywalk and watch the stunning sunset over the horizon. We will end the day with a sumptuous dinner at one of the restaurants by Manila Bay or SM Mall of Asia. You can rest up before beginning the northern adventure in Luzon the next day.
Baguio City
Day 2-4
Day 2-4: Baguio We will take a scenic drive to Baguio, known as the City of Pines. We will visit the famous Mines View Park for stunning views of the surrounding mountains and valleys. We will also visit the Ben Cab Museum, where we can admire the works of one of the country's most celebrated artists. Take a leisurely walk along the scenic Burnham Park or hike up to the peak of Mt. Ulap for breathtaking views of the city. We can also visit the colorful sunflower farm and snap some photos of the beautiful blooms. In addition to our Baguio food and creative exploration, we can also visit local restaurants and try out some of the city's specialty dishes. In the evening, we can experience the city's nightlife scene, with options ranging from cozy cafés to lively bars and clubs. We can also shop for souvenirs at the Baguio Night Market or have a beer at the Baguio brewery.
Sagada
Day 4-5
Day 4-5: Sagada We will head to the picturesque town of Sagada for a day tour filled with hiking and adventure. Please note that during this tour, we won't be able to work as we will be busy exploring the mountains. We will hike along the stunning trails and explore the mysterious Sumaguing Cave, admiring its unique rock formations. We will also visit the hanging coffins and learn about the ancient Igorot burial practices. Take a refreshing dip in the cool waters of Bokong Falls or enjoy the peaceful atmosphere of Echo Valley. For those interested, we can also get traditional tattoos from the world-famous artist, Whang Od.
San Juan
Day 5-8
Day 5-8: San Juan, La Union Head to the laidback province of La Union and experience its natural wonders. Visit the stunning Tangadan Falls and take a refreshing swim in its crystal-clear waters. Surf the waves at San Juan, the surfing capital of the North. Explore the vibrant street art scene in the town of Urbiztondo and indulge in some fresh seafood at the local restaurants. We will do a La Union Food crawl!
Vigan City
Day 8
Day 8: Vigan Tour A day tour to the historic city of Vigan, known for its well-preserved Spanish colonial architecture. Take a leisurely walk along Calle Crisologo, a cobblestoned street lined with heritage houses. Visit the Bantay Bell Tower and the St. Paul Metropolitan Cathedral. Learn about the local weaving industry at the Abel Iloko-weaving factory and shop for souvenirs.
Ilocos Norte
Day 8-11
Day 8-11: Ilocos Norte We will drive to the stunning province of Ilocos Norte and visit the beautiful beaches of Pagudpud. Relax on the white sand beaches and enjoy the crystal-clear waters of the South China Sea. Take a tour of the Bangui Windmills and marvel at the sight of these towering structures. We will also visit the historic Paoay Church, a UNESCO World Heritage Site, and learn about its rich history and architecture. In the evening, we will check in at Casa Consuelo, a cozy and charming bed and breakfast that boasts a stunning ocean view. We will enjoy a delicious meal and relax in the peaceful surroundings. The next day, we will have fun sand activities on the sand dunes of Ilocos Norte. Experience the thrill of sandboarding and riding a 4x4 vehicle on the sandy slopes. We will also visit the Kapurpurawan Rock Formation and marvel at its unique beauty. On our last day in Ilocos Norte, we will have free time to explore the city and visit some of its popular attractions before we head back to Metro Manila.
Metro Manila
Day 11-14
Day 11-14: Back to Manila Spend your last days in the country back in Manila, preparing for your flight back home. Immerse yourself in the city's culture and history as you explore Bonifacio Global City in Taguig, Makati Poblacion, and Manila. Take a food crawl through the vibrant streets of Poblacion, enjoying local delicacies and partying the night away. Visit some of the city's top restaurants and bars and soak up the atmosphere of Manila's bustling nightlife scene. Stroll around Bonifacio Global City in Taguig and Mckinley Hills, taking in the modern architecture and bustling streets. Explore the historic Intramuros district in Manila and discover the city's rich history and culture. Before you leave, don't forget to do some last-minute shopping at the SM Aura or Greenbelt Makati. These malls are home to a wide variety of stores and shops, offering everything from designer brands to local souvenirs.
Trip Summary
Accommodation
Hotel & Apartments & Bed & Breakfast
14 days trip
Metro Manila, Baguio City & 5 more
Have A Question?
Ask the TripLeader questions about the Trip by clicking on the button below. Your question and the response will be visible on this page once it's answered.
Why JoinMyTrip?
Trusted platform used by 150K+ TripMates
Have A Question?
Live Chat with our experts 24x7
Unique Trips hosted by Experienced Travellers
Secure Payments to ensure your money is always safe
Looking for more trips?
Here's some similar trips that you might be interested in.