Slide 1 of 1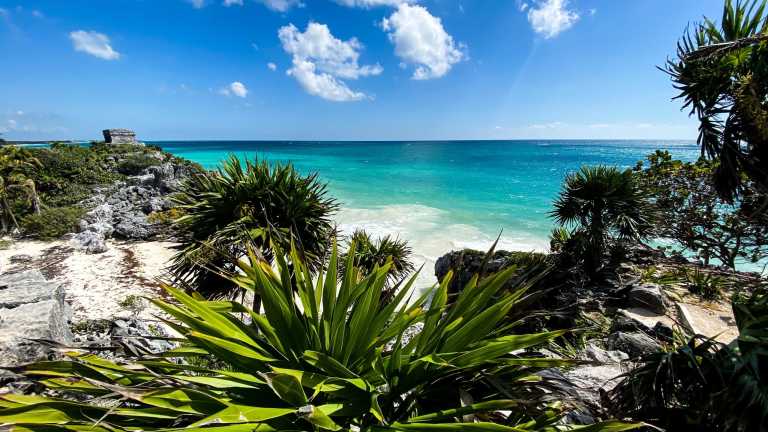 Discover the land of the MAYA on an epic road trip adventure! Visit famous & hidden Jewels of Mexican Caribbean with a local
7 Days30 Days!
Extra Cancellation Days
only for the first TripMate
Guided trip
15 days
11 stops
3 - 4 Mates
Mexico
What's special?
Travel with an experimented local
Nature, history, culture, food, party
Taste the real Mexican Flavors
The Mayan ancient culture scent is still hidden in the jungle of my beautiful and exotic land. You may have heard of the cities Cancun, Playa del Carmen, Tulum, but our Riviera Maya is SO much more than that. Sun, beach, party, yes. But also history, culture, nature, relax, sports and more. Our Yucatan's Peninsula has tons of beautiful "Pueblos Mágicos". An official term given by the goverment, Ministry of Tourism, to some really magical small towns. This land is also rich in mangroves, jungle, cenotes, exotic animals, delicious food, and a forever summer weather so even in November, you can enjoy the sun with a drink at the pool. Even if you came before to Mexico, I dare you to rediscover my land. Live the present, make the tomorrow an unforgettable adventure. "Look first at what you do, so you don't regret it later" Ancient Mayan proverb
About me: I was proudly born in Cancun. I've spent most of my life here. I studied 2 degrees. Tourism & Hostelery, and Fashion Design. So I had the time and interest to visit a lot of my surroundings in the past while studying, working and just for pleasure. And even so, there's still places I need to visit. I love to do cross fit and I want to share with you my Box in Cancun! It is affiliated to Crossfit trademark (USA). Only certified coaches teach in here with a very high level of knowledge and experience. You will energize and get the experience of a warm Mexican crew of crossfiters. I did a cool selection of places to see in this trip, so you can get a real flavor of what Mexico has to offer at Riviera Maya. I can't wait to show you these collections of Mayan & Modern Jewels.
Most of our accommodations are room hotels. A few are hostels. I selected them in order to be as close as possible to our activities, easy access and easy to move. FLIGHTS: If you find a flight arriving in the morning or early afternoon, that would be perfect! For departure, if you find options of the afternoon is perfect. If not, don't worry, we will make it work. We will be moving by car. So we will enjoy a road trip! Main reason why the maximum number of TripMates is set only to 3 - 4 spots! So we are comfortable all the time. We will need to collab with the gas and road fees during the trip. LUGGAGE: I highly recommend you to travel only with 1 carry on and 1 bag as a maximum since we will have a sedan style car. So all our luggage will need to fit the entire trip. Remember, our hot and fresh weather allow you to use light clothing. I will tell you a fast and easy way to go from the airport to downtown and then hotel, or I can arrange you a driver to pick you from airport directly to our hotel (extra cost). Same options are for your departure.
What's included?
Road trip with car rent included
Accommodation at all cities
Boat tickets included for island stops
Your Booking includes free protection from Trip cancellations.
Learn More
Meet Your TripLeader
Phone Verified
Identity Verified
15 Countries
Hi! I am Lys, 37 years old and from the beautiful Cancun, Mexico. I'm a creative, dreamer, nerd, geek and cat person
You can chat with Lyssette once you reserve your spot.
Trip Itinerary
You will meet Lyssette and the group in Cancún
Find the best flight details to and from Cancún ->
Cancún
Day 1-3
We will reunite in Cancun. Where you can rest a bit while all crew is together. If you prefer to start check in around, right in front our hotel, there's a huge mall where you can eat, drink, buy or just take a promenade at the malecon of the city. All in walk distance. Our first evening will be a car tour through the Hotel Zone with stops in some beautiful spots. We will have our first dinner all together. We will try to take a good sleep to start early next day. On our second day, we start with an energetic crossfit lesson at an affiliated CrossFit Box (ZOAH) with extraordinary certified coaches. This activity has a value of $60 usd p/p for the 3 lessons we will take during the trip. After breakfast, we will take a boat to pass the day at Isla Mujeres. This is a "Pueblo Mágico". Your boat round trip ticket it's included in the price. This is a small island. So we take the boat without the car. At night, we will taste the cancun's nightlife at Coco Bongo, Party Center in Hotel Zone. This is already an emblematic club known for its party and show Las Vegas style. The cost of it is not included. Next day we will energize with our crossfit lesson, breakfast after and prepare to move to our next stop.
Puerto Morelos
Day 3-4
This little town is known for its quiet and relaxing ambiance. Here is also the perfect spot to stay and do a tour through the cenotes route. We will enjoy a private cenote, relax and have some lunch in there. We will enjoy dinner and a quiet night in Puerto Morelos. Next morning we enjoy breakfast in town, walking distance.
Playa del Carmen
Day 4-6
We move around midday to Playa del Carmen. We will walk the 5º Avenue in the morning to look around, shopping if you want, grab some lunch and at night to find the party spots! Our hotel is on the very beginning of the 5º Ave, so will be always connected to the best part of the city. Next day in PDC, we arrive early to visit Xcaret. This is my favorite park in all Riviera Maya. It is totally worth it. Each of us will pay at the entrance at the park. Here we will enjoy river, cenote, beach, archeological site, animals, jungle, and the night show that makes a beautiful resume of Mexican history and culture. Get your feet ready to see as much as we can in this amazing place. We will go back to the hotel at late night, after the night show. A quick dinner and sleep it is all you will want. Next morning we will enjoy the hotel, breakfast and we depart to our next stop.
Tulum
Day 6-8
Tulum is one of my favorite cities in Riviera Maya. This is a "Pueblo Mágico". The Hotel Zone is completely different to ones you will already visit by then. Our hostel is close to this area. Also close to the party spots for the night. We will visit on the first night. Everything here has a nature and hipster ephemera air. We will rent some bicycles and do a tour on the area, get pictures on the famous spots and have a look at the "Come to the light sculpture". On our second day, we will visit the archeological site in Tulum and Sian Kaan, a biosphere reserve close to Tulum. At night, we will enjoy the crickets sound to get a good sleep after dinner. Next morning we get a quick breakfast and move to the next stop!
Bacalar
Day 8-9
Bacalar has the emblematic place called The Lagoon of 7 colors and you will witness it is totally truth. We will stay on the surrounding area to enjoy this amazing nature view. This is a "Pueblo Mágico". Walk, swim, eat and rest is our main purpose here. We will enjoy dinner and breakfast here, and depart early to our next stop.
Chichén-Itzá
Day 9
We will stop to visit Chichén Itzá a bit before Valladolid. This is one of the most important archeological sites in Mayan culture. This Pre-Hispanic city is also one of the wonders of the world. Its magnificence transcends time and history and totally deserves the visit.
Valladolid
Day 9-10
Valladolid is my favorite town in Yucatan. It's cozy, colorful and full of the classic and traditional Mexican ways. This is a "Pueblo Mágico". We will stay in the heart of the town, main square at a 17th-century mansion transformed into a hotel with modern comfort. The hotel has an incredible restaurant with a delicious Mexican and international menu. Also has on-site bar to just relax and socialize after our exploration day. Next morning, we have breakfast at the hotel and visit the cenote Zacil. This is beautiful place is walking distance from our hotel. We move to our next stop after lunch at Valladolid.
Mérida
Day 10-11
Mérida is a popular and big city in Yucatan. It has its own personality and even its own way to speak the Spanish. It's a fabulous Mexican-Colonial and modern city. This duality can be seen on their malls, residences and downtown. We will walk around a lot and enjoy a delicious and traditional dinner in downtown. Next morning, after breakfast, we will visit Izamal. This is a "Pueblo Mágico". This small town will add to your experience beautiful pictures and a colonial air. We move in the afternoon to catch dinner at Rio Lagartos.
Río Lagartos
Day 11-12
We will arrive to Rio Lagartos to relax, rest and stay for the night. Early next morning, we will go to the park, Las Coloradas. This natural beauty is the perfect spot for pink lovers. The water is really, really pink. This is because it is full of salt. We will delight our eyes and explore the area. We will move in the afternoon to our next stop after lunch.
Holbox
Day 12-13
We will arrive at evening or night, so we will take a look around, have dinner, socialize and get some sleep. This is a small island. So we take the boat without the car. Next morning, after breakfast, we move all around the small island. This cozy and magical place is known for the clear water and hipster style. We will relax at the beach and enjoy its beauty. Next morning, we move back to Cancún.
Cancún
Day 13-15
We will arrive at evening. This night we will relax, rest and get some tasty dinner at a local place. Next morning, we will enjoy our last crossfit lesson! A good breakfast and visit the archaeological sites El Meco, El Rey, and the Mayan Museum that includes also the archeological site: San Miguelito. We will enjoy the view at El Mirador. After a cultural and history day, we will spoil at a local cozy spa. You will enjoy a temazcal, a prehispanic indigenous sweat lodge from Mesoamerica, and a relaxing spa. Activity has a value aprox of 55 usd. We will rest like babies after the spa night. Our last dinner will be at a popular and tasty Mexican restaurant. Next morning we will enjoy our last breakfast together and then farewell to our new friends. Departures will depend on the scheduled flights of each person. Remember, I can arrange you a driver to have a smooth ride to the airport.
Trip Summary
Accommodation
Hotel & Hostel & Apartments
15 days trip
Cancún, Puerto Morelos & 9 more
Have A Question?
Ask the TripLeader questions about the Trip by clicking on the button below. Your question and the response will be visible on this page once it's answered.
What's excluded?
Road fees & gasoline (we share)
Activities, entrances, food
Flights
Transfer airport - cancun - airport
Why JoinMyTrip?
Trusted platform used by 150K+ TripMates
Have A Question?
Live Chat with our experts 24x7
Unique Trips hosted by Experienced Travellers
Secure Payments to ensure your money is always safe
Looking for more trips?
Here's some similar trips that you might be interested in.