Slide 1 of 1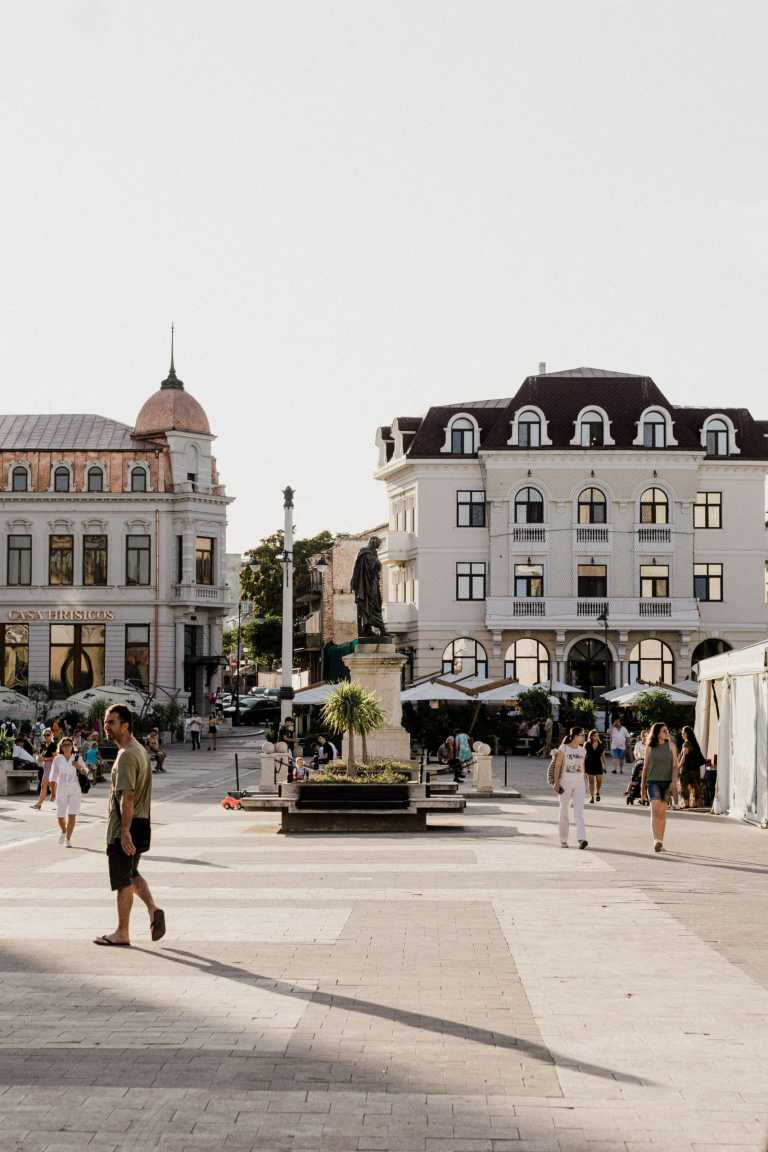 Long Weekend in Romania with a Local - Relax on the Black Sea Coast and visit Bucharest
7 Days30 Days!
Extra Cancellation Days
only for the first TripMate
Guided trip
5 days
5 stops
3 - 4 Mates
Romania
Hello everyone :) Summer is here, so if you have the itch to go to the beach and explore a new location, maybe it's time to discover Romania's Black Sea coast. It's a perfect place for those of you who want a bit of culture on top of the sun-kissed tan. :D About me: Hi, my name is Emma, a 33-year-old tour guide. I'm born and raised in Bucharest, but spent all my childhood summers in Constanta with my cousins. I'm in love with my country and I enjoy helping travelers navigate its hidden treasures while sharing fascinating legends and incredible events from local history. I traveled to more than 30 countries and I enjoy meeting people from all corners of the world and sharing perspectives on life and culture while enjoying the local flavors. About the destination: Constanta is an underrated city on the Black Sea coast, offering a great variety of activities from sightseeing (former port of the Roman empire and favorite seaside destination of the Kings of Romania) to boat rides, watersports, parties, great food and music powerhouse (the Black Sea coast is the birthplace of famous local musicians Inna and Alexandra Stan). About the Trip I am looking for 3 max 4 travel buddies (girls/boys) to join me on the trip. We will be staying in a shared apartment/room both in Bucharest (1 night) and Constanta (3 nights) with a kitchen and other facilities. We will drive around in my personal car (Skoda Yeti) and share the gasoline cost. If you have a driver's license and you'd like to drive on a Romanian highway kudos to us! :D Explanation of trip cost The transportation back and forth between Bucharest and Constanta and the accommodation cost are both included. There is an option for a private room (only in case there will only be 3 people joining in total). The trip cost includes the cable car ride in Mamaia and the boat ride in Constanta as well. We will plan our meals and other activities on the go (as I prefer to go with the flow sometimes instead of being tight on schedule :P). We can decide on the spot for food and other extra costs and split them later during the trip. The trip only takes place if at least 3 TripMates join. If you are interested, hurry up and write me a message including a short introduction about you and your motivation to join this trip 🥰
Your Booking includes free protection from Trip cancellations.
Learn More
Meet Your TripLeader
Phone Verified
Identity Verified
37 Countries
"Never stop wondering, never stop wandering" is my motto :)
You can chat with Emma once you reserve your spot.
Trip Itinerary
Bucharest
Day 1-2
We will meet at our accommodation in Bucharest's city center. Depending on everybody's arrival time, we'll go out and explore a bit of the old town and have dinner together at a traditional Romanian restaurant.
Constanța
Day 2-3
After a relaxing walk and a good lunch in Bucharest we can head for the Black Sea coast and check into our accommodation in Constanta (it's a 3-hour drive from Bucharest - including stops). We will still have a long evening ahead of us to enjoy the beach or do a short walk around Tomis Harbor. Our accommodation in Constanta will be our home for the next 3 nights, it will be the base camp for our next adventures around the Black Sea coast. :D
Mamaia
Day 3-4
The morning will find us enjoying the cultural side of Constanta (we can choose from a variety of museums - Archeology, Navy, Roman mosaic) or the nearby beach and harbor. In the afternoon we will definitely explore Mamaia - Romania's Top beach destination - a strip of sand between the Black Sea and Siutghiol Lake. There's a cable car ride we will take to admire the resort from 50m up in the air. The evening can be spent either resting or partying inside the top clubs of Mamaia on a Saturday night, during the top season.
Tomis Turistic Port
Day 4-5
On Sunday we will relax around the harbor and take a short boat ride to admire the coast (the casino and the naval shipyard) from the sea and if we get lucky we might spot some dolphins. For the rest of the day, we can work on our tan, shop for souvenirs or catch up with the local museums, whatever we decide on the day! :)
Bucharest
Day 5
Departure day! After check out we will head back to Bucharest. If you find a convenient flight back directly from Constanta Mihail Kogalniceanu airport your journey back might be even shorter. I can drop you off at the airport of your choice. If your flight is in the evening we can spend more time exploring the top spots of Bucharest.
Trip Summary
5 days trip
Bucharest, Constanța & 3 more
Why JoinMyTrip?
Trusted platform used by 150K+ TripMates
Have A Question?
Live Chat with our experts 24x7
Unique Trips hosted by Experienced Travellers
Secure Payments to ensure your money is always safe