Slide 1 of 1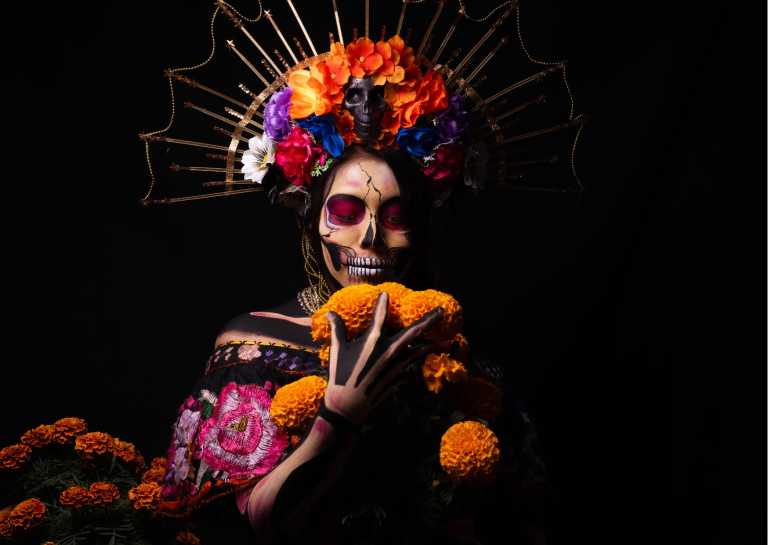 Live the "Day of the Dead Experience" in Mexico City, Work from Home, Eat, Enjoy and Live Like a Local!
Coworking trip
15 days
3 stops
2 - 4 Mates
Mexico
What's special?
Day of the dead experience
Breakfast
The "Day of the Dead" (día de muertos) is one of the most important festivities for the Mexican culture. Join me and live the full experience, let's prepare our traditional offering of the dead and eat delicious homemade traditional food . On Saturday we will go to the parade and walk all around Paseo de la Reforma while we enjoy something gorgeous to eat and drink. Mexico city has so much to offer regarding culture, sightseeing, shopping, sports and night life. You will not have enough of it. I would love to be your host during this experience, and my goal will be that you will end up so fascinated about Mexico and our food and culture that before leaving you will start thinking about when will you be coming back!
About me! I worked on the hospitality industry for over 20 years, so making people feel welcome is my mojo. Tell me what you would like to experience in the city, and I will do everything in my power to make it happen. Apart from being a passionate host, at the moment I'm studying a master degree, so don't worry, time for concentration and work will be one of our main targets.
Details about the accommodation: The accommodation will be in shared rooms, or if you require a single bedroom it can be arranged, keep in mind that an extra fee will be required. Because I know that working from home is sometimes very stressful, I will pamper you as much as I can. So Breakfast will be included, and as my mother used to say, you can't start with the right foot if you don't have a proper Mexican breakfast, so forget about bread and coffee and embrace yourself!! I know that because of time difference, schedules can be very difficult, so also, I can provide a homemade Mexican lunch, so you will not have to worry about cooking etc. Do you have questions about the trip? You can let me know in the Q&A section here! See you soon in Mexico!
What's included?
Breakfast
Accommodation (Shared rooms)
Your Booking includes free protection from Trip cancellations.
Learn More
Meet Your TripLeader
Phone Verified
Identity Verified
20 Countries
Mexican born and raised, love photography, food and travel. worked for over 25 years in the Hospitality industry.
You can chat with Angelica once you reserve your spot.
Trip Itinerary
You will meet Angelica and the group in Mexico City
Find the best flight details to and from Mexico City ->
Mexico City
Day 1-15
Mexico City is a vibrant and captivating destination, especially during the Day of the Dead season. Here are five highlights you won't want to miss during your visit: Day of the Dead Celebrations: Experience the unique and colorful Day of the Dead festivities, which usually take place from October 31st to November 2nd. Witness elaborate altars, beautifully decorated sugar skulls, parades, and vibrant marigold displays that pay tribute to departed loved ones. Historic Center and Zócalo: Explore the heart of the city by visiting the Historic Center, where you'll find the Zócalo, one of the largest public squares in the world. Admire the stunning Metropolitan Cathedral and the National Palace, where you can see Diego Rivera's famous murals depicting Mexican history. Strolling through the charming streets will expose you to colonial architecture, markets, and local eateries. Chapultepec Park and Castle: Escape the urban hustle at Chapultepec Park, one of the largest city parks in the world. Climb up to Chapultepec Castle for panoramic views of the city and explore its rich history. The park also houses the renowned National Museum of Anthropology, which provides fascinating insights into Mexico's indigenous cultures. Frida Kahlo Museum and Coyoacán: Immerse yourself in the world of art and culture by visiting the Frida Kahlo Museum, also known as the Blue House. This museum was once the home of the iconic artist Frida Kahlo and her husband Diego Rivera. Afterward, explore the charming neighborhood of Coyoacán, known for its bohemian atmosphere, historic streets, and vibrant markets. Street Food and Culinary Delights: Mexico City is a culinary paradise. Indulge in a wide range of delicious street food, from tacos al pastor to tamales and churros. Don't miss a visit to the Mercado de la Merced, one of the largest traditional markets, to sample a variety of local dishes. For a taste of upscale Mexican cuisine, explore the trendy neighborhoods of Roma and Condesa. While you work remotely during the Day of the Dead season, these highlights will offer you a wonderful opportunity to explore Mexico City's rich culture, history, and cuisine during your free time. Just remember to plan ahead, as the city can get quite busy during this festive season.
The Angel of Independence
Day 15
The Day of the Dead parade in Mexico City has become a major cultural event that attracts both locals and visitors alike. It's a spectacular and vibrant procession that celebrates the traditional Mexican holiday of Día de los Muertos (Day of the Dead).
Zócalo
Day 15
The Zócalo (officially known as the Plaza de la Constitución) in Mexico City is a historic and bustling square that holds a significant place in the city's culture and history. Here are three highlights you should definitely explore when visiting the Zócalo: Metropolitan Cathedral (Catedral Metropolitana): One of the most prominent landmarks on the Zócalo is the Metropolitan Cathedral. This awe-inspiring cathedral is one of the largest and oldest in the Americas, and its construction spans centuries, reflecting various architectural styles from Baroque to Neoclassical. Inside, you'll find intricate chapels, stunning religious artwork, and relics of historical and cultural significance. Climbing the bell towers offers panoramic views of the Zócalo and the surrounding area. National Palace (Palacio Nacional): Adjacent to the Metropolitan Cathedral, the National Palace is an imposing building with a fascinating history. It's the official residence of the President of Mexico and also houses important government offices. One of the major draws for visitors is Diego Rivera's monumental murals that adorn the interior walls of the palace. These murals depict Mexico's history, from pre-Columbian times to the Mexican Revolution. The murals provide a vivid visual narrative of Mexico's cultural heritage and struggles. Templo Mayor Archaeological Site: Just steps away from the Zócalo, the Templo Mayor Archaeological Site offers a glimpse into the ancient Aztec capital of Tenochtitlán, which was situated on the same grounds that Mexico City now occupies. The site was discovered in the 1970s and continues to reveal more about the Aztec civilization. You can explore the remains of the Templo Mayor pyramid, sculptures, and other artifacts that provide insights into Aztec religious and cultural practices. The adjacent museum provides further context and historical information. While these are just a few highlights, the Zócalo itself is an attraction, often bustling with cultural events, vendors, and local festivities. Its central location makes it an excellent starting point for exploring the historic center of Mexico City and its rich cultural heritage.
Trip Summary
15 days trip
Mexico City, The Angel of Independence & 1 more
Have A Question?
Ask the TripLeader questions about the Trip by clicking on the button below. Your question and the response will be visible on this page once it's answered.
What's excluded?
Airfare to mexico
Why JoinMyTrip?
Trusted platform used by 150K+ TripMates
Have A Question?
Live Chat with our experts 24x7
Unique Trips hosted by Experienced Travellers
Secure Payments to ensure your money is always safe
Looking for more trips?
Here's some similar trips that you might be interested in.