Slide 1 of 1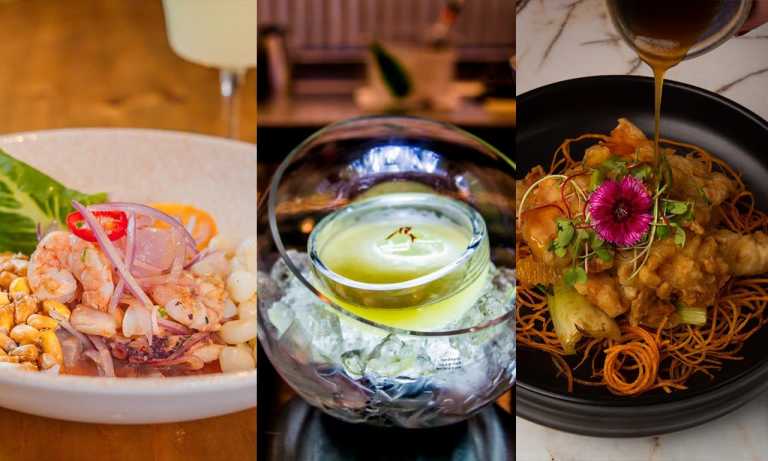 Lima's Culinary Odyssey: Join us on a Foodie's Dream Journey in Peru!
Guided trip
4 days
6 stops
2 - 4 Mates
Peru
What's special?
Safe space for everyone
Interesting facts about Lima's history
Diversity of flavors in gastronomy
Peru was chosen as the World's Leading Culinary Destination in 2022, and it's because in this country, every flavor has its own story. Our culture is an exquisite fusion of Andean, Amazonian, Spanish, African, Asian, and more cultures. The result? Our fascinating dishes that taste like happiness. You may have heard about Machu Picchu (an unmissable destination), but what about Lima, the capital of Peru? Discover everything the City of Kings has to offer for you! We will explore this city through its aromas and flavors. Embark with us on an unforgettable culinary adventure in Lima! Sample the finest flavors of Peruvian cuisine and immerse yourself in the city's rich history. Let the taste of Peru linger in your heart as you explore and savor every moment of this incredible journey. Important: Peruvian cuisine is a tantalizing culinary adventure, but it comes with a few considerations. The bold and spicy flavors can be overwhelming for those with low heat tolerance, so it's important to be cautious and opt for milder options if needed. Seafood lovers will delight in Peru's coastal treasures, but individuals with allergies or sensitivities should be careful and inquire about ingredients. It is advisable for individuals with dietary restrictions to carefully consider joining the trip due to the unique and potentially challenging aspects of Peruvian cuisine.
About me! My name is Luis, but you can call me Chapi! I'm a professional communicator and service designer and will be your trip leader. My passion for immersing myself in Peruvian culture through museums, cafes, books, bars, and history allows me to provide a deep and enriching experience. With my active participation in cultural spaces, I can bring a wealth of knowledge and connections, ensuring an engaging and memorable journey for everyone. Let's explore the hidden gems and cultural wonders of Lima together!
Details about the accommodation: We'll be staying at an apartment located in the vibrant neighborhood of Miraflores, which offers us the perfect accommodation for our trip. With separate beds, you can enjoy a comfortable night's sleep. The shared spaces, including a welcoming living room and fully equipped kitchen, invite you to unwind and connect with fellow travelers. Explore the heart of Lima's tourism scene while enjoying the convenience and warmth of our Miraflores apartment. If you have any questions you can let me know in the Q&A section!
What's included?
Transportation between stops
Entrance Fees
Pre-departure guidance
Activities & tours mentioned
Destination specific WhatsApp group
Official guides for museums
Accommodation (Shared rooms)
Your Booking includes free protection from Trip cancellations.
Learn More
Meet Your TripLeader
Phone Verified
Identity Verified
6 Countries
Communicator and lover of unique experiences.
You can chat with Luis once you reserve your spot.
Trip Itinerary
You will meet Luis and the group in Miraflores
Find the best flight details to and from Miraflores ->
Miraflores
Day 1-2
Here we go! Immerse yourself in the vibrant district of Miraflores as we stroll along its lively streets, enjoying the beautiful coastal views. Did you know Peru has the biggest chinese ethnic community in Latin America? The technique of oriental stir-frying fused with our local ingredients, gave birth to many exquisite dishes. On our first night, we will indulge in a culinary delight at one of Lima's top restaurants. This establishment offers an exquisite blend of Chinese and Peruvian flavors, creating a unique and tantalizing dining experience. To cap off the evening, we'll unwind at one of the 50 best bars in the world! Have a refreshing drink amidst a sophisticated ambiance. Get ready for an unforgettable experience, where gastronomy and nightlife combine to create cherished memories in Lima.
San Isidro
Day 2
Start your day with a delightful breakfast in a cozy café at 10 am, savoring the flavors and aromas that Lima has to offer. Next, we'll explore the ancient ruins of Huaca Pucllana, marveling at the pre-Inca architecture and rich history. Afterward, we'll stroll through the enchanting El Olivar Park, surrounded by the tranquil beauty of olive trees. For lunch, we'll indulge in a renowned restaurant known for its diverse range of delicious Peruvian flavors.
Barranco
Day 2
In the afternoon, we'll venture to the bohemian neighborhood of Barranco, immersing ourselves in its artistic atmosphere and vibrant streets. At the end of the day, we will continue our culinary journey as we head to dinner while being mesmerized by a captivating showcase of Peruvian dances.
Centro Histórico
Day 2-3
We'll start by visiting a café with over 100 years of history, where we'll enjoy the renowned butifarra sandwich, considered the best in the world! Then, we'll explore archaeological museums and witness the European influence on the architecture of Lima's historic center.
Callao
Day 3
Next, we'll head to the vibrant port of Callao, where life at sea is more flavorful! Here we'll taste delicious seafood. We'll then visit the famous Park of the Reserve, where we can relax amidst stunning light displays and beautiful water fountains. For dinner, we'll savor delicious traditional dishes in a historic mansion. Finally, on our last night, we'll toast with Peru's national drink, the iconic pisco sour. Join us for a memorable experience celebrating Lima's rich history, culinary delights, and vibrant culture!
Miraflores
Day 3-4
On our final day, we'll have breakfast together at a restaurant overlooking the Pacific Ocean. Afterward, we'll gather our belongings and bid farewell to this beautiful adventure. Take a moment to cherish the memories we've made, the places we've explored, and the experiences we've shared. Lima has been an incredible journey, and as we conclude our trip, let's carry the spirit of adventure with us as we venture into new horizons. Safe travels, and until we meet again!
Trip Summary
4 days trip
Miraflores, San Isidro & 4 more
Hi, it's Beatrice again. I bought my ticket. I will definitely be there December and January. If I a...
Read More
Hey Beatrice, that sounds great! Sure, I'll be posting the trip for january in the following weeks. It should be between 4-7 of January ;)
Luis, this sounds terrific!! I can't do your August trip. Do you plan to repeat any other times of t...
Read More
Hello Beatrice, thank you for your interest in joining the trip! I'm thinking of repeating this trip every month (at least during 2023). Hope you can join in one of those editions 🙌
What's excluded?
International flights
Transportation to/from the airport
Breakfast/Lunch/Dinner & drinks
Spending money for extra activities
Additional activities (not mentioned)
Why JoinMyTrip?
Trusted platform used by 150K+ TripMates
Have A Question?
Live Chat with our experts 24x7
Unique Trips hosted by Experienced Travellers
Secure Payments to ensure your money is always safe