Slide 1 of 1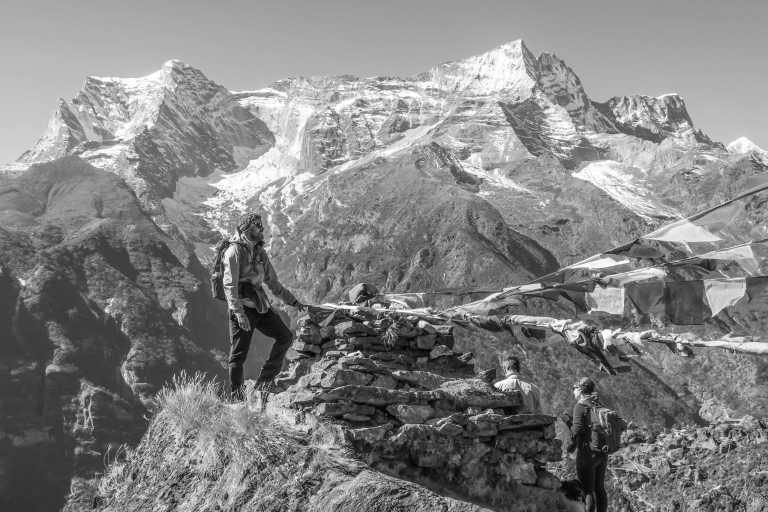 14 Days Everest Base Camp Trek in Nepal from Kathmandu
Guided trip
10 days
14 stops
1 - 6 Mates
Nepal
What's special?
Stunning mountain views
Everest Base Camp
Rich Sherpa culture
Embark on a thrilling 14-day Everest Base Camp trek in Nepal, commencing from Kathmandu. This iconic journey takes you through diverse terrain, from lush valleys and rhododendron forests to rugged mountain trails. Along the way, you'll pass through vibrant Sherpa villages, encounter rich cultural traditions, and experience warm hospitality. The trek's pinnacle is reaching Everest Base Camp, standing at 5,364 meters (17,598 feet), where you'll be awestruck by the world's highest peak, Mount Everest. Additionally, you'll ascend Kala Patthar for incredible sunrise views. This challenging adventure offers an immersive Himalayan experience, showcasing Nepal's natural beauty and local culture.
Hello! I'm Prem, a multilingual and professional travel, tour, and trekking guide from Nepal, boasting over a decade of industry experience. My expertise lies in meticulously organizing and expertly leading diverse travel, tour, and trekking activities that cater to clients from all corners of the globe. Whether it's navigating historic cities, embarking on epic treks, or immersing in cultural adventures, I'm dedicated to creating tailored experiences that resonate with each traveler's unique interests and preferences. Join me in exploring the wonders of Nepal's landscapes, cultures, and traditions, and let's craft unforgettable memories together.
Experience the best of both worlds on your Everest Base Camp trek with comfortable private lodging in Kathmandu before and after the adventure. During the trek itself, you'll enjoy cozy shared Teahouse accommodations. These Teahouses provide three meals a day (including breakfast, lunch, and dinner) as part of your package. Your private standard room ensures a comfortable and restful retreat, allowing you to recharge before and after your trekking days. This combination of private and shared lodging, along with the convenience of included meals, enhances your overall trekking experience in the breathtaking Himalayan landscapes while providing a touch of comfort and homeliness.
What's included?
Entry permits
Food and accommodation
Airport and hotel pickup and drop off
Trekking guide and porter
Your Booking includes free protection from Trip cancellations.
Learn More
Meet Your TripLeader
Phone Verified
Identity Verified
14 Countries
3 Trips Completed
Professional Tour Guide from Nepal
You can chat with Prem once you reserve your spot.
Trip Itinerary
Kathmandu
Day 1-2
Upon arrival in Kathmandu, Nepal's capital, take a well-deserved break to recuperate from your journey and gear up for the thrilling Everest Base Camp trek. You'll find opportunities to explore the rich cultural heritage of this vibrant city, with its ancient temples, bustling markets, and friendly locals. While it's optional, delving into Kathmandu's cultural sites, such as Durbar Square, Swayambhunath Stupa (the Monkey Temple), and Pashupatinath Temple, can be a rewarding prelude to the trek. These experiences will enrich your understanding of Nepal's history and traditions, setting the stage for the awe-inspiring adventure awaiting you in the Himalayas.
Tenzing-Hillary Airport
Day 2-3
On Day 2, your Everest Base Camp adventure begins as you board a scenic flight from Kathmandu to Lukla, perched at 2,860 meters (9,383 feet) above sea level. From Lukla, the trek kicks off, leading you to the picturesque village of Phakding, situated at 2,610 meters (8,563 feet) along the banks of the Dudh Koshi River. This initial trek serves as a gentle introduction and an opportunity to acclimatize to the higher altitudes, ensuring a safe and gradual ascent as you delve deeper into the breathtaking Khumbu region. It's a day of excitement and anticipation as you take your first steps toward Everest.
Namche Bazar
Day 3-4
Your journey from Phakding to Namche Bazaar at 3,440 meters (11,286 feet) is a day filled with remarkable experiences. You'll follow the Dudh Koshi River's meandering path, surrounded by captivating natural beauty. Upon entering the hallowed grounds of Sagarmatha National Park, you'll encounter its pristine wilderness and diverse wildlife. The day's challenge lies in a steep uphill ascent, culminating in your arrival at Namche Bazaar, a lively Sherpa town nestled amidst awe-inspiring peaks. Here, you'll be greeted with breathtaking mountain vistas and the chance to acclimatize, a pivotal phase of your Everest Base Camp expedition.
Namche Bazar
Day 4-5
This essential acclimatization day in Namche Bazaar allows for rest and adjustment to the altitude. You can also opt for a day hike to the Everest View Hotel, where you'll be rewarded with stunning vistas of Everest, Lhotse, and Ama Dablam. This short trek not only offers incredible mountain panoramas but also aids in your acclimatization process, ensuring a safer and more comfortable ascent as you continue your journey to Everest Base Camp.
Tengboche Monastery
Day 5-6
Departing from Namche Bazaar, your trek to Tengboche at 3,860 meters (12,664 feet) is filled with cultural and natural wonders. Traverse enchanting rhododendron forests, where colorful blooms adorn your path. Your destination, Tengboche, boasts one of the region's most revered sites—the Tengboche Monastery. This spiritual sanctuary not only offers a peaceful retreat but also provides insight into the local Sherpa culture and religion. Amidst breathtaking mountain scenery, you'll have the opportunity to witness the daily rituals and absorb the serene ambiance of this significant Himalayan monastery, enhancing your Everest Base Camp journey.
Dingboche
Day 6-7
Your journey from Tengboche to Dingboche, located at 4,410 meters (14,468 feet), promises diverse landscapes and remarkable vistas. Descending from Tengboche, you'll follow the trail alongside the Imja Khola River, enjoying the lush surroundings. The day's highlight is the ascent to Dingboche, a charming village perched at a higher altitude. Here, you'll be welcomed by breathtaking mountain views, including the towering Ama Dablam. Dingboche's unique beauty and serene ambiance offer a well-deserved respite on your Everest Base Camp adventure as you continue your ascent into the stunning Khumbu region.
Dingboche
Day 7-8
In Dingboche, a crucial acclimatization day awaits, allowing you to rest and adapt to the higher elevation. For those seeking further adventure, an optional day hike to Nagarjun Hill offers panoramic views of the Himalayan peaks. This combination of rest and exploration ensures your readiness for the upcoming challenges of the Everest Base Camp trek, while providing an opportunity to immerse yourself in the awe-inspiring beauty of the Himalayas.
Lobuche
Day 8
Your trek from Dingboche to Lobuche, perched at 4,910 meters (16,109 feet), is a thrilling adventure through the heart of the Khumbu region. Traversing the rocky moraine of the Khumbu Glacier, you'll navigate a landscape shaped by the immense forces of nature. As you approach Lobuche, a quaint settlement nestled amidst the towering peaks, you'll experience the raw beauty and isolation of the high Himalayas. This day's journey is a testament to your determination as you inch closer to your ultimate destination, the iconic Everest Base Camp, on this extraordinary expedition.
Gorakshep
Day 8-9
This is the day you've been waiting for as you inch closer to the pinnacle of your Everest Base Camp trek. You'll first trek to Gorak Shep at 5,140 meters (16,863 feet), your last stop before the Base Camp. From there, your determination propels you forward as you continue your ascent to the iconic Everest Base Camp itself, situated at 5,364 meters (17,598 feet). This remarkable achievement will be etched in your memory forever as you stand in the shadow of the world's highest peak. Afterward, you'll return to Gorak Shep to rest and reflect on this extraordinary milestone in the heart of the Himalayas.
Kala Patthar
Day 9-10
An early morning ascent awaits as you hike to the iconic Kala Patthar, perched at 5,550 meters (18,209 feet). The reward is breathtaking sunrise views of Everest, unveiling its majesty in the first light of day. This moment is a culmination of your Everest Base Camp trek, and the panoramic vistas will leave an indelible mark on your soul. Afterward, you'll descend to the lower altitude of Pheriche at 4,240 meters (13,910 feet), providing a welcome change in surroundings and allowing your body to recover from the high altitudes, ensuring your continued comfort and well-being on this incredible journey.
Namche Bazar
Day 10
As your memorable Everest Base Camp trek nears its conclusion, you'll embark on a descent from Pheriche back to Namche Bazaar. This return journey takes you through familiar terrain, offering a chance to reflect on the incredible experiences and challenges you've overcome during the past days. While heading downhill, you may notice the landscape changing, the air becoming thicker, and the vibrant culture of Namche Bazaar welcoming you once again. It's a day of both nostalgia and anticipation as you make your way back to the lively heart of the Khumbu region.
Lukla
Day 10
The penultimate day of your Everest Base Camp adventure involves a descent from Namche Bazaar to Lukla, where you'll complete your remarkable trek. As you trace the familiar trails in the opposite direction, you'll have the opportunity to relive the awe-inspiring moments and memories of your journey. The bustling atmosphere of Lukla, the place where your expedition began, now welcomes you as a seasoned trekker. It's a day of reflection and celebration, marking the end of an incredible and challenging adventure in the Himalayas and a return to the comforts of civilization.
Kathmandu
Day 10
Your Everest Base Camp adventure culminates with a scenic flight from Lukla back to Kathmandu. As you soar over the majestic Himalayan peaks one last time, take a moment to savor your incredible accomplishment. In Kathmandu, you have the choice to celebrate your successful trek with fellow trekkers or simply unwind and reflect on your journey. Explore the vibrant city's cultural offerings, indulge in its culinary delights, or simply relax and recharge in preparation for your departure, carrying with you the memories and achievements of this extraordinary expedition into the heart of the world's tallest mountains.
TIA
Day 10
On your final day in Kathmandu, it's time to bid farewell to the enchanting landscapes of Nepal. Whether you're heading back home or embarking on your next adventure, this marks the conclusion of your Everest Base Camp trek. Take a moment to reflect on the incredible journey you've undertaken, the breathtaking vistas you've witnessed, and the resilience you've shown in the face of challenging terrain. As you depart from Kathmandu, you carry with you the indelible memories and experiences of this remarkable trek, leaving you with a lasting connection to the awe-inspiring Himalayan region.
Trip Summary
Accommodation
Hotel & Camping & Bed & Breakfast & Other
10 days trip
Kathmandu, Tenzing-Hillary Airport & 12 more
Transportation
Car, Trekking
What's excluded?
Personal expenses
Why JoinMyTrip?
Trusted platform used by 150K+ TripMates
Have A Question?
Live Chat with our experts 24x7
Unique Trips hosted by Experienced Travellers
Secure Payments to ensure your money is always safe