Slide 1 of 1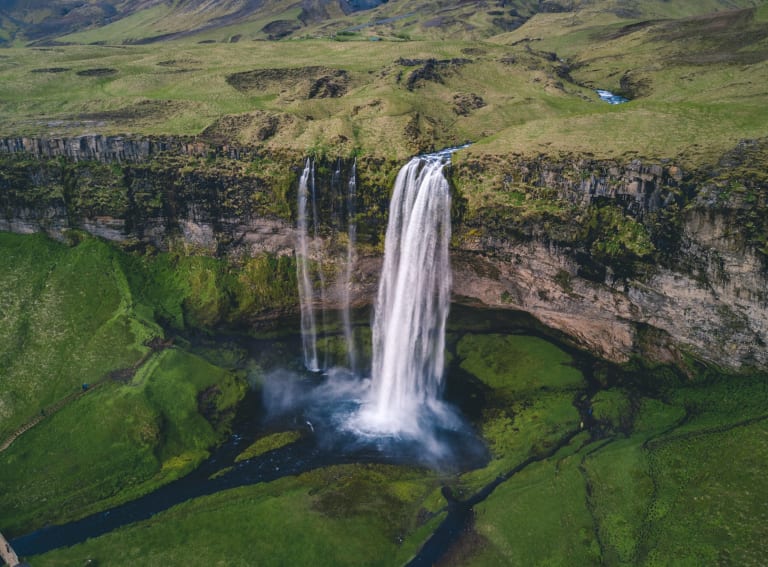 Icelandic Odyssey: The Ultimate 8 Days Road Trip Adventure
Guided trip
8 days
19 stops
4 Mates
Iceland
Join me on the most epic Icelandic Odyssey! Brace yourself for an exhilarating road trip adventure that will leave you in awe. ✈️ About the trip! We'll first meet in Reykjavik, where the journey begins. From the architectural wonders of Reykjavik to chasing the mesmerizing Northern Lights, we'll embark on a journey through volcanoes, glaciers, and hidden treasures. Prepare to be amazed as we marvel at the stunning Harpa Concert Hall, ascend Hallgrímskirkja for jaw-dropping city views, and keep our eyes peeled for a magical display of the Aurora Borealis. But that's just the beginning! Get ready to feel the adrenaline rush as we hike to the untamed beauty of a volcano, immersing ourselves in its raw power. Discover the wonders of the Golden Circle, where the majestic Gullfoss Waterfall roars with thunderous might. Prepare to be captivated by breathtaking waterfalls, captivating black sand beaches, and awe-inspiring glaciers that will take your breath away. We'll wake up early to witness the mesmerizing sunrises at Reynisfjara Beach, venture into mystical canyons that seem straight out of a fairytale, and experience the ethereal beauty of the Jökulsárlón Glacier Lagoon. And to top it all off, we can decide to unwind and relax at the legendary Blue Lagoon, allowing all our worries to melt away. 🤝 What is included: Rest assured, we've got you covered with accommodations that showcase the charm of Iceland, with some even including a delicious breakfast to start our days. Our transportation during the trip will be in a comfortable 5-seater car, complete with insurance coverage, providing us with the freedom to explore. Additionally, good vibes are included in abundance! While food and beverages can be pricey in Iceland, fear not, as we'll mainly stay in hostels with fully equipped kitchens, where we can prepare our own meals. Gas expenses will be divided among us, ensuring a fair and cost-effective journey. There may be optional paid activities that the group can decide to participate in. 👀 Who we're looking for: We're looking for fun and adventurous individuals who are ready to embrace mild hikes and have good physical fitness. Join us on this extraordinary journey, where each day will bring breathtaking landscapes and unforgettable memories. Ages 18 to 28 are welcome to join the adventure! Bonus points if you like driving and have a license. So, pack your bags, bring your sense of adventure, and get ready to make Iceland our playground. This is an experience you won't want to miss! DM me for more info and let us embark on the journey of a lifetime filled with Icelandic wonders!
Your Booking includes free protection from Trip cancellations.
Learn More
Meet Your TripLeader
Phone Verified
Identity Verified
32 Countries
Globetrotting photographer, running enthusiast, and cinema lover on a quest for adventure. Traveling the world, one frame at a time.
You can chat with Andres once you reserve your spot.
Trip Itinerary
You will meet Andres and the group in Reykjavík
Find the best flight details to and from Reykjavík ->
Reykjavík
Day 1-3
Arrival Day - We've arrived in Reykjavik, ready for an incredible adventure! Let's pick up our car and stock up on goodies before strolling through the charming streets. Our cozy hostel awaits, building up our excitement! Day 1: we'll dive into the vibrant energy of Reykjavik! Marvel at Harpa Concert Hall, find tranquility at Tjörnin Pond and be inspired by the Sun Voyager. Don't forget Hallgrímskirkja for breathtaking city views. Explore Perlan, and chase the mystical Northern Lights at night. Will tonight be our lucky night? Keep an eye on the Aurora forecast. Oh, and let's not miss the enchanting Grótta Lighthouse!
Fagradalsfjall Volcano
Day 3
Adventure awaits on Day 2! Get your hiking boots ready as we embark on an exhilarating journey to witness the raw power and untamed beauty of a volcano. This isn't just any ordinary hike – it's an adrenaline-fueled exploration through nature's forces. Feel the thrill as we conquer rugged terrains and get up close to the fiery heart of Iceland. Get ready for an unforgettable experience that will leave you in awe of the Earth's incredible forces.
Blue Lagoon
Day 3
After an unforgettable volcano hike, it's time to indulge in pure relaxation at the world-renowned Blue Lagoon. As we enter the geothermal oasis, warm, soothing waters envelop us, melting away any fatigue from the hike. The mineral-rich waters nourish our bodies, leaving us feeling rejuvenated and refreshed. Surrounded by stunning natural beauty, we can unwind and soak up the serene ambiance, embracing the harmony between nature and tranquility. The combination of adventure and bliss makes this day truly unforgettable. From the adrenaline-fueled hike to the volcano's summit, where we witness nature's forces at their most awe-inspiring, to the luxurious soak in the geothermal waters of the Blue Lagoon, we embark on a journey that awakens our senses and renews our spirits. It's an experience that connects us with the raw power and peacefulness of Iceland's natural wonders, leaving us with memories that will be etched in our hearts forever.
Reykjavík
Day 3-4
After an exhilarating volcano and blue lagoon day, we return to Reykjavík for a well-deserved rest. Get ready to unwind and recharge in the vibrant city before our next adventure! The combination of adventure and bliss makes this day truly unforgettable. From the adrenaline-fueled hike to the volcano's summit, where we witness nature's forces at their most awe-inspiring, to the luxurious soak in the geothermal waters of the Blue Lagoon, we embark on a journey that awakens our senses and renews our spirits. It's an experience that connects us with the raw power and peacefulness of Iceland's natural wonders, leaving us with memories that will be etched in our hearts forever.
Thingvellir National Park
Day 4
Day 3 brings us the wonders of the Golden Circle! Brace yourself for an extraordinary day of exploration and discovery. Our first stop is Thingvellir National Park, where history and geology intertwine. Walk in the footsteps of ancient Vikings and stand in awe at the very spot where the Eurasian and North American tectonic plates meet. Feel the magnitude of this natural wonder as we navigate through the dramatic Almannagjá fissure and marvel at the crystal-clear waters of Silfra. Take a deep breath and soak in the breathtaking landscapes that have witnessed centuries of human history.
Geysir
Day 4
Day 3 of our adventure doesn't end in Thingvellir! Prepare to be captivated by the magnificent geothermal activity at the Geysir. Feel the ground rumble beneath your feet as the Strokkur geyser erupts, shooting scalding water high into the sky. Witness the raw power of nature in this awe-inspiring display.
Gullfoss Falls
Day 4-5
Next on our Golden Circle odyssey is the majestic Gullfoss Waterfall. Prepare to be mesmerized as you witness millions of gallons of water cascade down a two-tiered drop, creating a thunderous roar and a magnificent spray that fills the air. Let the sheer power and beauty of this natural wonder leave you breathless. As we continue our journey, immerse yourself in the ethereal charm of Kerid Crater Lake. Marvel at the vibrant hues of the mineral-rich waters that fill this volcanic crater. Take a leisurely walk around the rim and imagine the ancient eruptions that shaped this captivating landscape.
Seljalandsfoss
Day 5
On Day 4, our journey takes us from the captivating wonders of the Golden Circle to the enchanting coastal town of Vik, where even more awe-inspiring adventures await us. Get ready for a day filled with breathtaking landscapes and unforgettable experiences. Our first stop is Seljalandsfoss, a majestic waterfall that invites us to get up close and personal with its cascading beauty. Prepare to get soaked in its mist as we stand in awe of its sheer power. But that's not all! Experience a thrill like no other as we walk behind the mesmerizing curtain of water, immersing ourselves in a world of mist and magic. The sensation of being surrounded by nature's forces will leave us feeling exhilarated and alive.
Skógafoss
Day 5
Next on our journey is the mighty Skógafoss, a true force of nature that commands our attention with its thunderous roar. Feel the ground vibrate beneath your feet as millions of gallons of water plummet from great heights, creating a mesmerizing display of raw power. Let the mist from the waterfall touch your face, igniting a sense of wonder and reminding you of the incredible forces at play in this extraordinary land.
Solheimasandur Plane Wreck
Day 5
As we venture further, we'll discover the hauntingly beautiful Solheimasandur Plane Wreck. This surreal sight, where a US Navy DC-3 plane crashed in 1973, offers a fascinating blend of nature and history. Explore the wreckage and imagine the story behind this silent monument, surrounded by the vast black sand beach and rolling waves. It's a photographer's paradise and a testament to the enduring spirit of exploration.
Vik
Day 5-6
Day 4 of our Icelandic odyssey promises to be a day of extraordinary beauty, natural wonders, and captivating history. From the misty embrace of Seljalandsfoss to the thundering might of Skógafoss, and from the mysterious Solheimasandur Plane Wreck, prepare to be enchanted by the diverse and awe-inspiring landscapes that Iceland has to offer.
Reynisfjara Beach
Day 6
Day 5 welcomes us with the promise of unforgettable natural wonders and stunning landscapes that will leave us in awe. Rise early to witness a breathtaking sunrise at Reynisfjara Beach, where the black sand meets the crashing waves of the Atlantic Ocean. Energize your body with an invigorating run on the unique black sand, feeling the refreshing ocean breeze against your skin.
Dyrhólaey Lighthouse
Day 6
Our second destination for the day is the iconic Dyrholaey Lighthouse. Perched on a dramatic sea cliff, it offers panoramic views of the rugged coastline and the vast Atlantic Ocean stretching into the horizon. Take a moment to breathe in the salty sea air, listen to the crashing waves, and appreciate the beauty of this remote and wild landscape. The lighthouse stands as a beacon, guiding us through the adventure and reminding us of the allure and resilience of coastal life.
Svartifoss
Day 6
For the next part of our journey, we have a choice to make. Will we be mesmerized by the cascading beauty of Svartifoss Waterfall, known for its unique basalt columns that resemble organ pipes? Or will we opt for the majesty of Skaftafellsjökull glacier, where we can witness the icy wonderland up close and personal? Whichever option we choose, we're in for an extraordinary experience that showcases the diverse beauty of Iceland.
Jökulsárlón
Day 6-7
Finally, prepare to be captivated by the awe-inspiring Jökulsárlón Glacier Lagoon and Diamond Beach. Watch in wonder as massive icebergs float peacefully in the crystal-clear lagoon, creating a mesmerizing scene that feels like stepping into a dream. Then stroll along Diamond Beach, where ice sculptures glisten like precious gems on the black volcanic sand, creating a surreal and magical atmosphere. We'll arrive around golden hour for great photo ops! After a day filled with extraordinary adventures, we'll retreat to our comfortable hotel, surrounded by nature's wonders. Let the tranquility and beauty of Iceland's landscapes seep into your soul as you relax and reflect on the remarkable experiences of the day.
Eldhraun lava field
Day 7
Day 6 brings a blend of nostalgia and new discoveries as we bid farewell to the stunning landscapes. Our day begins by revisiting the awe-inspiring Diamond Beach and Jökulsárlón Glacier Lagoon. Marvel at the glistening icebergs and let the serenity of these natural wonders captivate your soul. Next, we embark on a thrilling adventure to the Eldhraun Lava Field, where moss-covered lava flows create a surreal and ethereal atmosphere. Take a moment to appreciate the forces of nature that shaped this unique landscape, immersing yourself in its ancient beauty.
Fjaðrárgljúfur
Day 7
Continuing our journey, we find ourselves standing at the edge of the enchanting Fjaðrárgljúfur Canyon. Feel the rush of excitement as you gaze upon its majestic cliffs and witness the serpentine river winding through its depths. Explore its hidden corners and let the canyon's grandeur leave you in awe. As the day progresses, we start our drive back to Reykjavik, relishing in the memories we've made along the way. The road offers glimpses of Iceland's scenic wonders, allowing us to reflect on the incredible experiences we've shared.
Reykjavík
Day 7-8
Day 6 is a day of transitions, a mix of revisiting beloved destinations and embracing new ones. Let the beauty of Diamond Beach, Jökulsárlón Glacier Lagoon, the Eldhraun Lava Field, and Fjaðrárgljúfur Canyon leave an everlasting impression as we embark on the final leg of our Icelandic adventure. The road back to Reykjavik serves as a time for reflection, gratitude, and anticipation of the remarkable journey we've undertaken. This is the end of our Iceland adventure :( prepare for a night of goodbyes and a dinner together!
Reykjavík Airport
Day 8
Day 7 marks the final day of our Icelandic adventure. As the sun rises, we wake up early at our cozy hostel, filled with cherished memories of our journey. With a mixture of excitement and nostalgia, we pack our bags and make our way to the airport, bidding farewell to Iceland. It's time to embark on our next adventure, carrying with us the awe and wonder that this remarkable country has instilled in our hearts.
Trip Summary
Accommodation
Hostel & Bed & Breakfast
8 days trip
Reykjavík, Fagradalsfjall Volcano & 17 more
Have A Question?
Ask the TripLeader questions about the Trip by clicking on the button below. Your question and the response will be visible on this page once it's answered.
Why JoinMyTrip?
Trusted platform used by 150K+ TripMates
Have A Question?
Live Chat with our experts 24x7
Unique Trips hosted by Experienced Travellers
Secure Payments to ensure your money is always safe