Slide 1 of 1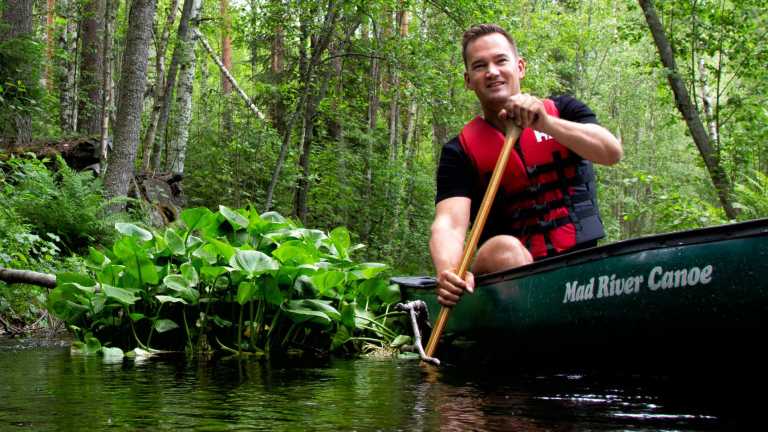 Finland Adventure Combining Trekking and Kayak In Lake Land
Guided trip
5 days
6 stops
4 - 6 Mates
Finland
Midnight Sun At In An Idyllic Natural Environment In June we are going to make an active Trekking and Kayak Excursion to Repovesi National Park. Would you be interested in taking a trip to the country of the midnight sun, spending a few days in an idyllic natural environment while kayaking or canoeing, sleeping in cottages along the way, and enjoying a slow life holiday? Saunas, activities, and midnight sun await on this all-gay tour of Finland. Join my group for an Excursion to Repovesi National Park, to Lakeland of Finland. This adventure is designed for those of us, who believe that as important as the chosen destination is finding a special, friendly, and relaxed environment, where we feel truly comfortable among friends and trippers with the same tastes with whom we can develop new friendships. First I offer an active holiday to enjoy this natural environment at one of the most beautiful areas of Lakeland together with like-minded friends. Second, this adventure in a natural environment with like-minded friends has been planned so that you feel comfortable and convenient. At Explora Finland, I give personalized advice to my fellow adventurers so that they can organize their personal trips as they always dreamed of. THIS IS FOR YOU IF: 👍 You like to travel differently, leaving room for all the spontaneous moments that could arise during the trip You prefer to experience and discover what Finland offers firsthand, enjoying the customs, culture, and local gastronomy. 👍 You want or like to get out of your comfort zone and take in everything that a trip gives you 👍 You like to go on adventures you like, and you pursue what you want 👍 Your mentality is to share, meet and learn from people who think and live like you; we are all a team 🏳️‍🌈 My trips are also LGBT-friendly and that is something that many of you will be able to value when organizing your vacations What is included in the price? ✨ Car rental, the gasoline we will split with us. ✨ My guidance during the whole trip ✨ Entrance fee to the National Park ✨ Kayak rental for 2 days ✨ Accommodation: Tent and sleeping bag rentals for 4 nights ✨ The last night at Hotel in Helsinki NOT INCLUDED: ✨ Your flight tickets, your travel insurance, possible rentals of bikes, etc., tram tickets, food that we make together during the trekking, restaurant lunches, and dinners during the trip. 👨 Who Accompanies You On This Journey? Hey! I am Harri, a Finn living in Spain, passionate about travel, animals, and outdoor adventures to seldom-traveled places, and I am always trying to do it in a responsible and conscious way for both the planet and local communities. 😗 I admit that I have always liked to travel, discover remote places, and have new experiences. And yet, a few years ago, I went back to my roots and returned to my origins via active travels. I had the opportunity to have a daily sauna with a subsequent dip in the lake, paddle with the blue of the sky melting into the water, stop at left to pick a few blueberries, and eat something on the grill… It was a very intimate moment of contact with nature –not a cloistered nature– but alive, where people unfold. 🇫🇮 This is how the Finns feel about their land. Travel To Finland With Harri Of Finland! You can ask me questions about the trip in the Q&A section! Talk soon!
Your Booking includes free protection from Trip cancellations.
Learn More
Meet Your TripLeader
Phone Verified
Identity Verified
30 Countries
12 Trips Completed
Travels combinated local life, gastronomy and activities with a mountain guide & sport coach.
You can chat with Harri once you reserve your spot.
Trip Itinerary
Helsinki Airport
Day 1
Hei kaikki, welcome to Helsinki! Our trip kicks off with a Group Meeting at 12 pm. If you aren't able to arrive in the morning, we recommend flying in a day early to settle in. Today we'll explore the capital city, including a visit to a few main tourist points, which we can choose by the interest of the group.
Repovesi National Park
Day 1-3
OUR DESTINATION REPOVESI NATIONAL PARK a picturesque Repovesi National park offers adventures for everyone. Its high hills and cliffs challenge keen climbers, and hospitable routes invite those who simply want to enjoy the gorgeous views during a pleasant stroll. Highlights for families include a hanging bridge, the hand-operated Fox's Ferry, and cozy Lapp-style huts for rent. Repovesi is situated in South-eastern Finland just a couple of hours from the capital city Helsinki, but the city feels a million miles away when you sit around a campfire listening to the eerie calls of red-throated divers. The Saimaa area is perfect for sailing the waters of its lakes in a kayak or for spending the night by a campfire in one of its adorable cabins because, it should be remembered, that in Finland nature is not only wild, it can also be enjoyed free of charge as long as the environment is respected. We will overnight here for 2 nights at an authentic finish cottage, with the sauna of course!
Lahti
Day 3
After checking out of our cottage, we're off to Saimaa, the land of Thousands of lakes and the capital of Savo. After lunch, at Heinola we'll visit Lahti city to see ski jumping if the weather and our timetable give flexibility. Driving to Helsinki where we'll have an included dinner. We will overnight at Klaus K Hotel, Helsinki which is a Tom Of Finland-themed hotel
Helsinki
Day 3-5
Rise and shine for the most homoerotic morning of any Explora Finland Adventure…ever! We have a three-hour walking tour devoted to artist Touko Valio Laaksonen, aka Tom of Finland. His work is famously tantalizing and defined by men sporting denim, leather, mustaches, and bulging crotches. Lunch will be served in a Finlandia-themed restaurant. We will overnight in Helsinki at one hotel in the city center. To end this journey in style, our Farewell Dinner will have us feasting at a restaurant.
Helsinki
Day 5
There are no activities planned today, so you are free to explore the city and depart at your leisure. Your local guide Harri will help arrange your included departure transfer to the airport. Safe journey!
Repovesi National Park
Day 5
Koppelonkierros trail treats hikers to views across Tervajärvi Lake, shadowy cliff faces and mature forests. The old-growth forests of Tukkiniemi are also home to the animal from which the trail derives its name: Koppel, or female capercaillie. Services and structures for us: There are several campsites on the trail. An information board, toilets, and a canoe pier can be found close to the Tervajärvi parking area. Toilets, campfire sites, and picnic tables are provided in Lojukoski, Kuutinkanava, and Talas where we can have lunch. Lojukoski and Kuutinkanava also have canoe piers and wells (visit the What's New page to check if the water is fit for drinking).
Trip Summary
5 days trip
Helsinki Airport, Repovesi National Park & 4 more
Transportation
Car, Trekking
Why JoinMyTrip?
Trusted platform used by 150K+ TripMates
Have A Question?
Live Chat with our experts 24x7
Unique Trips hosted by Experienced Travellers
Secure Payments to ensure your money is always safe