Slide 1 of 1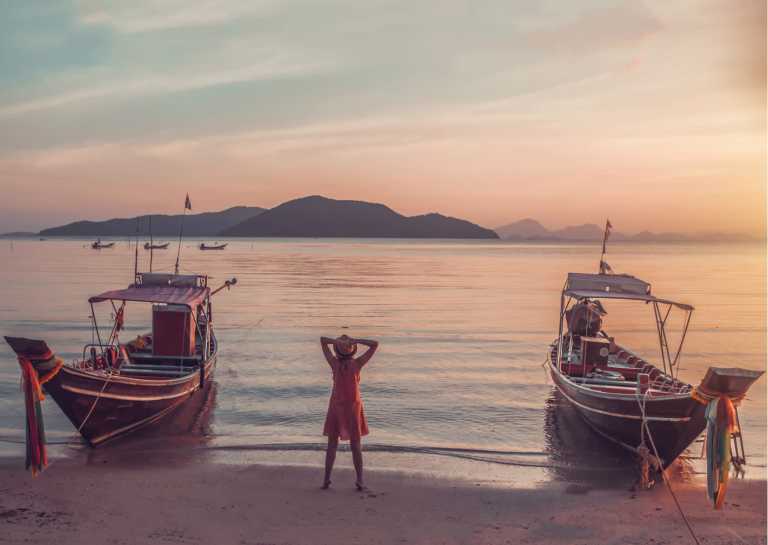 Exquisite Adventure : Koh Samui's Elite Experience in Thailand includes, Full Moon Party, Boat Tours, Jet Skiing, ATV Tour, Boxing and More
Guided trip
7 days
7 stops
2 - 5 Mates
Thailand
What's special?
Luxury Adventure
Full Moon Party
Plenty of exclusive trips
Hop on the Luxury adventure in Koh Samui. Experience the Elites style of holiday on the beautiful holiday island, Koh Samui. Rest in a Hotel located at the Hotspots of Koh Samui. During the day you will join me on the included trips, experiencing a full-day boat tour, Full Moon Party, Jet skiing, ATV through the Jungle, and learning Muay Thai in the world's best Muay Thai gym, Punch it.
About me! 👋🏻 Hello my name is Thomas I'm a young digital nomad from Switzerland. Thanks to my parents I traveled around the world from a young age and fell in love with it. During my previous trips, I've gained a lot of experience and learned how to make the most out of my trips. Join me on my adventure and enjoy the experience. Hope to see you on my next adventure
Details about the accommodation: During our Adventure, we will rest near the hotspots of Koh Samui in a great Hotel. Depending on the size of our group, each of us could have a private room or if not, a shared room. At the Hotel we will have largely enough space for everyone, so you won't come across each other all the time ;) You have the Q&A section on this trip in case you have any questions for me about the accommodation or the trip!
What's included?
Full Moon Party
Full day Boat Trip
Jetskiing
ATV Tour in the joungle
Muay Thai lesson
Airport Transfer
special Health Insurance for Austrians
Accomodation in a Hotel
Your Booking includes free protection from Trip cancellations.
Learn More
Meet Your TripLeader
Phone Verified
Identity Verified
32 Countries
2 Trips Completed
Young Swiss digital Nomad, happy to meet people from all around the world and explore new cultures
based on 1 reviews
Show All Reviews
You can chat with Thomas once you reserve your spot.
Trip Itinerary
Koh Samui
Day 1
21. February | Today is arrival day. Arrive in Koh Samui anytime during the day, so you don't have to worry about getting an expensive flight to arrive at a specific time ;) Airport Transfer is included. Feel free to order a normal grab, to get to our hotel. I will pay you back for the price of the transportation, as its included with your booking.
Koh Samui
Day 1-2
22. February | Today we have a full day tour around the island, so you also get a great overview of the island. Thanks to our experienced guide and the 4x4 we will see everything. The island tour is included with your booking. In the evening we will grab food at a local Street market, where you can experience thai food and enjoy meals you never had before.
Mu Ko Ang Thong National Marine Park
Day 2-3
23. February | We go on a full-day trip to the beautiful Angthong National Marine Park. With a speedboat, we will explore the surroundings and enjoy a tasty buffet on the beach. The full day boat trip is included with your booking. The tour will end at around 16.30
Punch it Gym
Day 3-4
24. February | Today we will have one lesson in the world's best Muay Thai gym Punch it. The Muay Thai lesson is included with your booking. During my previous stay, I joined +20 lessons at the Punch it gym, and I can confidently say that this is surely the most professional Muay Thai gym in the world. We will join the beginners lesson in the evening 6 pm. Even if its not something for you, you can feel free to chill at the punch it cafe, where you can see us training, and learn how this sport is. As this activity is only in the evening, we have plenty of time, to explore the nearby Chaweng beach and relax there before we start sweating. At Chaweng beach, you have many stores and great restaurants. You wont be bored, as you can do so many things, massages, water sports, cafes, markets... Here we also have the chance to go jetskiing, which is included with your booking. 20min, one jetski per person.
Ko Pha-ngan
Day 4-5
25. February | Tonight we will go to the famous Full Moon Party in Ko Pha Ngan. This is a unique party experience which is known worldwide. The speed boat and the access to the party is included with your booking.
Tree Bridge Zipline
Day 5-6
26. February | Today we start the day more relaxed, as many of us will probably sleep a lot from the party before. As we want to remain productive, we will go for an adventurous ATV Tour in the jungle of Koh Samui
Koh Samui
Day 6-7
27. February | Last day of our Luxury adventure. You can get your flight anytime during the day. We will leave the hotel at 12.00. The Airport Transfer is included with your booking, so I will organize the transfer for you. I will take care of the cleanup of the villa. You can feel free to join me for the rest of the day, as I will stay in Koh Samui for one more day.
Trip Summary
7 days trip
Koh Samui, Koh Samui & 5 more
What's excluded?
Flights
Food and Drinks
Why JoinMyTrip?
Trusted platform used by 150K+ TripMates
Have A Question?
Live Chat with our experts 24x7
Unique Trips hosted by Experienced Travellers
Secure Payments to ensure your money is always safe