Slide 1 of 1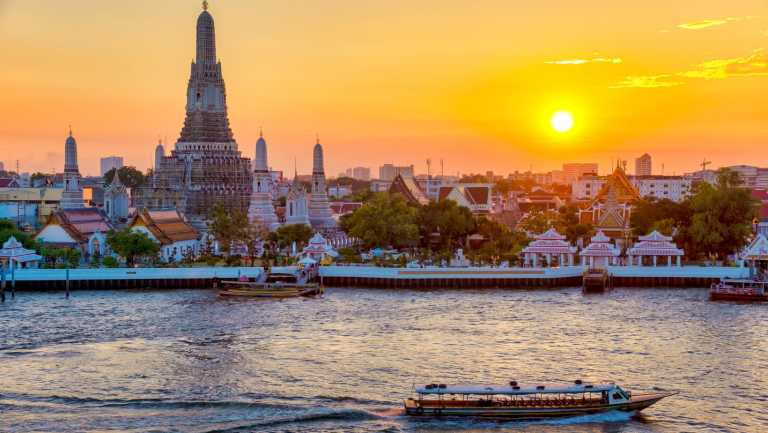 Exploring the Land of Smiles: A journey Through Thailand, Experience the City of Bangkok, Ayutthaya and Pattaya
Guided trip
5 days
5 stops
7 - 10 Mates
Thailand
What's special?
I've included only the best place in TH
Embarking on a journey to various nations, immersing myself in diverse cultures, and marveling at the magnificent handiwork of nature has always been a dream of mine. The opportunity to meet new people, initially as strangers, and eventually form a familial bond is a desire I hold dear. Truth be told, this will be my inaugural exploration of the stunning locales in Thailand. However, I can confidently promise that this adventure will etch an indelible memory in your heart. I've meticulously chosen only the most awe-inspiring spots that are sure to leave you spellbound. This comprehensive itinerary covering Bangkok, Ayutthaya, and Pattaya is guaranteed to satiate your wanderlust. To ensure a smooth journey, we've arranged for a rental car/van for the majority of our trip. Your safety is my utmost priority on this unforgettable journey
About me! Princess at your service, 28 years of age from the Philippines. Civil Engineer by Profession but arrived here for my love to travel. As much as i want my tripmates to be of my same age, but this trip is open to everyone as long as has the energy and desire to explore Thailand. Also, friendliness is a must.
Details about the accommodation: I am planning to book a hotel for our accommodation. Near BTS stations will be a priority for a hassle-free location. Near the markets, mall and other stores. Every room is good for 2-3 people. For those who would like to have solo rooms, there is no problem with that; we'll just need some extra for the additional cost. Let me know in the Q&A section in case you have any questions about the trip!
What's included?
Accommodations and Van rentals (Shared)
Daily breakfast
Guided tour in Bangkok temples
Ojo Bangkok (Tallest Building) inc. fee
Chao Phraya Princess Cruise inc. fee
Ancient City w/ entrance fee
Erawan museum w/ ticket
Guided tour in Ayutthaya temples
Guided tour in Pattaya
Sanctuary if Truth w/ entrance fee
Your Booking includes free protection from Trip cancellations.
Learn More
Meet Your TripLeader
Phone Verified
Identity Verified
1 Countries
There's a whole world out there for us to see, and I can't wait to keep exploring it with you
You can chat with Princess once you reserve your spot.
Trip Itinerary
Bangkok
Day 1-5
On our first day, we'll begin with a warm welcome at the airport, where we'll have the chance to get acquainted with one another. Afterward, we'll take some time to rest and recharge. Our adventure continues with visits to some of Bangkok's most iconic temples, including Wat Pho, Wat Arun, and the Grand Palace, where we'll marvel at the rich cultural heritage. For those seeking a thrill, we'll head to the Mahanakhon Skywalk for breathtaking panoramic views. As the day turns into evening, we'll explore the vibrant city, and you'll have the option to choose between two exciting destinations: Chatuchak Market or Joddsfair, where we'll savor authentic Thai cuisine. Get ready for a day filled with cultural exploration and culinary delights.
Phra Nakhon Si Ayutthaya
Day 5
On our second day, we'll embark on an enriching journey to explore the historical wonders of Ayutthaya. Our itinerary includes visits to some remarkable temples, each with its unique charm, such as Wat Yai Chaimongkol, Wat Mahathat, Wat Rachaburana, Wat Phra Si Sanphet, and Wat Chaiwatthanaram. We'll also have the privilege of exploring the grandeur of the Bang Pa-In Palace, a testament to Thai architectural beauty. Our adventure continues as we delve into the Historical Park and Ancient Ruins, where centuries of history come to life. To make our exploration more convenient and enjoyable, we'll have the option to rent bicycles, scooters, or tuk-tuks, allowing us to navigate the area with ease. Get ready to immerse yourself in the rich cultural heritage and architectural splendor of Ayutthaya, a day filled with captivating discoveries and memorable experiences.
Bangkok
Day 5
On our third day, we'll embark on a captivating journey to the Ancient City, where history comes alive before our eyes. With entrance tickets in hand, we'll explore this remarkable site, immersing ourselves in its rich heritage and cultural significance. In the evening, we'll indulge in a memorable dining experience aboard the Chao Phraya Princess Cruise, which also includes your ticket. As we cruise along the iconic Chao Phraya River, we'll be treated to stunning views of Bangkok's illuminated skyline, making for a magical dining backdrop. Day 3 promises to be a blend of historical exploration and a delightful culinary journey on the tranquil waters of the Chao Phraya River.
Bangkok
Day 5
On our fourth day, you'll have the flexibility to enjoy a free day, allowing you to explore Bangkok at your own pace and leisure. For those seeking additional adventure, there's the option to embark on an exciting tour to the floating markets, where you can immerse yourself in the vibrant local culture and savor delicious Thai street food. This free day also provides the perfect opportunity to shop for "pasalubong" or souvenirs, bringing a piece of Thailand's charm back home with you. If you're looking for recommendations or ideas on how to spend your free day, I'll be more than happy to suggest various places and activities that match your interests. Day 4 is all about personal exploration and making the most of your time in this captivating city.
Pattaya City
Day 5
On our fifth day, get ready for an exciting Pattaya tour packed with incredible attractions. Our itinerary includes: The Sanctuary of Truth: We'll begin our day with a visit to the awe-inspiring Sanctuary of Truth, where the entrance fee is included. This magnificent wooden temple is a true masterpiece of art and architecture, offering profound cultural insights. Nongnooch Pattaya: Next, we'll explore the renowned Nongnooch Pattaya, ranked among the top 10 most beautiful gardens in the world. This garden paradise is a feast for the senses, featuring lush greenery, vibrant blooms, and cultural shows. Pattaya City: Our journey continues in Pattaya City, where we'll have the chance to soak in the local atmosphere, explore vibrant markets, and savor delicious Thai cuisine at Pattaya's restaurants, all while enjoying the scenic beauty of the beach. Buddha Mountain: A visit to the iconic Buddha Mountain is on our agenda, where we'll witness the grandeur of the colossal Buddha image etched into the golden cliffside. Pattaya Beach and Cafe: Finally, we'll unwind at Pattaya Beach, where you can relax, take in the coastal views, and enjoy some downtime at the local cafes. Day 5 promises a diverse and captivating Pattaya experience, filled with cultural discoveries, natural beauty, and delightful culinary encounters.
Trip Summary
Accommodation
Hotel & Other
5 days trip
Bangkok, Phra Nakhon Si Ayutthaya & 3 more
What's excluded?
Flight tickets
Lunch and dinner
Entrance fees not mentioned above
Why JoinMyTrip?
Trusted platform used by 150K+ TripMates
Have A Question?
Live Chat with our experts 24x7
Unique Trips hosted by Experienced Travellers
Secure Payments to ensure your money is always safe