Slide 1 of 1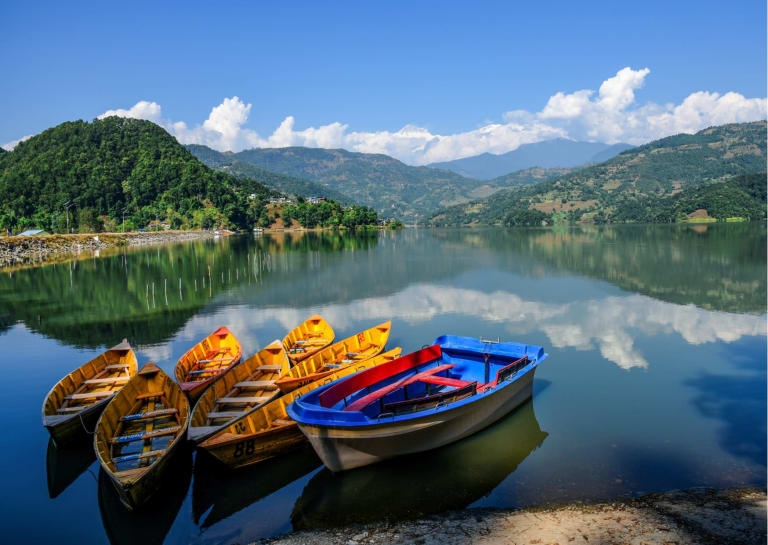 Explore the Best of Nepal: Kathmandu, Pokhara, Chitwan, Lumbini, and Janakpur Trip
7 Days30 Days!
Extra Cancellation Days
only for the first TripMate
Guided trip
9 days
8 stops
1 - 14 Mates
Nepal
What's special?
Rich cultural heritage & ancient temple
Serene lakes and stunning mountain view
Wildlife safari, Visit birthplace Buddha
Hello and welcome to Nepal! WHY YOU SHOULD VISIT NEPAL? The Kathmandu, Pokhara, Chitwan, Lumbini, and Janakpur Tour is a comprehensive journey through some of the most significant and diverse destinations in Nepal. Starting in Kathmandu, the tour explores the rich cultural heritage, ancient temples, and bustling markets. In Pokhara, visitors can enjoy the serene lakes, stunning mountain views, and adventurous activities. Chitwan offers an opportunity to experience wildlife in the renowned national park. Lumbini is the birthplace of Lord Buddha, featuring sacred sites and peaceful monasteries. Janakpur is known for its religious and historical significance, with revered temples and traditional architecture. This tour provides a remarkable blend of nature, spirituality, and cultural exploration in Nepal.
Short introduction about myself! My name is Ashim Kumar Lamsal I am an excellent city tour guide known for his honesty, helpfulness, friendliness, and cool demeanor. I provide accurate information, goes the extra mile to assist tourists, create a welcoming atmosphere, and remains composed in all situations. Visitors can trust him for an enjoyable and memorable city tour experience.
Details about the accommodation: Hotels offer various types of rooms or suites to cater to different needs and preferences. These rooms are equipped with comfortable beds, furniture, and amenities such as TV, Wi-Fi, and a private bathroom. The quality and offerings of hotels vary based on their star rating and target market, but their primary objective is to provide a welcoming environment and excellent service to guests, making their stay memorable and satisfying. If you have any questions we always have a video call and make sure this trip covers your expectations or you can always ask in the Q&A section on this trip!
What's included?
English-speaking guide during sightseein
Sightseeing tours
Accommodation (Private room)
Pickup drop & sightseeing by AC vehicle
Jungle Safari, Tharu culture, Canoeing
Your Booking includes free protection from Trip cancellations.
Learn More
Meet Your TripLeader
Phone Verified
Identity Verified
11 Countries
4 Trips Completed
My name is Ashim Lamsel, born in 1998 and residing in Kathmandu, and he has established a reputation as a knowledgeable and skilled guide.
You can chat with Ashim once you reserve your spot.
Trip Itinerary
You will meet Ashim and the group in Kathmandu
Find the best flight details to and from Kathmandu ->
Kathmandu
Day 1-3
Embark on a captivating Kathmandu trip and delve into the cultural, historical, and spiritual treasures of Nepal's vibrant capital. Explore ancient temples, UNESCO World Heritage Sites, and bustling markets. Immerse yourself in the rich traditions, witness vibrant rituals, and savor the flavors of Nepali cuisine. From the iconic Pashupatinath Temple to the enchanting Swayambhunath Stupa, Kathmandu offers a captivating blend of heritage, spirituality, and a vibrant cityscape, leaving you with lasting memories of this cultural hub. Day 1: Arrival in Kathmandu - Welcome at the airport and transfer to your hotel - Rest and free time to explore Kathmandu Day 2: Kathmandu Sightseeing - Visit Pashupatinath Temple, one of the holiest Hindu temples dedicated to Lord Shiva - Explore other UNESCO World Heritage Sites in Kathmandu, such as Boudhanath Stupa and Swayambhunath Temple - Overnight stay in Kathmandu Day 3: Chandragiri Hill - Take a cable car ride to Chandragiri Hill, offering panoramic views of the Himalayas and the - Kathmandu Valley - Visit the Bhaleshwor Mahadev Temple and enjoy the serene environment - Return to Kathmandu for an overnight stay
Janakpur
Day 3-4
Janakpur is a historical and religious city located in the Terai region of Nepal. It holds immense significance in Hindu mythology as the birthplace of Goddess Sita and the sacred marriage site of Lord Ram and Sita. Janakpur is home to the revered Janaki Mandir, a beautiful temple dedicated to Goddess Sita, attracting devotees from all over. The city is known for its rich cultural heritage, traditional Maithili art and architecture, and vibrant religious festivals. Visitors can immerse themselves in the spiritual atmosphere, witness colorful ceremonies, and explore the historical sites and temples that showcase the deep-rooted Hindu traditions and beliefs in Janakpur.
Chitwan National Park
Day 4-5
Chitwan is a renowned national park and UNESCO World Heritage Site located in the southern region of Nepal. It is known for its rich biodiversity and incredible wildlife experiences. The Chitwan National Park is home to various rare and endangered species, including the Bengal tiger, one-horned rhinoceros, Asian elephant, and numerous bird species. Visitors can enjoy thrilling jungle safaris, elephant rides, bird watching, and canoeing along the scenic Rapti River. The park's lush forests, grasslands, and wetlands provide a captivating backdrop for exploring nature and encountering diverse wildlife, making Chitwan a must-visit destination for nature enthusiasts and adventure seekers.
Birthplace of Gautama Buddha
Day 5-6
Embark on a serene Lumbini Tour and discover the birthplace of Lord Buddha, a sacred pilgrimage site in Nepal. Explore the tranquil gardens, monasteries, and ancient ruins that surround the revered Maya Devi Temple. Absorb the spiritual ambiance as you visit the Ashoka Pillar and the sacred Bodhi Tree. Immerse yourself in the teachings of Buddhism and witness devotees from around the world paying their respects. Lumbini offers a peaceful retreat for reflection, meditation, and an opportunity to connect with the life and teachings of Buddha, leaving you with a profound sense of spirituality and tranquility.
Pokhara
Day 6-7
Pokhara is a picturesque city nestled in the lap of the Annapurna mountain range in Nepal. Known as the "City of Lakes," Pokhara is renowned for its tranquil lakes, including the famous Phewa Lake, surrounded by lush hills and breathtaking views of the Himalayas. The city offers a perfect blend of natural beauty and adventure. Visitors can indulge in activities like boating on the lake, paragliding to witness the stunning aerial views, and trekking through the nearby Annapurna region. Pokhara also serves as a gateway to popular trekking trails such as the Annapurna Circuit and the Poon Hill Trek. With its serene ambiance, majestic mountains, and thrilling activities, Pokhara captivates the hearts of nature lovers and adventure enthusiasts alike.
Sarangkot
Day 7-8
Sarangkot is a scenic hilltop located near Pokhara in Nepal. It is famous for offering mesmerizing panoramic views of the Annapurna mountain range, including the majestic peaks of Machhapuchhre (Fishtail) and Dhaulagiri. The sunrise and sunset vistas from Sarangkot are particularly breathtaking, attracting photographers, nature lovers, and adventure enthusiasts. Besides the stunning views, Sarangkot is also a popular destination for paragliding, providing an exhilarating experience as you soar above the mountains and take in the beauty of the surrounding landscape. With its natural beauty and thrilling activities, Sarangkot offers a memorable and enchanting escape for visitors to Nepal.
Manakamana Temple
Day 8
Manakamana is a famous pilgrimage site located in the Gorkha district of Nepal. It is revered as the sacred abode of the Hindu goddess Bhagwati, and devotees flock to this hilltop shrine to seek blessings and fulfillment of their wishes. The journey to Manakamana is an adventure in itself, as visitors can take a cable car ride that offers stunning panoramic views of the surrounding hills and valleys. The serene atmosphere, beautiful landscapes, and religious significance make Manakamana a popular destination for both spiritual seekers and nature lovers.
Kathmandu
Day 8-9
Kathmandu, the capital city of Nepal, is a vibrant blend of ancient traditions and modern developments. It is renowned for its rich cultural heritage, historic temples, bustling markets, and colorful festivals. The city is a melting pot of diverse cultures, offering a unique experience with its UNESCO World Heritage Sites, vibrant street life, and a gateway to explore the natural beauty of the Himalayas.
Trip Summary
9 days trip
Kathmandu, Janakpur & 6 more
Have A Question?
Ask the TripLeader questions about the Trip by clicking on the button below. Your question and the response will be visible on this page once it's answered.
What's excluded?
Visa fees
Travel insurance
Manakamana cable car tickets
Entrance fees of monuments
Why JoinMyTrip?
Trusted platform used by 150K+ TripMates
Have A Question?
Live Chat with our experts 24x7
Unique Trips hosted by Experienced Travellers
Secure Payments to ensure your money is always safe
Looking for more trips?
Here's some similar trips that you might be interested in.