Slide 1 of 1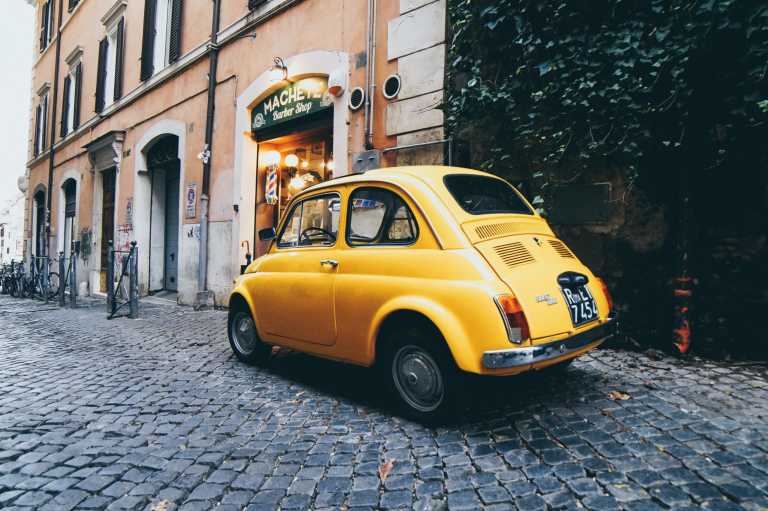 Explore small cities in Italy - Lanciano & Chieti and explore Rome & Pescara
7 Days30 Days!
Extra Cancellation Days
only for the first TripMate
Guided trip
4 days
4 stops
2 - 6 Mates
Italy
On this trip, we will travel through the heart of the Ancient Roman Empire by visiting the 4 most interesting spots in Italy. From Rome to Pescara, with a day tour visit to the little cities of Lanciano and Chieti. This is a joint group tour ideal for solo travelers and families traveling together. Our group tour must meet a minimum of 2 TripMates to take place. We will be beginning our adventure from Rome, which is your arrival point. The next day we will head to Pescara all the way to Lanciano and Chieti, then back to Rome. If you prefer to go directly to our hotel accommodation on day 1 on your own, that would be perfect, just please let me know if that is not the case, and you'll be needing my assistance. Also, if you have other plans after the end of our itinerary on day 4, and you will be staying for longer, just let me know. :) Rome Highlights: Piazza Navona, Trevi Fountain, The Spanish Steps, The Pantheon. If time permitted, we will also see the Vatican City and Colosseum. For these stops, we will be viewing and picture taking only, this means that we do not need the entrance ticket. Rome today is one of the most important tourist destinations in the world, due to the incalculable immensity of its archaeological and art treasures, as well as for the charm of its unique traditions, the beauty of its panoramic views. Pescara Highlights: This small, charming city, with open markets and local festivals in the nearby area, is ideal for day trips. While in the evenings, the beach pizzeria bar/cafés and the old town of Pescara Porto transform themselves into vibrant night spots. Lanciano Highlights: The Eucharistic Miracle of Lanciano is the oldest Eucharistic Miracle recognized by the Catholic Church, having been given, according to tradition, around the year 700. Since 1809, the miracle has been protected by the Brotherhood of the Holy Rosary, which has its place in the side chapel of the St. Francis church. Since then, the Franciscan friars began their patient work to publicize the extraordinary marvel preserved on the walls of the city of Lanciano throughout the world. The facade is rectangular with square stones. The belfry is 31 meters high and is the oldest in the city. The interior has a single nave with two side altars and beautiful canvases along the walls. Chieti Highlights: One of the oldest cities in Italy, with so much of its historical origins confused with mythology. Chieti is a center of considerable artistic and cultural importance. It is in a panoramic position between the Majella mountains and the Adriatic. It was the capital of the Italic population of Marrucini. Later, it was a Roman city with the name of Theate, whose signs, such as the Roman Theatre (second half of the second century AD.), the complex of Roman Temple (remains of sacred buildings), the cistern of the ancient Baths, are still visible in the city. 💰 Package Tour Inclusions: 🏠 3-star nice hotel accommodation with 1 night in Rome and 2 nights in Pescara 🏠 Double / Twin room sharing with daily breakfast Single supplements apply. Please let me know if you prefer a single room. 🚌 Tickets for Public Train & Bus in regular/economy class for the indicated itinerary. 😎 24/7 costumer support of JMT 🎟 City Tourist Tax / Hotel Tax 🔒 Allianz travel insurance for residence in Germany and Austria ❌ What is NOT included in this Package Tour: Meals: Snacks, Drinks, Lunch & Dinner are not included Tickets: If you wish to enter somewhere, the tickets are not included. But you can take photos and enjoy the monuments, mostly from outside Insurance: Travel insurance is not included if you are not a resident of Germany and Austria Others: All that is not indicated in the Package Inclusions section You are making the right choice to go on this trip. When you travel, you deserve to have a relaxing journey and create a lifetime of joyful memories. Hit the "Reserve" button to block your spot now. See You Soon! Cheers - Ester :)
Your Booking includes free protection from Trip cancellations.
Learn More
Meet Your TripLeader
Phone Verified
Identity Verified
21 Countries
5 Trips Completed
Former Travel And Tour Operations Manager | EU Senior Travel Designer | EU Freelance Tour Director
You can chat with Ester once you reserve your spot.
Trip Itinerary
Rome
Day 1-2
Day 01 - Hotel Stay in Rome (1 night) Getting to know each other, Meet and Greet: I will be patiently waiting for you at the arrival area in Rome–Fiumicino International Airport "Leonardo da Vinci", this is the international airport in Fiumicino, Italy, serving Rome. I would recommend having your arrival time before 11 am so that we will have enough time to do our walking tour in the City of Rome. I am sure you do not want to miss the most interesting spots like the Piazza Navona, The Trevi Fountain, Pantheon and Spanish Steps which I will be leading you here to make sure that you do not miss these 4 stops, then you can go on your own. This will be a self-guided walking tour for about 2 to 3 hours.
Pescara
Day 2-4
Day 02 - Hotel Stay in Pescara (2 nights) We will head to Pescara after breakfast. It will take 3 hours by public bus if without traffic. We will go directly to the hotel to drop our things, then proceed to walking around and exploring the City of Pescara. This will be a self-guided walking tour for about 2 to 3 hours.
Via Lanciano & Via Chieti
Day 4
Day 03 - Hotel Stay in Pescara We will head to Lanciano after breakfast. It will take 1 hour by public bus or train. Upon arrival in Lanciano, I will lead the walking around to explore this very beautiful little town. In the afternoon, we will take the bus going to the City of Chieti, it will take about 30 minutes travel. You can have your lunch here (your own account) with a super nice breathtaking panoramic view. To save time and not miss the important spots of this place, I will be leading the walk, and then you will have some time on your own to take your photographs. We will travel back to Pescara between 5 to 6pm by public bus or train. Travel time is about 1 hour.
Rome
Day 4
Day 04 - Departure Day Everything has its ending: After breakfast, we can spend some time for a recap of our trip. Sharing knowledge is the key to unlocking that power. It is a charity of knowledge that constitutes the ways of a beautiful life. At 10 am, we will check out and head to Rome airport. Travel time by public bus is about 3 to 4 hours.
Trip Summary
Accommodation
Hotel & Bed & Breakfast & Apartments
4 days trip
Rome, Pescara & 2 more
Why JoinMyTrip?
Trusted platform used by 150K+ TripMates
Have A Question?
Live Chat with our experts 24x7
Unique Trips hosted by Experienced Travellers
Secure Payments to ensure your money is always safe