Slide 1 of 1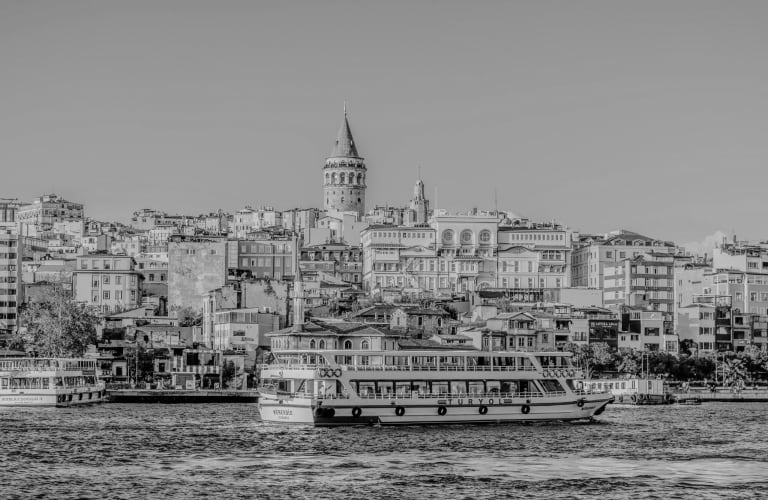 Explore Istanbul with a local guide - 3 days full of sightseeing, culture and traditional dishes!
Guided trip
3 days
11 stops
2 - 4 Mates
Turkey
Hi, It's nice to see you here! My name is Zeynep, and I'm 20 years old. I'm student in Istanbul. I study French Translation and Interpreting. Travelling is my passion, that's why I go out to explore the city every day since I came here. Istanbul is the city where you can always find something for you! From historical places to nature. From delicious food to fun activities. Thanks to me and my trip, You will enjoy this beauty as much as you can. I want to inform you that except for some exceptions and Bosphorus tour, mostly we will walk because I believe that the best way to see culture and the city is walking. It might be a little bit tiring but trust me, it will totally be worth it! We can't ignore the power of memories, so I want to give you some special moments. So let's take some photos during the trip for you and your Instagram feed 😊 This trip includes: - Accommodation (hostel) - Bosphorus tour - Photoshoot with professional camera during the trip We will stay at a nice hostel close to Taksim Square. Accommodation is going to be in shared rooms, but private rooms are optional. Any doubt? Check the Q&A and I will go back to you as soon as possible! Looking forward to meeting you in Turkey!
This ship has sailed!
Unfortunately this trip has commenced or been completed already. But don't worry! We have a lot more similar trips that you could check out.
Your Booking includes free protection from Trip cancellations.
Learn More
Meet Your TripLeader
Phone Verified
Identity Verified
2 Countries
3 Trips Completed
Istanbul/Turkiye
based on 2 reviews
I cannot express enough gratitude for the incredible experience our tour guide Zeynep provided. Her expertise, warmth, and meticulous attention to detail transformed our visit to Istanbul into an unforgettable journey. I wholeheartedly recommend her services to anyone seeking an enriching and immersive exploration of this magnificent city. Istanbul is undoubtedly a treasure trove of history and culture, and with such an exceptional guide, the experience becomes truly magical. I must also applaud her flexibility and adaptability. She seamlessly adjusted the itinerary based on our preferences and interests, tailoring the tour to suit our group's dynamics. Her ability to read the room and gauge our energy levels ensured that we had a comfortable and enjoyable exploration, without feeling rushed or overwhelmed. What impressed me the most about Zeynep was her ability to strike the perfect balance between professionalism and friendliness. She was attentive to our group's needs, ensuring that everyone was comfortable and engaged throughout the tour. Her warm and approachable nature fostered an atmosphere of camaraderie, making us feel like a close-knit group of friends discovering Istanbul together. Zeynep's expertise, knowledge but also genuine passion, and enthusiasm for her country truly elevated the visit.
Show All Reviews
You can chat with Zeynep once you reserve your spot.
Trip Itinerary
Taksim Square
Day 1
In the beginning of our tour, we are going to meet in Taksim Square which. I wanted to reserve this day to meet, known to each other and explore places close to the hostel. We will walk along Istiklal Avenue, which is one of the famous street in Turkey.
İstiklal Caddesi
Day 1
Along the street, there are many spots we can visit. Some historical apartments, passages and churches. We're going to visit all of them, and I'll inform you about these. Then we will move to our next stop. I'm sure you've heard that before.
Galata Tower
Day 1
My favourite spot is Galata Tower in the city. I believe that it's more beautiful at night because we can see all the city lights. We will climb top of the tower and enjoy the view of Istanbul. After that, we're going out for dinner. Later we will go to hostel and rest to gather energy for the next day.
Topkapi Palace Museum
Day 1-2
We're going to start the day early in the morning with famous Turkish breakfast, and then we will arrive to our first destination: Topkapı Palace. We will have the chance to see where the days passed in the Ottoman period.
Istanbul Archaeological Museums
Day 2
Our second destination is Istanbul Archeology Museum. It's just a few minute walks from Topkapı Palace. We will see prehistoric archaeological remains thanks to this museum. After that, we are going to Gülhane Park to rest and take some fresh air.
Gülhane Park
Day 2
I want to break our historical tour here. We can talk about our tour or different topics. This park is so beautiful and colorful in summer. After spending some time here, we need to have lunch, of course. This need takes us to the most famous restaurant in the area. We're going to try "köfte" (meatball) there, so we can take the energy that we need.
Basilica Cistern
Day 2
Let's continue our culture tour! One of the most impressive spots. The renovation of the Basilica Cistern has just been completed. I am sure that you will in live with this place. Slowly, we are getting closer to the end of the day.
Hagia Sophia
Day 2
Our last stop for today is Hagia Sophia and Blue Mosque. They are in the same square called "Sultanahmet Square" Before seeing them, you can't say that I visited Istanbul. After visiting all of these places, finally we are ready to go back to our hostel.
Dolmabahçe Palace
Day 2-3
The last day of the tour starts wit Dolmabahçe Palace. This palace, which hosted the Ottoman Sultans and Atatürk; has an amazing view overlooking the Bosphorus. The architecture of this building will make you amazed. Next to this palace, we will also visit art museum where we can see the pictures and paintings from Ottoman Empire time.
Grand Mecidiye Mosque (Ortaköy Mosque)
Day 3
We will walk to Ortaköy Mosque, which is located next to Bosphorus. Along the way, we're going to see beautiful views. And this place is famous with its "kumpir" We're going to take it. I know that you will love it.
Kadıköy
Day 3
Our last hours will end in the Asian side of the city. We can find the best places to shopping and also in Moda coast, we will watch the sunset. It's amazing view. Depends on the time, we can spend some time together in a café or bar. Later we will go to our hostel and our tour will finish with many beautiful memories.
Trip Summary
3 days trip
Taksim Square, İstiklal Caddesi & 9 more
Transportation
Trekking, Train, Boat
Have A Question?
Ask the TripLeader questions about the Trip by clicking on the button below. Your question and the response will be visible on this page once it's answered.
Why JoinMyTrip?
Trusted platform used by 150K+ TripMates
Have A Question?
Live Chat with our experts 24x7
Unique Trips hosted by Experienced Travellers
Secure Payments to ensure your money is always safe