Slide 1 of 1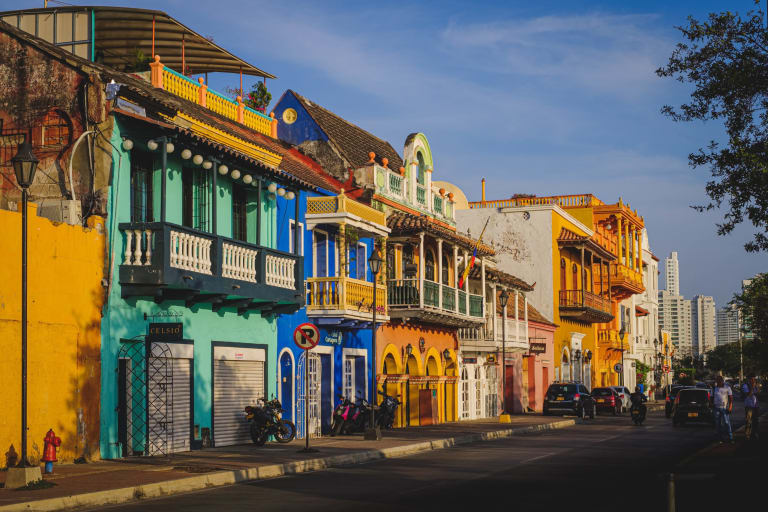 Explore Colombia! Roundtrip through Colombia and the most famous citys
7 Days30 Days!
Extra Cancellation Days
only for the first TripMate
Guided trip
14 days
6 stops
3 - 8 Mates
Colombia
👋 Hi yall! Im marie im from venezuela half colombian tho, currently living in vienna austria. Im 29 yearls old, an aries a free spirit, im a social butterfly and love meeting new people very open minded and easy going. Have you been to South America? No ? come with me to Colombia! Colombia. Now one of the hottest up-and-coming destinations, it was a country once considered too dangerous for the average traveler. Despite its troubled past, Colombia has emerged over the last few years as one of South America's gems and a favorite among travelers. Being a tourist in Colombia can be hard if you are traveling alone, but with a native Spanish speaker will be easy and fun. I have planned an amazing itinerary around the country we will be visiting 5 cities and some small towns around the city, starting at: -Bogota -Medellin -Cali -Cartagena -Santa Marta To summarize what is included in the price: 🛏️ Accommodation ✈️ Flights inside Colombia to other cities Colombia has become the most touristic country in South America in the last few years due to that now is safe to travel there. We will be doing a lot of sightseeing, and taking food tours, but we will also some of the most beautiful beaches in the country, such as Santa Marta. 💰​ What you are paying for and what's included ? - hotels stay in every city, some rooms are shared and some not, you can have your own room for another price. - a small organizational fee If you're interested, send me a message 📬 so we can have a quick chat and discuss in more detail!!
Your Booking includes free protection from Trip cancellations.
Learn More
Meet Your TripLeader
Phone Verified
Identity Verified
25 Countries
6 Trips Completed
Freelancer, professional dancer, dogmom, into pottery, cooking, and painting.
based on 8 reviews
Marie was super friendly and made the trip very enjoyable. The trip was a foodie trip and as promised she took us to amazing places to eat. The trip was flexible despite some disruptions in plans and itinerary. All in all, great trip.
Show All Reviews
You can chat with Marie once you reserve your spot.
Trip Itinerary
You will meet Marie and the group in Bogotá
Find the best flight details to and from Bogotá ->
Bogotá
Day 1-3
Once we arrived in the Capital of colombia Bogota we will be staying around 2-3 days here. We will meet at the hotel to leave our things and go around the city right after. top things to do in Bogota include visiting the Gold Museum, climbing or taking the cable car to Mount Monserrat for amazing views of the city, and taking a food tour, bike tour, or graffiti tour.
Cali
Day 3-5
Once we arrived In Cali we will go right to the hotel and leave our stuff. In cali we will be doing local things: We are gonna dance salsa and eat colombian food! also we will be doing some sigh-seeing Cali is the birthplace of salsa, so while you're here it's pretty much mandatory that you either learn to dance or go out and wing it. You'll hear the upbeat music all over the city
Medellín Colombia
Day 5-8
Also known as the city of eternal spring, what a beautiful city Medellin is. It sits in the lush green mountains with incredible views all around. We will do a sighseeig around the city and do a food tasting around as colombian food is super tasty! From bogota we will move to medellin and stay here 2 days, this city has become super famous since the series narcos on netflix came out and this was pablo escobar home.
Cartagena
Day 8-10
has historical center and oldest part of Cartagena, the Centro, is also is the most touristy. But here we will find the most restaurants, upscale hotels, and high end shops. The big beautiful colonial churches grace the neighborhood with their dominating presence and you'll hear the click of horses' hooves pulling carriages around the walled city. It truly is beautiful and very safe to walk around at all times. The old city will feel the most traditional.
Santa Marta
Day 10-14
our Last stop will be santa marta we will be only staying here one night and do a small sightseeing cause then we will head for a small brake in the nature in a place called casa vieja. Welcome to Casas Viejas, the home of travelers and nature lovers in the Sierra Nevada de Santa Marta. Located at the heart of a 500-hectares coffee farm, 1 hour from Santa Marta and 30 minutes from Minca, in our hostel you will feel at home in the middle of the luxuriant mountains of the Colombian Caribbean. Here we will find a cozy and friendly atmosphere, comfortable accommodation, quality food and drinks, and outdoor activities that will make you live an authentic connection with an inspiring natural environment. we will be spend 3 nights in this hotel sumerge in nature.
Bogotá
Day 14
And here our trip ends after having a small brake in nature, we will flight back to bogota airport and from there take our flight back home. (If theres a city or small town around the places we will be visiting that you wanna add to the sighseeing please just dm me : )))
Trip Summary
Accommodation
Hostel & Other
14 days trip
Bogotá, Cali & 4 more
This seems like the perfect trip. I've been wanting to visit Colombia for a while now and love your ...
Read More
Hi there the trip is in 19 july❤️
Hello Maria, Your trip sounds awesome. However, I heard that Colombia is a great place for hiking. ...
Read More
Hey we will stay also at the mountains and there you can hike ❤️
Hi Marie, I am very interested in your trip. When / how can we exchange about it, I have some questi...
Read More
Hi Ronny thanks for writing, you can ask here all the questions that you have so other tripmates can see as well 😘
Why JoinMyTrip?
Trusted platform used by 150K+ TripMates
Have A Question?
Live Chat with our experts 24x7
Unique Trips hosted by Experienced Travellers
Secure Payments to ensure your money is always safe
Looking for more trips?
Here's some similar trips that you might be interested in.