Slide 1 of 1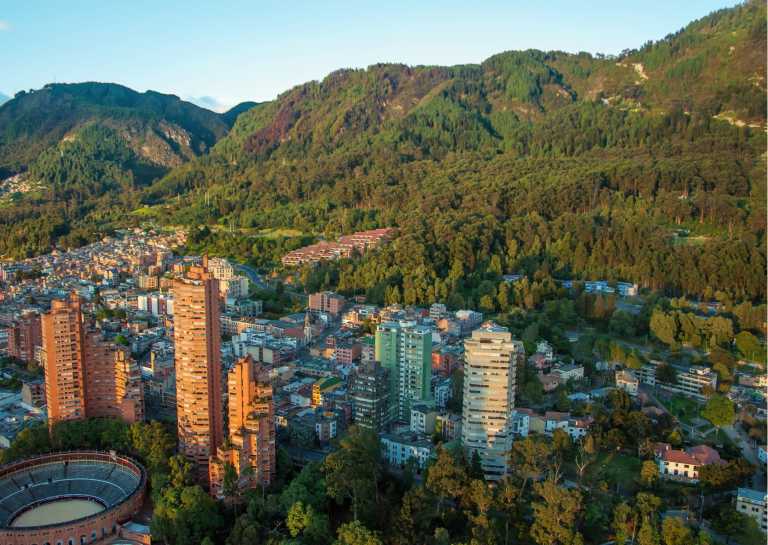 Explore Colombia: Bogotá, the Caribbean coast and Medellín, and savour the Colombian culture and experiences
Guided trip
14 days
7 stops
2 - 7 Mates
Colombia
What's special?
Local guides
Multicultural trip
Ready to explore some of the most iconic places of Colombia on a budget trip? Starting at the Andina region and ending up at the Caribbean sea. We will be visiting 5 regions of Colombia. We will be arriving to Bogotá, the capital of Colombia, there we will go for a city tour, visit Monserrate, different museums, art galleries and walk around La Candelaria neighborhood and the historical center, La plaza de Bolivar, El teatro Colón, among others; in the evening we will go to La Macarena to savour the local food and enjoy the night life. The next day we can go for a city tour, visit the Botanical garden, the Simón Bolivar park, the stadium and finally end up at la zona Rosa for a night party. For our following adventure we will departure to La Calera and Guatavita where we will be staying camping for one night. Guatavita is one of the most touristic destinations in Cundinamarca. This municipality tends to make all its visitors fall in love with its architectural beauty and its history, since the legend of El Dorado was born in this place. After visiting Guatavita we will visit Villa de Leyva, one of the most beautiful municipalities, settled in the department of Boyacá. Villa de Leyva conserves in its architecture the most authentic samples of the colonial past. Very famous for its historical importance and its magnificent square, which earned it recognition as a National Monument in 1954. The Plaza Mayor of Villa de Leyva is the largest in Colombia and one of the most impressive in South America with its 14,000 square meters. In addition to its architecture, Villa de Leyva is characterized by its varied rural landscapes, which range from the moorland to the desert. Due to its great offer, Villa de Leyva is ideal to meet history, science, art, culture and nature; there are many different activities to do, we will stay there for two days. After visiting Villa de Leyva we will return to Bogotá and take a plane to Medellín, our third stop, there we will delight the culture, the city life, the parks, musseums, pueblito paisa and multiple attractions. 75 kilometers away from Medellín in the eastern part of the Department, is Guatapé, a village with adorned streets and houses painted in multiple colors and plinths in high relief with which the houses are adorned. Guatapé can be explored on foot for a space of two or three hours. The proximity to the reservoir gives visitors the chance to practice water sports, while the forest vegetation that surrounds the municipality allows activities such as hiking, mountain biking and horseback riding to be very popular. Our next stop is Cartagena, a colonial city settled at the north coast in the Caribbean sea. We will take a plane to go to Cartagena, there we will walk around the ciudad amurallada and Getsemaní, go to Castillo de San Felipe, Torre del reloj, Convento de la Popa, and finally enjoy the night life at the many restaurants and bars there. On the next day we can have a nice boat trip to Islas del Rosario and hope at the beach. Continuing with our trip we will departure to La Guajira across ruta del sol, enjoying a road trip through all the north coast passing by Barranquilla and Santa Marta. The second stop after Cartagena is Minca, a small village located on the Sierra Nevada de Santa Marta, the highest coastal mountain in the world. with waterfalls, rivers, wells, long walks, natural viewpoints and bird watching, 15 kilometers distance from the historic center of Santa Marta. At Minca, we may go hiking, visiting the Marinka waterfalls, the blue wells, and go for a coffee and cocoa tour. After enyoing Minca we will departure to Palomino, a municipality located to the south of the Sierra Nevada de Santa Marta, in La Guajira department, it offers unique landscapes that combines the mountains with the Caribbean Sea; here we can walk along the beaches, navigate through the rivers, hiking and do some river tubing.
About me! I am Catalina from Colombia, I am 39 years old, I live with my husband and my little boy; I am a physician and I work as a doctor, I am also specializing in alternative medicine. I learned English when I was a child and I love to travel; back in 2012, I had the opportunity to live and work abroad and to know most of the cultures. Afterward I've been traveling every time I have the chance.
Details about the accommodation: We will stay at 3-4 stars hotels with private bathrooms, for some destinations we will stay at Cabins, all with free WIFI, and breakfast included. Single or shared rooms. clean, private and comfy; pool and beach access in hot weather and access to transportation. Friendly environment and staff. Do you have a question? Let me know in the Q&A section on this trip!
What's included?
Accommodation
Transportation from and to the airport
Transportation during all the trip
Entrance to the listed tours
Guides
Breakfast and lunch
Photographs and video trip
Your Booking includes free protection from Trip cancellations.
Learn More
Meet Your TripLeader
Phone Verified
Identity Verified
18 Countries
3 Trips Completed
Hey! I am Catalina, and you can call me Kta, am a natural traveler and nature lover, in love with life and the universe ☀
based on 1 reviews
Show All Reviews
You can chat with Catalina once you reserve your spot.
Trip Itinerary
Bogotá
Day 1-3
The capital of Colombia. Diverse and multicultural. It has multiple parks, squares, theaters, cinemas, clubs, malls, restaurants, galleries, a central stadium and much more to visit and to do; it is located around the eastern mountain range at 2600mts above sea level and a unique landscape thanks to the Andes mountain range.
Guatavita
Day 3-4
Guatavita is one of the most touristic destinations in Cundinamarca. This municipality tends to make all its visitors fall in love with its architectural beauty and its history, since the legend of El Dorado was born in this place.
Villa de Leyva
Day 4-5
Listed as one of the most beautiful towns in Colombia, Villa de Leyva seems to have stopped in time, preserving its colonial architecture but with the care and respect that keep it beautiful after so many years.
Medellin
Day 5-7
The "City of Eternal Spring", in addition to being characterized by its pleasant and sunny climate, has one of the best offers of specialized destinations for LGBT tourism in Colombia. The sand park, the zen garden, the bamboo forest and the water fountains are some of the most visited spaces in the Parque de los Pies Descalzos, a public place where it is possible to walk along some paths without the need to wear shoes.
Cartagena
Day 7-10
Cartagena de Indias is one of the major ports on the northern coast of Colombia , bordering the Caribbean sea. Cartagena has many turistic areas, like the downtown, which has varied architecture, mainly a colonial style, but republican and Italian style buildings, such as the cathedral's bell tower, can be seen.
Minca
Day 10-12
Minca is a corregimiento in the district of Santa Marta, in the department of Magdalena, in northern Colombia. It is located in the foothills of the Sierra Nevada de Santa Marta, about 15 km from the city center. Minca is the ecological capital of the Sierra Nevada de Santa Marta. Among its attractions are the river, the waterfalls of Marinka, Pozo Azul and Las Piedras, among others. You can also highlight its pleasant climate and its coffee zone. Lately, Minca also has many hostels that offer their guests comfort and tranquility. Minca in its beginnings attracted residents from Ireland and Germany who took advantage of its land and climate to grow coffee. The corregimiento is populated by about 500 inhabitants.1
Palomino
Day 12-14
A small town located in Magdalena in the north coast of Colombia, a great spot to appreciate excellent views and also offers many places to enjoy nature, with multiple plans and activities for all tastes.
Trip Summary
Accommodation
Bed & Breakfast & Hotel & Camping & Hostel & Other
14 days trip
Bogotá, Guatavita & 5 more
What's excluded?
Dinner, snacks and extra meals
Drinks
Extra-activities
Why JoinMyTrip?
Trusted platform used by 150K+ TripMates
Have A Question?
Live Chat with our experts 24x7
Unique Trips hosted by Experienced Travellers
Secure Payments to ensure your money is always safe