Slide 1 of 1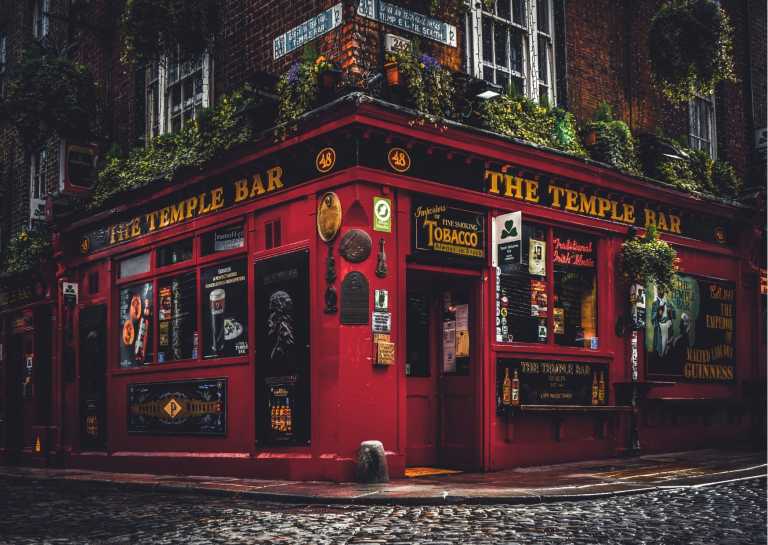 Entire IRELAND by 🚗 in 10 days! Irish food, music, and Must-See attractions!
Guided trip
10 days
11 stops
2 - 4 Mates
Ireland
What's special?
Local Experience
On this trip, we will explore the vibrant city of Dublin, visit historical landmarks like Trinity College, home to the famous Book of Kells, and experience the world-known Guinness Storehouse. We'll venture to the scenic Wicklow Mountains National Park, witness the beauty of the Cliffs of Moher, and explore charming towns like Galway and Westport. Our journey will include hiking in Connemara National Park and ascending Croagh Patrick, one of the top twenty most beautiful trails in the World. Along the way, we'll immerse ourselves in Irish culture, enjoy traditional music, and savor the flavors of local cuisine. It will be an unforgettable adventure full of stunning landscapes, historical sites, and warm hospitality.
About me! I'm an Adventure Designer with 9 years' experience in the adventure tourism industry. Expert in long-distance Epic drives, including "The Longest Highways in the World" list. Check my profile for more info! 🌍🚗
Details about the accommodation: Depending on the size of the group and the personal preferences of trip mates, we will stay in shared rooms in hostels or in apartments along the way. We will have our online Trip sheet where more details on what type of accommodation and facilities we have will be provided closer to our departure date.
What's included?
Accommodation (Shared rooms)
Transportation (rental & fuel & drive)
Insurance (Germany & Austria only)
TOUR 2: Jameson Experience Whiskey Tour
TOUR 1: Guinness Storehouse
TOUR 3: Delicious Walking Food Tour
Your Booking includes free protection from Trip cancellations.
Learn More
Meet Your TripLeader
Phone Verified
Identity Verified
49 Countries
5 Trips Completed
based on 6 reviews
Show All Reviews
You can chat with Oxana once you reserve your spot.
Trip Itinerary
Dublin
Day 1-2
DAY 1. ARRIVAL DAY. We will begin our road trip itinerary in Dublin, conveniently located near Ireland's main airport. Upon arrival, we'll have the opportunity to explore the central sights of this vibrant city. Immerse yourself in Georgian Dublin charm, go shopping, and admire the historic Trinity College Dublin, home to the famous Book of Kells. Stroll along Grafton Street for some shopping delights before enjoying a delicious lunch. Afterward, we'll venture out of the city center to visit Kilmainham Gaol and Dublin Castle, gaining insights into the city's rich history. Don't miss the chance to experience the iconic Guinness Storehouse, where you can learn all about Ireland's beloved drink. On a sunny day, a visit to Phoenix Park, one of Europe's largest urban parks, is a must for a picturesque stroll. As the day comes to an end, we'll indulge in a delightful dinner at one of Dublin's excellent restaurants. And what better way to embrace Irish pub culture than by spending the evening soaking up the lively atmosphere of Temple Bar? Get ready for an unforgettable nightlife experience in Dublin! GUINNESS STOREHOUSE, an immersive tribute to Ireland's iconic brew, invites you on a journey of taste, history, and camaraderie. Uncover the secrets of Guinness, savor its rich flavors, and embrace the vibrant atmosphere of this legendary destination. Cheers to an unforgettable experience! TRINITY COLLEGE DUBLIN, steeped in history and academic excellence, houses the illustrious Book of Kells, a masterpiece of medieval art. Step into a world of knowledge and enchantment, where centuries-old pages come alive, and embrace the intellectual and cultural legacy that thrives within these hallowed halls. DUBLIN CASTLE, a regal gem nestled in the heart of the city, exudes timeless elegance and storied grandeur. Delve into its rich history, explore the opulent chambers, and marvel at its architectural splendor. Step into a world of heritage and enchantment at Dublin Castle. KILMAINHAM GAOL, an evocative testament to Ireland's struggle for independence, echoes with stories of resilience and sacrifice. Step into the past, feel the weight of history, and honor the spirit of those who fought for freedom in this hauntingly beautiful landmark. TEMPLE BAR, Dublin's vibrant cultural quarter, pulses with life and energy. Explore its cobblestone streets, lively pubs, and eclectic arts scene. Immerse yourself in the lively atmosphere, indulge in live music, and savor the spirit of Ireland's capital in this lively and unforgettable neighborhood. GRAFTON STREET, a bustling thoroughfare, entices with its vibrant energy and world-class shopping. Stroll along this charming street, alive with street performers and stylish boutiques, and immerse yourself in the captivating spirit of Dublin's premier shopping destination.
Wicklow
Day 2-3
DAY 2. Hike Coastal route: Dublin - Dun Laoghaire - Bray - Greystones - Wicklow. Distance 62 km, drive time 1:50h. On the second day, we will head south from Dublin, following the scenic coast road towards Dun Laoghaire. Along the way, we'll make stops at the charming port towns of Dun Laoghaire, Bray, and Greystones, where we can enjoy a leisurely breakfast. Next, we will make our way to the breathtaking Wicklow Mountains National Park. Located in the southeast, this stunning natural landscape is home to Glendalough, a renowned sixth-century Christian settlement and one of Ireland's most iconic monastic sites. It offers a perfect blend of natural beauty and historical significance, giving us a glimpse into Ireland's rich past. Don't forget, we will have a small hike around the mesmerizing Guinness Lake (Lough Tay), a hidden gem off the beaten path and one of Ireland's most picturesque spots. After an exhilarating day of exploration, we'll treat ourselves to a traditional Irish meal and a pint of creamy Guinness at one of Wicklow's top-notch eateries. It's the perfect way to wind down and savor the flavors of Ireland. WICKLOW MOUNTAINS NATIONAL PARK, a natural wonderland, captivates with its sweeping vistas, rolling hills, and pristine lakes. Discover untamed beauty, embark on scenic hikes, and lose yourself in the tranquility of this idyllic escape from the bustle of everyday life. GLENDALOUGH, an enchanting valley of ancient beauty, enchants with its mystical charm. Explore its serene lakes, towering mountains, and ancient monastic ruins, immersing yourself in a world where nature and history intertwine in perfect harmony. GUINNESS LAKE, nestled in the picturesque Wicklow Mountains, mesmerizes with its serene beauty. Reflecting the surrounding lush landscapes, this tranquil oasis offers a moment of peaceful escape and a chance to marvel at nature's artistry.
Waterford
Day 3-4
DAY 3. Wicklow - Kilkenny - Waterford. Distance 207 km, drive time 2:30 hours. On day three, we will head south from Wicklow. After approximately an hour and a half, we'll reach Kilkenny City, where a plethora of attractions awaits. We will have the chance to explore remarkable landmarks such as Kilkenny Castle, the River Nore, St Canice's Cathedral and Round Tower, Black Abbey, St Mary's Cathedral, St Francis Abbey, St John's Priory, and Kilkenny Town Hall. Continuing our journey south, we will arrive in Waterford City. Before reaching our destination, we'll grab a delicious lunch at one of the fantastic cafes or restaurants in Kilkenny. In Waterford, we will discover the Viking Triangle, where captivating stories of the Viking fleet that arrived in 914 AD will unfold. Don't miss the House of Waterford Crystal, the scenic Comeragh Mountains, the stunning Waterford Greenway, and the historic Reginald's Tower. To wind down, we'll head to one of the excellent restaurants in Waterford for a delectable meal. Alternatively, we can grab a takeaway and head to Tramore, where we can enjoy watching the sunset over another amazing day. VIKING TRIANGLE, Waterford's historic heart, immerses you in a captivating journey through time. Wander its cobbled streets, explore ancient relics, and embrace the rich Viking heritage that permeates this vibrant quarter. Discover the magic and intrigue that await around every corner. KILKENNY CASTLE, an architectural masterpiece, transports you to a bygone era of opulence and grandeur. Roam its exquisite gardens, admire its majestic towers, and bask in the timeless elegance that defines this enchanting symbol of Ireland's rich heritage. ST. CANICE'S CATHEDRAL AND ROUND TOWER, a testament to medieval splendor, beckon with their towering presence. Explore ancient history, admire intricate stonework, and climb the tower for panoramic views, immersing yourself in the captivating legacy of this architectural marvel.
Cork
Day 4-5
DAY 4. Waterford - Tipperary - Cork. Distance 190 km, drive time 3 hours. On day four our journey will take us west, towards Cork, the largest county in Ireland. Along the way, we'll make a stop at the historic Rock of Cashel in County Tipperary, an impressive site that served as the seat of the Kings of Munster before the Norman invasion. Upon reaching Cork, we'll have a range of exciting options to explore. For breathtaking scenery, a visit to Mizen Head, Ireland's most south-westerly point, is a must. Whiskey enthusiasts can delve into the Jameson Experience to learn all about this beloved spirit. In Cobh, we'll discover the fascinating history of the Titanic at the Titanic Experience. At Blarney Castle, we'll have the chance to kiss the famous Blarney Stone—a unique and memorable experience. If time permits, a trip to the colorful fishing village of Kinsale or the heritage town of Cobh will offer an authentic taste of Ireland's charm. As we venture into Cork City, renowned as Ireland's culinary capital, we'll treat ourselves to a delicious meal at one of the many fantastic restaurants the city has to offer. To top off our fourth day in Ireland, we'll immerse ourselves in the city's vibrant pub scene, where traditional music fills the air, creating a memorable end to the day. THE ROCK OF CASHEL, a majestic fortress atop a rocky outcrop, unveils a tapestry of Irish history. Wander through its ancient ruins, marvel at the stunning architecture, and feel the weight of centuries-old stories that echo within these hallowed walls. MIZEN HEAD, where land meets sea in a breathtaking union. Stand on the edge of Ireland's westernmost point, witness crashing waves, and embrace the raw beauty of rugged cliffs. Discover a place that ignites the spirit of adventure and leaves an indelible mark on your soul. CORK CITY, a vibrant blend of old-world charm and modern energy, captivates with its lively atmosphere, cozy pubs, and rich cultural heritage. Explore its colorful streets, indulge in culinary delights, and feel the warmth of the locals' hospitality. Embrace the essence of Ireland's "Rebel City" and create memories that will last a lifetime. BLARNEY CASTLE, a legendary fortress nestled in lush gardens, invites you to unlock the power of eloquence. Kiss the famed Blarney Stone, explore ancient halls, and immerse yourself in the enchanting tales that whisper through its walls. Discover the magic and leave with the gift of persuasive speech. JAMESON EXPERIENCE, a whiskey lover's paradise, unveils the art of Irish whiskey-making. Immerse yourself in a sensory journey, witness the craftsmanship, and savor the smooth flavors. Discover the rich heritage and indulge in the finest spirits, creating a memorable experience for every whiskey connoisseur.
Dingle
Day 5-6
DAY 5. Cork - N22 - Kerry. Distance 101 km, drive time 1:30 hour. We will kick off day five by making our way from Cork to Kerry. Our first destination is Killarney, where we can embark on a scenic drive along the famous Ring of Kerry. The entire circular route covers 179 km and can be completed in approximately three-and-a-half hours without stopping. However, to truly savor the experience and fully appreciate the sights along the way, it's best to allocate a full day for this adventure. Some of the highlights of the Ring of Kerry include the breathtaking Killarney National Park, encompassing Muckross Estate and Torc Waterfall. Don't miss the chance to explore the charming villages of Kenmare, Portmagee, and Sneem, as well as visit the iconic Skellig Islands and Valentia Island. The stunning Gap of Dunloe is another must-see attraction on this route. As the day comes to a close, we will head to the picturesque town of Dingle. Here, we can delight in the beautiful scenery, immerse ourselves in Ireland's traditional pub culture, and treat ourselves to a delectable homemade ice cream from Murphy's. It's the perfect way to end an eventful day on our Ireland road trip. KILLARNEY NATIONAL PARK, a lush oasis of natural beauty, captivates with its pristine lakes, ancient forests, and majestic mountains. Explore its trails, encounter wildlife, and immerse yourself in the serenity of this breathtaking sanctuary, where every step reveals a new wonder. MUCKROSS ESTATE, a magical retreat nestled amidst stunning landscapes, enchants with its elegant manor, vibrant gardens, and serene lakes. Step into a world of refined beauty, immerse yourself in history, and bask in the tranquility of this enchanting Irish treasure. TORC WATERFALL, a hidden gem in nature's embrace, cascades with graceful beauty. Discover the enchanting melody of its flowing waters, surrounded by lush greenery, and let its soothing ambiance transport you to a realm of serenity and wonder. SKELLIG ISLANDS, a breathtaking UNESCO World Heritage Site, boast dramatic cliffs, ancient monastic ruins, and abundant wildlife. Embark on a mesmerizing journey to these remote isles, where natural beauty and spiritual history intertwine in an awe-inspiring harmony. DINGLE PENINSULA, a coastal paradise, captivates with its rugged cliffs, pristine beaches, and charming villages. Embark on a scenic adventure, where ancient history, vibrant culture, and breathtaking landscapes unfold at every turn. Let the enchantment of this Irish gem ignite your soul.
Limerick
Day 6-7
DAY 6. Dingle - Tralee - Adare - Limerick. Distance 149 km, drive time 3 hours. We will start the day with a leisurely morning in Dingle. Let's make a stop at Bean in Dingle to savor some delicious coffee. If time permits, we can even take a boat ride from Dingle Harbour for an additional adventure. After a relaxed start, we will head north, passing through Tralee and the enchanting town of Adare, renowned for its charming thatched-roof cottages. Our final destination for the day is Limerick. Nestled along the banks of the River Shannon, Limerick is a hidden gem often overlooked by travelers exploring the Emerald Isle. History enthusiasts can't miss the opportunity to visit the impressive 13th-century King John's Castle, where an interactive exhibition offers valuable insights into its rich heritage. Other noteworthy spots in Limerick include the iconic Milk Market and the captivating Hunt Museum. As we wind down in historic Limerick City, we can treat ourselves to a delectable meal at one of the city's many inviting restaurants. For a peaceful end to the day, we can watch the sunset over Lough Gur or the Ballyhoura Mountains, immersing ourselves in the serene beauty of the surroundings. Limerick is also home to some fantastic traditional Irish pubs, where we can enjoy a pint of Guinness while delighting in a lively session of traditional Irish music. It's the perfect way to cap off an eventful sixth day of our Ireland road trip itinerary. ADARE TOWN, a picturesque haven, enchants with its thatched cottages, vibrant flowers, and timeless charm. Stroll along its quaint streets, immerse yourself in history, and experience the warm embrace of Irish hospitality in this idyllic village. KING JOHN'S CASTLE, a majestic fortress steeped in history, transports you to a bygone era of knights and kings. Explore its towering walls, immersive exhibitions, and sweeping views of the River Shannon. Step back in time and unravel the captivating stories that echo within these ancient walls. MILK MARKET, a vibrant culinary haven, awakens your senses with a cornucopia of fresh produce, artisanal treats, and lively atmosphere. Indulge in flavors, embrace the bustling energy, and immerse yourself in a gastronomic adventure that celebrates the best of local Irish fare. HUNT MUSEUM, a treasure trove of art and culture, invites you on a captivating journey through centuries of masterpieces. Immerse yourself in its diverse collection, admire rare artifacts, and be enchanted by the stories that unfold in this captivating museum experience.
Clare
Day 7-8
DAY 7. Limerick - Ennis - Lahinch - Doolin. Distance 78.3 km, drive time 2 hours. It's amazing how time flies when you're having fun! We will continue our journey by heading north from Limerick towards County Clare. Along the way, we will make a stop at the fascinating Bunratty Castle and Folk Park, providing an intriguing start to our day. Continuing on, we will also have the chance to visit Father Ted's House, made famous by the beloved Irish TV show. Our next highlight awaits as we marvel at Ireland's most iconic cliffs. We will proceed towards Doolin, where we will stop at the breathtaking Cliffs of Moher. If we time it right, we can also soak in the beauty of a sunset here. For an immersive experience in Irish history and tradition, we can even take a boat trip from Doolin to Inís Mór, the largest of the Aran Islands. As evening approaches, we will immerse ourselves in Doolin's vibrant pub scene. We can relish a delicious dinner at one of the charming pubs or restaurants in the town. CLIFFS OF MOHER, nature's towering masterpiece, command awe with their sheer grandeur and breathtaking vistas. Marvel at the dramatic cliffs, feel the salty breeze on your face, and witness the raw beauty of Ireland's rugged coastline in a truly unforgettable experience. BUNRATTY CASTLE AND FOLK PARK transport you to Ireland's rich past, where medieval splendor and traditional village life come alive. Explore the castle's majestic halls, wander the charming streets of the village, and immerse yourself in the enchanting heritage that unfolds at every corner. FATHER TED'S HOUSE, a quirky gem nestled in the Irish countryside, is a pilgrimage for fans of the beloved sitcom. Step into the whimsical world of Father Ted, soak up the nostalgia, and embrace the laughter and warmth that emanate from this iconic location. ARAN ISLANDS, an enchanting archipelago off the coast of Ireland, captivate with their untouched beauty and rich Gaelic heritage. Explore rugged landscapes, ancient ruins, and embrace the island way of life. Lose yourself in a world of timeless charm and immerse yourself in the magic of these captivating Irish treasures. DOOLIN TOWN, a charming coastal retreat, captivates with its lively music scene, cozy pubs, and stunning seaside vistas. Embrace the warm hospitality, indulge in traditional music sessions, and let the rugged beauty of this picturesque village leave an indelible mark on your heart.
Galway
Day 8-9
DAY 8. Doolin - Burren National Park - Galway City. Distance 83.6 km, drive time 1:30 hour. As we embark on day eight of our Ireland road trip itinerary, we will wake up early and head northeast from Doolin. Our destination is the incredible Burren National Park, renowned for its unique karst landscape and rich historical sites. Exploring this captivating park will be an unforgettable experience. Continuing our journey, we will make our way northeast to the vibrant city of Galway. Situated along the stunning Wild Atlantic Way, Galway offers a perfect blend of modernity and traditional Irish culture. From leisurely strolls along the picturesque Salthill Promenade to immersing ourselves in the charm of the colourful Latin Quarter, Galway promises to captivate us with its unique character. No visit to Galway would be complete without indulging in its renowned nightlife scene. We will treat ourselves to some delicious, locally-caught seafood at one of the city's top seafood restaurants. As the night unfolds, we will immerse ourselves in the vibrant Capital of Culture, soaking up the city's artistic and cultural offerings at some of Galway's most iconic pubs. It's the perfect way to round off another memorable day on our Ireland road trip adventure. BURREN NATIONAL PARK, a captivating tapestry of limestone landscapes, reveals a world of rare flora, ancient ruins, and hidden trails. Explore its mystical beauty, immerse in a realm of natural wonders, and discover the harmonious blend of ruggedness and delicate beauty that defines this unique Irish treasure. GALWAY CITY, a bohemian paradise on Ireland's west coast, enchants with its vibrant culture, colorful streets, and lively atmosphere. Explore its charming shops, embrace the rich arts scene, and savor the warm hospitality that radiates from this charismatic city. POULNABRONE DOLMEN, an ancient marvel, whispers tales of Ireland's past. Step into history's embrace, marvel at the balanced stones, and feel the weight of centuries as you witness this captivating megalithic tomb. Let its enigmatic aura ignite your imagination and connect you to Ireland's rich heritage. SALTHILL PROMENADE, a coastal haven near Galway, invites you to stroll along its sandy shores, breathe in the salty air, and embrace the panoramic views of the Atlantic Ocean. With its lively atmosphere, charming cafés, and thrilling seaside activities, it's the perfect place to unwind and savor the beauty of Ireland's west coast.
Westport
Day 9-10
DAY 9. Croagh Patrick hike! Galway - Connemara National Park - Westport. Distance 120 km, drive time 2 hours. Hiking distance (round trip): 13 km Walking time: 4 hrs Ascent: 470 m (1540′). We will kick off the day in Galway with a delightful breakfast to energize us for the adventure ahead. Our journey takes us north through the picturesque Connemara National Park, where we can soak in the stunning scenery. A visit to the historic Kylemore Abbey is a must before we hit the road again. Next, we will drive along the captivating Sky Road in Clifden, immersing ourselves in its beauty, before venturing into the enchanting County Mayo. As we continue our journey north from Connemara, we will discover the charming towns of Westport and Cong, marvel at the breathtaking Clew Bay with its backdrop of Croagh Patrick, and traverse the awe-inspiring yet haunting Doolough Valley. A visit to the iconic Downpatrick Head is also in store. If time permits, we will take a trip to Achill Island, where we can explore Keem Bay, Kildavnet Castle, and the Great Western Greenway, immersing ourselves in the island's wonders. As the day winds down, we will bask in the beauty of Mayo and capture the magical sunset from one of its most scenic viewpoints. We will conclude the day with a delectable meal in the charming town of Westport, creating lasting memories of our adventures. CONNEMARA NATIONAL PARK, a wilderness of untamed beauty, beckons with its rugged mountains, shimmering lakes, and vast moorlands. Immerse yourself in nature's embrace, breathe in the pure air, and witness the harmony of land and sky in this captivating Irish wilderness. ACHILL ISLAND, a hidden gem on Ireland's west coast, mesmerizes with its windswept beaches, dramatic cliffs, and tranquil landscapes. Discover a haven of natural beauty, where adventure awaits at every turn, and let the spirit of this island paradise captivate your soul. CROAGH PATRICK, IRELAND'S SACRED MOUNTAIN, stands tall as a pilgrimage site and a hiker's delight. Conquer its rugged trails, soak in the panoramic views, and feel the spiritual energy that permeates this majestic peak. Embark on a journey of self-discovery and immerse yourself in the awe-inspiring beauty of the Irish landscape. DOWNPATRICK HEAD, a coastal marvel, astounds with its towering sea stacks, majestic cliffs, and natural arches. Witness the power of the Atlantic Ocean, soak in the breathtaking vistas, and let the sheer beauty of this rugged headland leave you awestruck.
Croagh Patrick
Day 10
Today, as part of our adventure, we will embark on a hike up Croagh Patrick, one of the world's top twenty trails according to National Geographic. Be prepared for the unpredictable Atlantic weather, with fog, wind, rain, and hail making their appearance at any moment. Scaling this rugged and sacred peak offers not only stunning beauty and a physical challenge, but also a deep connection to the history and spirituality of this ancient land. The Gaelic term "Croagh" meaning "sharp mountain" perfectly describes the steep ascent of this 2,507-foot peak, where legend has it that St. Patrick spent 40 days and nights in prayer at the summit. Many who undertake this rocky and demanding trail are pilgrims, paying their respects to St. Patrick who, through his Celtic cross, symbolically united Christians and pagans. Reaching the summit, with its small white chapel, rewards us with breathtaking views of Clew Bay and the lush landscapes of County Mayo. Finally, it is customary to celebrate our achievement with a refreshing pint of Guinness at the centuries-old Campbell's Pub located at the base. As you relax and reflect, you may hear fellow adventurers exclaim, "Wow, that was the hardest thing I've ever done." Insider Tip: According to myth, ascending Croagh Patrick seven times guarantees entry into heaven, regardless of past misdeeds.
Dublin
Day 10
Day 10. Departure Day. Westport - Dublin. Distance 252 km, drive time 3:30 hour. After an exhilarating many days of non-stop adventure, it's time to bid farewell and embark on our journey back to Dublin. Although we will be returning to our individual lives and daily routines, the incredible memories we have created together will forever remain in our hearts. To all my fellow adventurers, may you have a safe and joyful journey ahead. Remember, this is not goodbye, but merely a "see you later." Until we meet again on our next great expedition, let the road be your guide and the thrill of adventure be your constant companion. Farewell for now, and see you down the road! 🚗🌄✨
Trip Summary
Accommodation
Hostel & Apartments & Other
10 days trip
Dublin, Wicklow & 9 more
What's excluded?
International Flights
Parking fees
Meal
Admission tickets to attractions
Why JoinMyTrip?
Trusted platform used by 150K+ TripMates
Have A Question?
Live Chat with our experts 24x7
Unique Trips hosted by Experienced Travellers
Secure Payments to ensure your money is always safe