Slide 1 of 1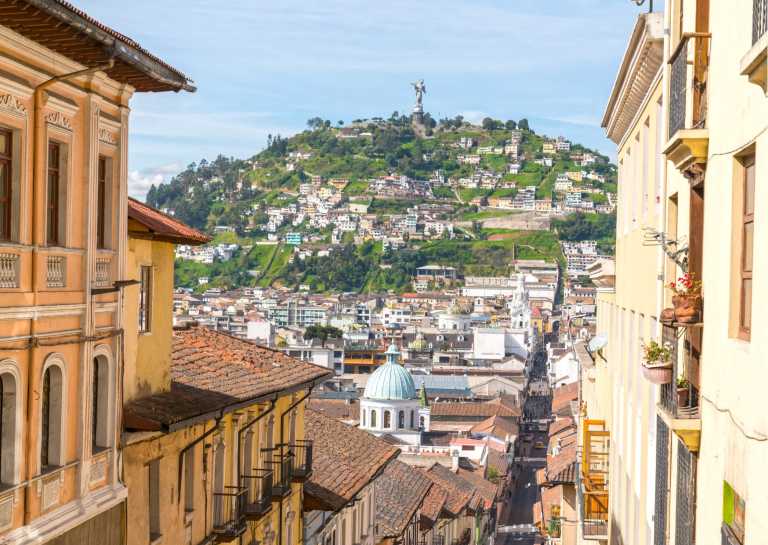 Enjoy Quito, Ecuador: Cable Cars with Stunning Views, Horseback Ride Around Volcanoes, Swim in Hot Springs,Taste Ecuadorian Chocolate and More!
Guided trip
11 days
13 stops
3 - 5 Mates
Ecuador
What's special?
Equator Monument
Knowledgable Guide/Travel Agent Leader
Horseback Riding Around Volcanoes
Experience the rich culture of Quito, Ecuador (a world UNESCO heritage site) with a fun & extroverted host (me!) that considers Ecuador a second home! From the lush mountains to the bustling historic city center, there is plenty to do and see during our trip! But don't worry - we'll have time to relax in our cozy Airbnb, as well. :) YOU get to choose which activities you want to participate in and what new things to try! You will have the option to enjoy some native Ecuadorian fruits and other food favorites such as empanadas (fried dough filled with meat or cheese), encebollado (the "best hangover soup"), and Espumilla (meringue dessert). You can also choose whether you want to make food at home or eat out! ⭐️OPTIONAL* ACTIVITIES: (costs not included in trip price)⭐️ ✨Walking Tour of Quito ($25 USD) ✨Equator Monument ($3 USD) ✨Teleferico Cable Cars ($12 USD) ✨Chocolate Tour ($25 USD) ✨Andean Hot Springs & Spa ($195 USD) ✨Horseback Riding Around Cotopaxi ($200 USD) *Prices include transportation ⭐️ OTHER INFO: ⭐️ ✨ Enjoy a FREE ticket to La Basilica, covered by me. :) ✨ ALL adults 18+ welcome (other dates available for Only Women & Children) ✨ Weather in June: warm during the day (~66°F/19°C) & chilly at night (~40°F/4°C); pack layers! ✨ Ecuador uses the USD ✨ Bring at least $30 USD cash for markets ✨ I'm a travel agent! For help or discounts on plane tickets, send me a message! ✨ I love surprises, so expect some! :)
My name is Allie, and I have been traveling the world since my first ever plane ride to Ukraine in 2008! I am originally from New Jersey and have a dream of visiting all 7 continents (1 more to go!). I'm an ESL teacher, pet sitter, travel agent, singer/songwriter, & transcription editor. I love going to artisan markets, zoos/aquariums, beaches, museums, and other excursions! I'm not a big hiker, but I do love to walk around and sight-see. I also love to dance and experience local nightlife. I've spent a lot of time in Ecuador, having lived there on and off quite a bit. I am fluent in Spanish and learning Portuguese, as well.
⭐️ACCOMMODATIONS: We will be staying in a cozy, beautifully decorated Airbnb, equipped with everything we need to feel at home. The Airbnb includes 2.5 bathrooms, 4 bedrooms (shared spaces for solo travelers; private solo rooms upon request/availability), and more than enough space to sleep (sleeps up to 11)! Plus, we have access to the rooftop to enjoy some fresh air with a city view. It is situated in one of the best spots in town, making it a perfect walkable location! We will be down the street from lively Carolina Park where there are pedal boats to ride, kiosks to shop at (plus a big mall), and even botanical gardens around. Ecuador truly is a gem of a country, and I can't wait to show you some of the best parts of it!
What's included?
Accommodations
La Basilica Entrance Fee
Your Booking includes free protection from Trip cancellations.
Learn More
Meet Your TripLeader
Phone Verified
Identity Verified
14 Countries
2 Trips Completed
Friendly & Fun Singer/Songwriter/Pet Sitter/ESL Teacher ♥️
based on 2 reviews
Show All Reviews
You can chat with Alexandria once you reserve your spot.
Trip Itinerary
El Jardin
Day 1
The first day we'll spend arriving and settling into our super cozy Airbnb situated near some of the best malls and stores in Quito. We can grab groceries, relax on the rooftop, or take a walk around to explore around the grounds!
Centro Histórico
Day 1-2
Once we've all had a good night of rest, we'll start the first official day with a walking tour of the city center with a local Ecuadorian guide who will show us around and give us the history of colonial Quito! We'll check out some beautiful architecture, taste some yummy local fruits and treats, shop at a local flea market, and learn about the rich history of the city. Places we'll visit include La Basilica (see next stop), the presidential palace, a beautiful golden church, the first bank of Ecuador, and more!
Basílica del Voto Nacional
Day 2-3
With its bronze doors, colorful stained-glass, cool gargoyles, and stunning 360° panaromic views of the city, the Basilica is another Quito must-see! It is the largest neo-gothic basilica in the Americas, and it is truly breathtaking from both inside and outside. This will be our first stop on the tour.
La Ronda
Day 3
After settling in and exploring a bit of the city center, we will head over to see the beautiful cobblestone streets and Spanish-era architecture of "La Ronda", a lively street that dates back to the 1400s when it was an Incan trail! We'll check out the artisan shops, bohemian cafés, and centuries-old Spanish houses as the sounds of live music and smells of local delicacies fill the air. The best time to visit La Ronda is actually later in the day, as it lights up at night! Shop some handmade goods or sip on some canelazo (warm spiced fruit drink) while strolling along this gem of a street.
Parque La Carolina
Day 3-4
We'll spend some time at my personal favorite park in Quito, Carolina Park, that happens to be a short walk away from our Airbnb! There you can take a nice stroll through this lush, green park, have a picnic, grab lunch at the mall, check out the botanical garden, rent boats to pedal along the lazy river, shop local goods, or soak in the sun with a frozen treat. It's a great way to spend a relaxing afternoon!
Plaza Foch
Day 4
After some time to relax, we'll enjoy Saturday night dinner, drinks, & dancing at one of the livelist tourist spots in Quito - Plaza Foch! Plaza Foch is full of different restaurant and bar options, making for a great night out on the town.
Avenue 12 de Octubre
Day 4-5
On this day, we're in for a real treat - chocolate, to be exact! We'll head over to a yummy chocolate tour with a guide who will show us how to prepare chocolate in an artisanal way from the cocoa bean to the most delicious 100% chocolate. We'll learn to roast, peel, & grind the seed in a traditional stone mill. We'll also blend exotic fruits and plants with fresh chocolate, as well as enjoy a relaxing hand exfoliation in an incredible chocolate therapy with an ancient roasted cocoa tea, a cup of hot chocolate, or a fruity chocolate cocktail in hand.
TelefériQo Cable car
Day 5-6
Teleférico is what I would call the absolute #1 must-do activity in Quito! We will take a ride in cable cars over the city and up into the mountains/Pinchincha volcano. Teleférico is one of the highest aerial lifts in the world (and very safe!), going up to 12,000 ft/3,900 m. Once at the top, you can explore around the mountains, take pictures with llamas, swing on the mountains overlooking the city of Quito, and even possibly horseback ride! After that, we'll head back down and over to the small theme park, Vulcan Parque, where you can enjoy some rides, play in the arcade, or grab something to eat.
Cotopaxi
Day 6-7
Time to see some volcanoes (if we don't already spot them around on a clear day!) We will go horseback riding through the Andes while surrounded by beautiful Rumiñahui & Cotopaxi (the third-highest active volcano in the world!*) Volcanoes. Then we will visit the Cotopaxi National Park to spot all kinds of flora and fauna! *Cotopaxi's most recent eruption was in 2015 (I got to witness it!).
Papallacta Hot Springs
Day 7-8
Here we'll experience andean biodiversity and relax in hot springs outside the city! We'll enjoy a traditional Ecuadorian breakfast while we travel to the highest point of the highland, with a guide telling us facts along the way. We'll pass beautiful landscapes surrounded by lakes in Cayambe Coca National Park and hopefully spot some wildlife. After a bit of walking through a trail, we'll have lunch and relax in a luxury spa with some of the most famous hot springs in the world. We'll finish the tour by enjoying some local pastries!
Cafe Mosaico
Day 8-9
After a day of relaxing and catching our breath, we'll have dinner in one of the coolest restaurants in Quito, Cafe Mosaico. Not only is the food delicious, but it has the best view of the city! We'll get there early enough to enjoy the view while it's still light out, plus the view at night.
Middle of the World City
Day 9-10
The next day we will venture to the "Middle of the World" where you can straddle two hemispheres and take a picture on the equatorial line! The site also includes a planetarium, ethnographic museum, art exhibits, a small scale model of Quito city, an old train station, beer museum, cocoa & chocolate exhibits, and more. You can even get your passport stamped. :)
La Mariscal Artisan Market
Day 10-11
This will be the day to get all your souvenirs! Grab an infamous Indigenous llama sweater or a colorful poncho over at Mercado Artesanal, a giant, vibrant market full of Ecuadorian vendors selling jewelry, textiles, art, and other crafts!
Trip Summary
11 days trip
El Jardin, Centro Histórico & 11 more
What's excluded?
Flights
Transportation
Other Activities
Why JoinMyTrip?
Trusted platform used by 150K+ TripMates
Have A Question?
Live Chat with our experts 24x7
Unique Trips hosted by Experienced Travellers
Secure Payments to ensure your money is always safe