Slide 1 of 1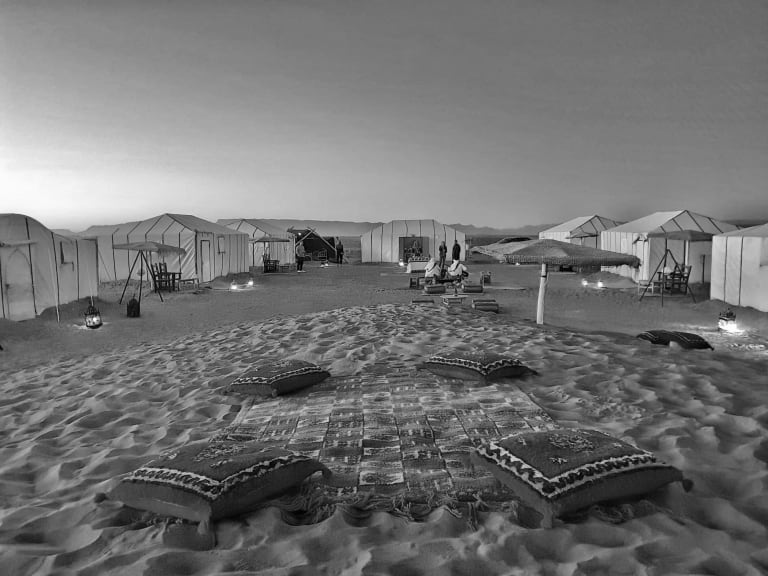 Discover the Hidden Gems of Morocco: A Two-Week Road Trip Through Enchanting Landscapes in Morocco
Guided trip
15 days
9 stops
2 - 3 Mates
Morocco
What's special?
Small group travel, max 4 people
Traditional Moroccan raids
Cultural travel
Morocco, a country bursting with vibrant colours, diverse cultures, stunning landscapes, and awe-inspiring architecture. Embarking on a two-week road trip guarantees unforgettable experiences and endless wonders. Immerse yourself in a mix of culture, adventure, and refreshing air. Journey through royal cities with lively markets and opulent palaces. Explore the Sahara on a camel or hike the majestic Atlas Mountains, enjoying breathtaking views. Wherever you go in Morocco, a cup of mint tea awaits, while magical sunsets bid you farewell.
About me! Hola lovely travellers, I'm Adriana Machielsen, 36 years old, a passionate and experienced traveller and international guide. Over the past few years I've had the incredible opportunity to explore the world's most exciting destinations. I specialize in crafting unique experiences in some of the most exotic destinations around the world - from Asia to India, Africa and Europe to the bustling Middle East, and with a deep knowledge of local cultures and ecosystems. As a freelance tour guide at Join My Trip, I am committed to creating meaningful journeys for my groups and inspiring them to explore and discover the hidden gems of each country. On top of that, my experiences are shared with thousands of readers on my blog In the worlds jungle, giving others the chance to experience both traditional and modern life around the globe 🌎💚 . Check out the available trips on Join My Trip and I hope to see you soon 😍 Have a great day, Adriana
Details about the accommodation: During our trip, we have the pleasure of staying in the enchanting traditional Moroccan riads, immersing ourselves in the authentic local culture. The price is calculated for comfortable shared rooms. For those seeking exclusivity, private rooms are available (subject to availability and an additional fee). As an added highlight, we get to spend one magical night in a luxurious tent camp nestled amidst the vast expanse of the desert, where the shimmering stars become our captivating companions.
What's included?
12 nights in traditional Moroccan riads
One night in luxury desert tent camp
Most breakfast meals
Rental car and car insurance
Travel insurance for German citizens
Travel insurance for Austrian citizens
Professional edited photos of the trip
Small group travel: max 4 people
Experienced travel guide
A trip leader fee
Your Booking includes free protection from Trip cancellations.
Learn More
Meet Your TripLeader
Phone Verified
Identity Verified
32 Countries
1 Trips Completed
Creative generalist | Dreamer | Wanderer | Travel writer | In love with India
based on 1 reviews
It was a great trip with Adriana. It was really nice. We explored the city a lot and tried out different things. She is fun, flexible with schedule, and easy to talk to. I would recommend future trips led by her.
Show All Reviews
You can chat with Adriana once you reserve your spot.
Trip Itinerary
You will meet Adriana and the group in Marrakesh
Find the best flight details to and from Marrakesh ->
Marrakesh
Day 1-3
DAY 1 Marrakesh, a captivating city in Morocco, is a must-visit for architecture enthusiasts, culture buffs, and nature lovers. Over the next two days, I'll guide you through the most fascinating spots. Brace yourself for delicious food, friendly locals, and stunning architecture. Get ready for memorable fun and adventure! Our day kicks off early at the famous Bahia Palace, built-in 1866 for a Moroccan nobleman. Discover its green courtyards, carvings, and mosaics. Next, we'll head to the Koutoubia Mosque, Marrakesh's largest and most impressive. Built-in 1184, it underwent renovations throughout the centuries. We'll then explore the medina, Marrakesh's old walled city, with its narrow streets, vibrant shops, and historic charm. Don't miss the Souks, offering local treasures like spices and traditional Moroccan clothing. After lunch, we'll visit Majorelle Garden, a beautiful oasis designed in the early 20th century by French painter Jacques Majorelle. Enjoy its lush landscapes, exotic plants, and vibrant blue shades. DAY 2 The Ben Youssef Madrasa, once North Africa's largest Koranic school, could accommodate around 900 students. Founded in the 14th century, it's now unused. The prayer hall, adorned with impressive decorations, stands in the large courtyard. Marble pillars feature ornamental pine and palm motifs, while the walls display Islamic calligraphy and mosaic. It's a must-visit in Morocco, best explored early to avoid crowds. Djemaa el Fna square is famous and infamous. In the evening, it comes alive with a bustling atmosphere. You'll find sellers everywhere, offering a variety of goods. However, it's important to note that some activities, like photographing monkeys, promote animal cruelty. The square offers many food stalls where you can enjoy delicious tagine or couscous at a reasonable price.
Rabat
Day 3-4
In the morning, we'll pick up the rental car and drive to Rabat, a city with iconic landmarks. The Royal Palace, although not open to visitors, is worth a stop for photos of its impressive gates and guards. Nearby, you can visit the Mosque of Mohammed V, showcasing modern Moroccan architecture and honoring the late king. Another must-see is the Chellah, a medieval fortified Muslim necropolis surrounded by lush gardens, ancient ruins, and a peaceful pond with ducks and turtles. Take your time to admire the intricate walls and listen to the birds. The Kasbah of the Udayas is one of the most picturesque spots, featuring narrow alleys, white-and-blue houses, and colorful gardens. We can go for a cup of mint tea and snacks at a local cafe and don't miss the Hassan Tower, a striking minaret from the 12th century that represents the glory of the Almohad dynasty. Enjoy the enchanting sunset over the ruins and nearby gardens.
Chefchaouen
Day 4-6
DAY 4 We spent one night in Rabat and had a few hours in the morning before heading to Chefchaouen, also known as the Blue Pearl of Morocco. This small town in the northern part of the country is famous for its blue-painted buildings, which give it a unique and otherworldly appearance. After checking in at our hotel, we went straight to the heart of the town, the bustling Plaza Uta el-Hammam. Surrounded by cafes and restaurants, it's the perfect spot to people watch and soak up the town's atmosphere. Next, we visited the Kasbah Museum, uphill from the square, which showcases Chefchaouen's history, culture, and unique architecture. Housed in a 15th-century fortress, the museum is surrounded by beautiful gardens and courtyards. Our next stop was the Ras El Maa Waterfall, located just outside the town center. This natural wonder is ideal for cooling off on a hot day, and it's a popular spot for picnics and swimming. Surrounded by lush greenery, the sound of running water creates a tranquil atmosphere. DAY 5 Talassemtane National park Today, we'll visit Talassemtane National Park nearby. The park boasts beautiful hiking trails, waterfalls, and rivers. We can take an easy hike along the Akchour Waterfall trail, leading us through a lush valley with cascading waterfalls. Though challenging at times, the views are worth it. On our way back, we'll stop at the Spanish Mosque, which offers panoramic views of Chefchaouen and the mountains. Built during the Spanish occupation of Morocco, the mosque stands on a hill overlooking the town. The rest of the afternoon and evening is for eating and relaxing.
Fes
Day 6-9
Fez, the cultural capital of Morocco, is brimming with history, stunning architecture, and delectable cuisine. Nestled in the Atlas Mountains, this ancient city offers an immersive cultural experience. With vibrant bazaars and a rich Arab and Islamic heritage, Fez never fails to amaze. A highlight in Fez is the Medersa Bou Inania, a magnificent 14th-century Islamic college boasting a beautiful courtyard, intricate stucco decoration, and a stunning minaret. Another must-visit is the Chouara Tannery, one of Morocco's oldest and largest tanneries. Witness traditional leather-making techniques and enjoy breathtaking views from the souk rooftops.
Meknes
Day 9
DAY 7 Daytrip to Meknes When in Meknes, a visit to the Bab Mansour gate is a must. Built in the 18th century, this grandiose gate symbolizes the power of sultan Moulay Ismael. Marvel at the intricate tile work, carved cedar wood, and bronze decorations. Inside, a bustling square awaits with vendors, street performers, and locals enjoying tea. Explore the Royal Palace's stunning architecture from the outside. Though not open to visitors, its Andalusian and Moroccan styles impress. Don't miss the ornate gates adorned with tile work and wrought-iron designs. For history enthusiasts, the mellah (Jewish quarter) is a must-visit. Stroll the narrow streets, admiring synagogues, tombs, and traditional homes. Visit the Museum of Moroccan Judaism for an insight into Jewish culture in Morocco. Indulge in the bold flavors of local cuisine. Sample tagines and couscous at the medina's food markets. Treat yourself to chebakia and gazelle horns, delightful local sweets.
Merzouga Desert
Day 9-11
When you think of Morocco, the desert quickly comes to mind. Erg Chebbi, part of the Sahara, offers beautiful camps with luxury tents for overnight stays. At night, enjoy the clearest starry sky by the campfire while locals play their musical instruments. Merzouga serves as the base for exploring Morocco's desert. Carve up the sand dunes with sandboarding, go on a quad bike ride, or simply relax and read a book. In the morning and early afternoon, we journey through the desert road, passing Berber villages and fertile valleys, until we reach the magnificent Todgha Gorge canyon. Walk through the canyon and admire the towering red cliffs adorned with green palm trees for a breathtaking view in Merzouga.
Merzouga Camp
Day 11-12
In the late afternoon, we head to a luxury tent camp in the desert for an overnight stay. Choose between riding a camel or a quad to reach the camp. Riding a camel is different from riding an elephant and doesn't necessarily have the same concerns. However, it's important to consider the care provided for the camels in each camp, which can be challenging to determine. So, ask yourself if this is a concern for you. Both camels and quads can be arranged in advance for transportation to the camp, departing from Merzouga. Witness the enchanting desert sunset and arrive at the camp shortly after.
Aït Benhaddou
Day 12-14
Today, we drive to Ait-Ben-Haddou and make a stop at the Dades Valley, also known as "The Valley of the Thousand Kasbahs". Located in the High Atlas Mountains, east of Ouarzazate, it boasts stunning red cliffs, gorges, and traditional mud-brick kasbahs. Take a scenic drive through the valley, visit viewpoints, and explore Berber villages. Hiking and mountain biking are popular activities. Ait Ben Haddou, a well-preserved UNESCO World Heritage Site, is nestled in the foothills of the High Atlas Mountains. With mud-brick buildings and kasbahs, it has appeared in famous movies like "Lawrence of Arabia" and "Gladiator". Explore its narrow streets, browse shops, and learn about its history as a trading post.
Marrakesh
Day 14-15
After enjoying a delightful breakfast together, we gather around to recount the incredible moments and memories from our amazing trip. We say farewell, but fear not, for you have the option to spend the day immersing yourself in the vibrant city of Marrakech or perhaps even extending your adventure in the captivating country of Morocco.
Trip Summary
Accommodation
Other & Camping
15 days trip
Marrakesh, Rabat & 7 more
Have A Question?
Ask the TripLeader questions about the Trip by clicking on the button below. Your question and the response will be visible on this page once it's answered.
What's excluded?
Flights
Gas for the car (we share this cost)
Private expenses such as souvenirs
Food & beverages
Entrance fees to museum, palaces etc.
Why JoinMyTrip?
Trusted platform used by 150K+ TripMates
Have A Question?
Live Chat with our experts 24x7
Unique Trips hosted by Experienced Travellers
Secure Payments to ensure your money is always safe
Looking for more trips?
Here's some similar trips that you might be interested in.