Slide 1 of 1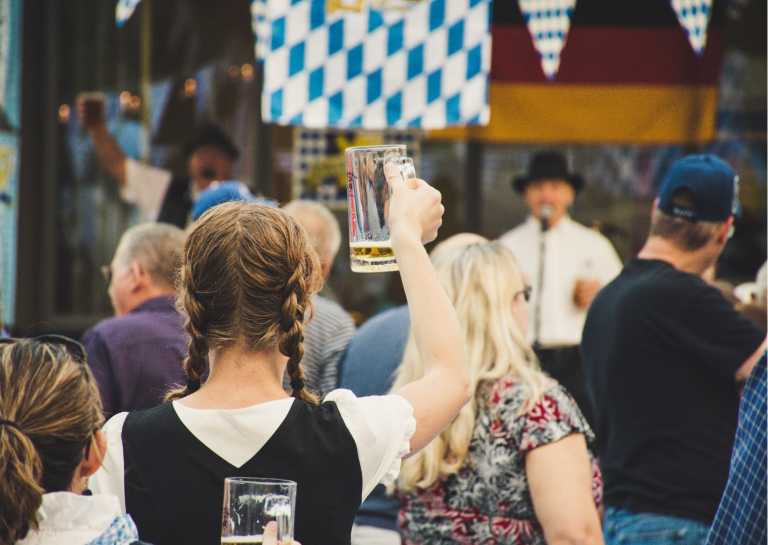 Discover the Authentic Charm of Bergkirchweih Beer Festival and Embark on Unforgettable Beer Tours in Germany
7 Days30 Days!
Extra Cancellation Days
only for the first TripMate
Guided trip
14 days
11 stops
2 - 4 Mates
Germany
What's special?
Beer
Culture
History
While Oktoberfest is probably the most famous beer festival in the whole world, it is not the oldest. This title of oldest beer festival in the whole world belongs to the town of Erlangen, which is in the Franconian part of Bavaria. We will see the beer festival and its unique traditions, as well as visit the areas around. The area of Franconia has the most beer breweries any concentrated area in the entire world. Beer lovers will not be disappointed with this trip!
About me! My name is Jai, and I love beer. I like modern craft beers, but I have a weakness for traditional beers also, especially German. I was in October Fest in 2001, and I would like to see the other festivals in the beer capital of the world, Germany. Would you like to have a few with me?
Details about the accommodation: We will get into apartment for the duration of the Stay near the village of Erlangen. We will be able to cook there when we are not eating at the festival or in restaurants at breweries. We were also have our breakfast together before setting out for the day. We will have single rooms but if you do that mind sharing a room, let me know. If you have any other question about the trip you can let me know in the Q&A section! See you soon!
What's included?
Health insurance for German and austrian
Accommodation (Private rooms)
Your Booking includes free protection from Trip cancellations.
Learn More
Meet Your TripLeader
Phone Verified
Identity Verified
31 Countries
8 Trips Completed
I am Jai. Former IT. Trying now to travel and enjoy life while I still can.
You can chat with j schmidt once you reserve your spot.
Trip Itinerary
You will meet j schmidt and the group in Nuremberg
Find the best flight details to Nuremberg ->
Nuremberg
Day 1-2
We will meet at our flat here. We will take local transport where we need to go in the Franconian region. Here is where we will have coffee, tea, breakfast before setting out. Of course, when we are not in the villages, we can sightsee around Nuremberg too. Likely the first day will be dedicated to this.
Erlangen
Day 2-3
This will be where our beer festival will be held. Entrance is free, and we don't have to spend the entire time here. We can come and go as we please, but here are some main highlights. There is also an online map of the brewery path that takes you throughout the beer and brewery history of Erlangen. On the 16th, there will be the first cutting of the first Barrow of the festival at 5pm. There are also several tents that we can go to and meet locals. At the end of the festival, they have a beer funeral. The last deer barrel is paraded through the area, as we say our last goodbyes before the beer barrel is buried. Before 5pm, we can sightsee around Erlangen.
Huguenot Church
Day 3
This is one non beer place we can see. The Hugenots fleed discrimination and were welcomed in Erlangen. It will be interesting to see their mark on Erlangen and how this church differs from others. It might be a good idea to see the church before beer.
Bayreuth
Day 3-4
We will take an overnight trip to Bayreuth in Upper Franconia. At one point, famous people like Richard Wagner and Princess Wilhelmine lived here. We will eat lunch probably at a restaurant before walking around the town. The many palaces and we can go inside if we want to. Otherwise, the architecture is just as good to look at from the outside. Another stop will be the grave of Richard Wagner, which is located in Haus Wahnfried. We will visit a beer Museum there is an a Guinness Book of World Records for being the most comprehensive beer museum in the whole world and learn about the brewing traditions of Franconia. Before we take the bus back to Erlangan, we will stop and have a beer or two at a traditional Tavern.
Kulmbach
Day 4-5
From Bayreuth, we will take a bus or a train to the town of Kulmbach. Despite the towns small size, it's beers are shipped all over the world. Kulmbach is a picturesque town, and this is easily noted because one of the breweries that we will go to is within viewpoint of the Castle. The brewery has its normal namesake beer, but every month they brew a seasonal beer. So it would be good to try that one while we're here over a nice lunch. Or how about trying a beer that was invented by Augestine monks in the Middle Ages? We will visit the beer museum and and that visit with a beer tasting of Kulmbacj beers. For people who like to cook, the bakery museum in the Spice Museum will be of interest. The bakery Museum talks about how important baking and purity laws are in Germany. The Spice Museum talks about history of the Spice trade and how it impacted Germany in history.
Plassen Castle
Day 5
We cannot just eat in front of the castle without going up. When we are at the top, Derby plenty of photo opportunities because of the panoramic views of the city. We will learn about the Hohenzollen Dynasty that was based here at one time. We will visit all the exhibits in the castle, including the Frederick the Great Army Museum and the Deutches Zinnfigurenmuseum.
Nuremberg
Day 5-6
It will be Sunday and the English tour for the underground sellers is only at 11:30 in the morning. So after our coffee and breakfast we have to go. In the 14th century, it was said that anybody who wanted to brew beer in the area could only brew beer if they had a seller. This is why there's so many underground sellers and Nuremberg. But having so many sellers ended up being good in World War Two when Nuremberg sustained heavy bombing from the allied powers. We will have a guided tour in the sellers to learn about all the history. At the end of the tour, we must have red beer.
Bamberg
Day 6-7
Walking around Bamberg, you will see special lumber houses, which are characteristic to the city. There is also an area called Little Venice because these unique houses line a canal. It is an option to take a boat ride, but even walking along the canal will be very relaxing. If you are a book enthusiast like me, you will love the rare bookstore. Maybe you were even find an antique book to add to your collection. Or it would be a good souvenir or a gift for someone back home. There is also the Farmers Market that has been running six days a week since the 11th century. We can maybe stop there for a snack or a lunch or maybe to look around. Also a thing to note about Bamberg is it it is most known for its smoked beer. Bamberg has a total of 9 family owned breweries that have been going on for centuries. And the surrounding areas of the small town have a total of 200 breweries.
Altenburg
Day 7-8
We will take an afternoon and hike 14 minutes or so up to a guest house and restaurant. We can either take a picnic lunch up there from the farmer's market in Bamberg or we can eat at the restaurant. Either way, we will be surrounded by beautiful views of rural nature. When we get to the top, we will be standing underneath a medieval wall. Across the drawbridge is the beer garden.
Franconian Brewery Museum Bamberg
Day 8
This museum will tell the history of brewing beer in Franconia. You will get to see different equipment and various artifacts throughout the years. There is not so much reading in this museum, but the items that we will see in the museum will spark good conversation and questions amongst us and to the people who are working in the museum.
Erlangen
Day 8-14
We will spend several days in Erlangen walking around and enjoying the festival. This includes the last day of the festival, which is the 27th. We will see the traditional beer funeral that takes place before they bury the last barrel of beer. We will go back to Nuremberg and spend our last night together. Then the next day we will part ways. But I hope not for long and I will see you again on another adventure!
You will meet j schmidt and the group in Erlangen
Find the best flight details home from Erlangen ->
Trip Summary
14 days trip
Nuremberg, Erlangen & 9 more
Transportation
Train, Trekking
Have A Question?
Ask the TripLeader questions about the Trip by clicking on the button below. Your question and the response will be visible on this page once it's answered.
What's excluded?
Flights
Food
Souvenirs and other personal items
Transportation
Why JoinMyTrip?
Trusted platform used by 150K+ TripMates
Have A Question?
Live Chat with our experts 24x7
Unique Trips hosted by Experienced Travellers
Secure Payments to ensure your money is always safe
Looking for more trips?
Here's some similar trips that you might be interested in.