Slide 1 of 1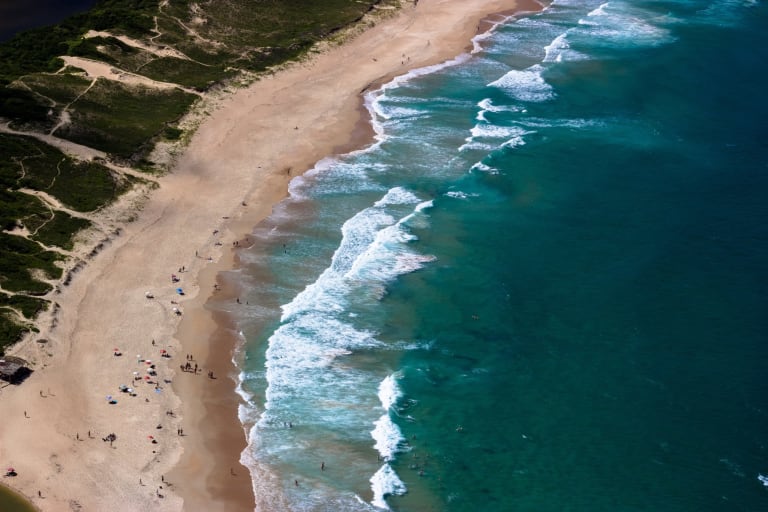 Discover Santa Catarina's Beautiful Seashore beyond Florianópolis
7 Days30 Days!
Extra Cancellation Days
only for the first TripMate
Guided trip
5 days
7 stops
3 - 5 Mates
Brazil
What's special?
Beaultiful beaches & outdoor activities
Great accommodation
Awesome company
Hi everyone! Do you want to relax and enjoy beautiful beaches, views and amazing food? Then this is the trip for you! We will be visiting a trench of the northern Santa Catarina's (SC) coastline known as "The Emerald Coast". The Emerald Coast is a region that comprises the cities of Itapema, Porto Belo and Bombinhas and has this name for its green and crystal clear waters. The region has approximately 60km of coastline, much of this territory is preserved through protected natural areas. It is located between Florianópolis and Balneário Camboriú, which makes it very easily accessed. Itapema is a destination of beautiful beaches, the third city that receives more tourists in Santa Catarina. It offers excellent infrastructure with banks, supermarkets, bars, restaurants and various shops, making it a perfect base to explore the Emerald Coast. The main beach is "Meia Praia", an extensive beach in which the "Linear Promenade Park" extends throughout providing bike and walking paths, rest and leisure areas for all ages. Porto Belo is a fishing village with simple commerce, calm waters and white sand beaches. It is a destination for diving, relaxing and enjoying nature. It is one of the best places to watch the sunset while enjoying a fun happy hour. Bombinhas is home to the most beautiful beaches in southern Brazil. Its geography and coves of green and crystalline waters arranged around a peninsula makes it an ideal destination for swimming in the sea. After the main and most urbanized beaches small and beautiful beaches appear, some almost private, ideal for swimming in the calm of green waters among goldfish. Due to the very rich life of the sea floor, this destination has also become a paradise for diving. We will move with a little bit of hiking and snorkelling, enjoy chill out time at the beach, eat great foods and socialize. Included: - Accommodation (cozy tiny container apartments) - A lot of laughs - Breathtaking views - Best memories and songs on the route What's not included: - Flights and transportation from/to FLN airport - Meals and bevereges, unless specified - Tickets to attractions
I am Vanessa, Brazilian, born on the road! I am an architect who loves traveling, exploring new places, cultures and food! I was born in the late 70s, I am super organized, English and Spanish speaker, and I'm also trying to learn Italian. My hubby and I are short-term rental hosts, and we love to share our traveling experiences with our guests and friends. We are Airbnb Superhosts and Booking Proud Certified. We live at Santa Catarina's coast, and we will provide you with a welcoming and fun experience.
We wil stay at my own home. It is a 140sq m recycled container house, divided into 4 apartments. It is located within a 5-min walk from the seashore and close to supermarkets, restaurants and more. Me and my hubby live in the master unit and we short-term rent the other 3 units. The studio is a complete private unit with a double bed, kitchenet and private bathroom. The other are 2-bedroom apartments, each one with 1 bathroom and kitchenet. The house also has shared spaces: cozy lounge area for chilling out, laundry and barbecue area with a complete kitchen where we usually share barbecues and the meals with friends family and guests. Please use the Q&A for asking questions, or reserve your spot at once! I can't wait to meet you all!
What's included?
Transportation between stops
Accommodation
Wellcome barbecue
Transfer from/to group's meeting point
Your Booking includes free protection from Trip cancellations.
Learn More
Meet Your TripLeader
Phone Verified
Identity Verified
21 Countries
Hi everyone! Ia am Vanessa, 47 y/o, born on the road.
You can chat with Vanessa once you reserve your spot.
Trip Itinerary
You will meet Vanessa and the group in Mercado Público de Florianópolis
Find the best flight details to and from Mercado Público de Florianópolis ->
Mercado Público de Florianópolis
Day 1
The Florianópolis Public Market is a major attraction in the city, opening daily at 7 am. It will be our meeting point. I will pick you up there at 9 am, giving you some time to walk around the market and maybe have breakfast, in case you haven't done so. Then we will be on our way to Itapema on a 50-60 minute drive along the highway heading north (60 km/ 37 miles) until we reach our accommodation.
Itapema
Day 1-2
Itapema will be our "base camp". Upon arrival, we will check-in and get settled. Then we will go on a little city tour (by car) to Canto da Praia, the fishermen's neighborhood, take the trail to Praia Grossa and finally go up to Mirante do Encanto, a viewpoint with 360-degree views of the city from where we can enjoy the sunset. Next we get back to the accommodation to rest and enjoy a welcome barbecue prepared by my hubby. Please let me know in advance if you have any food allergies or restrictions so I can make appropriate arrangements. *The schedule can be reviewed in case of bad weather or unforeseen events. But do not worry! There will be plenty of activities and fun.
Bombinhas
Day 2
Home to some of the most beautiful beaches in Santa Catarina! We'll start the day early! Bombinhas county alone has 39 beaches ranging from bays with calm transparent waters, beaches with rough seas, and some deserted, with access only by trails or by the sea. My favorite itinerary by car is to stop for a quick peek at the beaches of Bombas, Bombinhas, Lagoinha and finally spend some time at Sepultura beach (good spot for snorkeling and diving), where we can have lunch or head to Quatro Ilhas beach to have lunch there and chill out by the sea. Depending on our departure time, we can either take a quick stroll to other beaches on our way back to Itapema or head to Mirante 360, which has incredible views of the entire Bombinhas peninsula. *The schedule can be reviewed in case of bad weather or unforeseen events. But do not worry! There will be plenty of activities and fun.
Itapema
Day 2-3
Back at our accommodation, we will have time for a bit of rest and prepare to go to a local bar or restaurant to be set according to whatever is happening around town at the time. For those who are very tired, there is still the option to unwind at home. *The schedule can be reviewed in case of bad weather or unforeseen events. But do not worry! There will be plenty of activities and fun.
Pôrto Belo
Day 3
Porto Belo is famous for its boat tours, speedboats and jet skiing. On all the beaches you will find options and vessels for a nautical adventure. The island of Porto Belo is one of the most famous destinations. We will take a quick tour to see some cute beaches, but our main destination will be the island of Porto Belo. A Caribbean like beach with great infrastructure, for chilling out, snorkeling, scuba diving, kayaking, banana boating and stand-up paddle (all equipment can be rented at the beach as needed. Not included in the trip costs). When we get back to the mainland, we'll have a happy hour at a local bar with great food, live music and a spectacular sunset. *The schedule can be reviewed in case of bad weather or unforeseen events. But do not worry! There will be plenty of activities and fun.
Itapema
Day 3-5
I suspect that after the whole day at the beach and a great happy hour, we won't have much more energy to expend. Anyway, let's keep our options opened! One can either continue the happy hour at home (LOL) or rest to recover and prepare for the last day of the trip. For our last day the plan is to enjoy Itapema's Meia Praia in the morning, have lunch at a local bar or restaurant on the waterfront, walk along the boardwalk or just chill out. Free afternoon to do whatever you wish. Finally, we're having a farewell party at the house. For this, I suggest that each of us prepare or bring a snack and a favorite drink to celebrate the success of our trip and share a lot of laughs!
Mercado Público de Florianópolis
Day 5
We will leave Itapema at 9am, heading to Florianópolis. I will leave you in the same pickup spot. From there you can take the Floripa city tour on the tourist bus or take Uber, taxi or the regular bus lines to your next destination.
Trip Summary
5 days trip
Mercado Público de Florianópolis, Itapema & 5 more
Have A Question?
Ask the TripLeader questions about the Trip by clicking on the button below. Your question and the response will be visible on this page once it's answered.
What's excluded?
Foods and beverages
Plane tickets
Personal expenses
Transportation from/to FLN airport
Attractions & entrance fees
Why JoinMyTrip?
Trusted platform used by 150K+ TripMates
Have A Question?
Live Chat with our experts 24x7
Unique Trips hosted by Experienced Travellers
Secure Payments to ensure your money is always safe