Slide 1 of 1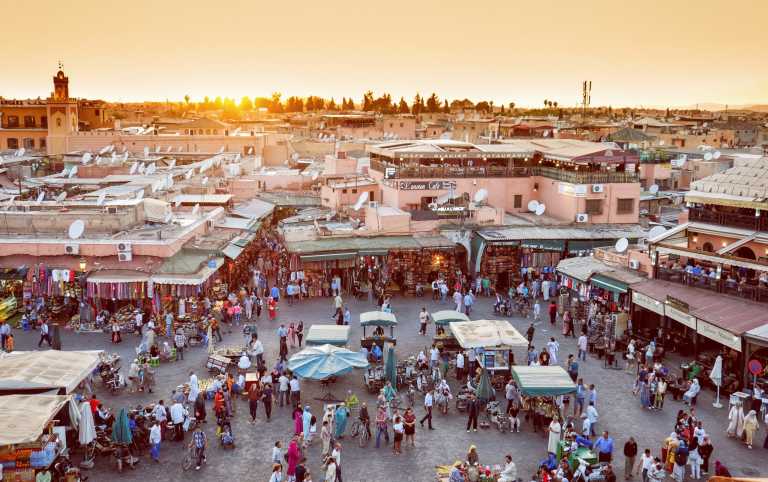 Discover Morocco: Grand Morocco Trip
Guided trip
13 days
7 stops
5 - 6 Mates
Morocco
What's special?
Local TripLeader
Morocco is a country located in North Africa, bordered by the Atlantic Ocean and the Mediterranean Sea. It is known for its diverse landscapes, which range from the sandy beaches of the coastline to the rugged mountains of the Atlas range and the vast Sahara Desert in the south. Morocco, my beautiful country is known for its warm hospitality and friendly locals. It has a rich history, influenced by various civilizations and cultures. One of the most popular cities in Morocco is Marrakech, known for its bustling medina (old town), vibrant souks (markets), and iconic landmarks like the Koutoubia Mosque and Bahia Palace. Another must-visit city is Fez, home to the oldest university in the world and a well-preserved medieval medina. The cuisine of Morocco is another highlight, with its flavorful tagines, couscous dishes, and mint tea. Traditional Moroccan cuisine is a blend of Berber, Arab, and Mediterranean influences, featuring a mix of spices and aromatic herbs. Nature enthusiasts will find plenty to explore in Morocco as well. The Atlas Mountains offer opportunities for hiking, trekking, and skiing, while the Sahara Desert allows for camel rides and overnight camping under the stars. Overall, Morocco offers a unique blend of history, culture, natural beauty, and warm hospitality, making it a captivating destination for travelers from around the world.
About me! Hello everyone, my name is Widad and I am from Morocco, I worked previously as Travel advisor so I have sufficient experience in creating and organizing itineraries for multiple people and now it is my pleasure to be organizing one for us, my goal is to introduce people to my beautiful country and share its beauty. I am a travel lover, i love love traveling, it's the only time i feel truly alive so join me on this amazing trip.
Details about the accommodation: The accommodations really depend on which city we will be in, it could range from an apartment or hotel in a more modern city, a Riad in the more traditional city or a tent in the Sahara Desert, either way, I can assure you that I will be sure to hand pick the accommodations carefully to ensure our comfort. Do you have a question? Let me know in the Q&A section!
What's included?
Transportation (Car)
Accommodation (Shared rooms)
Your Booking includes free protection from Trip cancellations.
Learn More
Meet Your TripLeader
Phone Verified
Identity Verified
My name is Widad, i love traveling, i previously worked as a travel advisor so i have sufficient experience in planning and organizing trips
You can chat with bouzrari once you reserve your spot.
Trip Itinerary
Casablanca
Day 1-2
Casablanca is the largest city in Morocco and serves as its economic and business hub. Located on the Atlantic coast. One of the most iconic landmarks in Casablanca is the Hassan II Mosque, the largest mosque in Morocco and one of the largest in the world. This architectural masterpiece is situated on a promontory overlooking the Atlantic Ocean and features intricate details, beautiful mosaics, and a stunning minaret that reaches a height of 210 meters. We can take guided tours to explore the mosque's interior and learn about its significance. The Corniche is another popular area in Casablanca, offering stunning views of the ocean, sandy beaches, and a lively promenade lined with restaurants, cafes, and entertainment venues. It's a great place to relax, enjoy a walk, or savor fresh seafood.
Fes
Day 2-3
Fes is one of the most important cultural and historical cities in Morocco. It is the country's oldest imperial city and is renowned for its well-preserved medieval architecture, traditional crafts, and vibrant atmosphere. The medina is home to numerous historical sites, including the famous Al-Qarawiyyin Mosque, which is considered the oldest continuously operating university in the world. One of the highlights in Fes is the tanneries, where you can witness the traditional process of leather production, and the traditional craftsmanship. Another notable site in Fes is the Royal Palace, situated in the newer part of the city. While the palace itself is not open to the public, the grand entrance and elaborate gates are worth seeing. Fes is also a culinary destination, known for its traditional Moroccan cuisine. The city boasts numerous restaurants and street food stalls where you can savor local dishes like tagine, couscous, pastilla, and various types of Moroccan sweets.
Merzouga
Day 3-5
Merzouga is a small village located in the southeastern part of Morocco, known for its stunning Saharan desert landscape and iconic sand dunes. It is a popular destination for travelers seeking a unique desert experience and the opportunity to witness breathtaking sunsets and sunrises in the Sahara. The main attraction in Merzouga is the Erg Chebbi sand dunes, which are among the highest in Morocco. These golden dunes stretch as far as the eye can see and offer a mesmerizing sight. Camping in the desert is a must-do experience in Merzouga. Many campsites offer traditional Berber-style tents, where you can spend the night under the starry sky. You'll have the chance to enjoy traditional Moroccan music, dance, and cuisine, creating unforgettable memories.
Ouarzazate
Day 5-6
Ouarzazate is a city located in the southeastern part of Morocco, often referred to as the "Gateway to the Sahara." It is known for its stunning desert landscapes, historical sites, and as a popular filming location for movies and TV series. One of the main attractions in Ouarzazate is the UNESCO World Heritage site of Ait Ben Haddou. This ancient fortified village is made up of a collection of kasbahs (fortresses) and has been featured in numerous films, including "Gladiator" and "Game of Thrones." Visitors can explore the narrow winding streets, admire the traditional architecture, and enjoy panoramic views of the surrounding area. For movie enthusiasts, a visit to the Atlas Film Studios is a must.
Marrakesh
Day 6-9
Marrakech is a vibrant and bustling city located in the western part of Morocco. Known for its rich history, stunning architecture, lively souks, and vibrant atmosphere, Marrakech is a popular tourist destination. One of the main attractions in Marrakech is the medina, a UNESCO World Heritage site. Within the medina, you'll find the famous Jemaa el-Fnaa square, which comes alive with food stalls, snake charmers, musicians, and various entertainers. It's a vibrant and bustling place to soak up the atmosphere and experience the local culture. The medina is also home to several architectural gems, including the Koutoubia Mosque, with its iconic minaret, and the Bahia Palace, known for its stunning courtyards and intricate tilework. The Saadian Tombs, dating back to the 16th century, are another significant historical site worth visiting. Marrakech is renowned for its souks, or traditional markets, where you can find a wide range of goods, including spices, textiles, leather goods, ceramics, and traditional Moroccan crafts. Exploring the narrow alleyways of the souks is an adventure in itself, and bargaining is a common practice when making purchases. The city is also known for its beautiful gardens, such as the Majorelle Garden, a lush oasis of exotic plants and vibrant blue buildings. This garden was once owned by the French painter Jacques Majorelle and is now home to the Museum of Islamic Art. For a taste of Moroccan cuisine, Marrakech offers a wide range of dining options. From street food stalls serving traditional dishes like tagine and couscous to high-end restaurants offering a fusion of Moroccan and international flavors, you'll find something to suit every palate.
Taghazout
Day 9-11
Taghazout is a small coastal village located in southwestern Morocco, approximately 20 kilometers north of Agadir. It is a popular destination for surfers and beach lovers, known for its laid-back atmosphere, beautiful beaches, and excellent surf conditions. Taghazout attracts surfers from around the world due to its consistent waves and a variety of surf spots suitable for all levels, from beginners to advanced surfers. The village itself has a relaxed and bohemian vibe, with a mix of local charm and international influences. You'll find a range of accommodations, from budget-friendly hostels to luxury resorts, as well as a selection of restaurants and cafes serving both local and international cuisine.
Essaouira
Day 11-13
Essaouira is a coastal city located in western Morocco, about 180 kilometers west of Marrakech. Known for its picturesque medina, charming harbor, and beautiful beaches, Essaouira is a popular destination for travelers seeking a relaxed and authentic Moroccan experience. So it is the perfect place to end an exciting trip. The medina of Essaouira is a UNESCO World Heritage site and is one of the main attractions in the city. It is a well-preserved walled city with narrow streets, white-washed buildings, and blue doors and windows. Inside the medina, you can explore the bustling souks, visit traditional artisans' workshops, and admire the unique blend of Moroccan and European architectural influences. The harbor of Essaouira is a lively area where you can witness the daily activities of local fishermen. It's a great place to stroll along the waterfront, watch the colorful fishing boats, and enjoy fresh seafood at the local restaurants. Essaouira is also famous for its beautiful beaches, which stretch for miles along the Atlantic coast. The strong winds and consistent waves make it a popular destination for windsurfing and kitesurfing. Many surf schools and rental shops are available for those who want to try these water sports. The city has a vibrant arts and music scene, with numerous galleries and music festivals throughout the year. The Gnaoua World Music Festival, held annually in June, attracts both local and international musicians, offering a unique fusion of traditional and contemporary music.
Trip Summary
Accommodation
Hotel & Apartments & Camping
13 days trip
Casablanca, Fes & 5 more
What's excluded?
Flights
Food
Optional activities
Entrance fees
Why JoinMyTrip?
Trusted platform used by 150K+ TripMates
Have A Question?
Live Chat with our experts 24x7
Unique Trips hosted by Experienced Travellers
Secure Payments to ensure your money is always safe