Slide 1 of 1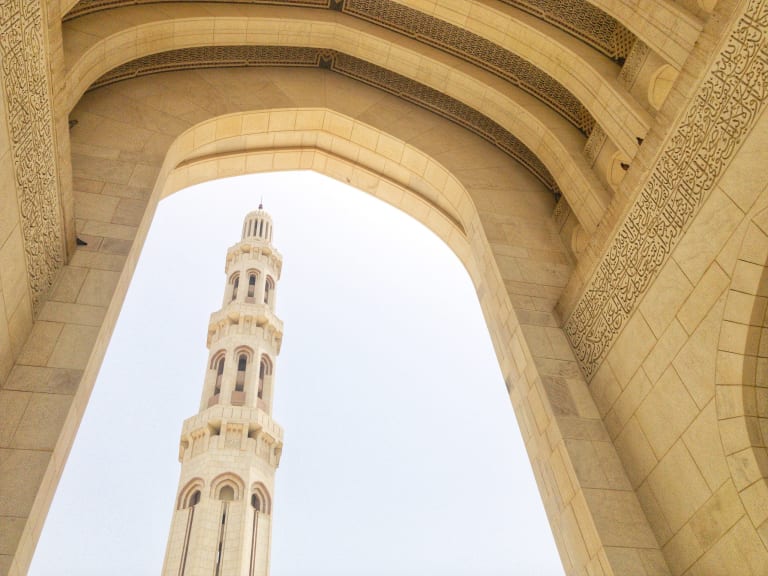 Desert and beach relaxing 7-day holiday in Oman
7 Days30 Days!
Extra Cancellation Days
only for the first TripMate
Guided trip
7 days
7 stops
5 Mates
Oman
What's special?
Sailing and snorkelling adventure
Desert safari adventure
Let's discover Oman, one of the most beautiful countries in the Arabian Peninsula with its traditional architecture and mind-blowing natural beauty, named one of the top 10 "golden" destinations by Lonely Planet! During our 7-day itinerary, we will enjoy various activities, from desert safari to relaxing on the beach and exploring iconic landmarks!
Oman has been on my bucket list for quite some time, and I am looking forward to sharing this trip with passionate travellers who appreciate exploring cultural diversity and alternative destinations. In our itinerary, I included some of my favourite activities we can enjoy together in 7 days.
For our accommodation, I have chosen 3-star hotels with double or triple rooms and single beds for more convenience. For our safari adventure, we are spending the night at a bedouin camp. All of our hotels offer breakfast and our one-day stays also offer dinner (all offered meals are included in the final price). If Oman is on your bucket list as well, I'm happy to be traveling with you soon!
What's included?
Accommodation
Day trip on Daymaniyat islands
Transportation (SUV rental)
Your Booking includes free protection from Trip cancellations.
Learn More
Meet Your TripLeader
Phone Verified
Identity Verified
13 Countries
Hello, I'm Vana, a travel enthusiast, adventure seeker & culture explorer from Greece
You can chat with Vana once you reserve your spot.
Trip Itinerary
You will meet Vana and the group in Muscat
Find the best flight details to and from Muscat ->
Muscat
Day 1-2
Our trip begins in Muscat, Oman's beautiful capital of appx. 1 million people. Oman combines mesmerizing beaches, natural pools and the middle eastern desert, providing unique scenery and various opportunities. When everybody arrives, we will get to know each other better and review our trip.
Fins Beach
Day 2
We are picking up our car and begin our holiday. Our first stop is Fins Beach, just a 1.5-hour drive from Muscat. We are spending half of our day there, relaxing at the beach, enjoying the sun and swimming in the crispy waters. There are many beach options in Muscat and the nearby areas, so if we decide to include a stop, it would be pretty easy and fun!
Sur
Day 2-3
We can visit Wadi Shab, a top-rated destination in Oman on our way to Sur. Wadi means valley in Arabic, and this valley has everything it requires to be extra attractive. After a 45-minute hike, which can be demanding at some points, we are enjoying dipping into its refreshing natural blue-green pools. Our final destination for the day is the coastal city of Sur, where we also spend the night at a beachfront hotel.
Wahiba Sands
Day 3-4
We are taking part in a desert safari and spending the night at the renowned Wahiba Sands in Bedouin camp tents. Desert camping is my favourite experience in middle eastern countries. The scenery and atmosphere are surreal, and the local hospitality is authentic and unique. There are plenty of activities such as camel or 4×4 desert rides, sandboarding and desert explorations, I recommend we join before sunset. At night, I am sure you will enjoy the local bedouin feast. On our way, we will swim in the deep pools of Wadi Bani Khalid and explore the hidden Mukal Cave.
Nizwa
Day 4-5
The next stop is Nizwa, Oman's cultural capital. On our way, we will stop at Birka Al Mawz, a charming ancestral village at the base of Jebel Akhdar (Green Mountain), we will explore Oman's most significant forts and castes, and discover Bahla, one of the oldest cities in the region and a UNESCO World Heritage Site.
Muscat
Day 5-7
We return to Muscat by late afternoon and set in our hotel. There we have the chance to explore a bit more of the city in the next 2–3 days. We are visiting some of the city's most iconic landmarks, such as the magnificent Sultan Qaboos Grand Mosque - the country's tallest structure, the Royal Opera House, Bait Al Zubair Museum, Al Alam Palace and Muttrah Souq. Of course, we can enjoy swimming and relaxing at the beach or try some water activities.
Ad Dimaniyat Islands
Day 7
Finally, we are sailing on a day trip through the 9 Nature Reserve uninhabited Daymaniyat islands. The islands were only recently open to the public, and they are known for the sea turtles that lay their eggs and nest there, as well as their extraordinary flora and fauna. This is a half-day organized experience with experienced locals, snorkelling equipment, and a lunch stop.
Trip Summary
Accommodation
Hotel & Camping
7 days trip
Muscat, Fins Beach & 5 more
Have A Question?
Ask the TripLeader questions about the Trip by clicking on the button below. Your question and the response will be visible on this page once it's answered.
What's excluded?
Flight tickets
Fuel (approximately 0,60 euro/litre)
travel insurance (included for Germany)
Why JoinMyTrip?
Trusted platform used by 150K+ TripMates
Have A Question?
Live Chat with our experts 24x7
Unique Trips hosted by Experienced Travellers
Secure Payments to ensure your money is always safe