Slide 1 of 1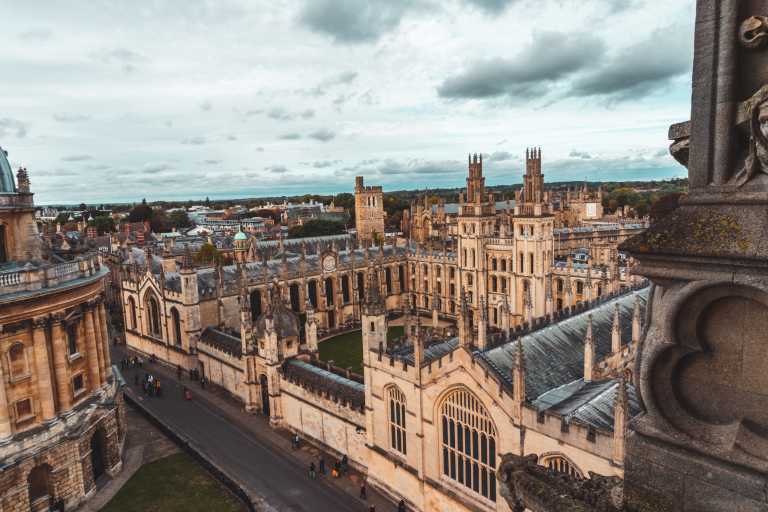 Cozy vibes of Oxford, Brighton and London: historical tours and nature walks, great food, coffee shops and hidden pubs!
Coworking trip
9 days
3 stops
4 Mates
United Kingdom
What's special?
I've lived in Oxford before
I know locals
I've been to this places before
Welcome to two of my top 5 favorite places on earth! (when you meet me I'll tell you the other three, hahaha) The sum up of the trip is: great cozy homemade food, coffee shops, historical tours and walks, night visits to the best pubs, train rides, a sprinkle of the crisp beach air of January and a glance at London because when in England we should, right?! Oxford was the destination of my first international trip when I was only 17, and you might think: Oxford, why not London? Well let me tell you, this city is full of history on every corner, great cozy shops and it has a refreshing atmosphere of kindness and warmth. I've met people that told me amazing extra stories on every tour and by exploring the city myself I got to know some hidden jams! Well... hidden pubs but if after a long day of work all you fancy is great food and a pint, then join me! Plus, I know some locals who can give us tips ;) What about Brighton, then? Brighton is the joy of England, it's beautiful and modern while maintaining the classic English vibe! We will hop on a bus and Brighton will bring you the joy you need to start the new years with a fresh breath of air! One thing you should know about me is that I love cooking, so I will cook us all one meal every day and even some snacks here and there (I'm latina and I've lived with Idians and Italians, so I know my way around the kitchen). At night, we will go out for dinner and drinks at some of the best pubs in Oxford. I can say this because I have friends that are local, so they gave me great recommendations (This is not included in the price btw, since it's very unpredictable how much we will spend). On the weekend we will take the bus to Brighton where we will explore the quirky shops of the north lanes, we will head to the pier at the beach and get some nice carnival food and even play some arcade games! After a full week of work we deserve it! Here we will stay at Selina hostel, one of the best hostel chains in the world! Four of us will be together sharing a room, only for this one night tho! On our last couple of days, up we go to London! We will stay in Selina Camden, right in the heart of London. We can do some sightseeing and end this amazing trip on a nice, traditional english pub where we can get nostalgic and revisit the best moments of our days together. I'm already missing it! So, see you England!
About me: I'm Lua, an online English tutor with a passion for traveling and exploring. When it comes to traveling with me, you can expect a lot of fun times, great talks around the kitchen while a cake is baking. I love to explore and usually I run away from touristic points! I like to get to know the real city, it's always more interesting! For this trip I want to revisit the place I fell in love with when I was young, get those cozy vibes of a British winter and create great memories. Working remotely can be really lonely, so let's make it fun!
Accommodation: The trip starts in Oxford, where we will be staying in a lovely home with 3 bedrooms so we will be sharing rooms but don't worry, they are beautiful and spacious! The house has at least 5 desks for us to work and if you need to have meetings we have the bedrooms, the living room and the garden if you prefer. In Brighton, we will stay at Selina hostel, one of the best hostel chains in the world! Four of us will be together sharing a room, only for this one night tho! In London, we will stay in Selina Camden, right in the heart of London, we will be also sharing a room here, but it's only for the last night. Please make sure to reach out, I'm here to answer any questions!
What's included?
Accommodation
Transportation in between stops
1 homemade meal per day
free city tours in Oxford
Your Booking includes free protection from Trip cancellations.
Learn More
Meet Your TripLeader
Phone Verified
Identity Verified
7 Countries
I'm Lua, an English Tutor with a passion for traveling and learning about new cultures. I've been around and don't want to stop. Join me?!
You can chat with Luana once you reserve your spot.
Trip Itinerary
Oxford
Day 1-7
In Oxford, our days will be chilled since we all will be working, but I will plan some early evening tours for us to experience all the history that Oxford has to offer. Also, one of my biggest passions is cooking and baking, so I will cook us all one meal per day, we will choose together if it's going to be breakfast or lunch once we form our group, so be prepared to have some awesome homage food! (I should mention I'm latina, lived with Italians, Indians, Portuguese, Mexicans... so I know my way around the kitchen). At night, I will always suggest a pub for dinner and some drinks to wine down after the work day, and maybe some different activities like going to the movies or some live jazz perhaps?!
Brighton
Day 7-8
In Brighton, we are going to visit the old town, the famous lanes where they house the most interesting vintage shops, coffee shops, random quirky shops for us to have fun and window-shop. Also, we will visit the pier where there's great carnival food, an amazing view and arcade games for us to be kids again! At night, the pub saga continues :) Oh! I should mention that Brighton is super international, so we will find all kinds of food there!
London
Day 8-9
London will be our final stop, it's also good because you're closer to the airport and can get home easily. This last day we can definitely do some sightseeing, see the palace, Big Ben, London Eye, the gardens and end up on a very English pub where we will have some nice food, a couple round of drinks and get nostalgic about our 10 days together! At this moment you will understand the meaning of SAUDADE, a world that only exist in my native language. Don't worry, I will teach you all about it! See you soon :)
Trip Summary
Accommodation
Hostel & Apartments
9 days trip
Oxford, Brighton & 1 more
What's excluded?
Flights
dinners and drinks
Why JoinMyTrip?
Trusted platform used by 150K+ TripMates
Have A Question?
Live Chat with our experts 24x7
Unique Trips hosted by Experienced Travellers
Secure Payments to ensure your money is always safe