Slide 1 of 1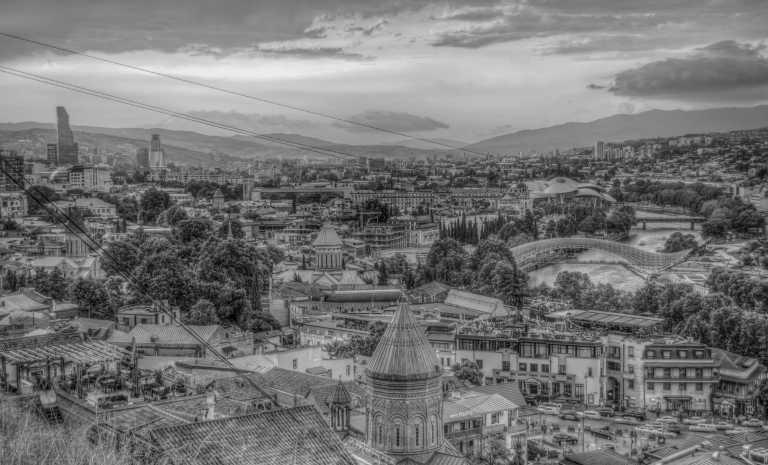 CoWorking in Yerevan, Armenia + one week trip to Tbilisi, Georgia!
Coworking trip
36 days
3 stops
10 - 15 Mates
Western Asia
Yerevan, the capital of the former Soviet country Armenia, is a very metropolitan city and has a festive palette throughout the year. With its rich history, vibrant culture, and stunning architecture, Yerevan is a city unlike any other. The streets are alive with the sounds of traditional Armenian music, and the air is scented with the aroma of delicious local cuisine. Explore the city's many museums, art galleries, and parks, or simply stroll the streets and soak in the vibrant energy of this one-of-a-kind destination. Tbilisi – the cultural gem of Georgia is approximately 340 km (211 miles) away from Yerevan. Obviously, WiFi Artists will not miss the chance to explore another country, meet new people, combine work and travel, especially when it's that easy to get there! What's included? - Work-Friendly Accommodations - Co-Working Pass - Professional Development - Dedicated Team Lead - Airport Arrival Transfer - Welcome Essentials - Local SIM Card - High-Speed Internet in the Room and Common Areas​ - Cleaning Services - Backup Technology (Laptop, Charger, Batteries) - City Guide Yerevan, Armenia September 3rd – October 1st, 2023 An extra week in Tbilisi, Georgia October 1st – October 8th, 2023
This ship has sailed!
Unfortunately this trip has commenced or been completed already. But don't worry! We have a lot more similar trips that you could check out.
Your Booking includes free protection from Trip cancellations.
Learn More
Meet Your TripLeader
Phone Verified
Identity Verified
3 Trips Completed
Hova has traveled to 50+ countries and 47 of the United States without posting a single picture on social media.
You can chat with Hova once you reserve your spot.
Trip Itinerary
Yerevan
Day 1-29
When you visit Yerevan, you'll be hosted by a TripLeader who will travel with the group throughout your stay. Unlike some remote work companies, he will never leave you hanging. You'll have support from our on-the-ground team in Yerevan. If you need help booking a tour, finding the best local activities, or getting questions answered, the team is your go-to resource! Why Choose Yerevan For Your Remote Work and Travel? Explore The Old And The New A combination of both worlds from old churches, historical and cultural monuments, museums, and galleries, mixed with modern sights and recreational places that bustle with trendy bars and cafés frequented by well-heeled locals. Admire The Inside-Out Art Center, Cascade An inside-out art center housed in a vast flight of limestone steps known as the Cascade, where contemporary art compliments nature and architecture, inviting you to embrace the sweeping views of the city with Mount Ararat in the background. Enjoy your time at the base decorated with gardens, fountains, and cafés, making it a remarkable meeting point for locals and expats. Visit the Dancing Fountains In the heart of Yerevan and the Republic Square, next to the History Museum and Art Gallery, the famous singing and dancing fountain is one of the main attractions of Yerevan, gluing locals and tourists to its colorful performance under a range of the world's classical masterpieces, national music, rock and pop motifs of the 20th and 21st centuries. Taste The Most Ancient Cuisine In The South Caucasus Armenian food is rich and filling, with hints of blended spices that never overwhelm. The dishes here are diverse and delicious, thanks to the use of spices, herbs, and wildflowers. The cuisine options are limitless, from Caucasian, Middle-Eastern, and European, to American and Asian.
Tbilisi
Day 29-36
Tbilisi – the cultural gem of Georgia is approximately 340 km (211 miles) away from Yerevan. Obviously, you will not miss the chance to explore another country, meet new people, combine work and travel, especially when it's that easy to get there! Exploring Tbilisi, is a must, if you want to experience the rich history, diverse culture, and stunning architecture, which ranges from the ancient Narikala Fortress to the modern glass-and-steel buildings of the city center. The city's Old Town is a particularly charming area, with its winding streets, historic churches, and colorful buildings. Tbilisi is a food lover's paradise! From traditional Georgian dishes like khinkali and khachapuri, to contemporary international cuisine, it offers something for every palate. Why Choose Tbilisi For Your Remote Work and Travel? Experience Culinary Diversity Have you ever tried Georgian food? If not, you're in for a treat when you visit Tbilisi. Be sure to try Georgian kebab, Khachapuri, Khinkali, a cheese pie, and vegetables in walnut sauce. But that's not all – many restaurants in the city serve cuisine from many different countries. The variety of flavors will make sure you're never bored, and you can try something new at every meal. Witness Captivating Street Art You don't have to go to a museum or gallery to witness Tbilisi's art scene. Street art is exploding in the city, with new artists stepping out every day. These artists cover the plain facades of buildings across the city with their beautiful art. Their pieces turn an everyday outdoor stroll into a full cultural experience. Take Trips to the Markets In Tbilisi, you'll find markets of all different sizes. Shopping isn't just an errand here – it's an adventure. Peruse markets big and small on practically every corner, and find all sorts of wares, from fruits and vegetables to souvenirs. You'll be able to walk away with unique items from every shopping trip, and the prices are cheap compared to supermarkets. View Incredible Art and Architecture Tbilisi is characterized by its completely unique appearance, largely due to the Moorish and Gothic motifs that emerged alongside Medieval Georgian architecture in the 19th century. The diversity of architectural styles sets the city apart from any other. As you wander around the city, you'll find architectural influences from each period of Georgia's history.
Tbilisi
Day 36
Where to Stay in Tbilisi We recognize the importance of having a comfortable place to stay and work during your travels. That's why we've meticulously selected our accommodations in the best neighborhoods of Tbilisi. These options will provide everything you need to have a relaxing, fun, and productive trip.
Trip Summary
36 days trip
Yerevan, Tbilisi & 1 more
Transportation
Car, Trekking
Have A Question?
Ask the TripLeader questions about the Trip by clicking on the button below. Your question and the response will be visible on this page once it's answered.
Why JoinMyTrip?
Trusted platform used by 150K+ TripMates
Have A Question?
Live Chat with our experts 24x7
Unique Trips hosted by Experienced Travellers
Secure Payments to ensure your money is always safe