Slide 1 of 1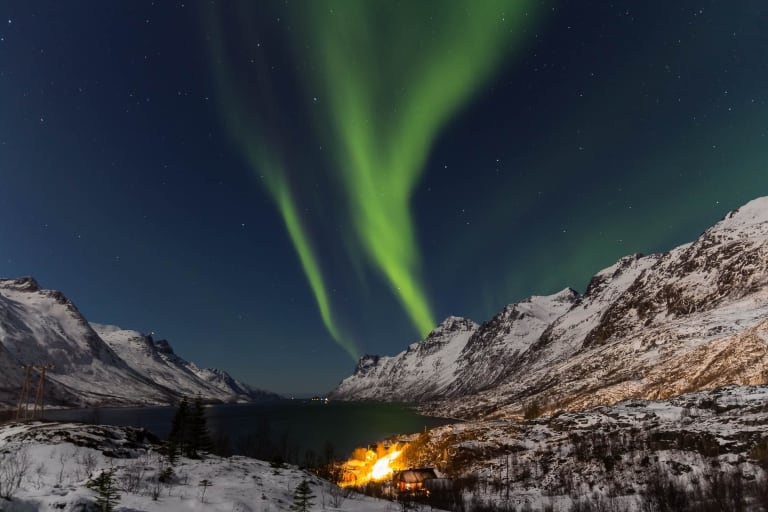 Christmas Under the Northern Lights in Tromsø, Norway
7 Days30 Days!
Extra Cancellation Days
only for the first TripMate
Guided trip
7 days
6 stops
3 - 5 Mates
Norway
What's special?
Unique Christmas dinner
Northern Lights
Dog and reindeer sled tours
Located 350 km above the Arctic Circle, Tromsø is the most northernmost city with the most northernmost everything on Earth. For this reason, it is often called the capital of the Arctic. With nature and a young and vibrant city center, there is something to do all year round. And because of all of those long, dark, polar nights, we are sure to see the Northern Lights before, after, and/or during Christmas dinner. This will be a holiday season you will never forget! So what are you waiting for? My name is Jai, and I have traveled solo for around 20 years, as I worked my way through Corporate America. But I like to share in crazy adventures with other people too that have led me to live abroad in Serbia and Georgia, and do amazing things like white water rafting and eating bugs in Mexico. You can actually read about other chips and more about me on my profile link. https://www.joinmytrip.com/en/profile/2sR0HitpixVh5STOfTQEB9TCibv2 First and foremost, it will be winter so dress warm. If someone has a driver's license, we will have the option to rent a car so we can explore outside if we want to have a greater chance of seeing the Northern Lights. Since it is no guarantee that any of us will have a driver's license, the price of car rental and fuel is not included in the price. But the only will we take a reindeer sled ride, we will also take an evening dog sledding ride. There will be a possibility to see the Northern Lights then with our dogs. What is included in the price? - Planned itinerary but still allows for flexibility as needed - Accommodation - dog sledding tour that includes special Arctic clothing and a meal - An evening with reindeer and Sami people (includes meal) - Arctic Aquarium - Health insurance for German and Austrian Nationals Not included - Fuel - Food and drink - Personal expenses - car rental and fuel I'm really excited to chat with you after you've reserved your spot, just to get to know each other and make sure this trip is everything you're hoping for. Do you have a question? Let me know in the Q&A section. Can't wait to hear from you! 🙌🏻
My name is Jai, and like many, seeing the Northern Lights has been on my bucket list. So let's knock off the bucket list together in the best way imaginable! I am American but I have been living abroad for 5 years. I have traveled to 30 countries with more on the way! I like to have wild and fun adventures and learn about other cultures.
We will rent an apartment for the duration of the trip. This way we can have the flexibility to cook our own meals as well as have our own Christmas dinner. Men and women will not share rooms unless they want to of course. If you have the need for a private room or any other specifics, please let me know so I can make the proper accommodation.
What's included?
Accommodation
Reindeer tour
Dog sled tour
Health insurance for Germans and austria
Arctic Aquarium
Your Booking includes free protection from Trip cancellations.
Learn More
Meet Your TripLeader
Phone Verified
Identity Verified
31 Countries
8 Trips Completed
I am Jai. Former IT. Trying now to travel and enjoy life while I still can.
You can chat with Jai once you reserve your spot.
Trip Itinerary
You will meet Jai and the group in Tromsø
Find the best flight details to and from Tromsø ->
Tromsø
Day 1-2
We will get an apartment to rent so we can have any more intimate holiday season together with just us. But on our first day we would just have a welcome meal together and get to know each other and plan everything we want to do together during the trip. Throughout the first day, as people come in, we will explore the city.
Tromsø
Day 2-3
On one day, we will go on a reindeer sleigh ride, and maybe pretend to be Santa Claus, at least for a short while. We will also spend time feeding the reindeer too and learn about how it is to take care of reindeer in the Arctic.
Tromsø
Day 3-4
Every night we will try to watch to see if we can see some Northern Lights. Since it is December, and the nights are long, and we are staying for a week, the chances are quite good. It is best if we spend time outside of the city to see them for the best chance. For this reason, it is best that one of the tripmates has an International driver's license, so we can either rent a car on an as needed basis.
Tromsø
Day 4-5
Who needs Christmas trees when we will be cooking and listening to Christmas music and telling stories under the Northern Lights? I hope so anyways. On Christmas Eve and Christmas Day, we will spend at the apartment celebrating. It will be very cool if everybody can feel free to cook something from their country in order to contribute to the community meal. And who knows? Maybe we will find locals that we can invite to the meal too so we can have a bit of Norway with us🙂
Tromsø Cathedral
Day 5-6
Founded in the 11th century, it is the only wooden cathedral in Norway. It is also the most northern Protestant church in the world. It is still active today and has six hundred seats total. Hey can you decide what or if it's accessible we can attend a service on Christmas.
Polaria
Day 6-7
Many of the aquariums are on the world appear to be the same or similar. But the Arctic aquarium in Norway, which is probably the northernmost aquarium in the world, is sure to knock your ruling socks off of your feet. See the bearded seals which are known in the far north of the Arctic. See tiny sharks. Get to know how people and animals and plant life in the Arctic live side by side. We can even see them feed the seals and play.
Trip Summary
7 days trip
Tromsø, Tromsø & 4 more
I'm really committed to this trip as I have been planning it for a while. My winter vacation continu...
Read More
I actually have another Northern Lights trip planned for New Year's Eve. Do the dates work better for you or we can add more days to it. This particular in Northern Lights trip is geared more towards ...
Read More
Hi Jai! I'm very interested in your trip but I had a few questions. I was planning to do a long trip...
Read More
It is possible. But it does take time to create and research, so I need to be guaranteed commitment.
What's excluded?
Flights
Food and other personal items
Why JoinMyTrip?
Trusted platform used by 150K+ TripMates
Have A Question?
Live Chat with our experts 24x7
Unique Trips hosted by Experienced Travellers
Secure Payments to ensure your money is always safe