Slide 1 of 1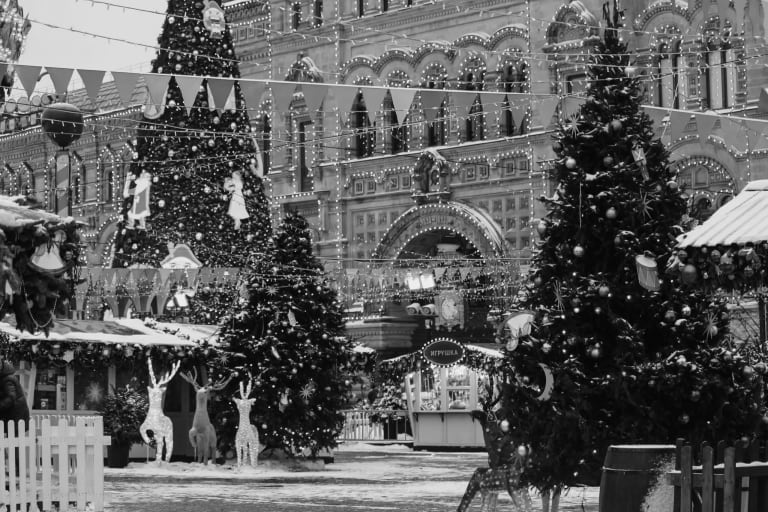 Christmas time in Vienna, Austria
Guided trip
4 days
6 stops
3 - 5 Mates
Austria
Feeling the Christmas vibes yet? Let me introduce myself 👋 Hi y'all I'm Marie from Venezuela and I currently live in Vienna Austria, I have been living here for 5 years so I can take you through the city, and show you around : ) About the trip 📍 🎄 Christmas time in Vienna is one of my favorite times of the year, two words: Christmas markets !!!! Vienna is one of the most visited Citys during Christmas time 🎅 There are 12 main Christmas markets in Vienna. Most of them are located in the Old Town or along the grand boulevard Ringstrasse. Pretty much the City Hall Square turns into a shining fairytale land and is just beautiful, we will visit 4 of them. We won't only visit the Christmas markets but also the castles that are around the city, which are very impressive and perfect for an Instagram photo 📷 On this trip, I will plan all the sightseeing, so you can have a stress-free trip. We will mostly walk and use public transport 🚌 as it is very cheap and efficient. ​ ♥️​ What will make this trip special? The new friends you will make along the way! And of course, I will help you to get Instagram-worthy pictures and videos! 📸​ If we have more time and depending on how the schedule rolls out, we will see more places or not. But fix we will see 4 Christmas markets, visit a terrace bar that has an amazing view of the city, and we will visit the prater dome for some fun and Austrian traditional food 🍽️ 💰​ What you are paying for and what's included? 🛏️ The stay, which everybody will have their own bed 🗺️ A small organizational fee 💰 Additional costs: 🚇 Metro Ticket/CITY PASS for 72 hours: 17.10€ or 🚂 Train from the airport to the city costs 5€ 🛒 If we buy groceries and cook, the costs will be shared using splitwise the app.
This ship has sailed!
Unfortunately this trip has commenced or been completed already. But don't worry! We have a lot more similar trips that you could check out.
Your Booking includes free protection from Trip cancellations.
Learn More
Meet Your TripLeader
Phone Verified
Identity Verified
25 Countries
6 Trips Completed
Freelancer, professional dancer, dogmom, into pottery, cooking, and painting.
based on 8 reviews
Marie was super friendly and made the trip very enjoyable. The trip was a foodie trip and as promised she took us to amazing places to eat. The trip was flexible despite some disruptions in plans and itinerary. All in all, great trip.
Show All Reviews
You can chat with Marie once you reserve your spot.
Trip Itinerary
Vienna
Day 1
i will come and pick you guys from the airport and we will come together back to the apartment to leave the suitcases, then we will decided if we wanna have lunch/dinner and then in the night we will hit the first christmas market
Rathausplatz
Day 1
first we will visit the most beautiful chritsmas market located in rathausplatz. Its located in the city center and is huge, it also has the skate ring and we can decide either if we want to do some ice skating or not. After we will walk or take the public transport down to stephans church.
St. Stephen's Cathedral
Day 1-2
vienna pride and joy, this church has stood here since the 12th century From outside, the first thing that will strike you is the glorious tiled roof, with its dazzling row of chevrons and Austrian eagle. Inside, the magnificent Gothic stone pulpit presides over the main nave.
Schönbrunn Palace
Day 2-3
Schönbrunn Palace is a UNESCO World Heritage Site and Austria's most visited tourist attraction. Which is surrounded by a huge and beautiful gardens and during december theres also the christmas market surrounding the castle.
Belvedere Palace
Day 3
on the second day after visiting sisis palace, we will go to the belvedere which is another beautiful castle. Then we will have lunch close by. In the night we will either decided to go a have drinks at a bar or just have dinner and go to bed.
Vienna
Day 3-4
if we have more time and depending how the schedule rolls out, we will see more places or not. but fix we will see 4 chritsmas markets, visit a terrace bar that has an amazing view of the city, and other we will visit the prater dome for some fun and austrian traditional food.
Trip Summary
4 days trip
Vienna, Rathausplatz & 4 more
Hey Marie, what is the best time to arrived in Wien and to leave? You have a time to start the trip ...
Read More
Hi activities will start after midday we will have a brunch toguehter and then we will start sightseeing and then head to the first Christmas market. The other tripmates are arriving in the morning on...
Read More
Hi, will we be staying in a shared hotel or apartment? I see it says own bed but just curious about ...
Read More
Hi everybody will have their own bed : ) If the trip is fully booked it will be a nice Airbnb and is not is gonna be a hotel but everybody will have their own bedroom.
Hey, I'm from Meetup in Prague. Want to ask you some questions about this whole thing cus I've never...
Read More
Hi thanks for asking, so the plan is to meet either in front of the Airbnb or at the train station it depends around how are you coming to Vienna and what time are you arriving, I can either pick you ...
Read More
Why JoinMyTrip?
Trusted platform used by 150K+ TripMates
Have A Question?
Live Chat with our experts 24x7
Unique Trips hosted by Experienced Travellers
Secure Payments to ensure your money is always safe