Slide 1 of 1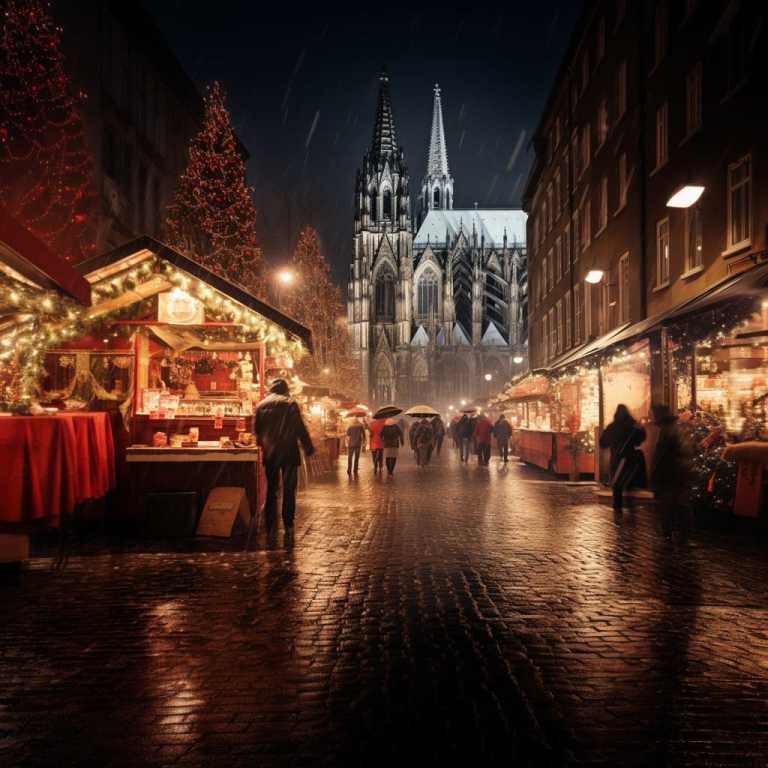 🎅Christmas Market Hopping in the Netherlands & Germany (Amsterdam, Düsseldorf & Cologne)
Guided trip
6 days
3 stops
2 - 7 Mates
Western Europe
What's special?
Festive Atmosphere
Unwrap the magic of Europe's festive season with our 6-day Christmas Market exploring! We'll begin in Amsterdam, where historic charm meets modern elegance. We'll glide through the iconic canals, explore renowned museums, and experience the enchanting Christmas markets after dark. We'll venture to Düsseldorf for a night of German warmth and holiday cheer, discovering the city's unique markets and immersing in the festive Old Town atmosphere. We will culminate our journey in Cologne, where the towering cathedral serves as a backdrop to two nights of immersive Christmas market exploration. We'll wander through historic streets, savor seasonal treats, and create cherished memories. This trip promises a perfect blend of daytime cultural delights and after dark holiday enchantment in three iconic European cities.
Hello there! I'm Alexandra (37), your enthusiastic trip planner with a passion for curating unforgettable journeys. By day, I'm fully immersed in the corporate world, but my heart beats for the excitement of discovering new cities. As a part-time globetrotter and full-time professional, I understand the value of crafting the perfect getaway. I meticulously design each itinerary, weaving together the enchantment of festive markets, the allure of iconic landmarks, and the warmth of cultural experiences. Join me on a journey where the thrill of exploring new destinations meets the cozy embrace of holiday festivities. Let's create memories that sparkle with the magic of the season and the joy of discovery.
Our accommodations are thoughtfully arranged for a pleasant travel experience. We'll stay in comfortable hotels situated conveniently near each city centre. Each room is a shared double, ensuring camaraderie and cost-effectiveness. Additionally, private bathrooms add an extra layer of comfort, enhancing the overall quality of your stay. Any questions about the trip? You can let me know in the Q&A section!
What's included?
accommodation (5 nights, hotel)
Guided Experience
Your Booking includes free protection from Trip cancellations.
Learn More
Meet Your TripLeader
Phone Verified
Identity Verified
24 Countries
Passionate about exploring the world; travel is more than discovering places—it's a profound journey into diverse cultures and human hearts.
You can chat with Alexandra once you reserve your spot.
Trip Itinerary
Amsterdam
Day 1-3
Day 1 We'll explore Dam Square and the Royal Palace in the afternoon. As night falls, we will revel in the Amsterdam Light Festival and immerse ourselves in festive Christmas markets at Dam Square and Museumplein. Day 2 We'll dive into art at the Rijksmuseum or Van Gogh Museum, cruise the canals, explore the Bloemenmarkt. After dark, we'll experience enchanting Christmas markets at Leidseplein and Rembrandtplein.
Düsseldorf
Day 3-4
Day 3 After checking out of Amsterdam, let's embark on a train journey to this vibrant city. Together, we'll discover the Old Town's charm and iconic landmarks like the Rheinturm. The evening is reserved for a brewery dinner and soaking in the festive spirit at Düsseldorf's Christmas markets.
Cologne
Day 4-6
Day 4 Let's explore Düsseldorf in the morning before a swift train ride brings us to the breathtaking Cologne Cathedral. We'll dive into the city's rich history in the afternoon. As evening descends, let's collectively experience the magic of the Christmas market at the Cathedral, indulging in local specialties and mulled wine. Day 5 We'll begin our day with a scenic stroll along the Rhine River and a visit to the Chocolate Museum. In the afternoon, we'll explore the historic Old Town and perhaps indulge in the art at the Wallraf-Richartz or Ludwig Museums. As night falls, let's continue our festive journey through Christmas markets, maybe ending with a boat tour on the Rhine. Day 6 On the final day, time permitting, we have the option to wander through the shopping precincts surrounding Hohe Strasse and Schildergasse. Explore local boutiques, souvenir shops, and maybe uncover distinctive holiday gifts.
Trip Summary
6 days trip
Amsterdam, Düsseldorf & 1 more
What's excluded?
Food, Beverages etc.
Personal Expenses
Flights
Train Tickets
Entrance Fees
Why JoinMyTrip?
Trusted platform used by 150K+ TripMates
Have A Question?
Live Chat with our experts 24x7
Unique Trips hosted by Experienced Travellers
Secure Payments to ensure your money is always safe