Slide 1 of 1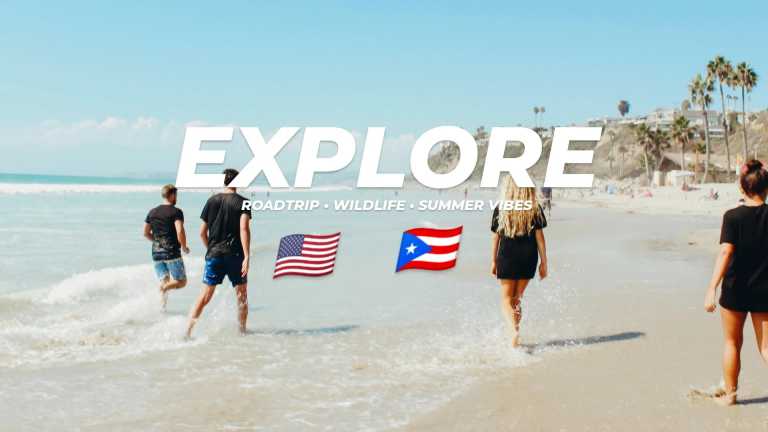 Caribbean Dream & Disney Magic:🏝️ Florida and Puerto Rico Adventure🇵🇷
7 Days30 Days!
Extra Cancellation Days
only for the first TripMate
Guided trip
21 days
11 stops
1 - 6 Mates
Americas
What's special?
🚙Unique roadtrip across Florida
🌴Visit The only Rainforest in the USA
🐊Explore the Everglades
🌟 Join me on an unforgettable 3-week adventure as we kick off our journey in Orlando, Florida. Discover the magic of Disney World and the thrills of Universal Studios before we hit the road for an epic coastal road trip. 🚗 I'll take you along the beautiful coastline, sharing stunning ocean views and exploring charming seaside towns. As we continue south, we'll immerse ourselves in the unique and mesmerizing world of the Everglades, a true natural wonder. 🌴 Our journey concludes in the vibrant city of Miami, where we'll savor the flavors of diverse cuisine, soak up the sun on sandy beaches, and dive into the vibrant culture. From Miami, we'll take to the skies to reach our next destination: the enchanting island of Puerto Rico. 🏝️ This adventure is a perfect blend of theme park excitement, coastal exploration, and Caribbean escapades. Are you ready to make memories that will last a lifetime? Join me on this 3-week journey filled with excitement and discovery. 🌍🌞🏖️
ABOUT ME: I'm your travel companion for this adventure, and I'll take care of all the arrangements. I have experience with this destination, and my goal is to share the joy of exploration with fellow travelers. This trip isn't about profit; it's about creating memorable experiences together.
Details about the accommodation: During this journey, we'll stay in various types of accommodations. While our aim is to provide each traveler with their own private bed and personal space, there might be instances where shared rooms are available. Rest assured, your comfort and privacy are a priority. In the USA we will mostly use Airbnb's while in Puerto Rico we will go for Hostels so we can connect with other travellers.
What's included?
🚘Rental car + Fuel
🏠All Accommodations
✈️Flight towards Puerto Rico
⛵All transportation in Puerto Rico
🎟️Entry fee Disney world
💲Entry fees for National/State parks
🔎Help booking your itinerary
Your Booking includes free protection from Trip cancellations.
Learn More
Meet Your TripLeader
Phone Verified
Identity Verified
44 Countries
2 Trips Completed
Tour guide & product manager with a passion for discovering hidden gems around the world. Let me help you make the most of your travels!
You can chat with Kiam once you reserve your spot.
Trip Itinerary
Orlando
Day 1-5
Begin your journey in Orlando, the ultimate family-friendly destination. Experience the enchantment of Disney World and the thrills of Universal Studios. Dive into the world of fantasy and adventure before embarking on your coastal road trip through Florida.
Jonathan Dickinson State Park
Day 5-7
Jonathan Dickinson State Park is a natural oasis in Florida. Discover serene riverways for kayaking and paddleboarding, lush trails for hiking and biking, and diverse ecosystems filled with wildlife. Explore the Loxahatchee River, take in the scenic views, and experience a piece of Florida's untouched wilderness.
West Palm Beach
Day 7-8
West Palm Beach offers a blend of culture, relaxation, and vibrant coastal living. Explore the Norton Museum of Art, stroll along Clematis Street for dining and shopping, and relax on beautiful beaches. It's the perfect stop for cultural experiences and beachfront relaxation.
Fort Lauderdale
Day 8-9
Fort Lauderdale is known for its boating canals and stunning waterfronts. Visit the historic Bonnet House, shop on Las Olas Boulevard, and relax on Fort Lauderdale Beach. Experience a mix of art, culture, and beautiful coastlines in this charming Florida city.
Everglades National Park
Day 9-10
Everglades National Park is a unique wilderness, home to diverse wildlife and ecosystems. Explore the 'River of Grass' with airboat tours, observe alligators and rare bird species, and hike the Anhinga Trail. It's a natural wonder that promises unforgettable adventures.
Miami
Day 10-12
Conclude the U.S. leg of your adventure in the vibrant city of Miami, but it's not the end of your journey. Miami offers a taste of diverse culture, from Little Havana to Wynwood's street art. Savor international cuisine and relax on South Beach before you take to the skies for your exciting flight to Puerto Rico, where a new chapter of your adventure awaits.
San Juan
Day 12-14
Welcome to San Juan, Puerto Rico's vibrant capital. Dive into the rich history of Old San Juan with its colorful streets, UNESCO-listed forts, and lively culture. Start your Puerto Rico adventure here, where old-world charm meets modern excitement.
El Yunque National Forest
Day 14-16
El Yunque National Forest is a nature lover's paradise. Explore lush rainforests, hike to mesmerizing waterfalls, and get up close with the unique flora and fauna. A haven for outdoor enthusiasts. We will leave this destination by ferry.
Vieques
Day 16-18
Escape to Vieques, an enchanting island paradise. Marvel at the magical bioluminescent bays, unwind on pristine beaches, and immerse yourself in the laid-back Caribbean lifestyle. Vieques is a true gem waiting to be discovered.
Isla de Culebra
Day 18-20
Discover the untouched beauty of Culebra. Enjoy the world-famous Flamenco Beach with its powdery white sand and crystal-clear waters. Experience a peaceful island retreat where serenity and nature coexist harmoniously.
San Juan
Day 20-21
End your journey in the vibrant heart of San Juan, where your Puerto Rico adventure began. But the adventure doesn't have to stop here. Explore our other enticing travel options for more unforgettable experiences. Your next adventure awaits! Just check out my profile to see what kinda options I offer from San Juan
Trip Summary
Accommodation
Apartments & Hotel & Hostel & Camping
21 days trip
Orlando, Jonathan Dickinson State Park & 9 more
Transportation
Car, Plane, Boat
What's excluded?
ESTA or Visum
Why JoinMyTrip?
Trusted platform used by 150K+ TripMates
Have A Question?
Live Chat with our experts 24x7
Unique Trips hosted by Experienced Travellers
Secure Payments to ensure your money is always safe