Slide 1 of 1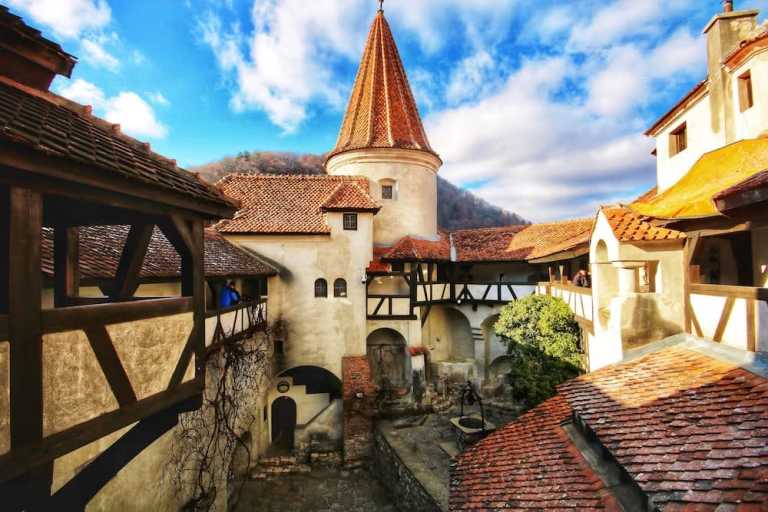 Bucharest, Dracula's Castle, and Halloween Adventures in Romania
Guided trip
7 days
5 stops
3 - 5 Mates
Romania
What do you think of when you think of Romania? Dracula, of course! But did you know that Vlad the Impaler, whom Bram Stoker's famous book is based on, never lived in that castle? There are actually several castles under debate as to which was the castle that the Dracula novel was based on, not just the most famous one, Bran Castle. But don't worry. We will see that castle and the one that Vlad actually lived in. We will also go to the Witch's pond, which is said to be inside a haunted Forest. Make sure your phones are charged before we enter😀 Of course, we will take a brief city tour of Bucharest to try local food and the beer and drink scene. Hopefully, we can check out some local breweries. My name is Jai, and I have an American, who has been living and traveling abroad for five years. I have lived in Tbilisi, Georgia, as well as having short time in London, the Czech Republic, and Serbia. Sadly, not every castle will be open for tours, and we may have to rent a car to get to some to explore on our own if possible. (Poenari Castle-Vlad hid from the Turks here and it has beautiful views...if you climb almost 1500 steps to get to the castle and Witch's Pond, which is only accessible by car despite being close to Bucharest) What is included in the price? - Accommodation (Shared rooms | Hostel) - Breakfast -Tickets to Bran Castle Not included: - Food and drink otherwise specified - Transportation ( unless otherwise specified) - Admissions to places unless otherwise specified I hope you are as excited as me about doing a trip to Romania! Any questions please let me know in the Q&A section and I will come back to you as soon as possible! Later on, we can schedule a call to discuss more preparations and details about the trip!
Your Booking includes free protection from Trip cancellations.
Learn More
Meet Your TripLeader
Phone Verified
Identity Verified
31 Countries
8 Trips Completed
I am Jai. Former IT. Trying now to travel and enjoy life while I still can.
You can chat with Jai once you reserve your spot.
Trip Itinerary
Bucharest
Day 1-7
We will spend a week in a hostel here checking out the city, eating local food and drink, and taking day trips. Bucharest is one of Europe's least known capital cities. It has recently been noticed as a party city, although I hope we can attribute something more to this ancient city. Some highlights outside the party scene: - St. Nicholas Church, which is an Orthodox church - Monasteries with beautiful gardens - Their parliament building is the second-largest building in the world
Macca - Vilacrosse Passage
Day 7
Bucharest is known as the Paris of the East, and this area is trendy enough to display why. Lined with hookah bars and cafes, it is a good place to relax and hangout for an afternoon or evening. What is your favorite hookah flavor?
Stavropoleos Monastery Church
Day 7
This church has a blend of old Romanian Orthodox and Italian architecture. Built-in the 18th century, it used to be a part of a monastery and included an inn. But it is the only survivor of the complex that was destroyed in an earthquake.
Mănăstirea Chiajna - Giulești
Day 7
This 17th-century monastery was never even finished because it got attacked by Turks. They through the bell into the river, and many people reportedly heard the bell ringing from the water on nights with a full moon. Also, people who had the plague came here to die inside these walls.
Bran Castle
Day 7
You would think that this famous landmark would need no introduction. Well'it doesn't. But I need to inform you that Vlad the Impaler never actually lived here, and the Romanians do not know this castle for Dracula, but to them, it's just a castle that royalty lived in. But whether you are a fan of the most famous vampire in the world or you are a history lover, you will enjoy this day trip!
Trip Summary
7 days trip
Bucharest, Macca - Vilacrosse Passage & 3 more
Why JoinMyTrip?
Trusted platform used by 150K+ TripMates
Have A Question?
Live Chat with our experts 24x7
Unique Trips hosted by Experienced Travellers
Secure Payments to ensure your money is always safe