Slide 1 of 1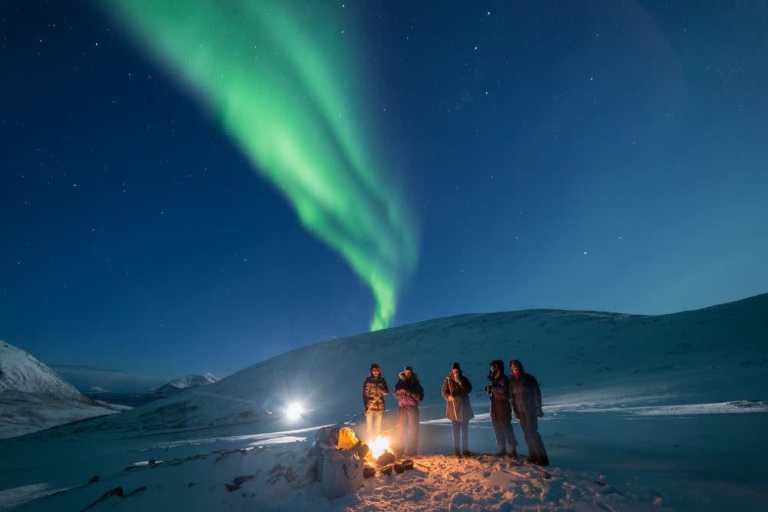 Northern Lights on Epic Snowmobiles and Reindeer Sleds 🦌 | Whale Watching in Norway - Tromso
Guided trip
9 days
15 stops
3 - 7 Mates
Norway
What's special?
Most complete itinerary you'll find
Guaranteed slots in the tours (I booked)
Small group
If you love snow, cold, rough, and untouched nature, this trip was meant for you! Join me to enjoy the perfect blend of adventure, natural beauty, cultural immersion, and unforgettable experiences that will leave you with cherished memories for a lifetime! 🎅🏼🚣🏼‍♀️ WHAT YOU CAN EXPECT ▪️To have all planning and organisation meticulously taken care of ▪️Whales, orca and other wildlife watching | boat safari on a catamaran (optional) ▪️Getting to know local culture on a snowmobile tour, with a local traditional dinner afterwards (optional) ▪️Reindeer feeding and sledding while watching aurora borealis | Meeting Sámi people and their culture (optional) ▪️Northern lights chasing tour by car (optional) ▪️Small group 4X4 roadtrip through Norway's best places (optional) NOT INCLUDED: ▪️ Personal expenses like food (when outside of the activities) and souvenirs ▪️ Gas, which will be split by using the app Splitwise ▪️ optional activities WHAT I EXPECT FROM YOU To be fun, easy-going and to love adventure as much as I do To be able to stand on one foot to make sure you're fit for the activities Driver's licence if you want to ride the snowmobile To be over 7 years old WHAT MAKES THIS TRIP SO SPECIAL AND WHY JOIN ME ▪️ Warm Hospitality: Norwegians are known for their warm and welcoming hospitality. You'll have the opportunity to interact with locals, learn about their way of life, and even stay in cozy cabins or traditional Sami tents (lavvu). ▪️ Spectacular Wildlife: Norway's wilderness is home to diverse wildlife, including reindeer, elk, foxes, and various bird species. Spotting these animals in their natural habitat is a thrilling experience. ▪️Clean and Safe Environment: Norway is renowned for its clean and safe environment. The country's commitment to sustainability and conservation efforts ensures that its natural beauty remains pristine for generations to come. ▪️ Unique Photo Opportunities: Whether it's capturing the ethereal Northern Lights or picturesque winter landscapes, Norway provides countless opportunities for photographers to capture stunning images.
This is one of my dream trips, if it's yours too, let's do it together! I have a strong appreciation for the Sami culture and would love to share these activities with like minded people, the price of the activities is exactly what you'd pay on your own :)
ACCOMMODATION (Quite cool) Airbnb cozy house near the city center. Northern lights are very well seen from this house. Single beds or not (if you're a couple, a double bed and private room can be arranged). These kind of activities run out quickly, I already booked ours, for 7 TripMates and me. Let me know if you have questions about the trip in the Q&A section! Looking forward to hearing from you!
What's included?
Accommodation (shared if not a couple)
Insurance for German / Austrian Citizens
All transportation between activities
Rental Van
Airport Transfers
Your Booking includes free protection from Trip cancellations.
Learn More
Meet Your TripLeader
Phone Verified
Identity Verified
13 Countries
Heyy! My name is Mariana, I'm an Aircraft Pilot and Traveling Enthusiast!
You can chat with Mariana once you reserve your spot.
Trip Itinerary
Tromsø
Day 1-2
02/12 Welcome to the Arctic Wonderland! This marks the beginning of a once-in-a-lifetime adventure in the heart of Norway's northern wilderness. * Airport arrival * Transport to the cozy house * Welcome dinner: The aroma of traditional Norwegian dishes fills the air and introduces us to the flavors of the region. * Orientation and Trip Overview
Tromsø
Day 2-3
3/12 Half-day Reindeer Feeding, Sami Culture and Reindeer Sleigh Tour | 13:00 🥣🦌🛷 Invited by the Sámi people to participate in their traditions. * Reindeer camp on the outskirts of Tromso, where we'll meet the animals and feed them * Reindeer sleigh ride. * Gathering at a lavvu (traditional Sámi dwelling) for a delicious meal with an enlightening conversation about the indigenous people of northern Norway and to listen to joik (traditional music). Included: * Private Sami guide * Snacks * Lunch * Coffee and/or tea
Tromsø
Day 3-4
04/12 Search for the Northern Lights on an evening bus day trip from Tromsø. We'll enjoy a complete Arctic experience with hot food, marshmallows, and warm drinks by the fire | 19:00 🔭 Best time of the year to watch the aurora borealis, as nights last the longest. ✔️ Around the Tromsø area with an expert guide ✔️ Use of thermal suit ✔️Warm up by the bonfire and savor a hot drink with roasted marshmallows ✔️Pose for pics in front of the lights and receive the photos after the trip ✔️Admire the beauty of the Arctic surroundings in comfy thermal suits ✔️Capture beautiful photos with a tripod and listen to advice about photography
Skjervoy
Day 4-5
05/12 or 06/12 Whale and Arctic Wildlife Safari by Catamaran | 08h30 - 15h30 🐋🛥️ We'll board a comfortable catamaran in the Tromsø city center. * Marvel at the Arctic landscape and the beautiful fjords. Learn about Norway's wildlife, fishing, aquaculture, local villages, and weather from your knowledgeable guide. *Observe native wildlife in their natural habitat with insightful commentary from a local guide. * Enjoy hot coffee or tea, while admiring the unique natural setting. Pick up snacks at the kiosk on board if you feel hungry. During late October to late January, we have the best chance of seeing a humpback whale, killer whale (orca), harbor porpoise, or even a fin whale.
Tromsø
Day 5
05/12 or 06/12 4X4 Arctic Trip with Scenic Picnic Tour starting in Tromsø with the next 7 stops exploring coastal roads and rural paths on a 4x4 with regular breaks to capture memorable photos of the ever-changing scenery. Included: * Vegan organic sandwich and fruit * Biscuits and hot drinks (tea + coffee) * Professional tour photos
Kvaløya
Day 5
Second stop of our 4x4 scenic tour | Kvaløya Kvaløya, an island characterised by its raw landscapes, endless mountains, arctic beaches, breathtaking fjords and (frozen) amazing lakes! The first of seven amazing stops! 🏔️🥰
Kaldfjord
Day 5
Third stop | Kaldfjord Known for its stunning natural beauty, tranquil waters, and the opportunity to witness the Northern Lights, Kaldfjord offers a peaceful escape surrounded by snow-capped mountains and is a popular destination for outdoor enthusiasts seeking Arctic adventures. * Dinner and rest
Ersfjordbotn
Day 5
Fourth Stop | Ersfjordbotn Charming fishing village renowned for its dramatic fjord landscape, fishing heritage, and as a starting point for various outdoor activities. Best places chosen by our guide so that we can watch the most amazing views and take some perfect photos!
Kattfjordeidet
Day 5
5th stop | Kattfjordeidet Kattfjordeidet is characterized by its rugged coastal terrain, a scenic and remote area with stunning fjord views and an average climbing gradient of 3.8%! Also known for its opportunities for outdoor adventures like skying and snowboarding.
Sommarøy
Day 5
Sixth stop | Sommarøy Known for its pristine white sandy beaches, crystal-clear waters, and stunning Arctic landscapes. It's a popular destination for those seeking tranquility, outdoor activities like kayaking and hiking Upon arriving at the islands of the archipelago, we will enjoy a light homemade organic picnic and a hot drink. Sommarøy is often referred to as a paradise in the Arctic, offering a serene and idyllic coastal experience.
Straumsbukta
Day 5-6
Seventh stop | Straumbukta As the sun begins to set, Straumsbukta serves as the perfect conclusion to our day of exploration in Northern Norway. With its tranquil coastal beauty and serene atmosphere, it's the last stop on our excursion before we head back to our cozy retreat. Here, you can unwind and savor the memories of the day, knowing that another day of Arctic adventures awaits. * Dinner and rest
Camp Tamok
Day 6-7
07/12 7h Snowmobiling, guided tour of Tamokveien | 09:00 Riding in pairs, one driver and one passenger on each snowmobile, with the opportunity to switch seats during the trip. The tour will take us through scenic mountains and through the dramatic snow-covered Finnish valley, starting at 250m above sea level and slowly ascending between the majestic mountains. Includes: * Transfer to and from the camp * Last generation equipment * Hot stew (or vegetarian meal) * Warm dinner and team games (optional) * Guided snowmobile tour Included: * Transfer to/from Tromsø Note: The adventure will begin with a complete safety introduction and hands-on demonstration. You don't need any previous skills to drive a snowmobile, all you need is a normal physical condition. MUST BRING -> Driver's license (If you don't have one, please let me know)
Tromsø
Day 7-8
08/12 I left this and the next day for some free time or to do something you would like to that it's not included here. You can enjoy some time to buy some souvenirs and have a couple of drinks in the centre of the city, walk around a little, see some museum, a brewery/ Norwegian distillery and the city part overall. If you prefer to just stay and relax, it's your choice...
Tromsø
Day 8-9
09/12 The moment comes, like the final chapter of a beloved book, it's time to say goodbye. Same as the day before, last opportunity to visit the city freely and enjoy traditional food, buy souvenirs and relax. Farewell dinner in the center.
Tromsø Airport
Day 9
10/12 As the adventure-filled itinerary comes to a close, it's time to bid farewell to the wonderful trip mates we've had the pleasure of meeting along the way. The bonds forged through shared experiences and the beauty of Norway's landscapes have created lasting memories. As we head back home, we do so with a sense of gratitude for the new friendships formed and a treasure trove of moments that will stay with us forever. * Breakfast * Heading to the airport (in the morning, depending on your flight's time)
Trip Summary
9 days trip
Tromsø, Tromsø & 13 more
What's excluded?
Gas and personal expenses
Optional activities
Why JoinMyTrip?
Trusted platform used by 150K+ TripMates
Have A Question?
Live Chat with our experts 24x7
Unique Trips hosted by Experienced Travellers
Secure Payments to ensure your money is always safe