Slide 1 of 1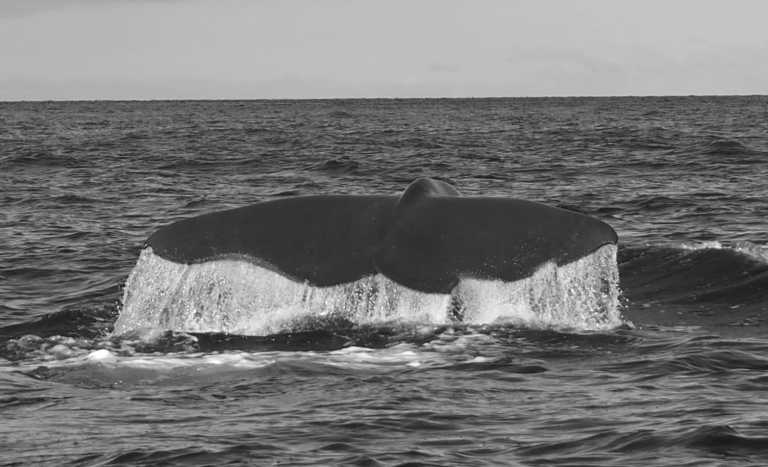 Azores - meet biggest whales & wild dolphins in their natural habitat 🐋
Guided trip
8 days
7 stops
2 - 4 Mates
Portugal
Experiencing the Hawaii of Europe - Atlantic Pureness For years I spend a couple of months each summer in Pico Island/Azores to be close to the dolphins and majestic big whales in the middle of the Atlantic Ocean and it is my passion to introduce you to the marine wildlife and volcanic power of the hidden islands in the middle of the sea. Let's experience together the volcanic treasures of the island and connect with the joyful gifts of the dolphins all around. We leave for the ocean by small boats (zodiacs) after a sensitive introduction and approach the sea-mammals in an observing manner. Observing local whales and experiencing the marine life is the main part of this unique trip - the island itself with the endemic plant world and volcanic traditions is the grounding part of this journey! Accommodation will be in modern bed & breakfast in the whale-village Lajes do Pico or alternatively we will share a spacious villa in nature. Are you ready to dive and dance the waves of ocean and nature? 📍 The trip includes 7 nights in shared double-room, transports from/to airport or ferry on arrival/departure, transport to/from ocean-trips in Lajes do Pico, 3 halfday ocean-trips with marine-biologist and cetacean-workshops, 1 fullday island tour by car or van including lunch, my personal experienced guiding in the sea and on land. I will love to welcome you and introduce you to the hidden treasures! I am currently living in Portugal and discovering amazing spots to travel. I am creating several beautiful trips to Pico island in the magic archipelago of Azores - a secret holiday spot!. I am totally flexible with the locations you want to visit in Pico since I know the island pretty well because of spending each summer in the island for a couple of years. Spring is the best season to travel there and meet the biggest whales worldwide - so let's do it, I speak Portuguese so I will become your personal translator and guide to adapt to the culture❗ 📍 About the trip: I am looking for 4 TripMates (Girl/Boy) to join me on this adventure of getting to know the dolphins and whales right next to us. We will be staying in shared rooms in a luxurious big villa in the south of the island - a great location in Pico. I will meet you at the ferry terminal or in the airport so you can start falling into the holiday-modus immediately after arriving! During this trip I will give you a real Azorean local experience mainly in the ocean and in nature and also eating local food, joining local events and spending time in crystal clear natural pools and hiking in the volcanic highlands 🥾 💰 What is included in the price: - 🏡 7 nights Accommodation (shared double-rooms or single room w/supplement)🏡 - 🚙Transportation upon arrival & departure and to/from the ocean-trips🚙 - 🐬3 halfday ocean-trips with small boat or zodiac to discover and observe the whales and meet wild dolphins together with marine specialist and biologist 🌊 - 🚙1 fullday Island-trip by car/van including lunch 🥗 - 🙋‍♀️ I will be with you and share my experience and connect you with the treasures of the dolphins, the whales, the island and the local uniqueness 🌞 Costs arising by additional ocean-trips, local activities like diving, sailing, quad-tours, transport & food shall be paid on spot⛵🌋🚤🚲🎨🏊‍♀️🏇🤿 We can explore local restaurants or prepare & share meals together in typical Azorian style BBQ🍹 There will be also periods to spend time on your own and relax🧘 We can decide locally for food and other extra costs and split later during the trip. The price for food per person for every day approximately would be 15-20 euros if we are reasonable. Are you as excited as me? Send me a message and let me know 💌
Your Booking includes free protection from Trip cancellations.
Learn More
Meet Your TripLeader
Phone Verified
Identity Verified
32 Countries
7 Trips Completed
You can chat with Silke once you reserve your spot.
Trip Itinerary
Pico Island
Day 1-2
Welcome to Pico and Azores! We dive deeply into Atlantic scenery to connect with the treasures of the ocean and the volcanic island. Climbing the Pico mountain (2.351m) is optional, and going deep by visiting the lava-tunnels and caves gives valuable space for meditations and stillness. During the ocean-trips, we leave by small boat for the whales and dolphins in the nearby waters after having received and experienced a profound briefing about the dolphins and the ocean. We spend our time together during the activities and find privacy during the free times. Will you be with us?
Lajes do Pico
Day 2-3
This day we connect with the local neighborhood and feel into the non-touristic daily life and treasures of the island and their people. A brief introduction into the local habits and an overview of the options of the village close by will give you a feeling-home spirit
Lajes do Pico
Day 3-4
After a personal briefing, we start our first half-day ocean experience with a small and safe adventurous zodiac - bring your offshore jacket and start breathing with the whales! Observers along the coast-line cooperating with researchers and universities instruct our skipper team to find the whales without wasting much fuel and causing noise or trouble to the sensitive animals
Pico Island
Day 4-5
This day we explore the island in land - volcanic landscapes, craters, lave-tunnels and -caves same as UN-heritage of rocky vineyards gift us stunning insights.
Lajes do Pico
Day 5-6
This day we experience our second ocean-life trip, watching the biggest mammals on earth - majestic whales and dolphins in their wild natural surrounding. Our approach is softly and according to the code of conduct always having the well-being and non disturbance of the whales and dolphins as priority
Pico Island
Day 6-7
This day is free for personal reflection and wellbeing. Optional the volcano Pico Mountain (2.351m) can be climbed with a local certified guide - being the highest mountain of Portugal in the middle of the Atlantic Ocean, this experience will present a unique adventure for the trained ones. Otherwise, a local distillery for organic essential oils or a local pottery can be experienced. Or you go for hiking, receive a wellness treatment or visit the local museum.
Lajes do Pico
Day 7-8
This day we will experience the third ocean-tour, finding several of the species staying in the local waters and uplifting us with a buff/blow or jump or deep breath. Keep your cam active and catch your best shot! During free time you might love to visit the neighborhood island or go for a walk along the coast or in the highland, try scuba-diving, go for a sailing trip or enjoy horse-riding.
Trip Summary
8 days trip
Pico Island, Lajes do Pico & 5 more
Why JoinMyTrip?
Trusted platform used by 150K+ TripMates
Have A Question?
Live Chat with our experts 24x7
Unique Trips hosted by Experienced Travellers
Secure Payments to ensure your money is always safe