Slide 1 of 1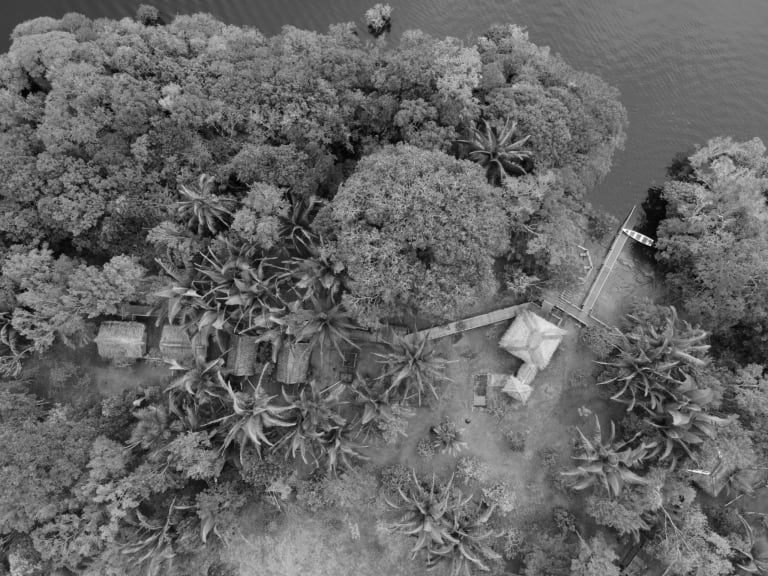 Amazon Expedition: 7-days immersion with a riverside family in the Amazon.
Guided trip
7 days
4 stops
3 - 8 Mates
Brazil
What's special?
Photography workshop
Stay in a local family lodge
Sleep one night in the jungle
Did you ever look for a trip to a jungle, where you can share time with a local riverside family, learn about their cultures and do some activities in the nature? This trip is about that! Our biocultural experience in the Juma river include also a 1 day trip in the Presidente Figueiredo waterfalls and a day in Manaus. What is Biocultural Trip? Biocultural tourism refers to a type of tourism that aims to promote the conservation of biological and cultural diversity. It involves traveling to destinations that are rich in both natural and cultural heritage, with a focus on understanding the interconnectedness between ecosystems and local cultures. Biocultural tourism seeks to foster sustainable practices, support local communities, and raise awareness about the importance of preserving both biodiversity and cultural traditions. Who I am looking for? If you're someone who loves to travel to connect with local hosts and learn about their customs, gastronomy, handicrafts, or history; if you enjoy expressing yourself through photography or art, practicing yoga and/or meditation; if you're seeking a destination where you can breathe pure air, hike surrounded by life, and experience a deep connection with untouched nature, then this might be the trip for you. For this journey, I'm looking for individuals with open minds and hearts, ready to experience life in the Amazon with all their senses. This is a trip for seekers, those who thirst for a unique experience, who know how to respect local cultures, who are open to sharing and experimenting, and especially for those who want to practice photography. Respecting and embracing local cultures is paramount. We have the privilege of engaging with communities that have deep-rooted traditions and customs. It's important to approach each interaction with curiosity, empathy, and a genuine desire to learn from the wisdom passed down through generations. How is gonna be? This is a biocultural 1 week trip and we aim to establish the relationship between nature and its culture, considering three main pillars: Being Nature, Being Human, and Being Community. The itinerary begins in Manaus, but I suggest to be in the city one day before. The itinerary include: City tour in Manaus, 1 day trip to Presidente Figueiredo Waterfalls, 4 days trip to a local riverside family lodge in the forest and a encounter with a local indigenous lider. All the trip we will be accompanied by a local certificated guide, who is also a good friend of mine. His family lives in an island 100km into the forest, so we will be visiting his lodge in the Juma area. It is a wild area, but don´t worry, we are gonna be close to a small village in case we have an emergency. Sometimes maybe we won't have electricity but don´t worry, this place is safe and quiet. We will go on guided short and long walks to learn about plants, insects, traditional medicines, and engage in immersion exercises. We will also have daytime and nighttime river navigation to connect with the river, trees, and the animals that inhabit it. We will witness breathtaking sunrises, sunsets, and starry nights. One night will be spent in the middle of the jungle to learn survival skills: we will fish for our own food, build our shelter, and cook like true "caboclos". We welcome individuals who are eager to immerse themselves in the vibrant beauty of the Amazon, capturing its essence through the lens of their cameras. Whether you're a seasoned photographer or just starting out, this journey will provide countless opportunities to capture the awe-inspiring landscapes, the rich biodiversity, and the captivating moments shared with local communities. Sharing and connecting with fellow travelers will enrich the experience even further. This journey provides a unique opportunity to bond with like-minded individuals who are also seeking a different perspective on life. Through shared adventures, conversations around the campfire, and the exchange of stories, we can create lasting friendships and memories. If this sounds like the adventure you've been waiting for, don't hesitate to join us on this biocultural exploration of the Brazilian Amazon. Let's embrace the beauty of nature, connect with local communities, and create lasting memories together.
About me! After traveling for many years to different places around the world as a backpacker, photographer, and nomad, Biocultural tourism captured my interest, and I wanted to create this completely authentic itinerary to facilitate the experience of living in the Amazon with local communities. These small expeditions are conducted in places I already know and have established relationships with local hosts. Every journey involves some improvisation, especially in destinations where it's difficult to control external surprises, but I can assure you that we won't do anything that could jeopardize your safety. I have a Wildness First Aid Advance certification (WAFA) from the WMAI organization. Also, I have traveled to this place many times, sometimes alone, other times with groups, and even with my young son, so I know very much where I am inviting you. I enjoy sharing my knowledge about the place, but I leave that role to the local guides who will accompany us at each location. My role on this trip is to facilitate the journey and provoke you to have a deeper trip, making it as authentic as possible, so you can enjoy it without worrying about accommodation, transportation, or wasting time trying to find the right people to show you the corners of the jungle. I greatly appreciate people who know how to engage in meaningful conversations, who are considerate, and who are open to listening and sharing their opinions. If you're looking to be drunk everyday and party all the time, that's not the Brazil I can show you. So, if you're ready to embark on this authentic Amazonian adventure, where you can leave the logistics in your hands and focus on experiencing the true essence of the jungle, then join me on this remarkable journey that goes beyond the beaten path.
Details about the accommodation: In the city, we'll stay at a Hostel (upgrade to hotel available) with private Double/Triple rooms. In the jungle, we'll be in local lodges with 3/4-person cabins and private bathrooms (no upgrade possible). Do you have any questions? Let me know in the Q&A section!
What's included?
All Accommodation (Shared rooms)
4 days & 3 nights Jungle expedition
Presidente Figueiredo + Entrance fee
MUSA botanical garden + Entrance fee
All transportation between stops
All meals included in Jungle expedition
Certificated local guide
Photography workshop
City tour
Your Booking includes free protection from Trip cancellations.
Learn More
Meet Your TripLeader
Phone Verified
Identity Verified
21 Countries
Curious traveler, exploring cultures, nature, and sharing through photography, books, and observation. Join the journey of discovery!
You can chat with Alvaro Dante once you reserve your spot.
Trip Itinerary
Manaus
Day 1-2
Welcome to Manaus, the gateway to the Amazon rainforest. We recommend to arrive one day before the tours starts. I can arrange anything you need to arrive safe to the hostel. So, first day, we will greet you with a delicious welcome breakfast to start your journey with energy. Then, we will meet Norberto, our local and certified guide for the next 5 days. So we will go for a city tour to give you a closer look at its history, architecture, and culture of Manaus. During the tour, we will visit the Amazon Theatre (outside), the city clock, and the iconic Public Market, where you can taste the region's typical food. After a morning full of activities, we go to Musa botanical garden, to be introduce into the forest. Breakfast included. - Transportation included. - Entrance fee included. - Guide included. - Lunch and Dinner not included.
Presidente Figueiredo
Day 2-3
After a delightful breakfast at the hotel, we will set off in a private vehicle towards the Presidente Figueiredo Reserve, located 100 km north of the city of Manaus. This remarkable destination is renowned for its breathtaking waterfalls, enchanting caves, and cinematic landscapes. Once we arrive, we will immerse ourselves in a full day of nature exploration, embarking on invigorating hikes along picturesque trails, taking refreshing swims in cascading waterfalls, and venturing out to discover the surrounding rivers. Around midday, we will pause to indulge in a delectable meal at a local restaurant, savoring the region's culinary delights. After a day filled with thrilling adventures, we will return to Manaus for a restful night's sleep at our hotel, preparing for our upcoming expedition on the mighty Amazon River. Only breakfast is included. Other meals are not included (U$D10 per meal) All transportation, entrance and guide included.
Rio Juma
Day 3-6
After breakfast, we will embark on a journey to the Juma Reserve, where a unique experience in the Amazon rainforest awaits. During the trip, you will witness the impressive convergence of the Rio Negro and the Rio Solimões, giving birth to the majestic Amazon River. Once in the reserve, you will disconnect from the modern world and immerse yourself in the jungle, dedicating yourself to reconnecting with nature. Over the course of three days, you will have the opportunity to enjoy various activities such as canoeing, fishing, flora and fauna observation, jungle hikes, and species identification, local medicine and we will visit the local farm of our local friends (native family). All meals, including vegetarian options, will provide a delicious opportunity to savor the flavors of the jungle. If conditions permit, we will navigate the channels deeper into the rainforest, offering a unique experience in close contact with nature. For those seeking an even more intense adventure, there will be an option to participate in a survival experience, learning fishing techniques, creating utensils, and sleeping in the jungle. On the fourth day, after lunch, we will return to Manaus, allowing you free time to rest and reflect after this extraordinary jungle experience. All meals included. - Water is always included. - All transportation included. - Local certified guide included. - Guide with wilderness advanced first aid certified.
Manaus
Day 6-7
Upon our return to Manaus, we will have the afternoon free to do some walks and in the evening, we will have a group farewell dinner. If possible, we will have a meeting with indigenous leader Vanda Witoto, who will share with us the struggles of her community and her role as an indigenous activist. It will be a special moment to share and bid farewell to them as we conclude our journey. Breakfast and Dinner are included on this day.
Trip Summary
Accommodation
Hostel & Hotel & Other
7 days trip
Manaus, Presidente Figueiredo & 2 more
Have A Question?
Ask the TripLeader questions about the Trip by clicking on the button below. Your question and the response will be visible on this page once it's answered.
What's excluded?
International Flights
Meals out of the expeditions
Tips for local families
Why JoinMyTrip?
Trusted platform used by 150K+ TripMates
Have A Question?
Live Chat with our experts 24x7
Unique Trips hosted by Experienced Travellers
Secure Payments to ensure your money is always safe